The Narwhal frequently reports on stories that deeply impact the lives of Indigenous and racialized communities across Canada, especially as many of these communities grapple with the ongoing pressures of natural resource extraction and environmental racism.
Yet, too often these stories aren't told by Indigenous or racialized journalists. The Narwhal's BIPOC Photojournalism Fellowship was designed to help change that.
In the first year of this fellowship, The Narwhal worked with three talented BIPOC photographers to produce three stunning works of photojournalism: Ramona Leitao documented the unique experiences and creativity of Black urban farmers in Toronto; Alia Youssef photographed 10 BIPOC individuals who are shaking up what it means to be an outdoor adventurer; and Robby Dick documented a Kaska Dena caribou camp that took place under the threat of a new Yukon mine that could further threaten the disappearing Finlayson caribou herd.
About the fellowship
The 2022 fellowship offers two up-and-coming photographers anywhere in Canada the opportunity to work with mentors at Room Up Front to produce a photo essay for The Narwhal. Fellows receive hands-on training from editors at The Narwhal in photojournalism production, editorial planning, feature layout and design as well as hands-on experience throughout the assigning, writing, editing and fact-checking process.
The fellowship also provides recipients the opportunity to dive deep into a unique photojournalism project that does what The Narwhal does best: expresses our complex relationships with the natural world in Canada.
Each fellow receives $3,000 to produce an original photo essay for publication on The Narwhal by Feb. 28, 2023. The recipient's primary mentor through Room Up Front also receives a stipend of $1,000.
The Narwhal's BIPOC Photojournalism Fellowship is made possible by The Reader's Digest Foundation and the generosity of The Narwhal's readers.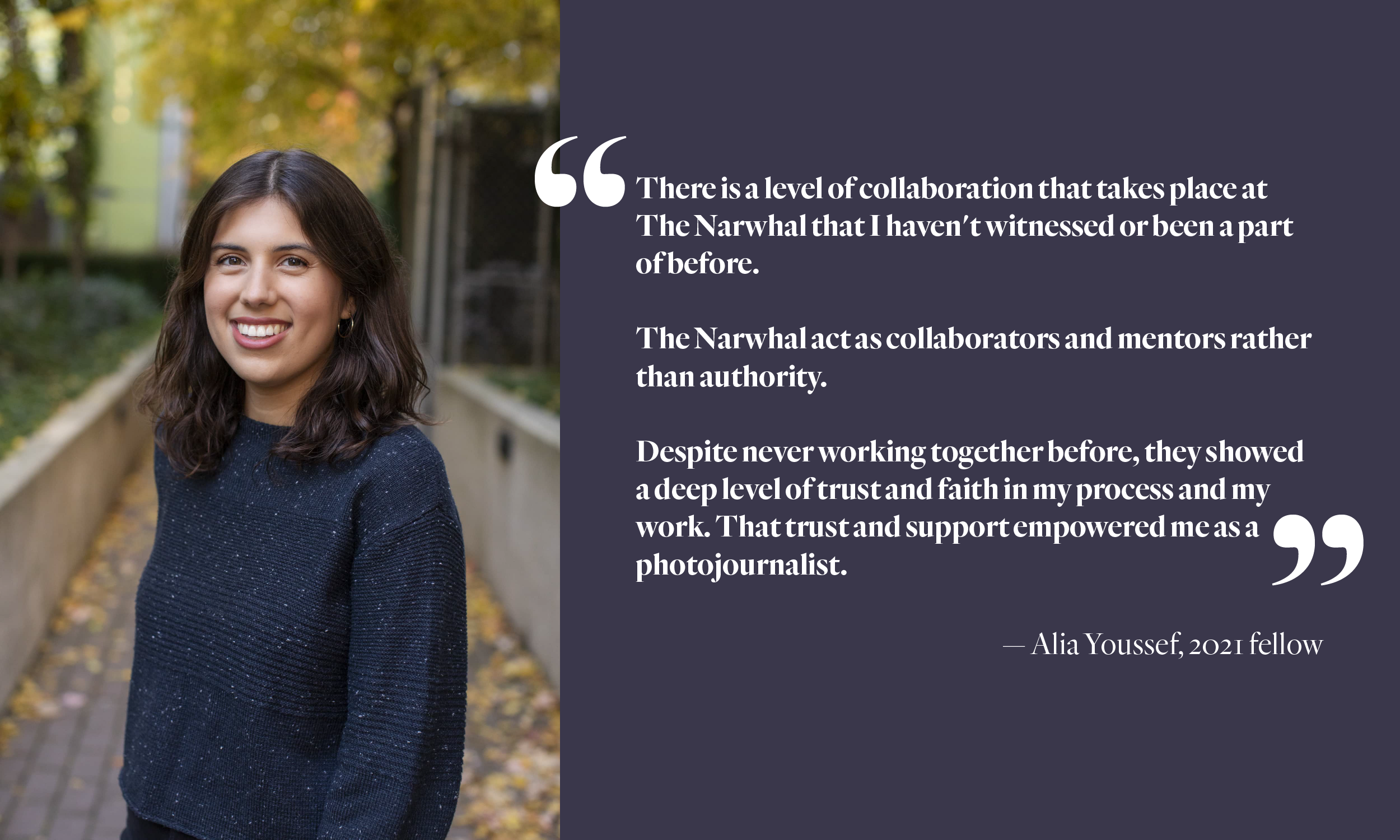 Who should apply?
We'd love to hear from anyone participating in Room Up Front's mentorship program for 2022 who has a project in mind about the natural world. You may have started on the work for this project already, but haven't secured a publication for your work yet.
Applications for Room Up Front's mentorship program are due April 15.
What we look for in an application
Successful applications will include a detailed plan for an original, impactful story about the natural world in Canada. Applications should include any key dates, a clear plan for any written component that will accompany photographs and a compelling reason why this story is a good fit for The Narwhal.
Not sure what's a good fit for The Narwhal? Sign up for our newsletter to get the inside track on what we report on and why. Also be sure to check out our archive of previously published photo essays for examples of what we've done in the past.
While $3,000 may feel like a lot for a single photo essay, we want to make sure you're paid fairly for your time, so we encourage pitches that will take no more than five days of shooting. Think tight, specific and manageable, rather than enormous, ambitious and sprawling.
How to apply
To apply, please submit a résumé, two photojournalism samples and a one-page pitch detailing a specific project you would like to publish on The Narwhal via this link.
Applications are due June 3, 2022.
About Room Up Front
The goal of Room Up Front is to offer mentorship opportunities for Black, Indigenous and people of colour (BIPOC) who are passionate about photojournalism and visual storytelling. BIPOC industry professionals along with allies will help guide those interested in pursuing their own goals and becoming established visual storytellers for their community and the Canadian media industry. People with diverse experiences and ways of seeing can only help strengthen our newsrooms and ensure the stories Canadians see are as diverse as the lives they lead.
About The Narwhal
The Narwhal is an award-winning online magazine that publishes in-depth and investigative journalism about Canada's natural world. As a pioneer of non-profit journalism in Canada, The Narwhal is supported by more than 4,000 monthly members.
The storytellers in any society hold tremendous power. At The Narwhal, we recognize that this power represents both a privilege and a responsibility and we aim to use this power for the public good.
To that end, we must recognize the inequities in Canadian media and in Canadian society at large. The Canadian Association of Journalists' 2021 newsroom diversity survey found that 25 per cent of journalists in Canadian newsrooms were non-white. Notably, only 15 per cent of Canadian newsrooms had a non-white journalist in a top-three editorial position. As of the 2016 census, Indigenous and racialized people comprised more than 27 per cent of the Canadian population.
The Narwhal is committed to building a team that reflects the communities we serve and we recognize we have a lot of work to do in this area.
A team that reflects the communities we work in enhances the relevance and substance of our journalism and is essential in fulfilling our mission to foster a deeper understanding of some of the most contentious issues of our time.
The Narwhal endorses the calls to action on media diversity by Canadian Journalists of Colour and the Canadian Association of Black Journalists.

Banner image: JennaMae Togado-Webb, freediver and snowboarder, poses for a photo in Ch'axáý (Horseshoe Bay) during an interview for 2021 fellow Alia Youssef's beautiful photo essay on BIPOC outdoor adventurers.
Photo of Alia Youssef by Allison Barton Youssef; photo of Ramona Leitao by Tamera Leitao.