Clean energy advocates transformed one of Western Canada's oldest oil derricks Monday by draping it with pro-solar banners and surrounding it with solar panels that powered sun-themed music.
"It was a really nice day here," Greenpeace Canada energy and climate campaigner Melina Laboucan-Massimo told DeSmog Canada, "and so sunny."
Despite the November chill, Laboucan-Massimo said the day was perfect for capturing solar energy.
"Even though it's chilly there's still sun," she said. "You actually increase efficiency for solar panels when it's cold, because they don't overheat. So when it's cold it's still fine to produce energy, as long as you have the sun."
Laboucan-Massimo and the other campaigners are working to demystify solar energy in Alberta, a province with massive untapped solar potential.
"I think a part of what Greenpeace and other organizations and First Nations have been really successful at is pointing out the problem, but I think we need to start pointing to solutions and really articulating what those are and how to implement them," she said.
People often point to wind and solar power as potential alternatives, without them actually coming to fruition. This is the case, "especially in Alberta," Laboucan-Massimo added.
"What we've learned is that Alberta has one of the highest solar potentials across the country but utilizes only one per cent of that solar potential."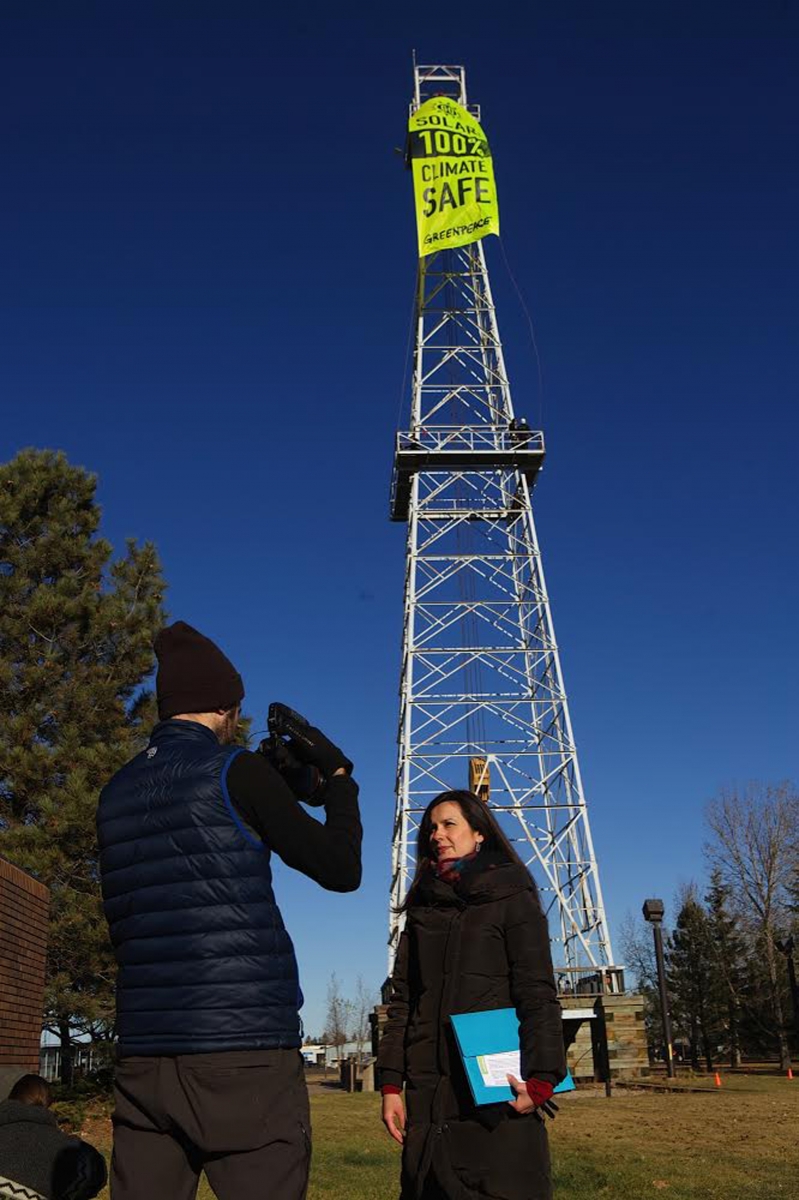 Laboucan-Massimo stands with the oil derrick in the background. Photo by Greenpeace Canada.
According to the European Photovoltaic Industry Association, the world's cumulative photovoltaic capacity has more than doubled each year for the last four years. Each year, new global solar installations prevent more than 53 million tons of carbon dioxide from entering the atmosphere.
However, the association notes solar energy in Canada "has expanded slower than some have expected."
Laboucan-Massimo says the slow growth of solar in Canada, especially in Alberta, makes little sense.
"In Alberta, which is one of the sunniest provinces in the country, why is that happening?" she asks.
"We know it's because of a lack of political will and because of a lack of policy that works to stymie renewable energy, and solar energy in Alberta."
Alberta could and should be a green jobs and climate leader, Laboucan-Massimo said. But the reality is so far from that.
"We're the number-one growing source of greenhouse gas emissions from tar sands as well as the number-one climate polluting province in the country because of tar sands."
"I think that the fossil fuel industry has really had a stranglehold on the Alberta government," she said.
That's part of the reason Laboucan-Massimo and other solar advocates staged their solar action yesterday in Edmonton, a city with a long history of oil and gas development.
Laboucan-Massimo said is was in part to "really proclaim the power of the sun."
"We know that solar energy and the solar viability is here and now."
The team dropped several banners from a 70-year old oil derrick, reading "Solar: Alberta's Next Economy" and "Solar: 100% Climate Safe."
The group also set up solar panels on the site to power a radio and their phones. While they hung the banners they took music requests from the public using the hashtag #CatchUpAB.
"What we're saying now is it's time to transition away from dirty fossil fuels and transition to the renewable energy economy that is here and now," Laboucan-Massimo said, adding Albertans are ready for economic alternatives.
"We look at Germany that has almost 400,000 jobs in the solar sector. Why doesn't Alberta have that? We actually have a better solar potential than Germany and yet we don't utilize that at all."
Image Credit: Greenpeace Canada via Flickr
New title
You've read all the way to the bottom of this article. That makes you some serious Narwhal material.
And since you're here, we have a favour to ask. Our independent, ad-free journalism is made possible because the people who value our work also support it (did we mention our stories are free for all to read, not just those who can afford to pay?).
As a non-profit, reader-funded news organization, our goal isn't to sell advertising or to please corporate bigwigs — it's to bring evidence-based news and analysis to the surface for all Canadians. And at a time when most news organizations have been laying off reporters, we've hired eight journalists over the past year.
Not only are we filling a void in environment coverage, but we're also telling stories differently — by centring Indigenous voices, by building community and by doing it all as a people-powered, non-profit outlet supported by more than 2,900 members. 
The truth is we wouldn't be here without you. Every single one of you who reads and shares our articles is a crucial part of building a new model for Canadian journalism that puts people before profit.
We know that these days the world's problems can feel a *touch* overwhelming. It's easy to feel like what we do doesn't make any difference, but becoming a member of The Narwhal is one small way you truly can make a difference.
We've drafted a plan to make 2021 our biggest year yet, but we need your support to make it all happen.
If you believe news organizations should report to their readers, not advertisers or shareholders, please become a monthly member of The Narwhal today for any amount you can afford.