Major oil and gas companies like Chevron Corp., Apache, and ExxonMobil Corp., are eyeing British Columbia's northwest coast as a potential export hub for the continent's ample natural gas. The proposed export terminals are slated to transform natural gas, much of it from frack fields in both Canada and the US, into liqueified natural gas or LNG for sale in Asia.
But according to a new report from the Norwegian-based International Gas Union (IGU) "project costs in Canada far exceed counterpart projects in the United States where the natural gas market is much more liquid." The IGU has more than 120 members that collectively make up 95 percent of the world's gas market.
The high costs associated with transporting gas up to BC's remote coast makes the benefits of fetching a higher price overseas "difficult to financially justify," according to the IGU.
"The distance between the proposed export facilities and the North American gas pipeline grid is large, and connections are small in both capacity and number," the report states.
Connecting the current gas infrastructure to export facilities on BC's rugged coast, along with costs associated with drilling programs would cost billions, the IGU said, preventing North American producers from meeting discount demands from Asian customers.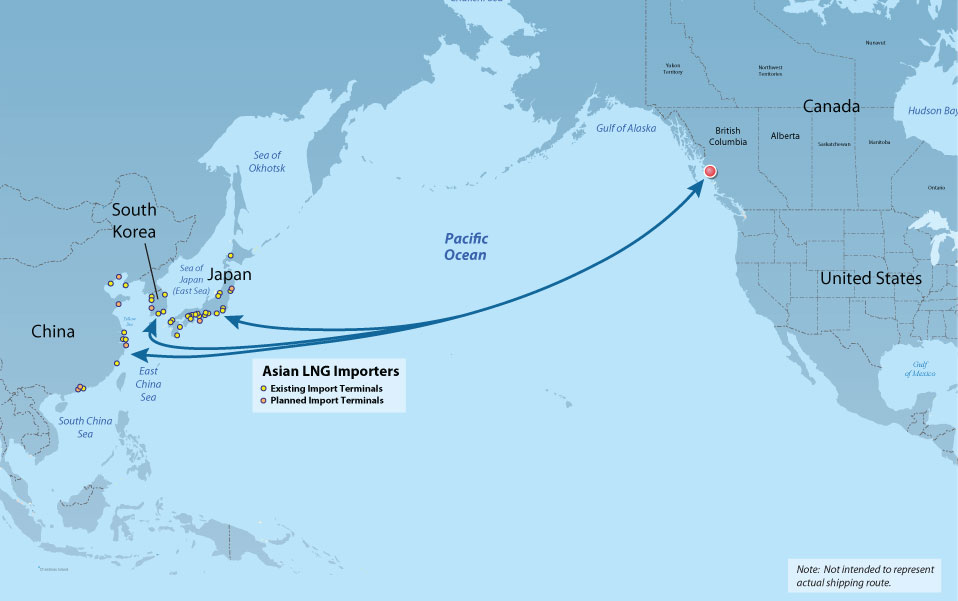 Chevron, the company behind the five-million-tonne-per-year LNG export facility, proposed for Kitimat, BC, says the massive costs associated with developing export facilities makes the prospect of discounted gas prices untenable.
As the Financial Times reports, "the disagreement [over prices] has prompted delays reaching a final investment decision, as the company seeks buyers willing to sign long-term contracts based on the price of oil." But the US benchmark price is volatile, says the IGU.
"This is a problem because Western Canada shale gas will likely be more expensive than the marginal acreage that sets Henry-Hub [gas] prices," IGU said in the report.
Projects in the US, says the IGU, are much better positioned to take advantage of preexisting gas infrastructure.
The IGU report demonstrates just how unattractive BC's remote coast is for the burgeoning LNG export market. And British Columbia might do well to leave its high ambitions for becoming a world exporter of LNG behind.
As DeSmog Canada revealed in May, BC's proposed strategy for LNG will make it impossible for the province to achieve its legislated goal of a 33 percent reduction in emissions by 2020 under the BC Climate Action Plan.
There are as many as 17 LNG export terminal proposals floating around but only three are likely to be built by 2020… Those three would likely double BC's natural gas output, mainly from shale gas from hydraulic fracturing operations which have higher reported levels of methane leaks.

Although the Province reported only 2.2 million tonnes (Mt) of CO2e (carbon dioxide equivalent) of methane emissions in 2010, the actual amount was likely between 15.5 to 77.5 Mt of CO2e, depending the Global Warming Potential (GWP) used. Doubling gas production means that in 2020 these emissions would be 46.5 Mt (using GWP of 33) to 155 Mt (GWP of 105) a year.

In 2010 the entire province's carbon footprint was 62 Mt. By 2020 it is supposed to shrink to 45 Mt.

Setting aside methane leaks for a moment, fracking, processing and pumping natural gas over long distances consumes large amounts of energy. LNG facilities are also highly energy intensive. One LNG facility would emit 2 Mt of CO2e from burning natural gas to power the operation.
In BC's LNG Strategy then Minister of Energy and Mines Rich Coleman committed to having the province's first LNG plant up and running by 2015, with a total of three by 2020. Growing dissatisfaction with BC's remoteness, however, may prevent the corporate investment necessary to realize such development.
On a provincial website advertising BC's Liquid Natural Gas Strategy BC Premier Christy Clark wrote "the advantages of an LNG industry in BC are clear. We have lower shipping costs thanks to our proximity to growing markets with a demand for energy resources. We also have a vast supply of natural gas to meet these demands."
"We are on the verge of making our province a world-leader in natural gas production and supply," she said.
BC's LNG website lists 5 major LNG projects currently proposed or undergoing construction on BC's coast:
1. Prince Rupert LNG – (BG Group and Spectra Energy Natural Gas Transportation System)
2. Pacific Northwest LNG (PETRONAS & Progress)
3. Kitimat LNG (Apache Canada Ltd. & Chevron Canada)
4. LNG Canada – (Shell Canada Ltd., PetroChina Company Limited, Korea Gas Corp, Mitsubishi Corporation (KOGAS))
5. Douglas Channel Energy Project – (BC LNG Export Co-operative LLC: LNG Partners (Texas) and Haisla Nation)