There's just no way around it: building codes are deeply boring documents.
The most recent National Building Code of Canada clocks in at 1,400 jargon-filled pages.
Despite being a snore fest, it's on its way to becoming an incredibly important tool in preparing new buildings for the worst impacts of escalating climate change and extreme weather events, such as flooding, hail and rain.
That's thanks to a brand-new $40 million federal government investment in the National Research Council, which is responsible for updating the building code every five years; the last one was released in 2015, meaning the next version will be released in 2020.

"It's the first time that the government has talked about building code and climate change in one breath," says Glenn McGillivray, managing director of the Institute for Catastrophic Loss Reduction. "It's very important."
Developers Oppose Big Changes
The last few years have reminded us of the potential power of extreme weather, including the catastrophic flooding in 2013 of Calgary and Toronto, resulting in insured losses of more than$1.7 billion and $850 million respectively.
Such major events are no longer the anomaly. As quoted in a recent report by the Intact Centre on Climate Adaptation:

"Payouts from extreme weather have more than doubled every five to 10 years since the 1980s. For each of the past six years, they have been near or above $1 billion in Canada."
And that's not even counting total economic impacts on cities and towns.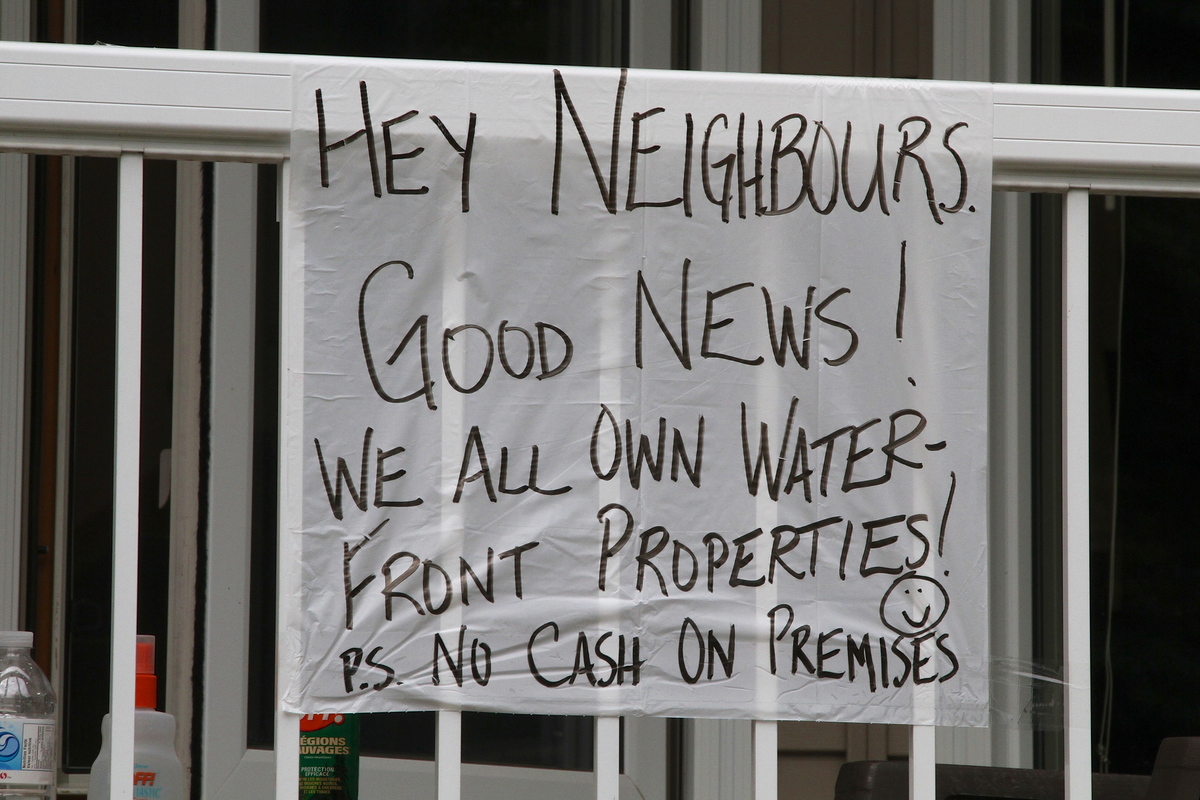 Signage on a Calgary property during flooding June 2013. Photo: Ricky Leong via Flickr
But little has changed in the rules of how buildings are actually constructed in Canada, despite some groups pushing for years to see climate-specific updates.
Jason Thistlethwaite, director of the University of Waterloo's Climate Change Adaptation Project, says in an interview that many necessary changes are technically possible but often face opposition from interests in favour of the status-quo, especially residential homebuilders and professional engineers.
McGillivray agrees: "The building code process is a pretty conservative one. It's very well established; they're pretty rooted groups that are invested in the process and you don't see really big changes from code to code."
Small and Inexpensive Changes Can Reduce Impacts of Flooding, Wind
It's not like such advocates are exactly asking for huge changes to the code.
Let's start with flooding: it's the the most common and costly form of natural hazard in Canada, and has a strong relationship to climate change in the likelihood of an increase in frequency.
For years, the Institute for Catastrophic Loss Reduction has been pushing for mandatory installation of "backwater valves," which the City of Winnipeg has mandated since 1979 and defines as "a device that prevents sewage in an overloaded main sewer line from backing up into your basement."
Some provinces interpret the current national code in a way that makes backwater valves mandatory. But some, namely Ontario and B.C., do not.
"Right now, many existing buildings do not employ what we would consider to be internationally recognized best practices for flood protection at the property level," Thistlethwaite says.
He says that another example of a "best practice" is Kitchener's separate stormwater charge that people can reduce if they install certain measures that divert stormwater away from the system, such as a rain barrel, permeable pavement or rain garden.
The same goes for preparing for strong winds, including events such as tornadoes and hurricanes.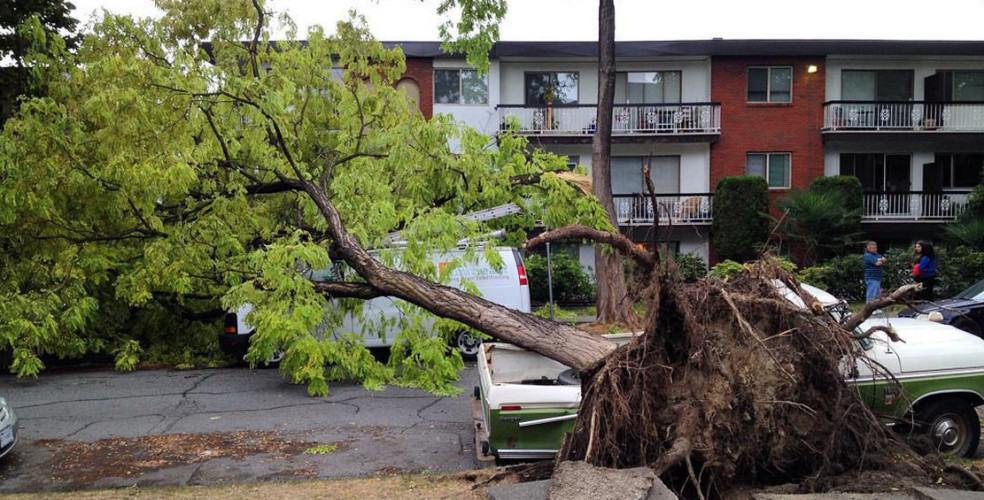 A downed tree crosses a Vancouver street after a 2015 windstorm. Photo: Jarett Kemp via Vancity Buzz
McGillivray says the solutions are small and inexpensive, including making "hurricane straps" mandatory on new buildings and using certain types of nails and nailing patterns in the roof decking, to ensure the roof doesn't pop off in the event of extremely high winds.
Lastly, there's the desire to see certain roofing material used to protect from hail and freezing rain, which Thistlethwaite says will increase in frequency as "shoulder seasons" (the period of time where the temperature hovers around zero) get longer due to climate change and severe convective storms increase in number; such events can result in significant damage to sidings and shingles.
"Let's face it: if a builder doesn't have to do something, they're not going to do it," McGillivray says. "We do believe that codifying it is the best way to go: it ensures that everybody has to do the same thing and that there's no favouritism or anything of that nature. It completely removes the idea of voluntarism."
Much More Work Needed to Prepare Existing Homes for Climate Change
But the building code — which Thistlethwaite describes as already "one of the best building codes in the world" — obviously only applies to new constructions.
That means there are millions of homes, businesses and other structures that will still be vulnerable to extreme weather events. McGillivray says that education for homeowners is key, helping them realize the risk they're facing and the simple things they can do to protect themselves.
Such responsibilities often falls on the municipalities, which tend to have the least financial capacity and resources to pull a large public information campaign off.
That's where Thistlethwaite suggests the feds step in more, developing and disseminating risk maps, information and incentives such as subsidies or adjusted risk-based tax rates to help change behaviour.
For instance, Thistlethwaite says the current design of the Disaster Financial Assistance Arrangements — which is the federal coverage program, triggered if damages surpass a certain financial threshold — means there are no conditions for people receiving assistance to alter the design or structure of the existing building.
"Effectively, the federal government doesn't provide any incentive for people to change their behaviour, even if they are living in a very high-risk area," he says.
Working to clear up misinformation about the program's coverage in case of "overland" flooding — with compensation often unavailable if there are private insurers who offer homeowners the service — would likely help, as would providing more funding for cities to improve sewer and stormwater systems in order to prevent backups and flooding.
#Canada's Buildings Will Finally Be Built With #ClimateChange In Mind https://t.co/gjqdRzpHDc @james_m_wilt #ExtremeWeather #cdnpoli pic.twitter.com/XY29BN6AGb

— DeSmog Canada (@DeSmogCanada) March 8, 2017
Work on Building Codes Update Will Start in April, Concluding by 2020
Until then, we've got the building code updates.
Philip Rizcallah, director of Building Regulations at the National Research Council of Canada, says that "a lot of the research hasn't been completed and a lot of the data is not available."
That's why his office will working with Environment Canada to obtain historical and prospective weather data — including snow loads, wind loads and rain loads — and then develop the data into "new technical solutions." In addition, the National Research Council will consult with government, industry and academia to figure out solutions.
Come April, the National Research Council will start focusing its attention on "key priority projects" in order to complete the upgrades by 2020, which is when the next publication of the building code comes out.
In addition, he says the National Research Council will be developing new guides and engineering codes for infrastructure, including bridges, roads, sewer systems and stormwater gathering.
"The way we build homes in Canada is well established and we do build good homes in the country," McGillivray says. "We just see gaps in the code, little tweaks that need to be fixed here and there."
Image: High waters in the neigbhourhood of Elbow Park during the Calgary floods of 2013. Photo: Andy van der Raadt via Flickr CC BY-NC-ND 2.0