The B.C. Supreme Court awarded $50,000 in damages to climate scientist Andrew Weaver in a ruling Friday that confirms articles published by the National Post defamed his character.
The ruling names Terence Corcoran, editor of the Financial Post, Peter Foster, a columnist at the National Post, Kevin Libin, a journalist that contributes to the Financial Post and National Post publisher Gordon Fisher.
Four articles published in 2009 and 2010 refer to Weaver, now MLA for Canada's Green Party, as an "alarmist" who disseminates "agit-prop" and a "sensationalist" that "cherry-picked" data as "Canada's warmest spinner-in-chief." Weaver was previously a lead author on a number of the UN's Intergovernmental Panel on Climate Change (IPCC) assessment reports.
In the damages section of the ruling (attached below), Madam Justice Emily Burke notes, "the defamation in this case was serious. It offended Dr. Weaver's character and the defendants refused to publish a retraction."
Justice Burke concluded the defendants "have been careless or indifferent to the accuracy of the facts," adding, "they were more interested in espousing a particular view than assessing the accuracy of the facts."
Weaver told DeSmog Canada he's "thrilled" with the ruling.
"I am absolutely thrilled with today's B.C. Supreme Court judgment in my libel case against the National Post, Terence Corcoran, Peter Foster, Kevin Libin and Gordon Fisher."
Weaver said he initiated the lawsuit in 2010 when the National Post refused to retract the offending articles "that attributed to me statements I never made, accused me of things I never did, and attacked me for views I never held."
"I felt I had to take this matter to court to clear my name and correct the public record. This judgment does precisely that."
Dr. Peter Gleick, president of the Pacific Institute and member of the U.S. National Academy of Sciences, said the ruling "is a victory for climate scientists everywhere."
There is "an extremely long history of efforts by climate deniers and contrarians to attack not just climate science, but climate scientists: to smear their scientific reputations, to distort their statements, and to make false and defamatory accusations," Gleick told DeSmog Canada.
Gleick said defamation "has been a standard tactic for years, especially as the science of climate change has continued to strengthen and solidify."
The attack on Weaver's credibility is unfortunately only one of many examples, he said.
"While I'm sure the ruling will not stop the continued assault on climate science and scientists, it should certainly put people on notice that there is a responsibility to avoid such irresponsible attacks and a real cost for failing to do so. I hope this ruling has that effect."
Weaver said he is looking forward to the defendants "publishing a complete retraction and removing the offending articles from electronic databases."
The four articles in question, as listed in the court ruling, can be seen below. Three of these articles still appear on the National Post's website at the time of publication.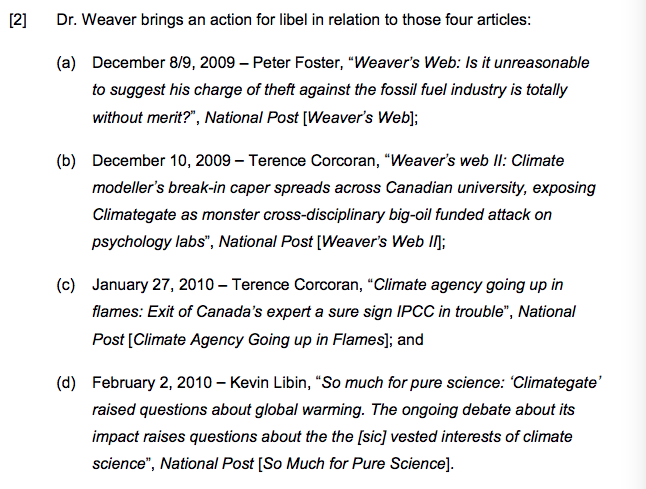 As part of his suit, Weaver also argued the National Post should take responsibility for the articles republished on third-party sites.
"I further look forward to them withdrawing consent given to third parties to re-publish the articles and to require them to cease re-publication," Weaver said.
New title
You've read all the way to the bottom of this article. That makes you some serious Narwhal material.
And since you're here, we have a favour to ask. Our independent, ad-free journalism is made possible because the people who value our work also support it (did we mention our stories are free for all to read, not just those who can afford to pay?).
As a non-profit, reader-funded news organization, our goal isn't to sell advertising or to please corporate bigwigs — it's to bring evidence-based news and analysis to the surface for all Canadians. And at a time when most news organizations have been laying off reporters, we've hired eight journalists over the past year.
Not only are we filling a void in environment coverage, but we're also telling stories differently — by centring Indigenous voices, by building community and by doing it all as a people-powered, non-profit outlet supported by more than 2,500 members. 
The truth is we wouldn't be here without you. Every single one of you who reads and shares our articles is a crucial part of building a new model for Canadian journalism that puts people before profit.
We know that these days the world's problems can feel a *touch* overwhelming. It's easy to feel like what we do doesn't make any difference, but becoming a member of The Narwhal is one small way you truly can make a difference.
We've drafted a plan to make 2021 our biggest year yet, but we need your support to make it all happen.
If you believe news organizations should report to their readers, not advertisers or shareholders, please become a monthly member of The Narwhal today for any amount you can afford.