There were audible scoffs from the crowd Tuesday as Cariboo MLAs told residents in Likely, B.C. that the drinking water ban has been lifted for areas near the Mount Polley mine where a tailings pond breached Monday, August 4th sending billions of litres of mining wastewater and solid materials into Hazeltine Creek and Quesnel Lake.
The drinking ban remains in effect for Mount Polley, Hazeltine Creek and an area 100 metres immediately surrounding the visible sediment plume at the mouth of the Hazeltine Creek where debris and sludge from the spill poured into Quesnel Lake, the primary source of drinking water for local residents.
At a small community press conference on the edge of the Quesnel River in Likely, B.C. Donna Barnett, MLA for the Cariboo-Chilcotin and parliamentary secretary for forests, lands and natural resource operations for rural developments, said, "this is a good news story."
Residents have been dealing with uncertainty since last week, she said. "Well, finally we can give you some certainty."
The announcement follows the release of a Ministry of Environment water test that found water from Polley Lake to be near "historical levels" taken prior to the tailings breach.
A press release on the Interior Health website states "Interior Health has no reason to believe that this water was ever exposed to unsafe levels of contaminants from the mine breach."
Coralee Oakes, minister of community, sport and cultural development for the Cariboo region, told a small crowd that had gathered, "The results have come back from…our chief medical office for this region who is independent of government [and] has come forward…to announce that we will be removing the drinking water, recreation and fishing ban."
A small crowd gathered on the banks of the Quesnel River in Likely, B.C. August 12 to hear the water ban for the area was mostly rescinded. Photo by Carol Linnitt.
Yet locals have expressed significant concern over water quality issues, even after the drinking water ban was partially lifted Sunday.
A journalist in the crowd, Christopher Donville from Bloomberg, remarked that it is generally accepted that tailings are better off in a tailings pond, and yet billions of gallons of tailings have spilled into the local environment seemingly without any negative effects. He looked to Minister Oakes for comment, but his remark was met with a chorus of other voices.
"Isn't that wonderful?" Skeed Borkowski, the owner of a local fly fishing lodge, sarcastically remarked.
"What about testing the water column?" another woman chimed in.
Local resident and former Mount Polley mine employee Doug Watt asked for more information on the suspended solids causing a murky cloud in Quesnel Lake near his home.
Minister Oakes defended the water study results to the crowd, saying the experts who provided the information are "independent" and "reviewed all the data at a professional standard."
Oakes said the Cariboo Regional District will continue to provide drinking water to residents and will keep the temporary shower facilities in operation.
When asked if the test results will change their interaction with the water, couple Doug and Marlene Watt, were split.
Doug, a former metallurgist and shift supervisor at Mount Polley mine, said he will drink the water after it's been filtered. His wife said she "isn't ready yet" to drink the water.
"Again we apologize to folks who were looking for information and couldn't find it," Oakes said.
In the early evening representatives from the Ministry of Environment came by to drop off information packets to locals at their homes and businesses. Avtar Sundher, head of government and compliance with the environmental management section of the Ministry of Environment pointed out the regions still under a drinking water ban on a map.
"All these hash areas are still affected," he said, pointing to Polley Lake and Hazeltine Creek.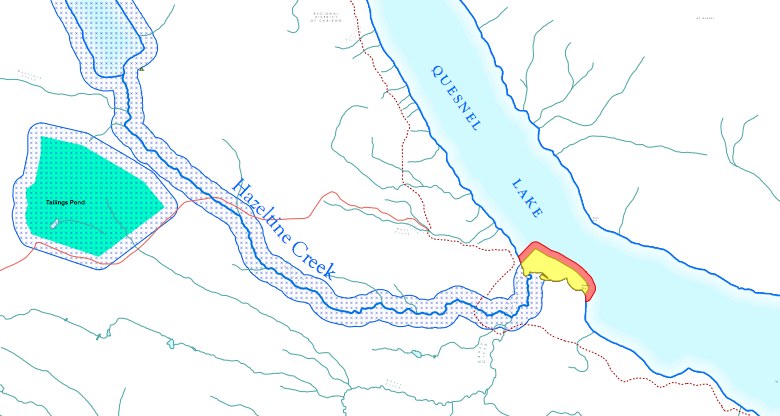 A map provided by the Ministry of Environment shows the areas still under a water use ban, including the 100-metre area in yellow and red surrounding the debris field at the mouth of Hazeltine Creek.
The information package states "the tailings liquid released from the impoundment moved very quickly through the system and was diluted greatly by the water in the lake, the Quesnel River and ultimately the Fraser River."
"Generally, bio-accumulation of contaminants in fish occurs over a longer exposure than a few days," the bulletin stated.
"We understand what a spectacular area it is that we live in and we understand how important it is that people come and visit and that tourism operators have every opportunity to showcase the pristine beauty that we have. And that young families know that this is a great, safe place to come and raise your families," Oakes said to the crowd.
"Now it's our job to make sure we get the story out that the Cariboo, that Likely, is open for business."
This article is published as a part of a joint-venture between the Vancouver Observer and DeSmog Canada.
New title
You've read all the way to the bottom of this article. That makes you some serious Narwhal material.
And since you're here, we have a favour to ask. Our independent, ad-free journalism is made possible because the people who value our work also support it (did we mention our stories are free for all to read, not just those who can afford to pay?).
As a non-profit, reader-funded news organization, our goal isn't to sell advertising or to please corporate bigwigs — it's to bring evidence-based news and analysis to the surface for all Canadians. And at a time when most news organizations have been laying off reporters, we've hired eight journalists over the past year.
Not only are we filling a void in environment coverage, but we're also telling stories differently — by centring Indigenous voices, by building community and by doing it all as a people-powered, non-profit outlet supported by more than 2,500 members. 
The truth is we wouldn't be here without you. Every single one of you who reads and shares our articles is a crucial part of building a new model for Canadian journalism that puts people before profit.
We know that these days the world's problems can feel a *touch* overwhelming. It's easy to feel like what we do doesn't make any difference, but becoming a member of The Narwhal is one small way you truly can make a difference.
We've drafted a plan to make 2021 our biggest year yet, but we need your support to make it all happen.
If you believe news organizations should report to their readers, not advertisers or shareholders, please become a monthly member of The Narwhal today for any amount you can afford.