This is a guest column by Russell Myers Ross, Chief of Yunesit'in Government, and lead organizer in the development of the Dasiqox Tribal Park, supported by the Friends of Nemaiah Valley.
Amarc Resources (TSX-V: AHR) will commence drilling this week at a site inside the Dasiqox Tribal Park in central British Columbia — despite not having the consent of the Tsilhqot'in Nation.
The drilling, located in a high-altitude, ecologically sensitive area, is scheduled to start without the consent of Xeni Gwet'in First Nation and Yunesit'in Government — two Tsilhqot'in First Nation communities that have launched a land-based project called "Nexwagwez?an," meaning "There for us" in the Tsilhqot'in language. Nexwagwez?an, or the Dasiqox Tribal Park, was announced on Oct. 4, 2014, and consultation remains ongoing.
Amarc, a B.C.-based mineral exploration company, is focused on developing one site in particular for a copper mine. Amarc says the IKE site is located in "the heartland of the province's producing porphyry copper mines."
It just so happens that this exploration site is also located at the Dasiqox headwaters — at the heart of the Tsilhqot'in's traditional and ancestral territory. The IKE site's glacial waterways feed into the Dasiqox (Taseko) salmon-bearing river.
Landscape ecologist Sue Senger recently visited the IKE site with Xeni Gwet'in Chief Roger William and I and told us there is notable concern about sedimentation control disturbance at this high-altitude site.
Further, the mountainous terrain in which 50 drill holes are proposed is a crucial stopover location for grizzly bears that use this area as a travel corridor between Toba inlet and Taseko and Chilko Lakes. Evidence of mule deer and marmots was also observed on the site visit in early August, as well as the presence of whitebark pine, which is a species protected under the Federal Species at Risk Act.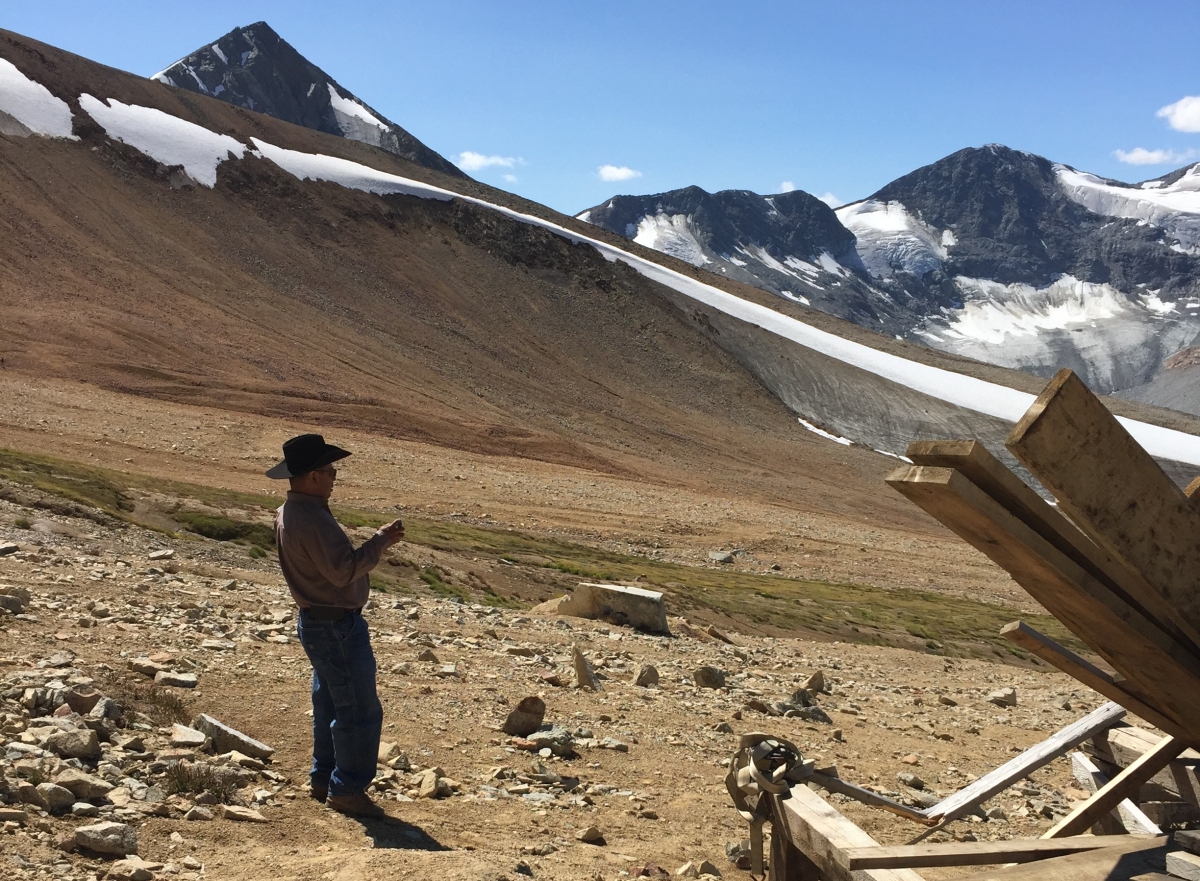 Roger William, Chief of Xeni Gwet'in, overseeing Amarc Resources IKE drilling site in August 2015.
My fellow chief, Roger William, says: "Right now our people will turn down anything to do with mining in what we consider to be a no-go zone, like the Dasiqox headwaters. Amarc came into our communities to present an exploration agreement. Our people have turned it down. Our communities are fatigued after going through two environmental assessments with Taseko Mines. There's a huge trust issue."
Amarc Resources is a subsidiary of Hunter Dickinson Incorporated; Taseko Mines Limited is under the same umbrella of companies. Taseko Mines went through two federal environmental reviews that rejected the New Prosperity and Prosperity copper gold project.
Amarc Resources has already advertised that the IKE site has the potential of becoming a "Highland Valley" scale mine. Highland Valley is a large open-pit operation. It is unfathomable that a mine this size should operate at the top of one of the most important watersheds in the Tsilhqot'in.
Considering the significance of this area with respect to the watershed of the Taseko and its remote location, there will be incredible obstacles to move this project into a serious development. It is with good reason that our communities and leadership are erring on the side of caution and are committed to saying that this site will never become a mine.
As a leader, we are looking for partners in business that are willing to enter consensual relations, and we have entered relations with a few already to change the normative behavior to stronger partnerships.
Mining companies that only seek provincial approval and fail to respect our authority and land will have a much more difficult time, as Taseko Mines Ltd. encountered, and which Amarc Resources will experience. The company, if it chooses to be honest, ought to consider the IKE site as an impossible area for a full-scale mine and save everyone the time and money.
Main image: Drummers at the announcement of Dasiqox Tribal Park on October 4th, 2015.