"Frankly, we need an army of carpenters, electricians and contractors going out to plug leaky buildings," federal Green Party leader Elizabeth May said during the August 6 leaders debate. "Thirty per cent of carbon pollution comes from the energy we waste and the money we waste heating the outdoors in the winter and cooling it in the summer."
The suggestion's an awfully good one. Especially in Alberta.
For one, the thousands of contractors out of work due to the oil price slump could serve as potential soldiers in this so-called army.
There's also enormous untapped energy-saving potential in Alberta: in fact, it's the only province or state in North America that doesn't sport a long-term energy efficiency program — that sure means something when 55 per cent of Calgary's emissions can be attributed to electricity generation.
Plus, interest rates are extremely low, giving municipalities and provinces plenty of incentive to borrow for projects like energy audit grants and real-time energy feedback.
Jesse Row, executive director of Alberta Energy Efficiency Alliance and director of the Pembina Institute's energy efficiency program in the province, called the idea "low-hanging fruit."
"I think everybody should be interested in taking some [energy efficiency] action on and seeing action taken on," he said. Alberta "stopped doing it so we never really had that success to build on as we move forward like a lot of other jurisdictions are doing."
Alberta's False Energy Efficiency Starts
Alberta had a government branch devoted to energy efficiency until Ralph Klein became premier in 1993 and eliminated it.
Since then, the province has introduced two short-term efficiency programs: the most recent ending in 2012 that gave out just over $50 million in the form of 173,000 purchase rebates for newer and more efficient clothes driers ($100), hot water systems ($300) and furnaces ($600).
Nothing has since replaced it. There was a lingering promise to renew energy efficiency programs from within Alberta's Ministry of Environment, but that idea was perpetually deferred by former Premier Jim Prentice.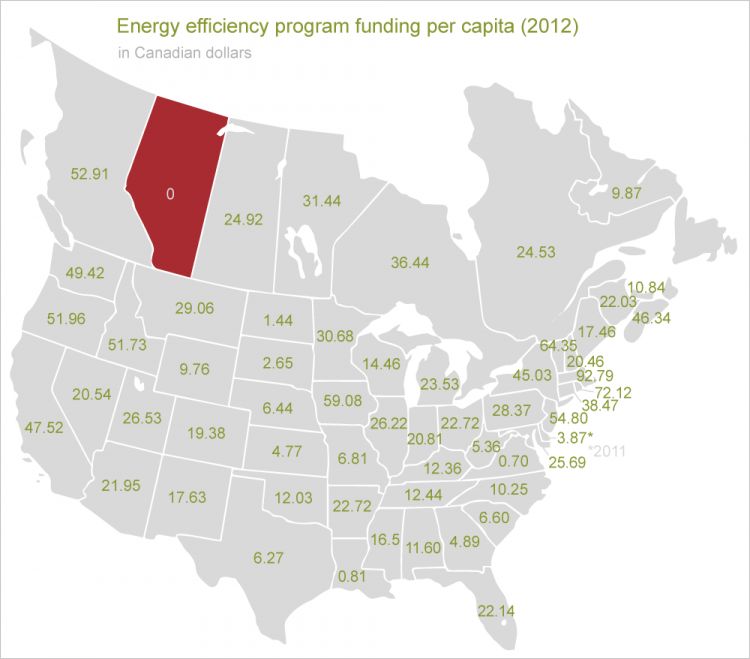 Alberta is the sole jurisdiction in North America without a devoted energy efficiency program. Source: Pembina Institute
Making matters worse, the province's leading energy efficiency non-profit, Climate Change Central (C3), closed in 2014, unable to sustain its operations after the government pulled its funding in 2009.
C3 delivered 23 programs — many of which related to energy efficiency — and helped found, among other groups, the Alberta Energy Efficiency Alliance.
"We lost a lot of capacity when C3 shut down," Row said. "It is capacity that needs to be rebuilt to get on board with what everyone else is doing and actually having some energy efficiency programs in this province."
Row said the Climate Change and Emissions Management Fund, which houses money from Alberta's carbon levy program, could easily be tapped to finance such endeavours; around $100 million could successfully fund a middle-of-the-road program, saving money ($460 million per year), create jobs (some 3,800) and cut emissions (up to 27 megatonnes by 2020).
There is currently around $75 million waiting to be put to use cutting greenhouse gas emissions in Alberta. But the money requires projects.
The provincial government, under the former Progressive Conservatives, issued a request for new program proposals last August, but Premier Prentice delayed the effort for unknown reasons.
Row said the failed attempt to get money flowing to new pojects was "quite a disappointment."
But because the request for proposals is only on hold — not cancelled — the newly elected NDP government could resurrect it at any point.
In June, Premier Rachel Notley told reporters: "there's no question that energy efficiency efforts and initiatives will be a key pillar in [our climate change] strategy."
Row took that as a good sign.
Building Efficiency Leading the Way
But Alberta has seen some important successes.
Tanya Doran, executive director of the Alberta Chapter of Canada Green Building Council (CaGBC), pointed out that Alberta certified the second-most square footage of Leadership in Energy and Environmental Design (LEED) construction in North America.
The City of Calgary was also the first municipality in Canada to implement a LEED building policy, Doran said.
"I like to think we're getting to the point where we're no longer talking about how much it costs if we do it, but how much it's going to cost if we don't," she said.
"We're seeing some of the large private firms start to recognize that if they're looking for investors in their project, those investors are looking for the greening of that bricks and mortar infrastructure as well as if they see it as good, long-term investment."
New national building code recommendations released in 2012 are only just now being adopted by Alberta. The province's building standards haven't been updated for three decades, so there is significant room for improvement (codes concerning large buildings will come into effect in November, while residential regulations will be implemented in May 2016).
Row said now is the time to be assessing what comes next: "looking at energy efficiency within our existing building stock, getting energy efficiency in industries and…future advancements in the building codes."
Alberta already knows there is high provincial support for energy efficiency spending.

There are plenty of other jurisdictions to look to as role models: California, Ontario, Nova Scotia. The first step for Alberta, Row said, is simply to get started.
New title
You've read all the way to the bottom of this article. That makes you some serious Narwhal material.
And since you're here, we have a favour to ask. Our independent, ad-free journalism is made possible because the people who value our work also support it (did we mention our stories are free for all to read, not just those who can afford to pay?).
As a non-profit, reader-funded news organization, our goal isn't to sell advertising or to please corporate bigwigs — it's to bring evidence-based news and analysis to the surface for all Canadians. And at a time when most news organizations have been laying off reporters, we've hired eight journalists over the past year.
Not only are we filling a void in environment coverage, but we're also telling stories differently — by centring Indigenous voices, by building community and by doing it all as a people-powered, non-profit outlet supported by more than 2,900 members. 
The truth is we wouldn't be here without you. Every single one of you who reads and shares our articles is a crucial part of building a new model for Canadian journalism that puts people before profit.
We know that these days the world's problems can feel a *touch* overwhelming. It's easy to feel like what we do doesn't make any difference, but becoming a member of The Narwhal is one small way you truly can make a difference.
We've drafted a plan to make 2021 our biggest year yet, but we need your support to make it all happen.
If you believe news organizations should report to their readers, not advertisers or shareholders, please become a monthly member of The Narwhal today for any amount you can afford.