An open letter to Environment Canada staff from Deputy Minister Bob Hamilton and Associate Deputy Minister Andrea Lyon says science done at the department has become an "issue…receiv[ing] attention recently," prompting the letter to provide official "perspective" on the matter.
Throughout 2013 22 per cent of media requests for interviews with scientists were denied while requests in the past five months have increased by 50 per cent, the letter states. In total Environment Canada received just 316 media requests in 2013, of which 246 (78 per cent) were approved.
Climate scientist at the University of Victoria and Green party MLA Andrew Weaver says the fact that Environment Canada is giving such a small amount of interviews is "shameful."
"If a federal organization, comprising thousands of scientists across the country is giving 246 media interview in a year, that's not too dissimilar to what I was doing as an individual faculty member at the University of Victoria," he said. "It's unbelievable. That's way down from what it used to be."
Communication Lockdown
Weaver says media no longer expect to be granted interviews from federal departments like Environment Canada, so overall requests are lower than in previous years.
What is more troubling, says Weaver, are the kinds of interview requests being denied. He said a journalist looking for answers regarding toxicology research in the Lake Athabasca is unlikely to find support at Environment Canada.
"It's really troubling. It's essentially message management and we have to realize these scientists are civil servants, they are public servants….They are there working on behalf of the public and the public has a right to the information and the science results that they are actually looking at. And they have a right to an interpretation of those results."
The Environment Canada message explains media contact with department scientists "needs to be well coordinated" because "issues in the media, including environmental issues, are often complex, have an impact beyond the scope of one person's work or even one department, and can have important policy implications for the Government."
The letter goes on to state "the role of a public servant in this context is to provide technical information, not to express personal views or comment on policy issues."
For Weaver there is a difference between discussing science and voicing one's opinion on policy and a more effective communications regime wouldn't try to prevent scientists from doing either. He points to the National Oceanic and Atmospheric Administration (NOAA) in the U.S.
There is a long history of scientists discussing their research without going into the policy realm implications of their work, he says. To protect the independence and freedom of scientists, groups like NOAA take "the very bold step of saying their scientists can even talk about policy provided that they say these view are my own views, not the views of the government."
He adds, "in an open and democratic society that is exactly the type of policy we should be aiming for."
A Pattern of Muzzling
In June 2013, the University of Victoria's Environmental Law Centre and Democracy Watch released a report cataloguing "systematic efforts by the Government of Canada to obstruct the right of the media – and through them, the Canadian public – to timely access to government scientists." The 128-page report, entitled "Muzzling Civil Servants: A Threat to Democracy," led to a federal investigation launched by Information Commissioner Suzanne Legault. That investigation is still ongoing.
According to the authors "the report shows that the federal government is preventing the media and the Canadian public from speaking to government scientists for news stories – especially when the scientists' research or point of view runs counter to current Government policies on matters such as environmental protection, oil sands development, and climate change."
At the time of the report's release, UVic's Environmental Law Centre director Calvin Sandborn said "it's indefensible to conceal publicly financed government science from the public. Citizens need to know what the facts are so they can decide on critical issues like climate science, the tar sands development and pipelines and all sorts of other issues."
The message to Environment Canada scientists states the Communications Policy of the Government of Canada, which prevents government scientists from speaking to the media without following certain communications protocols, underscores the government's "responsibility to respond to the interests of Canadians, and of media in our science."
Yet for Sandborn, these burdensome policies can be what gets in the way of transparent science communication. "Those restrictive policies…indicate a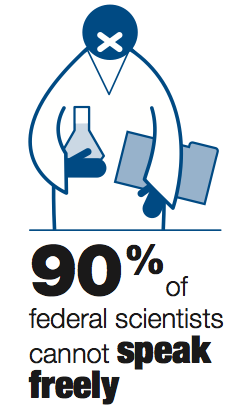 clear pattern of political control over anyone talking about science," he said.
Sandborn also claimed that muzzling doesn't occur across the board, but tends to coincide with politically unfavourable topics.
"It is interesting to see that topics that require the highest level of ministerial control are topics related to tar sands, climate change, polar bears, caribou and the oil and gas industry. Those are all terms used in federal government politics and on those topics the rules are the strictest. The scientists have to get the highest level of ministerial approval to talk about those topics. I'll leave it to you to decide whether that's a coincidence," he said.
This past fall a report released by the Professional Institute of the Public Service of Canada (PIPSC) called "The Big Chill" found 90 per cent of federal scientists felt they were prevented from speaking openly about their work. The study also found 86 per cent felt they would be reprimanded for criticizing departmental decisions they felt detrimental to public interest.
PIPSC president Gary Corbett told DeSmog Canada that he found the results "very surprising" especially revelations about "the degree of political interference."
"Right now scientists can't do the job they were hired to do."
Here is the full text of the Environment Canada letter:
Communicating our Science

The issue of the science done at EC and how it is communicated externally has received attention recently and we would like to take this opportunity to provide our perspective on this issue.

Environment Canada (EC) is a science-based department with a history of scientific accomplishment and rigour that is recognized nationally and internationally. We are extremely proud of the excellent work we are doing together as a department, and we appreciate the dedication and expertise of our scientists and of all of our staff.

Every day, staff at EC conduct a wide range of environmental monitoring, research and other scientific activities in fields such as atmospheric sciences, meteorology, physics, biology, chemistry, toxicology, hydrology, ecology, engineering, and informatics. The information and knowledge is used to inform our programs, policies and services. We know that sharing our science is important.

We recognize that we have a responsibility to respond to the interest of Canadians, and of media in our science. The Communications Policy of the Government of Canada underscores this point. Since January 2013, we received 316 media requests for interviews with scientists, 246 (or 78%) of which resulted in completed interviews. Interestingly, we are witnessing an upward trend in the number of media interviews being completed by EC scientists: the average number of scientist media interviews per month for the last five months is 50% higher than in the previous five months.

That said, access by media to departmental officials, including scientists, needs to be well coordinated in the context of a fast-paced 24/7 media environment. Issues in the media, including environmental issues, are often complex, have an impact beyond the scope of one person's work or even one department, and can have important policy implications for the Government. This is why media outreach is achieved in accordance with the Communications Policy, with which all public servants must comply. While Ministers are clearly the principal spokespersons of the Government, public servants, including scientists, may be designated as spokespeople, typically as an expert on a specific issue. The role of a public servant in this context is to provide technical information, not to express personal views or comment on policy issues.

EC scientists have our support, and the support of the senior management team, in communicating their research through many channels, such as presenting at conferences, publishing in journals, and, with approvals, discussing with the media. Our scientists are encouraged to publish and, in 2012, for example, our scientists published more than 700 articles, a level of productivity that has been relatively constant since 2006.

With one of the largest science programs in the federal government, EC is a national and global-leader in advancing, connecting and applying scientific understanding of the environment to anticipate and address pressing environmental issues.

The strength and credibility of our science helps Canadians to be confident that EC's policies, regulations, programs and services are based on the best available scientific evidence.

We are proud of the world-class science that we are doing together as a Department, and the services that we provide every day to Canadians. In the context of Blueprint 2020, we will be exploring channels such as webinars to further this discussion. We are committed to hearing your concerns and look forward to working with you to improve how EC science is communicated, both internally and to the public.

Bob Hamilton, Deputy Minister

Andrea Lyon, Associate Deputy Minister
Image Credit: Screenshot from The Big Chill report.