On December 12th, 1937 the night before her 56th birthday, Emily Carr jotted this down in her journal: "Fifty-six years ago tonight there was a big storm out West and deep snow. My dear little Mother wrestled bravely and I was born and the storm has never quite lulled in my life. I've always been tossing and wrestling and buffeting it. How little I've accomplished! And the precious years are flying by and never, never one minute will the clock tick backwards."
Throughout her life Carr expressed a deep and unrelenting desire to capture the essence of her natural surroundings, something she claimed remained elusive to her, haunting her throughout her work.
"I've been to the woods today," she wrote one month later. "It's there but I can't catch hold."
Whatever it was Carr was searching for, her hunt carried her throughout the forests and bays of Vancouver Island and Haida Gwaii. She felt sure the final remedy, her peace, resided in those old forests and deep green ocean bays.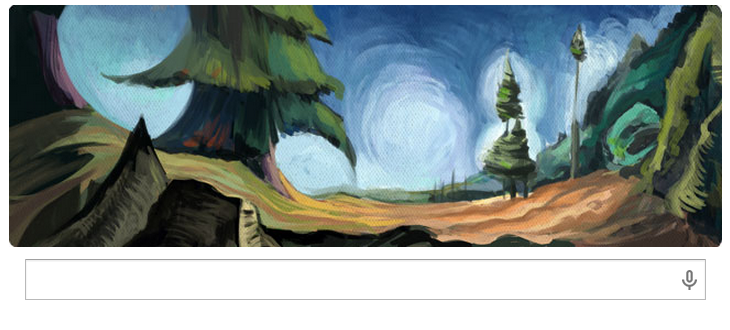 Google Doodle in the style of Emily Carr.
"I am always asking myself the question, What is it you are struggling for? What is that vital thing the woods contain, possess, that you want? Why do you go back and back to the woods unsatisfied, longing to express something that is there and not able to find it?"
Her deep reverence for the natural world and particularly the coast of British Columbia turned Carr into an iconic artist, leaving behind a lifetime of patient, meditative paintings, her endless quest left in the paint strokes of crooked arbutus, a heavy cedar bough.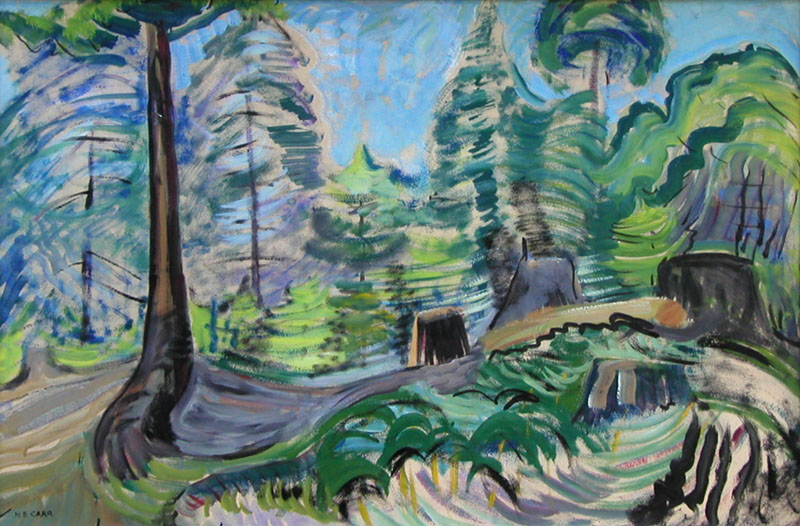 Untitled Forest Scene. Emily Carr. 1934.
"Search for the reality of each object," she wrote "that is, its real and only beauty; recognize our relationship with all life; say to every animate and inanimate thing 'brother;' be at one with all things, finding the divine in all; when one can do all this, maybe then one can paint."
Her writings reveal not only her reflections on the experience of painting and sketching the scenes before her, but give us an insight into her own experience of nature and how she envisioned a rich and nourishing relation to the natural world might deepen our bond with our landscape.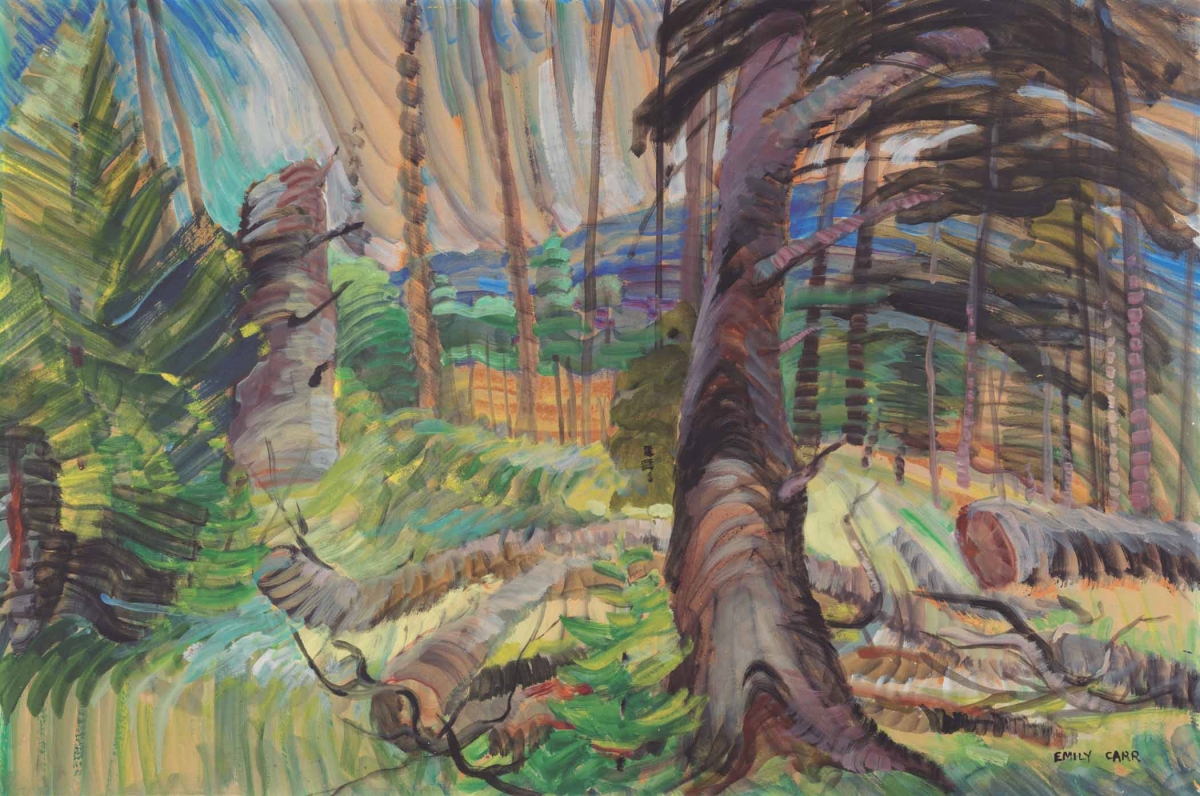 A Forest Clearing. Emily Carr. 1939.
"Go out there into the glory of the woods…Feel their protecting spread, their uplifting rise, their solid immutable strength. Regard the warm red earth beneath them nurtured by the myriads of fallen needles, softly fallen, eternally changing yet eternally the same. See God in it all, enter into the life of the trees. Know your relationship and understand their language, unspoken, unwritten talk. Answer back to them with their own dumb magnificence, soul words, earth words…"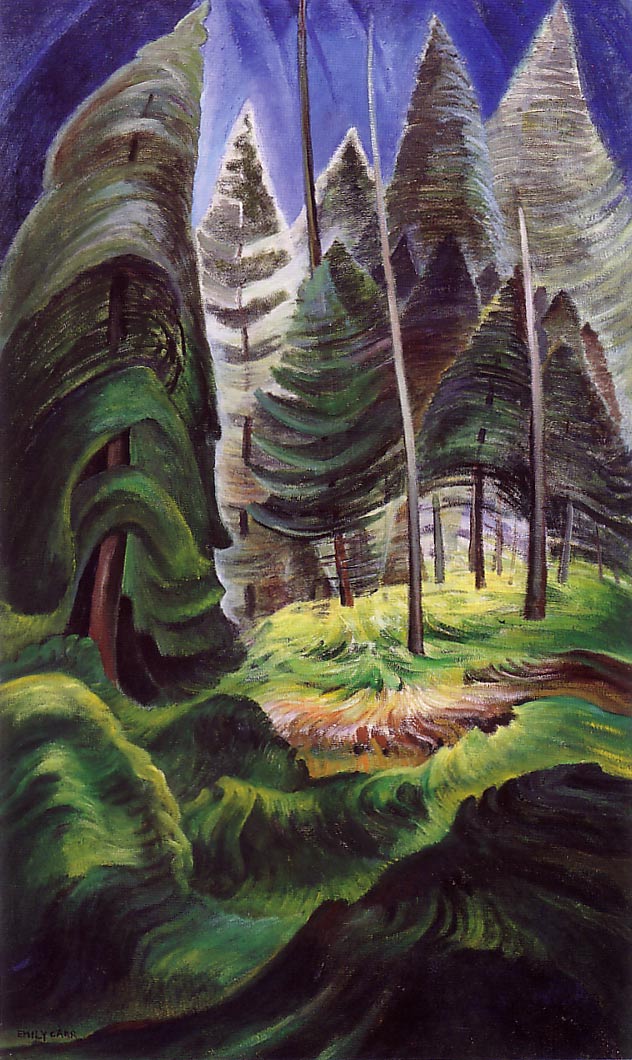 A Rushing Sea of Undergrowth. Emily Carr. 1932-35.
"This perhaps is the way to find that thing I long for: go into the woods alone and look at the earth crowded in growth, new and old bursting from their strong roots hidden in the silent, live ground, each seed according to its own kind expanding, bursting, pushing its way upward towards the light and air, each one knowing what to do, each one demanding its own rights on the earth. Feel this growth, the surging upwards, this expansion, the pulsing life, all working with the same idea…life, life, life…"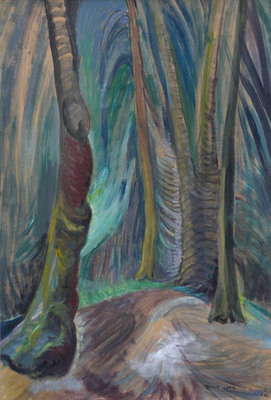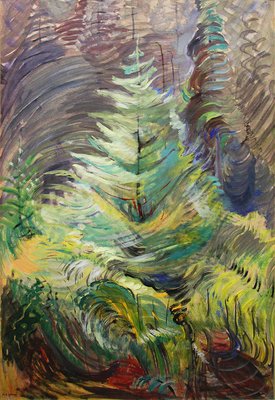 Left: Boles. Emily Carr. 1935. Right: Heart of the Forest. Emily Carr. 1935.
In her writings Carr doesn't give the impression that she finally came to know the great mystery of the forest she so longed to grasp. Yet, she expresses a maturing sense of contentment with the world around her as she aged. "Autumn does not dismay me any more than does the early winter of my body. Some can be active to a great age but enjoy little. I have lived," she wrote in September of 1939, six years before her death.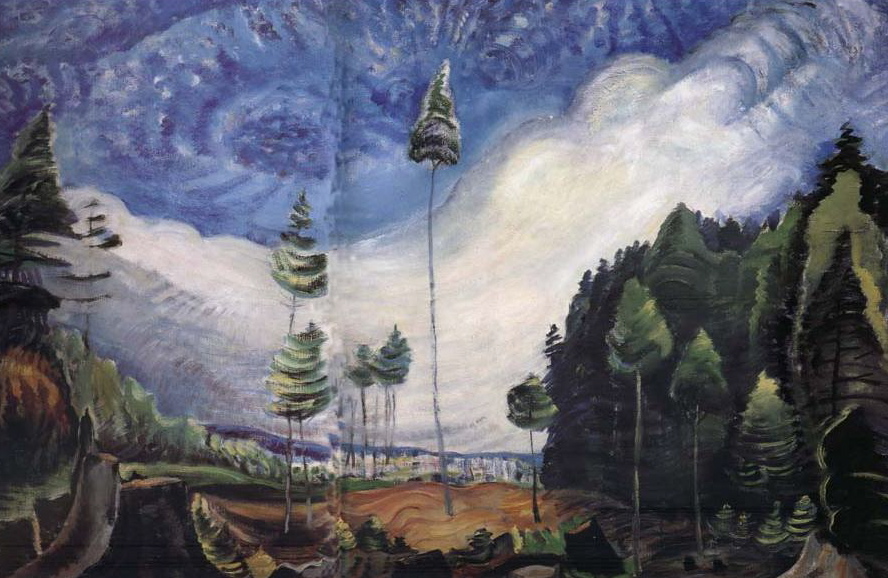 Loggers' Culls. Emily Carr. 1935.
There is more fulfillment from Carr's years of searching to be found, perhaps, in the legacy of her work and the enchantment with Canadian wilderness, First Nations' totem poles and culture, the deep woods and dark waters she left behind. Maybe Carr was more like the forces of nature she tried so hard to understand. In her own way she brought something into this world the beauty of which she couldn't know or comprehend, the lasting effect of which would outlive her entirely.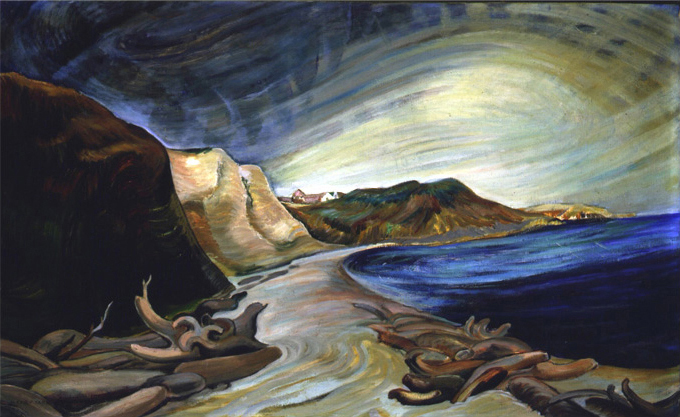 Shoreline. Emily Carr. 1936.
"Has a root or bulb the power to look up through itself and see its own blossom? Or must it live always in its own dark domain, busily, patiently sucking its life from the earth and pushing it up to the flower? How terrific the forces of nature are! To see root spilt stone appalls one. I think that has impressed me more than anything else about the power of growth. An upheaval is good, this digging about and loosening of the earth about one's roots. I think I shall start new growth, not the furious forcing of young growth but a more leisurely expansion, fed from maturity, like topmost boughs reflecting the blue of the sky."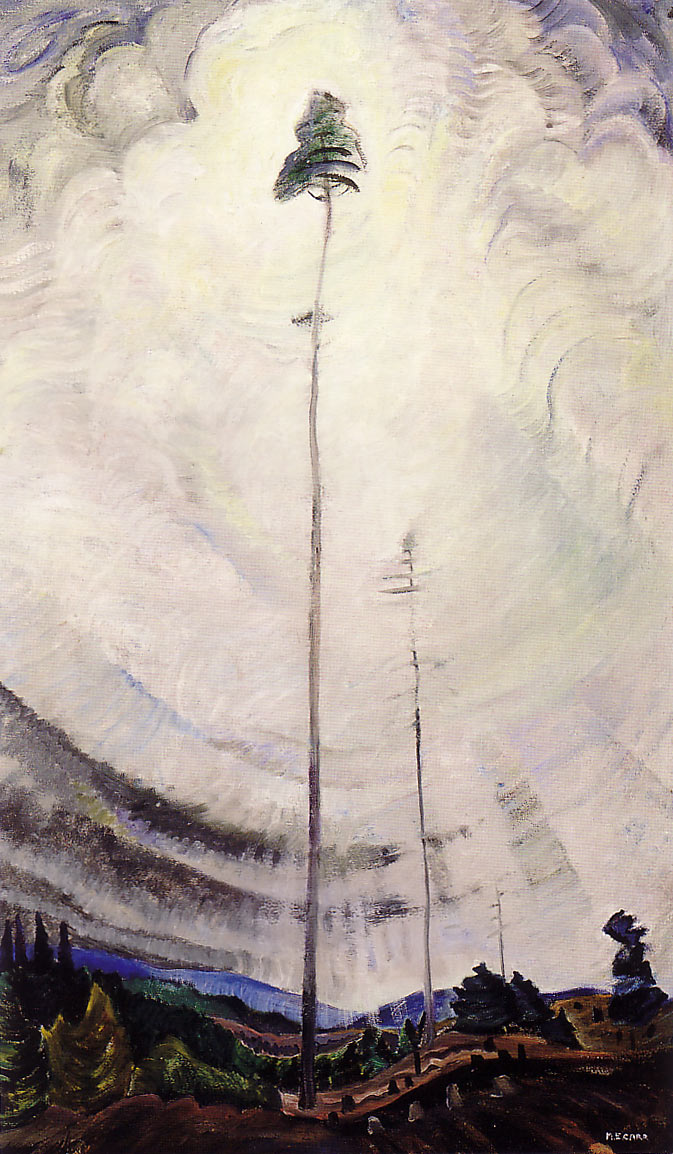 Scorned as Timber Beloved of the Sky. Emily Carr. 1935.
On her birthday December 13, 1940, Carr wrote "I do not mourn old age. Life has been good and I have got a lot out of it, lots to remember and relive. I have liked life, perhaps the end more than the beginning."
The main force behind her painting, she reflected, was its use "as a means of expressing myself, putting into visibility what gripped me in nature."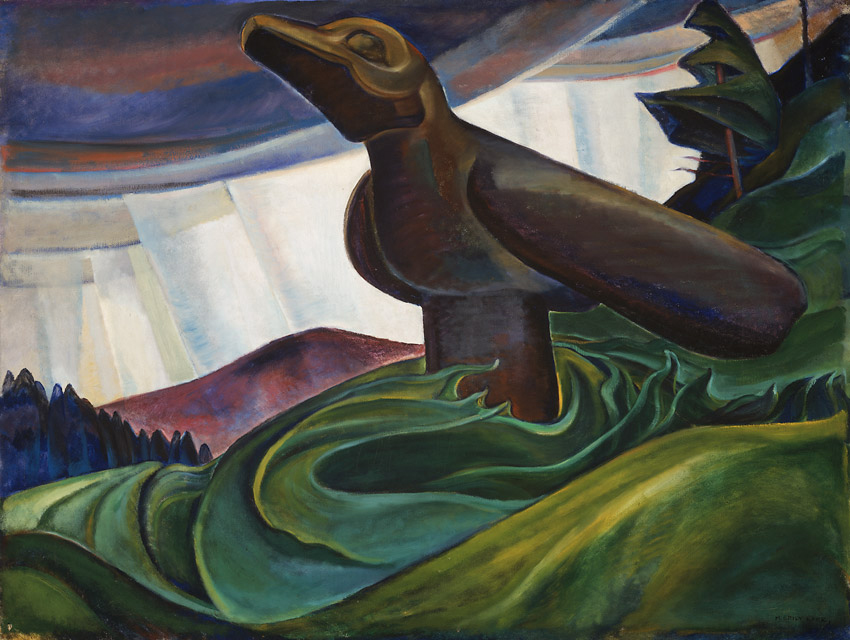 Big Raven. Emily Carr. 1931.
Emily Carr died in 1945 at the age of 74 in her hometown Victoria, B.C.
Before her death she wrote: "Dear Mother Earth! I think I have always specially belonged to you. I have loved from babyhood to roll upon you, to lie with my face pressed right down on to you in my sorrows. I love the look of you and the smell of you and the feel of you. When I die I should like to be in you uncoffined, unshrouded, the petals of flowers against my flesh and you covering me up."
An exhibit of more than 40 of her forest paintings will go on display at the Vancouver Art Gallery on December 21, 2013.
Quotes excerpted from "Hundreds and Thousands: The Journals of Emily Carr." Clarke, Irwin & Company Ltd. 1966.