The rough track at the foot of West Farnham Glacier, carved by a Glacier Resorts bulldozer in 2008, comes to an abrupt end as the already rough terrain becomes impassable.
Huge boulders block the path, where there is an early-fall dusting of snow and, ahead, the cliffs are festooned with precariously hanging icicles.
"We call it the road to nowhere," said professional mountain climbing guide Arnor Larson, who, since 1970, has taken visitors into the remote Farnham area of the Purcell Range — 60 kilometres from Invermere along a lumpy, slippery one-track road.
[view:in_this_series=block_1]
Stretching above the track is the money card — blindingly bright snow, broken by icy blue patches, where the prospect of all-season glacier skiing has fuelled a 24-year debate.
Glacier Resorts Ltd. plans to build a billion-dollar ski resort, with hotels, lodges, condominiums and shops, in the adjacent Jumbo Valley. Lifts and gondolas would take visitors from the village to ski on Farnham, Jumbo and Commander Glaciers.
But the most pressing question is how long the glaciers will be around.
While the Jumbo Glacier Resort Master Plan predicts the glaciers will survive or even grow as climate change will mean additional snow at high altitudes, climate scientists say glaciers in the Purcell Mountains will have disappeared by the turn of the century.
Larson, who has had a front-row seat to the glacier melt for more than four decades, points to scraped rocks below the glacier toe, showing how Farnham has receded in the time he has been guiding. Then he glances up at the summer snow and points to semi-concealed crevasses.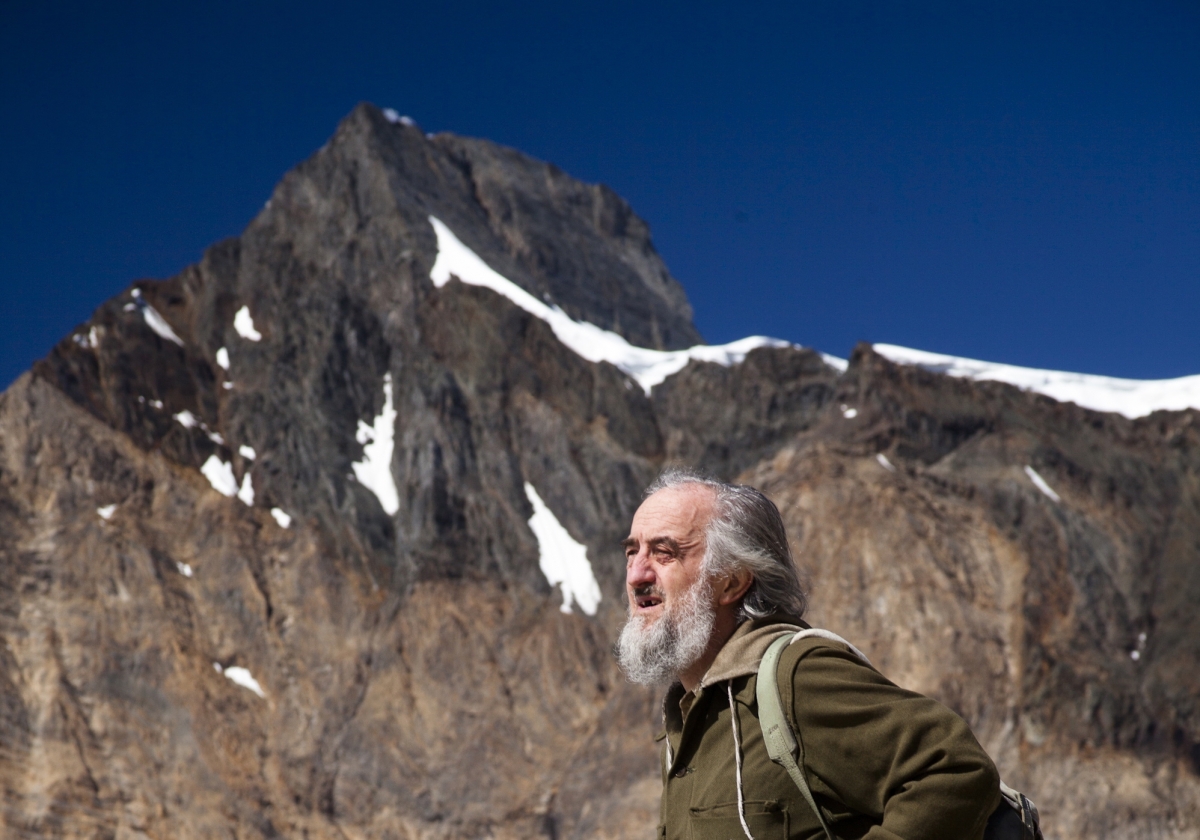 Professional mountain climbing guide Arnor Larson. Photo: Pat Morrow.
"I wouldn't be too keen as a guide to take anyone there in the summer for skiing," he said.
Larson, who has collected old photos of the glaciers, compares a 1913 photo of Commander Glacier to a 2008 photo, showing massive ice reduction. Over recent years, the process has sped up and Commander has shrunk considerably further since 2008, he said.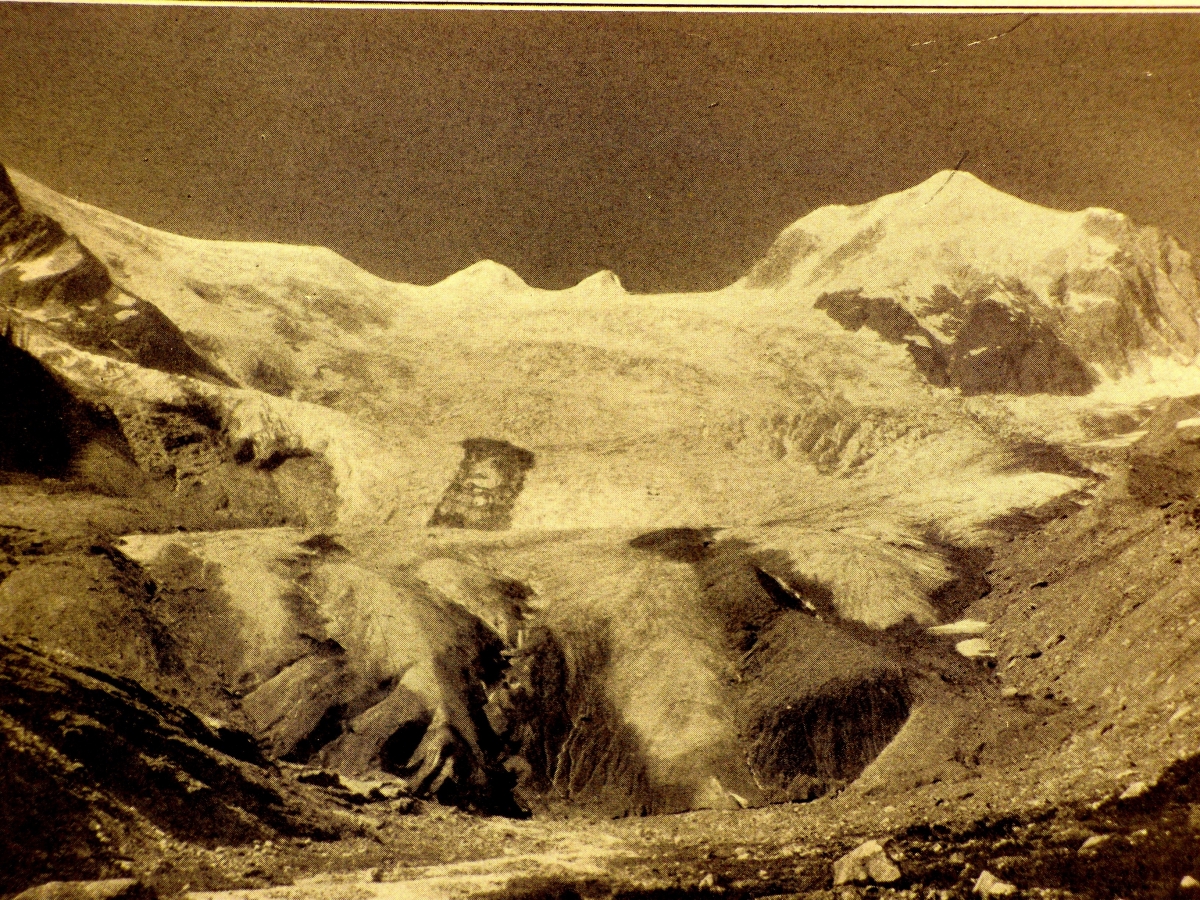 Commander Glacier in 1913.
Commander Glacier in 2008.
The melting is further accelerated by machines cutting ice roads on the glaciers or "mining" snow from the upper part of the glacier to build ski runs, he said.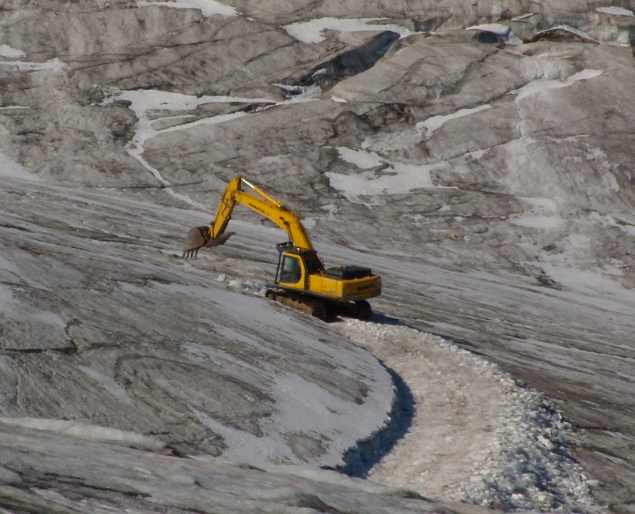 Large machinery on Farnham Glacier. Photo: Arnor Larson.
Tommaso Oberti, vice-president of Pheidias Project Management Corp., the company spearheading the resort design, said the Master Plan is based on information from Michael Maxwell, a geophysicist with global consulting firm Golder Associates.
Maxwell, an honorary research associate at the University of British Columbia, said he worked on monitoring the Purcell glaciers in the mid-1990s, but has not done any research in the area since then.
"I guarantee that things have changed since then, but I can't say how they have changed," said Maxwell, who is continuing to do some glaciology work in other areas.
The Jumbo Master Plan fact sheet on climate, water and glaciers argues global warming is actually a compelling reason to build the resort because many low-elevation ski resorts in B.C. will not be able to operate if the worst climate predictions come true.
"Even with extreme glacier retraction and a dramatic increase in global temperatures, JGR will be one of the very few locations in North America where skiing will be possible in winter because of its high elevation. In fact, the moraines that are left behind by retreating glaciers result in some of the most skiable terrain possible, when covered with snow in winter," Oberti wrote in an e-mail.
The glaciers range from a height of 3,400 metres at the top of Jumbo to a low of 2,450 metres at the bottom of Farnham.
That means the high glaciers could actually grow, rather than recede, says the Master Plan.
However, Brian Menounos, professor of earth sciences and Canada Research Chair in glacier change at the University of Northern B.C., said glaciers in the Columbia Basin are unlikely to survive past 2100.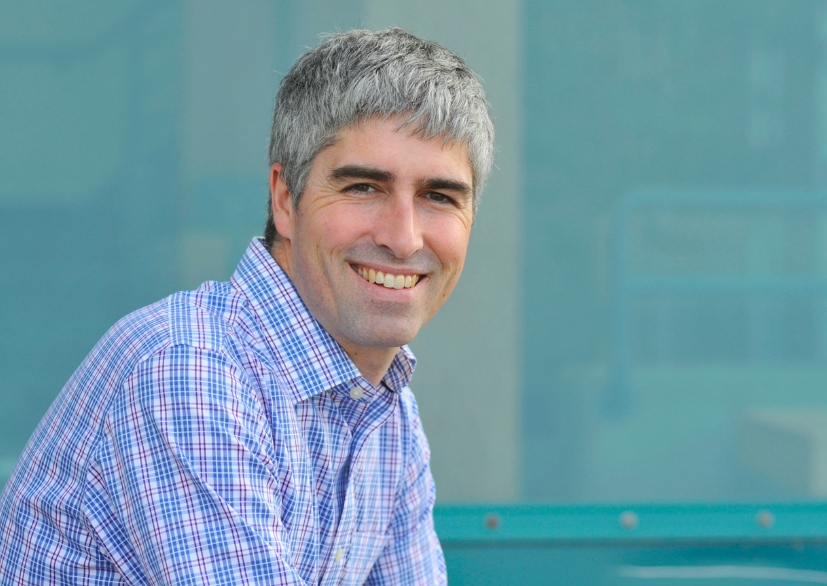 Brian Menounos. Photo: Univeristy of Northern B.C.
It is likely that precipitation will increase from 10 to 15 per cent because of climate change, Menounos said.
"But that doesn't compensate for the amount of warming that is likely to occur. The modelling that I have seen says most of the ice in the Columbia Basin will not be there by 2100."
Glaciers in western Canada started retreating in the 1920s, probably because of natural warming, but most scientists agree that, since 1980, they are strongly retreating because of human-caused climate change, Menounos said.
Large glaciers take a long time to respond, so even if everyone immediately stopped using fossil fuels, the glaciers will continue to melt "because of what we have done to them," he said.
Some icefields in the North Coast Mountains will survive past the turn of the century, although they will be reduced by half, Menounos said.
"But in the southern interior ranges it's not a good news story."
Climate scientist Andrew Weaver is Green Party MLA for Oak Bay-Gordon Head and a lead author of the United Nations Intergovernmental Panel on Climate Change scientific assessments, including the report that won the Nobel Peace Prize in 2007.
Weaver scoffs at claims that the Purcell glaciers will survive or grow and described long-term plans for year-round glacier skiing as a "bit of a pipedream."
A group that knows the glacier well is the Canadian Olympic Development Association (CODA), now known as Winsport, which spent six years training at Farnham, eventually pulling out in 2009.
"It was amazing conditions for summer training and we believe it played a key role in as many as three medals won at the Vancouver Olympics," said Dale Oviatt, Winsport communications spokesman.
"Essentially we pulled out because of finances as it was an expensive operation to run."
But while ski conditions on the glaciers may be good for now, the Jumbo Glacier Resort project, which will take 20 years to build, flies in the face of scientific understanding of climatic trends, Weaver said.
"It is expected that by 2100 Jumbo Glacier will be largely non-existent. In fact, just looking at the period between 1985 and 2005, the entire southeastern B.C. glacial region lost, on average, roughly 15 per cent of its mass," he said.
Weaver cannot understand why the provincial government is supporting the private-sector proposal by funding the Jumbo Glacier Mountain Resort Municipality, which has no residents, and he questions whether the project is attracting investors.
"A prudent investor would ask 'how long is this glacier going to be around?' and would ask the scientific community," he said.
Main Image: Commander Glacier by Pat Morrow.
New title
You've read all the way to the bottom of this article. That makes you some serious Narwhal material.
And since you're here, we have a favour to ask. Our independent, ad-free journalism is made possible because the people who value our work also support it (did we mention our stories are free for all to read, not just those who can afford to pay?).
As a non-profit, reader-funded news organization, our goal isn't to sell advertising or to please corporate bigwigs — it's to bring evidence-based news and analysis to the surface for all Canadians. And at a time when most news organizations have been laying off reporters, we've hired eight journalists in less than a year.
Not only are we filling a void in environment coverage, but we're also telling stories differently — by centring Indigenous voices, by building community and by doing it all as a people-powered, non-profit outlet supported by more than 2,200 members. 
The truth is we wouldn't be here without you. Every single one of you who reads and shares our articles is a crucial part of building a new model for Canadian journalism that puts people before profit.
We know that these days the world's problems can feel a *touch* overwhelming. It's easy to feel like what we do doesn't make any difference, but becoming a member of The Narwhal is one small way you truly can make a difference.
We've drafted a plan to make this year our biggest yet, but we need your support to make it all happen.
If you believe news organizations should report to their readers, not advertisers or shareholders, please become a monthly member of The Narwhal today for any amount you can afford.