After languishing in the darkness for ten years, a national climate policy in Canada could take shape during an anticipated first ministers meeting in Vancouver next month. The meeting fulfills a Liberal election promise "to establish a pan-Canadian framework for combating climate change" and meet with provincial ministers within 90 days of the UN COP21 climate negotiations in Paris.

"If there ever was a time this could work it would be now," Jennifer Allan, PhD candidate and researcher with International Institute for Sustainable Development (IISD), said. "Canadians are mobilized and there's more momentum for change than there's been in the recent past, if ever."

"The federal government and the provinces are not going to be able to sneak anything weak — or failure — out the backdoor," Allan told DeSmog Canada.

Although Prime Minister Justin Trudeau has not officially announced the meeting to discuss a national climate plan with the premiers, the government of Newfoundland and Labrador published a media release earlier this week identifying March 3 as the date of the first ministers meeting to discuss a national climate change framework.
Other sources confirmed the meeting will be held on March 3rd during the Globe Series, an international environmental business summit in Vancouver.
The early March date falls just within the federal government's pledge to hammer out a climate framework with the provinces ninety days after the climate talks. The Liberal Party platform promised to meet with the provinces with the intended goal of establishing a national framework for combating climate change, "to develop real climate change solutions, consistent with our international obligations to protect the planet, all while growing our economy."

The task before the prime minister and premiers ­— figuring out how to rein in Canada's rising greenhouse gas (GHG) emissions — will be a difficult one. The most recent emissions data from Environment and Climate Change Canada shows the country is way off course in meeting the weak GHG reduction targets set under the previous Conservative government.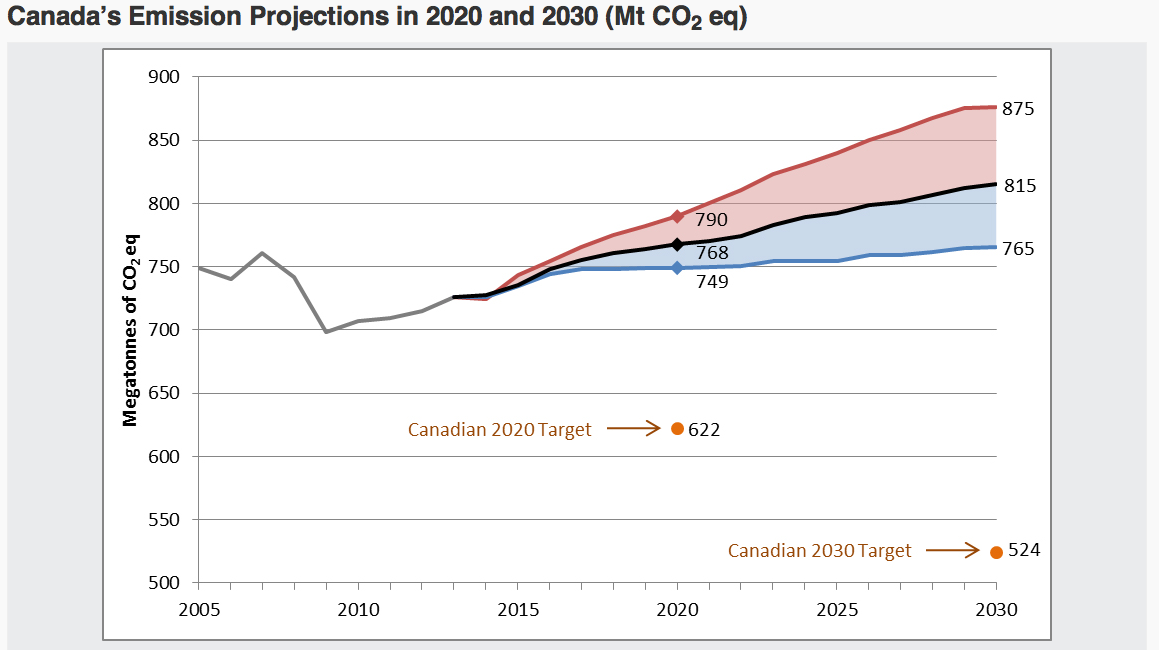 Source: Environment and Climate Change Canada, January 29th, 2016.
Under former Prime Minister Stephen Harper, Canada indicated it would reduce its GHG output only by roughly 14 per cent based on 1990 levels by 2030. The Trudeau government has said it wants to improve on this target, but has not said by how much.

Canada currently exceeds 1990 levels by 18 per cent.
Climate Action Creates Jobs
Politically, the ground does not appear very fertile for the provinces, territories and federal government to all agree on a climate strategy that must include a plan on how to diminish Canada's dependence on fossil fuels. Canada has agreed to phase out the use of fossil fuels by the end of the century and eliminate net carbon emissions by 2050.

Last month, Montreal-area mayors received criticism from Alberta and Saskatchewan politicians for refusing to support the proposed Energy East oil pipeline.

Even CBC personality Rick Mercer derided Montreal for suggesting the environmental risks of the pipeline outweigh potential economic rewards.

The low price of oil has sent the Canadian dollar on a downward spiral and triggered job losses in the oil patch. Many in Canada are concerned what a downward turn in oil production could mean for the economy.

"There's unfortunately this old myth out there if the economy isn't doing well it is certainly not the time to talk about environmental protection," Allan said. "There's been a lot studies done showing across the world climate action creates jobs."

A 2014 report found the clean energy sector employs more people than the oilsands (also called tar sands), despite the $1.3 billion in subsidies the oil and gas industry receives from the federal government.

Globally, clean energy is a booming $300 billion industry right now.

Paris Agreement Should Guide a Canadian Climate Strategy
Under the Paris agreement, countries pledged to reduce GHG emissions in order to cap the rise in global temperatures at "well below 2C" (Celsius) and even "pursue efforts to limit the temperature increase to 1.5C."

"The reference to 1.5 is a call for greater ambition than we've seen in the past," Allan said, who attended the Paris talks as part of IISD's Reporting Services Division.

"I think this will give some leverage for those within Canada who want to see the contributions put forward by the Harper government strengthened," Allan told DeSmog Canada.

But the Paris agreement is light on details in regards to actual hard GHG reduction targets. The agreement allows countries to set GHG targets and reduce emissions in whatever way suits them.

Allan says this may be a blessing or a curse.

"The Paris agreement gives countries a tremendous amount of flexibility. In Canada's case, the doors are open for us to come up with meaningful climate action in a way that is best for our economy and political structure. This is a good thing," Allan said.

"This also means there is very little guidance in terms of policies and targets we should undertake," Allan told DeSmog.

The commitment to keep planet's temperature increase "well below" two degrees or even at 1.5 degrees (Canada was one of the countries pushing for the inclusion of 1.5 during the Paris talks) will have to be guiding principle in creating a national climate strategy if Canada is serious about breaking with past climate inaction and meeting international obligations.

Another nugget from the Paris agreement that could inform the first ministers meeting in Vancouver is the concept of no backsliding on previous commitments. Countries are expected to submit their plans to cut GHG emission to the UN every five years. Each plan is suppose to outdo, that is, outline deeper GHG cuts than in the previous one.

"So in a way the conversation starting now with the premiers is the first go around. Chances are they are going to have this conversation every five years or so to see what they can do that is more ambitious than the last time," Allan said.
Photo Credit: US EPA