It's Monday, August 11th, and both my gumboots are dangerously sinking into the muck I'm trying to cross.
I took far too bold a step towards a sturdy log ahead as I'm trying to cross a sludge river left behind in the wake of the Mount Polly mine tailings pond breach.
Now I'm balanced precariously, one boot in front, one behind, and trying not to topple into the muck beneath that could contain high levels of arsenic, mercury, zinc, lead and selenium – all toxins and heavy metals stored in the breached tailings pond fed by the Imperial Metals gold and copper mine near Likely B.C.
It has been one week since the waste pond wall breached, sending an estimated 10 million cubic metres (or 10 billion litres) of waste water and 4.5 million cubic metres of sandy sludge into the Hazeltine Creek that feeds Quesnel Lake. (For comparison, the Kalamazoo oil spill in Michigan totaled an estimated 3.3 million litres).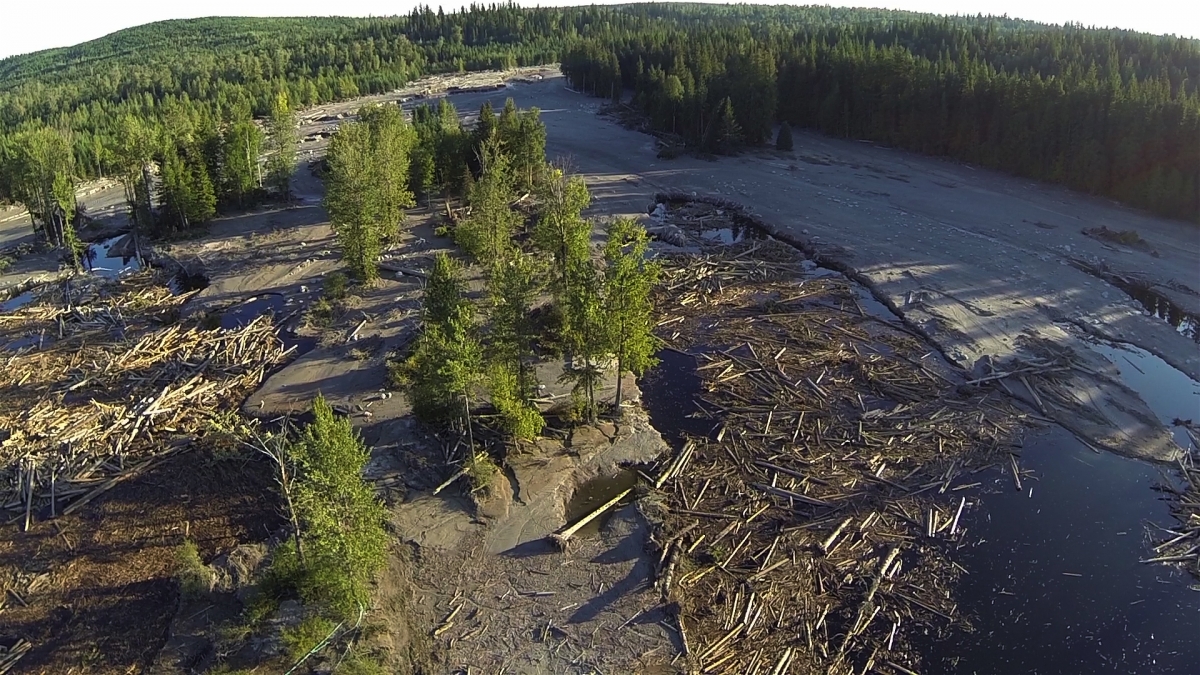 A field of debris and dried sediment from the Imperial Metals tailings pond can be seen pouring out of what once was Hazeltine Creek into Quesnel Lake. Photo by Farhan Umedaly, Vovo Productions.
It's at the convergence of the Hazeltine and Quesnel Lake that I now find myself, arms outstretched to maintain my balance, and sinking.
I finally manage to rock myself back far enough to regain balance on my back foot. I gently maneuver my front foot back and forth to relieve the suction around my boot. If I topple over I will plunge my bare hand into the sludge which, at this stage, contains an unknown mixture of chemical compounds known to cause cancer and birth defects. I didn't know this until later, but even short-term exposure to selenium can cause respiratory problems like pulmonary edema or bronchial pneumonia.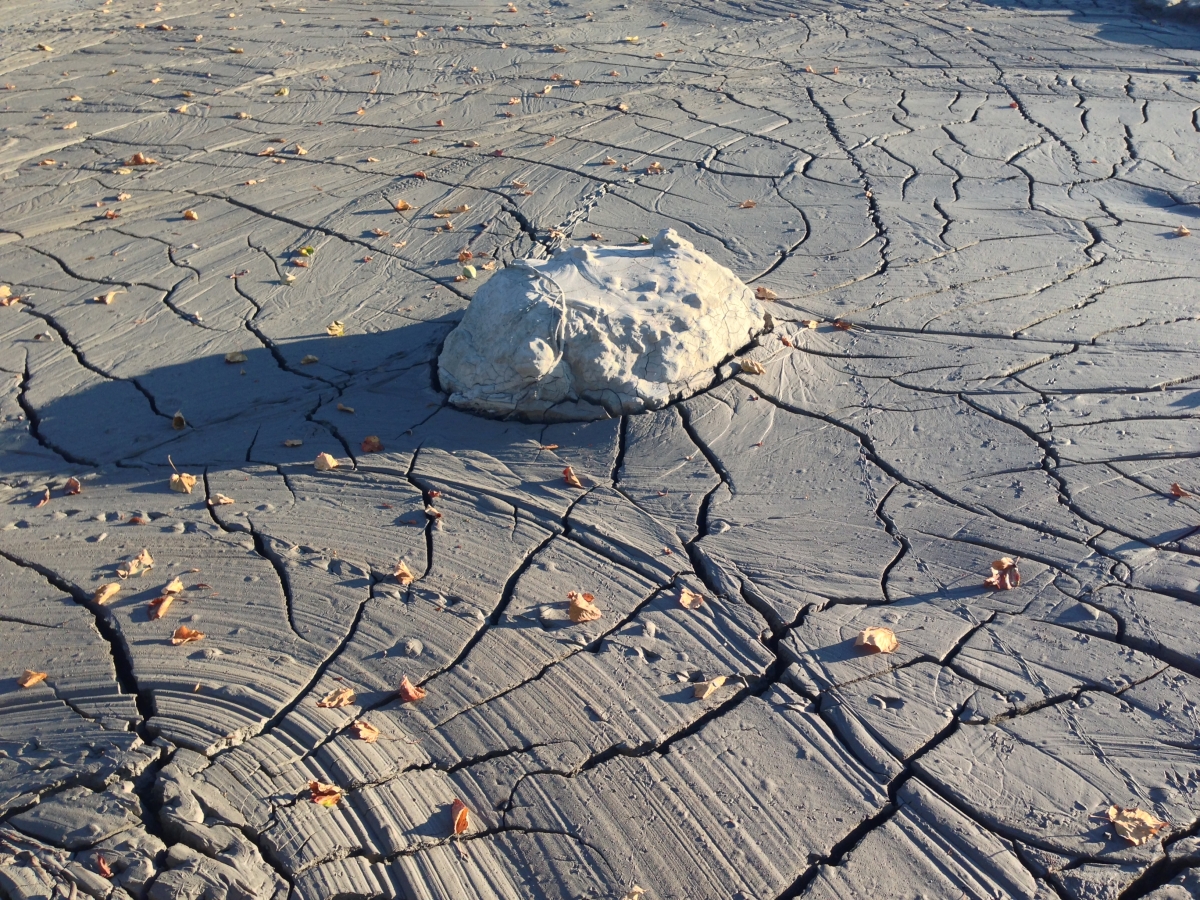 A mud boulder sits in the deep sludge from the Mount Polley mine tailings pond. Photo by Carol Linnitt.
Like everyone else around here, I have imperfect knowledge of just what health effects to fear in the wake of the spill.
Maybe I should have worn that damn mask.
But that might have rubbed my guide, local carpenter Tate Patton, the wrong way.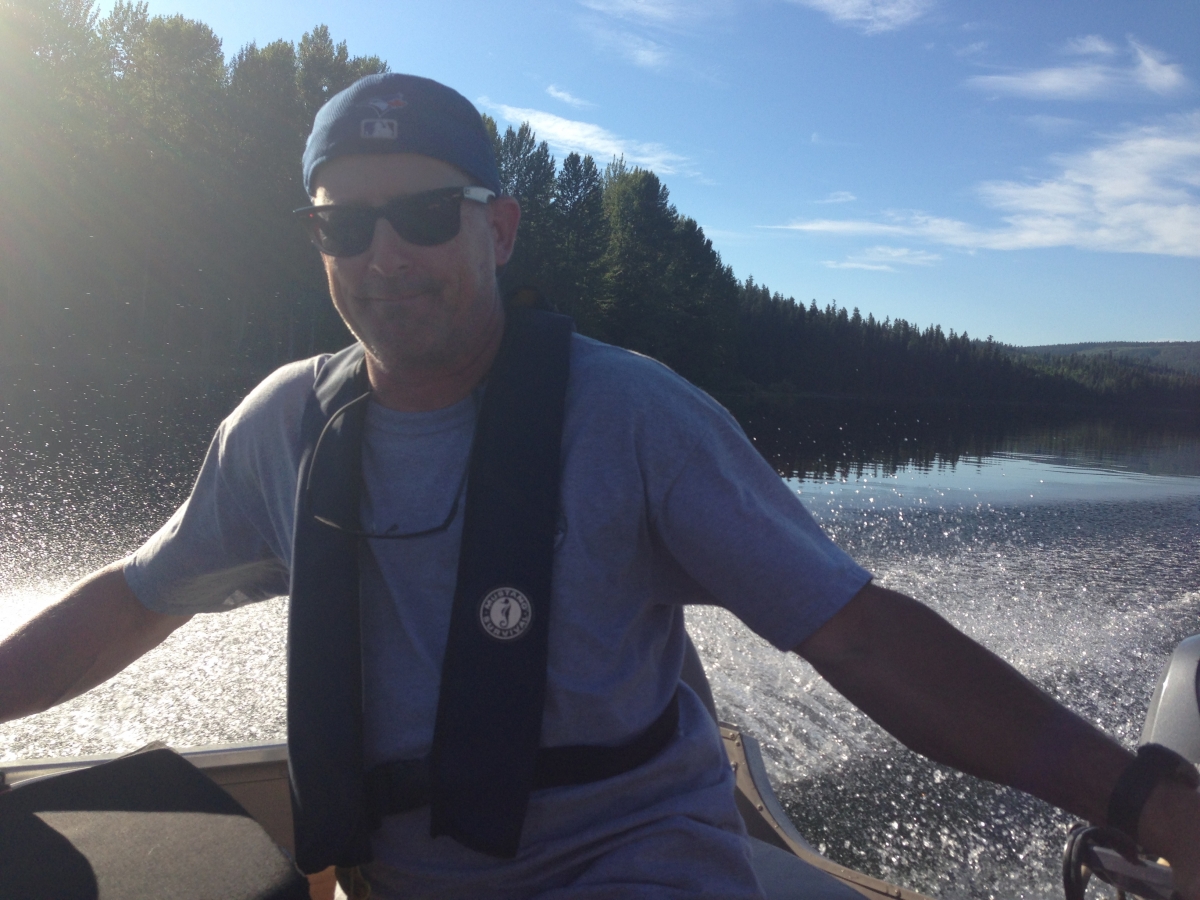 Tate Patton, resident of Likely, B.C. lives on the shore of Lake Quesnel. Photo by Carol Linnitt.
Like a lot of local residents, Patton doesn't like to play up the 'disaster porn' aspect of the accident. Having an out-of-towner tromping around in the wreckage taking selfies with a garish facemask is exactly what most residents are looking to avoid.
Despite the anger aroused by the incident at the Mount Polley tailings facility, a lot of folks in the community around Likely B.C. want to focus on recovery, rather than regret.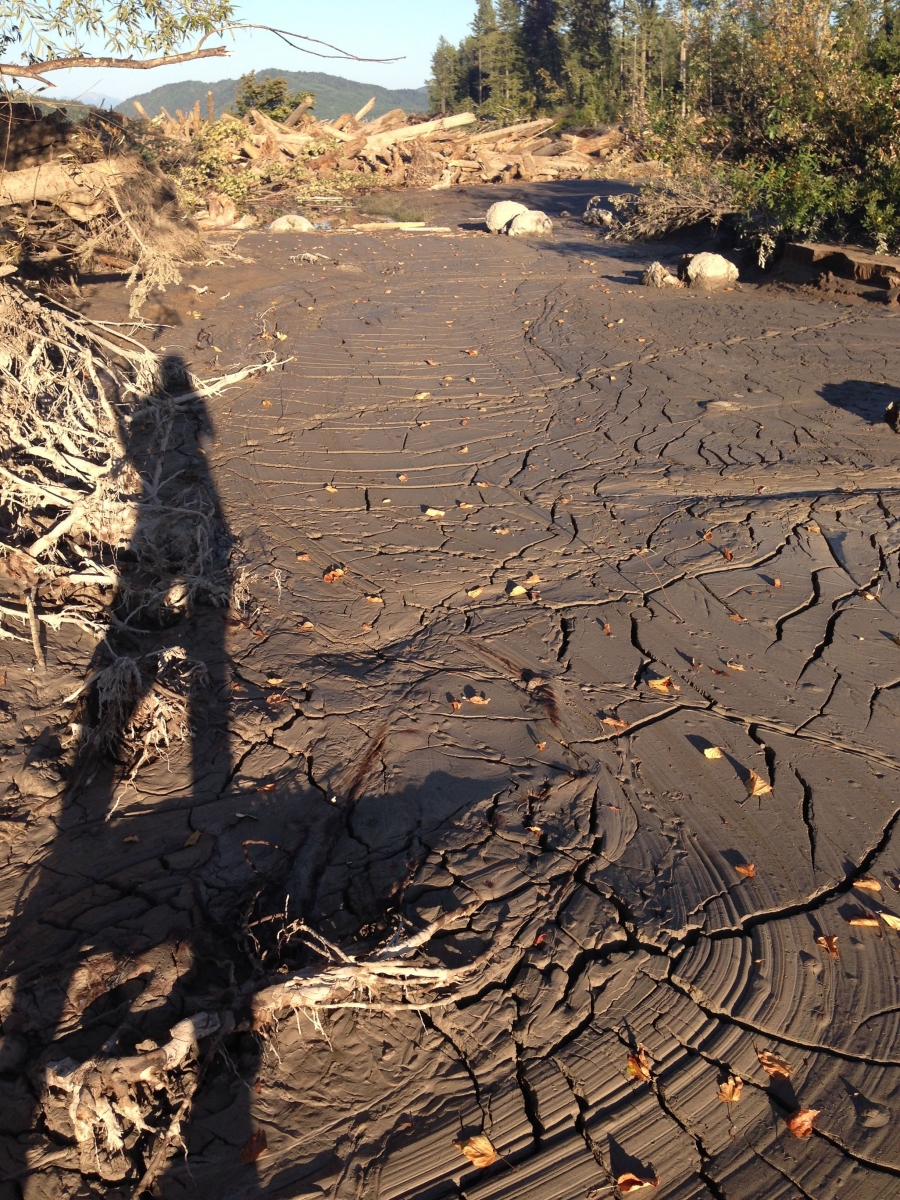 What was once the Hazeltine Creek is now a contaminated field of sludge and debris. Photo by Carol Linnitt.
There was no chance of traversing the deep muck, I realized, not without waders.
I manage to back track successfully to more solid ground. I survey my surroundings for another route closer to what remains of Hazeltine Creek. No dice.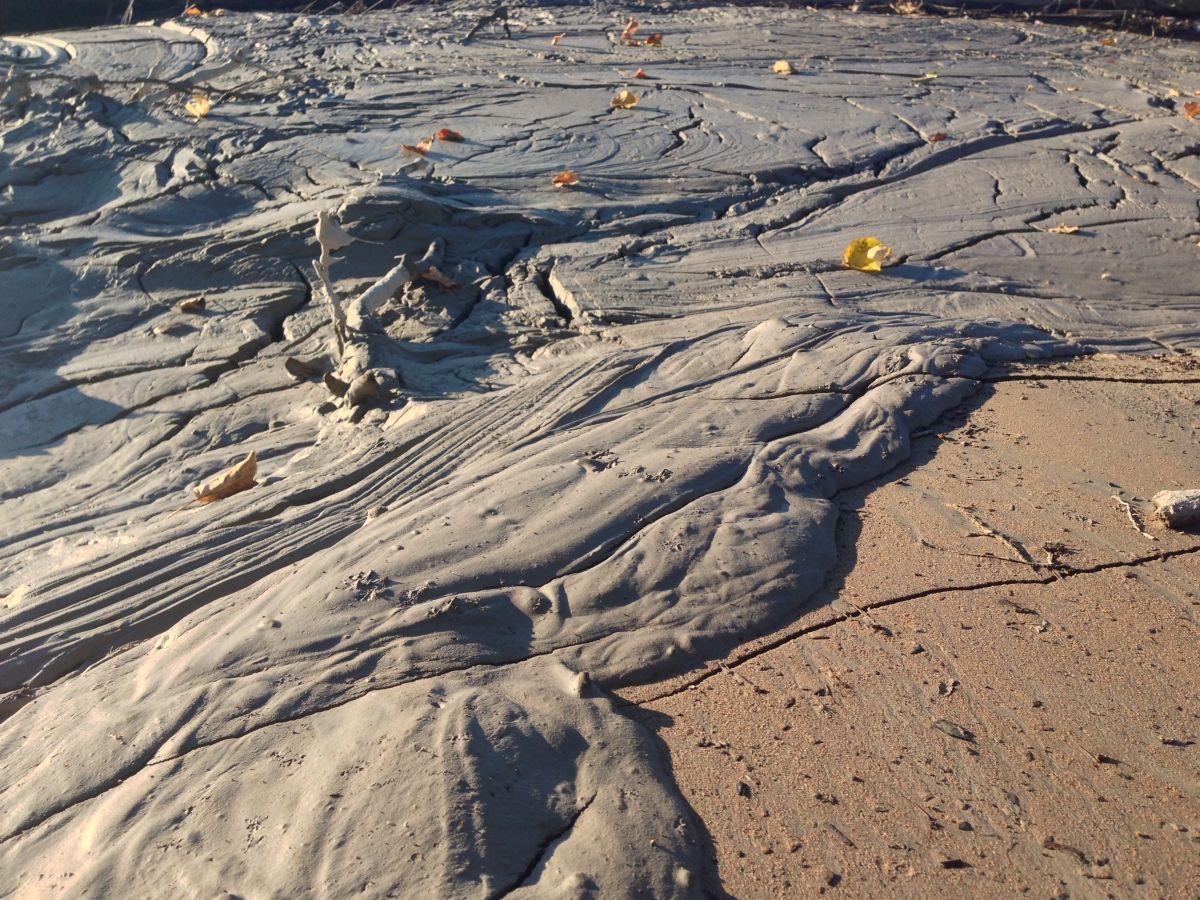 Soft silty mud from the spill. Photo by Carol Linnitt.
The spill caused a massive mudslide down the once humble creek bed, expanding its width from a mere six feet, to an incredible 150 metres.
As the material from the tailings pond flooded down the creek it tore at the surrounding forest, stripping the bank of trees, boulders and vegetation. The debris field at the mouth of the Hazeltine Creek stretches for more than a kilometer across.
A portion of the debris field shows the massive amounts of trees pulled down by the flood of tailings pond water and waste. Photo by Farhan Umedaly, Vovo Productions.
Ropes slung to the shore are used to contain the stacks of limbless trees, stripped of their branches and bark from their violent tumble down the creek.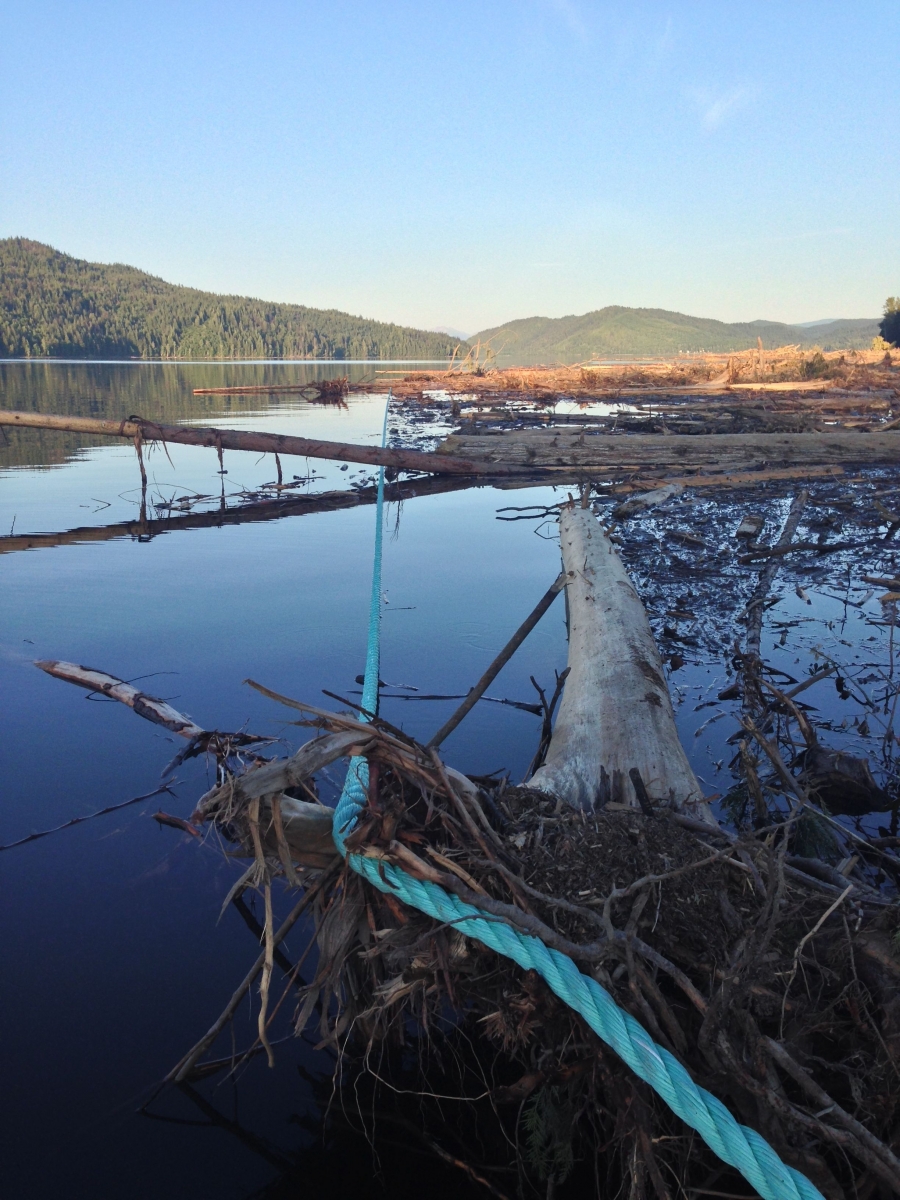 Ropes secured to the shore contain the debris field in Quesnel Lake. Photo by Carol Linnitt.
The mixture of sediment, fine sand, chemicals and heavy metals that collects at the bottom of tailings ponds is known as "slurry." According to Gerald MacBurney, a former tailings foreman at the Mount Polley mine, the water from the tailings pond is less of an environmental concern than the slurry. "That's where all the nasty stuff is," he told me.
Tate Patton, who brought me to Hazeltine Creek, said it took hours for the tailings pond to drain out, the roaring sound of the flood carrying down Quesnel Lake for over six hours.
"I live about five or six miles down the lake and you could hear the sound from there for hours until the wind switched direction and you couldn't hear it as well," Patton said.
For several hours the tailings waste and debris poured into Quesnel Lake, one of the world's deepest glacial fjord lakes. To this day no one knows quite how deep the lake is. The deepest recorded measurement reached down 610 metres. The lake is home to a quarter of the province's sockeye salmon and is world famous for its brightly coloured rainbow trout among fly fishers.
Debris stretches across the shore near the mouth of the Hazeltine Creek. Photo by Farhan Umedaly, Vovo Productions.
Temperatures of the water flowing out of Quesnel Lake can quickly fluctuate eight degrees, leading hydrogeologists to theorize about complex water currents and circulation within the waterbody.
Patton said the depth of the lake is a bonus when it comes to dilution of the spill materials. "We have a lot of pluses," he said. "The water is deep, the levels are high right now, and we haven't had much rain."
When the floodwaters subsided, a wide river of slurry and mud had entirely replaced Hazeltine Creek, leaving fluvial fans of sludge along low-lying areas and trailing into Quesnel Lake.
Sludge from the spill carries out into Quesnel Lake. Photo by Carol Linnitt.
At the base of the creek the floor of the lake quickly drops out. Sediment from the spill poured out into the depths leaving only a plume of suspended solids, visible only from the air, behind.
What remains of the spill on land sits caked in tailings waste. No clean up or dredging of the creek bed or debris area is expected until additional pumping of tailings waste from Polly Lake is complete.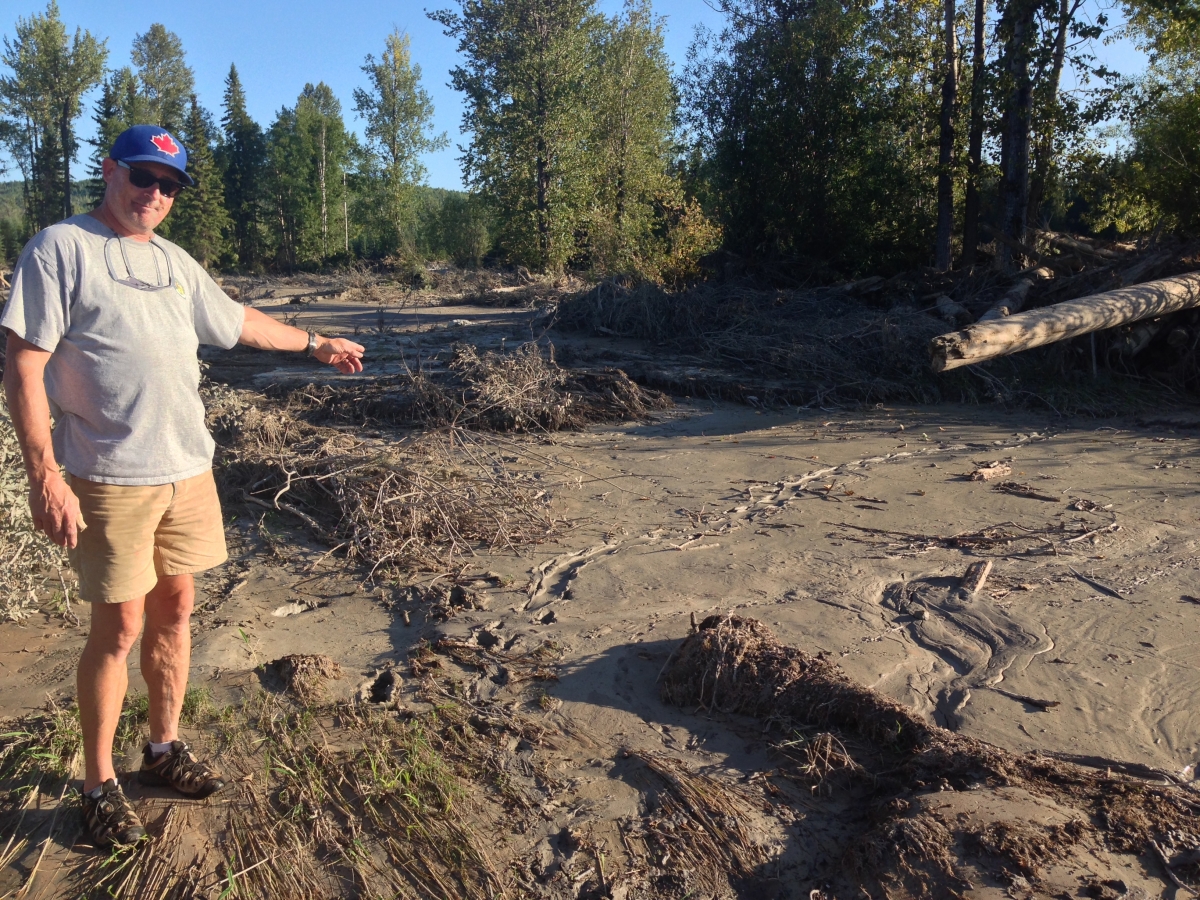 Tate Patton points to beaver tracks in mud from the spill. Photo by Carol Linnitt.
Patton pointed at a beaver track in the drying mud. "Lots of animal tracks around here," he said.
Bloomberg journalist Christopher Donville (left), Tate Patton (centre) and author Carol Linnitt (right) journey back to the town of Likely. The debris field is just visible in the background. Photo by Farhan Umedaly, Vovo Productions.
We took a final survey of the scene as the sun retreated behind Mount Polley. Patton stopped the boat on the way back in to dislodge broken sticks and branches from the outboard motor.
"That's a camp site, over there," he said, pointing to an area not more than two kilometres from the mouth of Hazeltine Creek. "They were evacuated. Must have been terrifying," he said. "Must have been loud."
This article is published as part of a joint-venture between the Vancouver Observer and DeSmog Canada.
All images by Carol Linnitt and Farhan Umedaly, Vovo Productions.
New title
You've read all the way to the bottom of this article. That makes you some serious Narwhal material.
And since you're here, we have a favour to ask. Our independent, ad-free journalism is made possible because the people who value our work also support it (did we mention our stories are free for all to read, not just those who can afford to pay?).
As a non-profit, reader-funded news organization, our goal isn't to sell advertising or to please corporate bigwigs — it's to bring evidence-based news and analysis to the surface for all Canadians. And at a time when most news organizations have been laying off reporters, we've hired eight journalists over the past year.
Not only are we filling a void in environment coverage, but we're also telling stories differently — by centring Indigenous voices, by building community and by doing it all as a people-powered, non-profit outlet supported by more than 2,500 members. 
The truth is we wouldn't be here without you. Every single one of you who reads and shares our articles is a crucial part of building a new model for Canadian journalism that puts people before profit.
We know that these days the world's problems can feel a *touch* overwhelming. It's easy to feel like what we do doesn't make any difference, but becoming a member of The Narwhal is one small way you truly can make a difference.
We've drafted a plan to make 2021 our biggest year yet, but we need your support to make it all happen.
If you believe news organizations should report to their readers, not advertisers or shareholders, please become a monthly member of The Narwhal today for any amount you can afford.