For the past couple weeks, Canadians have been wringing their hands about the suicide epidemic in the Pimicikamak Cree Nation in Cross Lake, Manitoba.

In the community of 6,000, six people have killed themselves in two months and more than 140 suicide attempts have been made in two weeks, leading the First Nation to declare a state of emergency.

Much of the blame has been placed on historic injustices — the very real fall-out of colonization and the residential school system.

But another historic injustice has also come to light: hydro development — which can be traced back to the Northern Flood Agreement of 1977. That agreement forced people from their homes and disrupted hunting, trapping and fishing.

In 2015, Manitoba Premier Greg Selinger personally apologized for the damage caused by hydro development to Cross Lake's traditional land, way of life and cultural identity. He also acknowledged that Indigenous people were not properly consulted on the Jenpeg hydroelectric dam, 500 kilometres north of Winnipeg.
The apology followed a six-week occupation of the generating station by frustrated residents who said their traditional lands are regularly transformed into a floodway and the promised economic benefits of the dam never materialized.

After the apology, Chief Catherine Merrick said: "It is not possible to capture in words the damage done. Much of the harm is irreparable. It has forever changed our ways of life and our health."
B.C. Pushes Ahead With Dam Despite Irreparable Damage to First Nations
If you've been following the story of the Site C hydro dam in B.C., you could be excused for feeling a very scary sense of déjà vu right about now.

A two-month occupation of land slated for the Site C dam in northeastern B.C. just ended after a court ruling in BC Hydro's favour.

Indigenous protesters and local landowners camped out for two months in the Peace River Valley this winter to stop BC Hydro from logging at the site of Rocky Mountain Fort.

Four legal challenges to the 1,100-megawatt dam are still in the courts, but Premier Christy Clark has vowed to get the dam "past the point of no return" before the provincial election in May 2017.
Like what you're reading? Sign up for our e-mail newsletter!
If built, the $8.8 billion dam will be the most expensive public project in B.C. history and will flood 5,000 hectares of land, the equivalent of about 5,000 rugby fields.

The joint federal-provincial panel asked to review the dam found it will have significant adverse effects on First Nations practices and heritage and that many of those effects cannot be mitigated.

Sound familiar?
'A Denial To Our Identity'
Helen Knott camped out at Rocky Mountain Fort for three days a week for two months, taking vacation time from her job as a social worker.

The 28-year-old is a member of the Prophet River band and her great, great grandfather Chief Makannacha was the reluctant final signatory to Treaty 8 in 1899.
That treaty states that First Nations have the right to continue with their way of life "for as long as the sun shines, the grass grows and the rivers flow." The contravention of the treaty for the Site C dam has led Amnesty International to get involved because of its violation of human rights.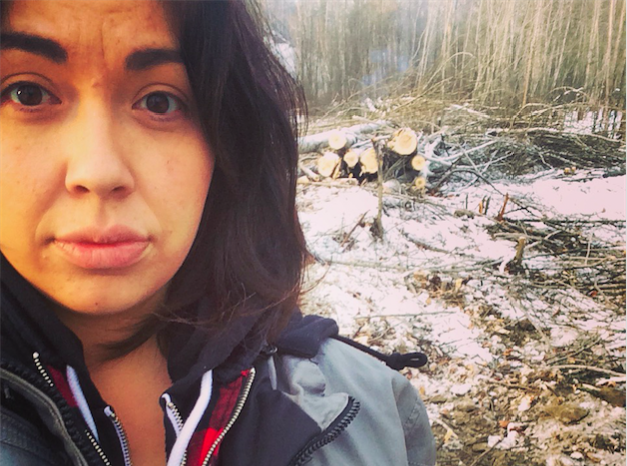 Helen Knott at the Rocky Mountain Fort protest camp in the Peace River Valley.
Knott struggled with addiction and suicidal thoughts while she was growing up and says the fear of youth suicide is very present in the communities she works in. She worries the construction of the dam "will contribute to a larger sense of disconnection."
"The land is a part of who we are as Indigenous peoples … continuing to destroy our land is a denial to our identity," she told DeSmog Canada.
"Having young people witness us fight through the courts and through the Rocky Mountain Fort camp … and seeing the dam going forward any way, what does that say to them about their rights as Indigenous people?"
Cultural Factors Protect Against Youth Suicide: Study
Two B.C. researchers have looked closely at how cultural factors impact youth suicide rates.
They identified six markers of "cultural continuity," including indications of whether each of B.C.'s 197 bands had: achieved a measure of self-government; litigated for Aboriginal title to traditional lands; accomplished a measure of local control over health, education and policing; and created community facilities for the preservation of culture.
Based on these factors, the researchers were able to establish an overall "cultural continuity index" ranging from 0 to 6.

First Nations communities that had all six markers of "cultural continuity" had suicide rates of zero. Yes, zero.

"First Nations communities that succeed in taking steps to preserve their culture, and that work to control their own destinies, are dramatically more successful in insulating their youth against the risks of suicide," the researchers concluded.

The paper, "Cultural Continuity as a Protective Factor Against Suicide in First Nations Youth" by psychology professors Michael J. Chandler and Christopher E. Lalonde, notes that Canada's young Indigenous peoples generally suffer the highest suicide rate of any culturally distinct population in the world. In B.C., that rate is anywhere between five and 20 times higher than that of the general non-Indigenous population.

But while some Indigenous communities experience epidemic rates of youth suicides, many others experience no suicide at all.

The researchers note:
"A promising key to unlocking the puzzle of why suicidal behaviors are so prevalent among the young is to be found in the characteristic pitfalls that mark the course of development that ordinarily leads young people to form some coherent sense of their own identity. A common obstacle facing young persons as they approach this identity-securing task is, our earlier research has shown, the joint necessity of constructing some sense of responsible ownership of a personal and collective past, and some commitment to one's own future prospects. Without some sense of personal (not to mention cultural) continuity, it would appear, life is easily cheapened, and the possibility of suicide becomes a live option."
The researchers continue: "Nowhere is this more apparent than in the identity struggles of young Indigenous persons who are required, not only to clear the standard hurdles of normal growth and development, but are often forced to construct a sense of selfhood out of the remnants of a way of life that has been largely overthrown."

Is it any wonder Indigenous youth sometimes feel helpless when their communities are being destroyed before their very eyes?
Trudeau's Commitment to a New Relationship with First Nations
Last weekend, Site C protesters tried to catch the eye of federal Justice Minister Jody Wilson-Raybould while she was in Victoria for the Liberal Party of Canada's policy convention.

Wilson-Raybould, a member of the We Wai Kai Nation and former regional chief of the B.C. Assembly of First Nations, twice took part in the annual Paddle for the Peace before being elected as a Liberal MP last year.
Asked about calls for a moratorium on continued construction of Site C while legal challenges are before the courts, Wilson-Raybould said she could not speak to that issue, referring questions to the federal ministers of environment and the natural resources.
The fact is that the federal government is responsible for issuing several permits required for construction to continue. Let's not forget that Prime Minister Justin Trudeau has promised a new relationship with First Nations.

"It is time for a renewed, nation-to-nation relationship with First Nations peoples, one that understands that the constitutionally guaranteed rights of First Nations in Canada are not an inconvenience but rather a sacred obligation," Trudeau said to First Nations chiefs in December.

If we want to begin to put an end to a vicious cycle that devalues the Indigenous way of life and contributes to social problems like youth suicide, the time to fulfill that sacred obligation is now.
You can click here to read more about Prime Minister Justin Trudeau and climate change.
Image: Garth Lenz
— With files from Judith Lavoie