The volume of a crude oil pipeline spill that occurred in an Alberta wetland remains undetermined although both the pipeline's operator, Trilogy Energy Corp, and representatives from the Alberta Energy Regulator have been on scene since the spill was first reported October 6.
The cause of a leak in the underground pipeline, located at Trilogy's Kaybob Montney oil project near Fox Creek, also remains undetermined, according to John Williams, Trilogy president and chief operating officer.
In a telephone interview Friday Williams said he believes the leak to be small in size and therefore "very difficult to detect."
Williams said he preferred not to speculate on the cause of the spill.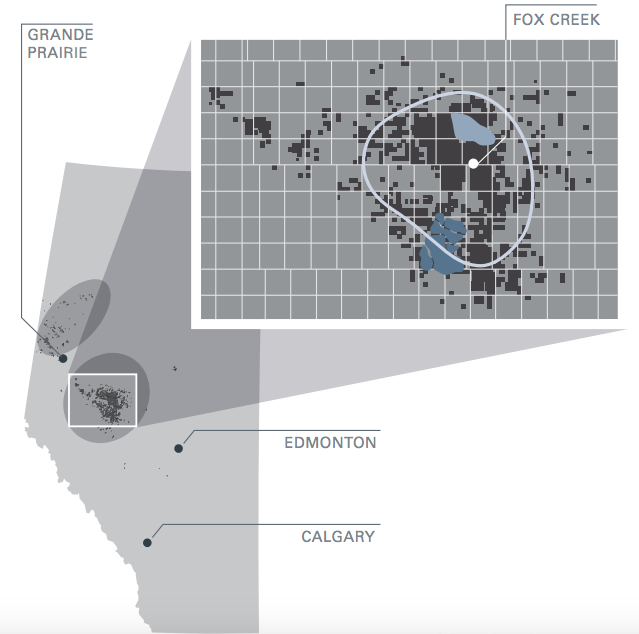 Location of the Kaybob Montney oil project near Fox Creek, Alberta. Image: Trilogy Energy Corp
"I can speculate but that doesn't do any good," Williams said.
Trilogy estimates the spill covers three hectares, the equivalent of 21 tennis courts.
In 2011, a spill from a pipeline operated by Plains Midstream contaminated just over three hectares of beaver habitat and muskeg in a remote area near Little Buffalo, territory of the Lubicon Cree First Nation, after releasing 28,000 barrels of oil — almost 4.5 million litres — into the environment.
The Plains Midstream leak, discovered after a leak detection system sounded an alarm, is considered one of the largest oil spills in Alberta's history.

According to the AER the Trilogy leak was detected during an inspection and not because of a leak detection alarm.
"I'm just as interested as anyone else to get the pipe out of the ground to find out what it was that caused the leak, the size of the hole and to find out the volume," Williams said.
Why We Still Don't Know How Much Oil Was Spilled in an #Alberta Wetland https://t.co/bDcaRvG2fj @carollinnitt #ableg #cdnpoli #oilspill

— DeSmog Canada (@DeSmogCanada) October 17, 2016
A spokesperson for the Alberta Energy Regulator said they could not "predict" when the spill volume would be made public and directed DeSmog Canada to Trilogy's website for further information.
Williams said he is resisting the pressure to release a spill volume until a more accurate measurement can be determined. Crews are currently working to excavate the pipe — a job Williams said he doesn't expect to be completed for another week or so.
According to a company report, crews are removing contaminated soil as they dig out the pipe. Spilled oil emulsion, a mixture of oil and water, is also being pumped into storage tanks and transported to a disposal facility. The removal of contaminated material will help the company get an idea of the spill's size.
Research shows oil and gas companies consistently underestimate spill size in their reporting.
According to the company two dead birds, a woodpecker and "small sparrow like bird," were found on site, covered in oil. No other impacts to wildlife have been reported.
The spill occurred in a remote wetland location, surrounded by dense bush. The location of the spill reportedly hampered emergency response efforts.
Image: Drilling near Fox Creek, Alberta. Photo: More Bike Lanes Please via Flickr CC BY-NC-SA 2.0