Clean energy investment surged to $497 billion worldwide in 2015 while in Canada investment in renewables experienced a massive 46 per cent plunge to around $5.4 billion, according to a new report released Monday by Clean Energy Canada.
Global investment is up from a total of $420 billion in 2014 with nearly one-third of of new investments occurring in China. Spending on renewables increased in the U.S. by seven per cent, in India by 23 per cent and in Mexico by 114 per cent.

"Canada's performance was out of step with its peers in 2015," Clare Demerse, senior policy adviser at Clean Energy Canada, told DeSmog Canada. "This should be a wakeup call, although we hope this is a one-off and not the start of a trend."
Cheaper technology can partially account for the drop in investments in Canada. In the U.S., for example, over the last six years the unsubsidized cost of wind energy went down 61 per cent and 82 per cent for utility-scale solar PV.
The amount of money invested in Canadian clean energy may have been cut in half last year, but the construction of new renewable energy projects only slowed by 30 per cent, according to Clean Energy Canada.

"When you couple [clean energy's] declining costs with free fuel from the wind, sun, water, biomass and the earth's heat, you have a formula for ever increasing competitiveness with fossil fuels," the report states.

Source: Clean Energy Canada, 2016
Uncertain Clean Energy Policy in Canada Played a Role
Imprecise policies and a lack of clean energy regulation created uncertainty for investors in Canada, the report finds.

"Pipelines trumped power lines as a national priority," it concludes.
Canada has no national climate framework or greenhouse gas regulations for the oil and gas sector. The bulk of Canada's climate action in recent years has emerged at the provincial level.

"In the longstanding absence of federal climate leadership, provinces led the charge," Demerse told DeSmog Canada. But, she added, "some of the provinces that are big players in clean energy were rethinking policies in 2015. Uncertainty is hard on investors."
British Columbia, a province praised in recent years for its world-class carbon tax, is investing heavily in a liquefied natural gas (LNG) export industry as well as the major Site C hydrodam. A recent review of B.C.'s Climate Action Plan found the province is unlikely to meet its climate targets.
Ontario, Canada's leader in wind power, confirmed it will spend over $25 billion on refurbishing aging nuclear reactors to clean up the province's electrical grid instead of doubling down on domestic renewable energy or importing relatively cheap water power from Quebec.

However, some progress on provincial climate policies was made at the end of 2015.

Ontario and Manitoba both announced they are joining North America's largest carbon market by linking up with the Quebec-California cap-and-trade system. A new Alberta government unveiled plans to phase out coal, cap oilsands emissions and introduce a carbon tax. Saskatchewan also set admirable renewable energy targets, which aim to have half of the province's electricity coming from renewable sources by 2050.
According to Clean Energy Canada these provincial targets need to be translated into clear policy to boost investment in the sector.
Canada's Clean Energy Potential Barely Scratched
"Canada is incredibly well positioned for clean energy success," Demerse told DeSmog. "Yes, we may have the third largest oil reserve in the world, but we are also the third biggest producer of hydroelectricity. And we have the potential to do so much more with our clean energy resources."
Demerse believes this week's national climate strategy meeting between the federal government, Indigenous leaders and the premiers is the perfect opportunity to lay the foundation for a clean energy plan for Canada.
"The new federal government can do a lot to change this. Adopting real, meaningful clean energy targets would provide more certainty for investors," Demerse said.

According to a groundbreaking study led by Stanford Engineering Professor Mark Jacobson that examines how countries can run off of 100 per cent renewable energy by 2050 , Canada has only begun to scratch the surface of its 'clean energy superpower' potential.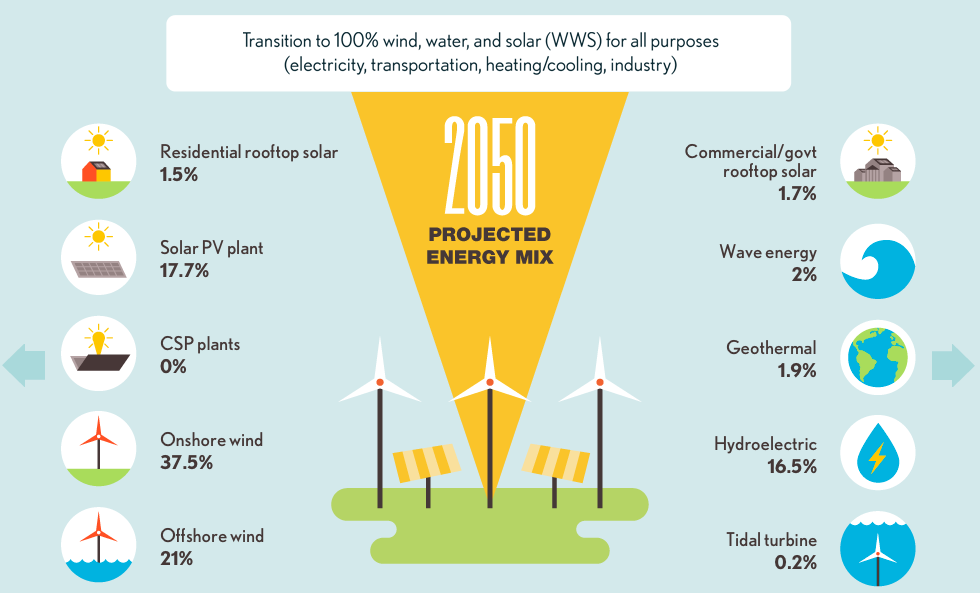 Canada's energy mix in 2050 according to Jacobson's analysis. Source: The Solutions Project.
"The main barriers to getting to 100 per cent clean energy are social and political, not technical or economic," Jacobson said during a climate and energy forum in Washington, D.C., last November.

Canada already generates roughly 60 per cent of its electricity from renewable sources and this is nearly all from hydroelectricity or waterpower. By comparison, Germany produced just over 30 per cent of its electricity from renewable energy in 2015, which was mostly from wind, solar and biomass. Canada has one of the world's cleanest electrical grids.

But currently, non-water based renewables like wind and solar make up a mere three per cent of the electricity Canada generates.

The Stanford study projects solar and wind could make up 21 per cent and 58 per cent respectively of all of Canada's required energy by 2050. Waterpower in Jacobson's 2050 scenario becomes the junior partner to wind and solar at 16.5 per cent of the total Canadian energy mix. The study's authors conclude there is no need to build additional hydro dams like the Site C dam in B.C. or continue with nuclear power generation.
Image Credit: NAIT via Flickr