Eighty-seven per cent of known, human-caused grizzly bear deaths in B.C. are attributable to trophy hunters, who have killed 12,026 grizzly bears since the government began keeping records in 1975, according to data obtained by David Suzuki Foundation.*
In 2016, 274 grizzlies were killed by humans — the vast majority of which (235) were killed by trophy hunters.
B.C. currently sanctions a legal trophy hunt by both resident and foreign hunters. Non-resident hunters killed almost 30 per cent of the grizzlies in the 2016 hunt.
The trophy hunt has become a hot election issue with the NDP and Green Party vowing to end the hunt if elected. An Insights West survey conducted in the fall of 2016 found 91 percent of British Columbians are opposed to trophy hunting.
Meantime,

the B.C. Liberals are the party of choice for international trophy hunters — who donated $60,000 to the Guide Outfitters Association of B.C. to help prevent an NDP win.
The Canadian chapter of Safari Club International posted to Facebook: "NDP have vowed to end the Grizzly hunt in BC if elected. SCI chapters from CANADA and the USA banded together donating $60000.00 [sic]."
The Guide Outfitters lobby to continue trophy hunting, which attracts wealthy customers from around the world who pay as much as $20,000 for a hunt. The annual spring bear hunt began April 1.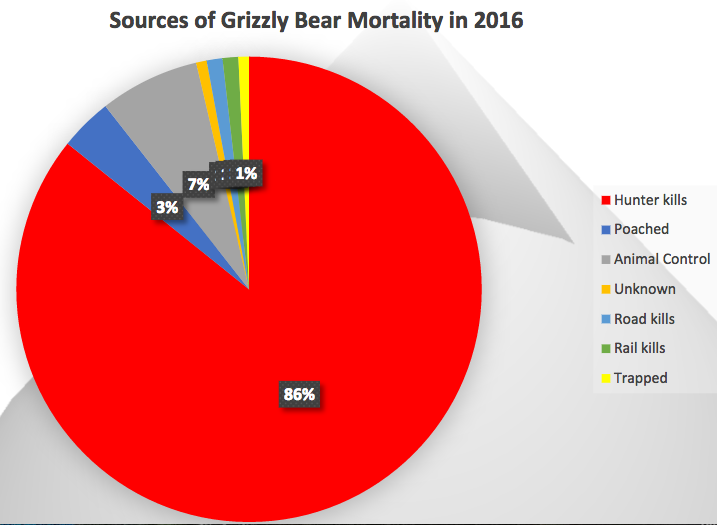 Source: David Suzuki Foundation
B.C. Premier Christy Clark is a vocal supporter of the trophy hunting industry and a past winner of the Guide Outfitter association's President's Award.
B.C. has some of the weakest political donations rules in Canada, which allows anyone (including foreign corporations) to donate unlimited amounts of cash.
The New York Times recently called B.C. the 'wild west' of political cash and a Globe and Mail investigation revealed that lobbyists are routinely making political donations under their own names while being reimbursed by corporations — something that is illegal.
The B.C. NDP and B.C. Green Party have vowed to ban corporate and union donations if elected while the B.C. Liberals have promised to appoint a panel to review campaign finance rules if re-elected.
* Article updated to clarify data is based on known, human-caused grizzly bear deaths and does not include natural mortality (most of which is unknown).
Image source: Dogwood
87% of B.C. Grizzly Deaths Due to Trophy Hunting, Records Reveal https://t.co/rJwE9VgcS3 #bcpoli #bcelxn17 #BanBigMoney @bcliberals pic.twitter.com/GOnF9HyCYm

— DeSmog Canada (@DeSmogCanada) April 12, 2017