Fish and wildlife in Alaska's major watersheds are threatened by six British Columbia mines close to the Alaska border, according to a new petition that asks U.S. Secretary of Commerce Wilbur Ross to investigate the threat of acid-mine drainage, heavy metals pollution and the possibility of catastrophic dam failure originating in the Canadian province.
The formal petition, organized by a coalition of Alaskan tribal governments and conservation groups, calls for the International Joint Commission to investigate threats from B.C. mines that will continue to hang over the watersheds for centuries after their closure.
"It's a very urgent issue and it's important to a lot of people and their families," Kenta Tsuda of Earthjustice, a signatory of the petition, told DeSmog Canada. "Their communities are at risk."
B.C. experienced an explosion in mine growth under the former BC Liberal government, which expedited new project approvals under the 2011 jobs program.
The resource-rich corridor straddling the B.C.-Alaska border has been at the epicentre of new mine projects but also bears the legacy of B.C.'s old, abandoned mines, such as the Tulsequah Chief mine, which for decades has leaked acid mine drainage into a tributary of the salmon-rich Taku River.
Guy Archibald of the Southeast Alaska Conservation Council pointed to the lack of enforcement of mining regulations by the B.C. government and the scathing report last year from B.C.'s auditor general that said the Ministry of Environment could not guarantee the safety of any of the mines.
"For 60 years the Tulsequah Chief has been leaking acid mine drainage into a very productive salmon watershed and the B.C. government is doing nothing about this," Archibald said.
In addition to Tulsequah, the petition names Brucejack mine, which started production earlier this year, Red Chris, Schaft Creek, Galore Creek and Kerr-Sulphurets-Mitchell (KSM), which will be the largest open-pit gold and copper mine in North America.
The new petition — and a previous petition submitted to the Department of the Interior — show that B.C. mines are diminishing the effectiveness of two treaties that protect Pacific salmon, steelhead trout, grizzly bears and woodland caribou, Tsuda said.
"We think the facts that we present in the petition do invoke their duty to investigate," Tsuda told DeSmog Canada.
The Taku, Stikine and Unuk rivers flow across the Canada-U.S. border from headwaters in B.C.'s Coast Mountains and the wildlife and salmon sustain local communities and support hundreds of Alaskan workers and their families, he said.
The International Joint Commission is the body that administers the 1909 Boundary Waters Treaty, with a mandate to investigate disputes between the two countries.
A provision of the treaty states that "waters flowing across the boundary shall not be polluted on either side to the injury of health or property on the other."
The group's petition has been submitted under what is known as the Pelly amendment to the Fishermen's Protective Act that requires the U.S. Commerce and Interior Departments to investigate when other countries may be harming U.S. conservation treaties.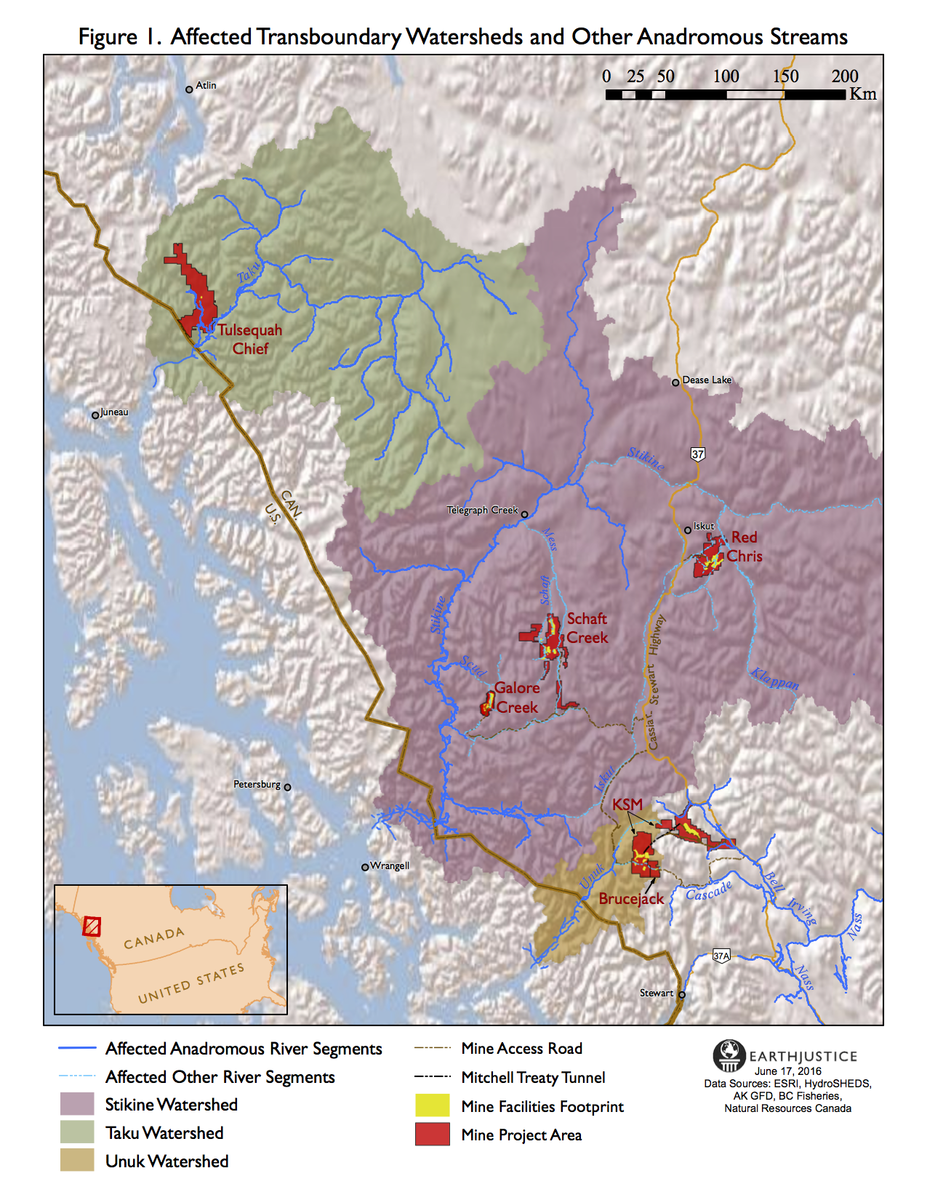 The amendment emphasizes the need, under international agreements, to protect habitat, but, if all the mines planned for the B.C. side of the border are developed, it will destroy fish habitat, Archibald predicted.
"We are willing to use every tool in the toolbox to enforce this — and the International Joint Commission looks pretty good versus a trade war," he said.
Fred Olsen Jr., tribal president of the Organized Village of Kasaan and Southeast Alaska Indigenous Transboundary Commission chairman, said in an interview that awareness of threats posed by the B.C. mines is growing among Southeast Alaskans, along with frustration about the lack of action.
"Native people have relied on salmon and caribou from these watersheds for generations and communities continue to do so today. Commercial fishermen from Southeast Alaska also rely on these watersheds, catching tens of millions of dollars worth of salmon from these three river systems annually," says the coalition news release.
The former provincial government promised the Tulsequah Chief would be cleaned up, but nothing happened and, on the federal front, hopes were high that Prime Minister Justin Trudeau would be sympathetic to environmental concerns, but that has been a disappointment, Olsen said.
"He has a Haida tattoo, but then look at the things he does. Everything you hear is either neutral or in favour of mining," he said.
Eleven southeast Alaskan tribes have signed the petition and, over the next two months, other tribes will be asked to send letters of support, Olsen said.
Enforcement of mining regulations in Canada needs to be tightened, according to Ugo Lapointe, Canada program coordinator for MiningWatch Canada, but there also needs to be a close look at the inadequate fines levied when there is a spill or an accident, he said.
On both sides of the border there is incredulity at the lack of charges after the Mount Polley disaster three years ago when the mine's tailings dam failed, spewing millions of cubic metres of toxic waste and sludge into nearby waterways.
Lapointe also pointed to the recent $20,000 fine handed to Coalmont Energy Corp., a company which, in 2013, expelled 60,000 litres of mine waste into a tributary of the Tulameen River in the Okanagan-Similkameen region.
"$20,000 for dumping mining waste into a river is another pitiful environmental fine, showing the weakness of both B.C. and federal environmental laws and the enforcement regime. It is not setting a proper example for the industry as a whole," Lapointe wrote in an e-mail.
New title
You've read all the way to the bottom of this article. That makes you some serious Narwhal material.
And since you're here, we have a favour to ask. Our independent, ad-free journalism is made possible because the people who value our work also support it (did we mention our stories are free for all to read, not just those who can afford to pay?).
As a non-profit, reader-funded news organization, our goal isn't to sell advertising or to please corporate bigwigs — it's to bring evidence-based news and analysis to the surface for all Canadians. And at a time when most news organizations have been laying off reporters, we've hired eight journalists over the past year.
Not only are we filling a void in environment coverage, but we're also telling stories differently — by centring Indigenous voices, by building community and by doing it all as a people-powered, non-profit outlet supported by more than 2,500 members. 
The truth is we wouldn't be here without you. Every single one of you who reads and shares our articles is a crucial part of building a new model for Canadian journalism that puts people before profit.
We know that these days the world's problems can feel a *touch* overwhelming. It's easy to feel like what we do doesn't make any difference, but becoming a member of The Narwhal is one small way you truly can make a difference.
We've drafted a plan to make 2021 our biggest year yet, but we need your support to make it all happen.
If you believe news organizations should report to their readers, not advertisers or shareholders, please become a monthly member of The Narwhal today for any amount you can afford.