When Pat Morrow looks around at the mountains, towering on either side of the Jumbo Valley, his concern is palpable.
Avalanche paths are clearly visible, both beside Jumbo Creek Road and on slopes surrounding the meadows and valley where Glacier Resorts Ltd. wants to build a 6,000-bed all-season ski resort.
"Looking down the valley, we are seeing how vulnerable it is to massive avalanche damage. There are three or four fresh ones. The avalanche paths are just slowly eating their way across the slope as the years go along," Morrow said.
[view:in_this_series=block_1]
Few people who are familiar with Morrow's accomplishments are going to argue with his expertise.
Morrow, who lives in the East Kootenay community of Wilmer, is a mountain climber, photographer and filmmaker and was the first person in the world to climb the highest peaks of all seven continents. In 1982 he was a member of the first Canadian team to climb Mount Everest and in 1987 he was awarded the Order of Canada for his international mountaineering exploits.
"I have been in hazardous terrain all my adult life — sizing it up — and in there I felt really exposed," said Morrow, as his truck rattled over the rough road, heading home after a day hiking the Jumbo Glacier Resort area.
Morrow is a director of the Jumbo Creek Conservation Society and supporter of Wildsight, one of the non-profit groups fighting against the Jumbo proposal. On a sunny day in September, as he again looked at the site, his concerns grew.
Morrow does not believe there are any other ski resorts with such high risks at the base site, as well as along the access road and on the glacier ski runs.
"Where are they going to park the cars," he asked.
"You're not going to park them in the middle of an avalanche zone."
An illustration of the power of avalanches — which sweep down one side of the mountain, across the road and swoosh up the opposite side — came this year. A bevy of provincial government cabinet ministers were scheduled to visit the area in June, but had to take a helicopter tour of the site, instead of driving, as the road was still blocked from spring avalanche debris.
The ministers included Energy and Mines Minister Bill Bennett, who has pushed provincial support for Jumbo, and, after the visit, Bennett told a Columbia Valley newspaper that the resort proponent needs improved access. The road, until it reaches the resort boundary, is the responsibility of the province.
In addition to avalanche risks, there are the challenges of bringing supplies along an uneven, unpaved access road and Morrow shakes his head as he tries to estimate the expense of rebuilding the road and helicopter bombing potential avalanche sites.
"It doesn't make sense," said Morrow, who grew up in the area and honed his mountain climbing and photography skills in the Purcells.
However, the Jumbo Glacier Resort Master Plan assesses the avalanche hazard at a low to moderate risk, similar to other ski areas in B.C. and Alberta.
An avalanche study, conducted in 1995 for the company by Peter Schaerer of Stetham and Associates, concluded that avalanche risks could be managed with road closures during hazardous times combined with dropping explosive charges from helicopters.
"The avalanche hazard to traffic on the Jumbo Creek Road would be low with the predicted initial traffic volume of 160 vehicles per day and would increase to moderate when volume exceeds about 260 vehicles per day," says the report.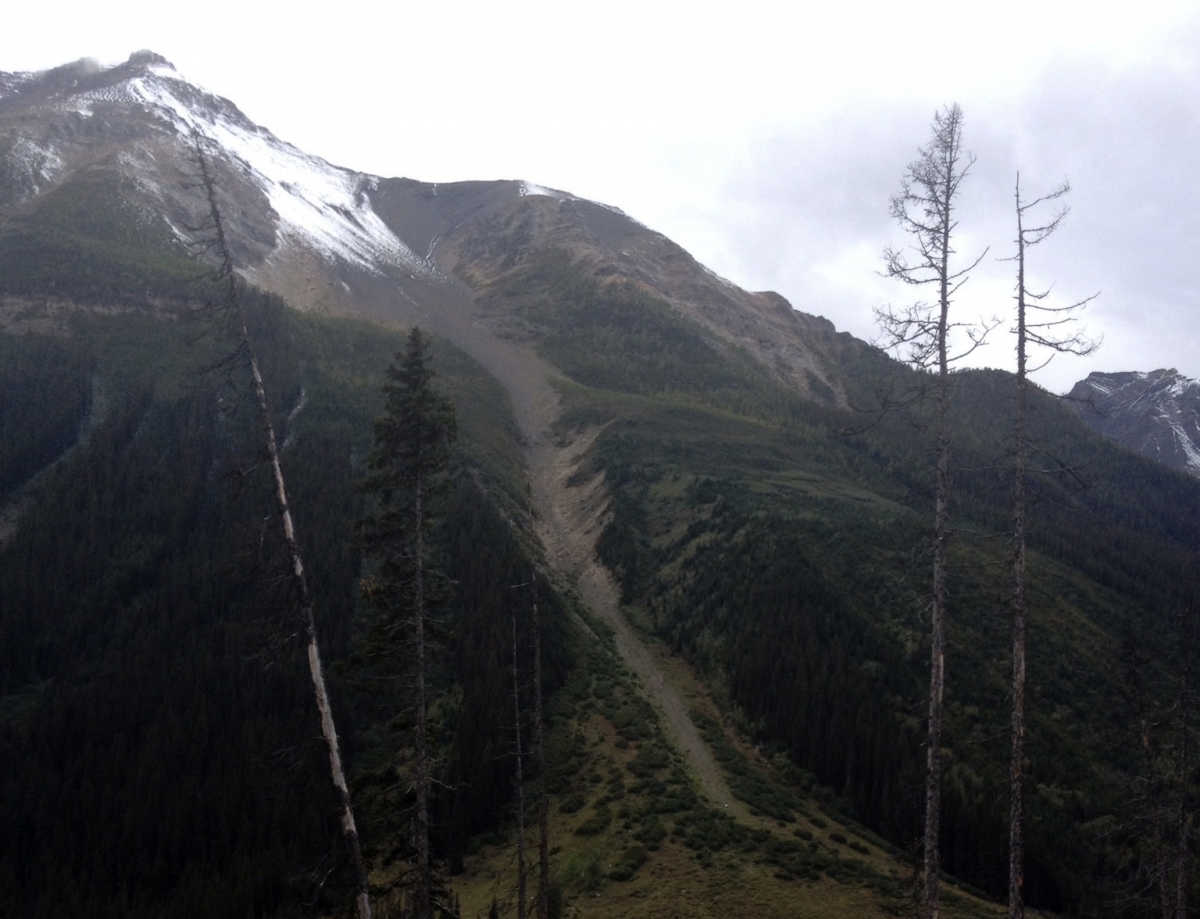 Avalanche paths sweep down towards the road leading in to Farnham Glacier and the Lake of the Hanging Glacier. Photo: Judith Lavoie.
The reports were compiled by some of Canada's leading avalanche experts, said Tommaso Oberti, spokesman for the resort proponents.
Rod Gibbons, senior guide with RK Heliski, a company with a 44-year history in the area, said no mountainous area is completely safe from avalanches, but the key is ensuring the level of risk is acceptable.
"Because of the avalanche hazard, there are going to be some extreme costs in keeping that road within Ministry of Transport allowances," said Gibbons, who has spent 28 winters working in the Purcells.
"It's going to take a lot of money to make that road fit."
Helicopters would be required to drop explosives on potential avalanche sites and "a lot of the time, the helicopter will not be able to access those points to do avalanche control," Gibbons said.
Pilots need good visibility to fly and to assess where to put explosive charges to get the best results, meaning flights are weather dependent.
"There could be multiple days that road will have to be closed," said Gibbons, who believes he has spent more time in the Jumbo-area mountains than anyone else.
"I'm out there every day," he said.
RK uses explosives on potential avalanche areas, but last year a German client was killed by an avalanche in the Jumbo area.
Mary Clayton of Avalanche Canada, formerly the Canadian Avalanche Centre, said avalanche terrain is found throughout B.C. and there is nothing unusual about the Jumbo area.
However, of all avalanche fatalities in Canada, 80 per cent occur in B.C. and the majority of those are in the Columbia Region, she said.
Glacier Resorts' environmental assessment certificate, first issued in 2004, expired October 12 unless proponents can prove there has been substantial progress.
Main image: Mountaineer and photographer Pat Morrow studies the slopes for avalanche paths. Credit: Judith Lavoie.
New title
You've read all the way to the bottom of this article. That makes you some serious Narwhal material.
And since you're here, we have a favour to ask. Our independent, ad-free journalism is made possible because the people who value our work also support it (did we mention our stories are free for all to read, not just those who can afford to pay?).
As a non-profit, reader-funded news organization, our goal isn't to sell advertising or to please corporate bigwigs — it's to bring evidence-based news and analysis to the surface for all Canadians. And at a time when most news organizations have been laying off reporters, we've hired eight journalists over the past year.
Not only are we filling a void in environment coverage, but we're also telling stories differently — by centring Indigenous voices, by building community and by doing it all as a people-powered, non-profit outlet supported by more than 2,500 members. 
The truth is we wouldn't be here without you. Every single one of you who reads and shares our articles is a crucial part of building a new model for Canadian journalism that puts people before profit.
We know that these days the world's problems can feel a *touch* overwhelming. It's easy to feel like what we do doesn't make any difference, but becoming a member of The Narwhal is one small way you truly can make a difference.
We've drafted a plan to make 2021 our biggest year yet, but we need your support to make it all happen.
If you believe news organizations should report to their readers, not advertisers or shareholders, please become a monthly member of The Narwhal today for any amount you can afford.