The B.C. government tried to steer clear of controversy over liquefied natural gas exports, the Site C dam and fish farms in the Speech from the Throne Tuesday. The speech laid out the NDP's "affordability" agenda and unveiled plans to revitalize the environment assessment process and address fugitive emissions in the oil and gas sector.
"As B.C. develops its abundant natural resources, we must do so in a way that meets our obligations to the environment, First Nations and the public interest," read the speech, presented by Lieutenant Governor Judith Guichon to mark the start of a new legislative session.
"This year, government is taking important steps to restore public trust in B.C.'s environmental stewardship."
Those steps include new efforts to meet B.C.'s climate action targets, increasing the carbon tax to position B.C. to meet the federally mandated price of $50 per tonne by 2022, investing in parks and protected areas and hiring more conservation officers.
More details about how the government plans to move forward with these priorities will come on Feb. 20 when the budget is unveiled.
"It's time to get B.C. back on track," the throne speech stated, noting B.C. "has fallen behind on its climate obligations" and that the previous BC Liberal government failed to achieve its own greenhouse gas reduction targets.
The NDP government also pledged to develop a cross-ministry framework to meet its stated commitment to the United Nations Declaration on the Rights of Indigenous Peoples, the calls to action of the Truth and Reconciliation Commission and the Tsilhqot'in decision.
The rights and needs of B.C.'s Indigenous peoples "have been set aside for far too long," said the throne speech.
"This government understands the enormous responsibility it has to Indigenous peoples in the wake of inaction by government after government."
Site C dam a sore spot for Indigenous rights
Grand Chief Stewart Phillip, president of the Union of B.C. Indian Chiefs, called the government's commitment to reconciliation with Indigenous peoples "encouraging," but said he has still not forgiven Premier John Horgan "and his inner circle" for "completely violating the rights of Treaty 8 people" by greenlighting the $10.7 billion Site C dam in December.
"I find it highly hypocritical that they can talk about the need to acknowledge the principles and intent of the UN Declaration on the Rights of Indigenous Peoples and at the same time make such an egregious decision in complete violation of those same rights," Grand Chief Phillip told DeSmog Canada.
"I'm finding it very hard to get beyond that colossal hypocrisy."
Grand Chief Phillip also said he has heard scores of throne speeches during more than four decades of his involvement in B.C. political issues and that generally there is only a "passing reference" to Indigenous peoples.
"I've never heard a throne speech that has been so explicit in its acknowledgment of the responsibilities of the government of British Columbia to act on the rights enshrined in UN Declaration on the Rights of Indigenous Peoples and the multitude of court decisions" handed down by the Supreme Court of Canada and other levels of court, he said.
"But again they have to walk the walk. They completely and utterly failed in regard to the Site C dam decision. You only get one chance to do the right thing and in regard to Site C they completely blew it."
Site C, the most expensive publicly funded project in B.C.'s history, was not mentioned in the 20-page speech. Nor were fish farms, which have been in the news recently over the discharge of contaminated bloodwater.
In January, West Moberly First Nations and Prophet River First Nation filed notices of civil action claiming that the Site C dam — along with two existing dams on the Peace River — infringes on rights guaranteed to them in Treaty 8, which promised they can continue their traditional way of life.
A third Treaty 8 nation, Blueberry River First Nations, has launched a civil lawsuit claiming that the cumulative impact of industrial development in their homeland, including the Site C dam, means they can no longer continue traditional practices guaranteed to them in the treaty.
The grand chief said an important first step to realizing commitments outlined in the throne speech would be for the B.C. government to bring forward legislation that "enshrines" the UN declaration in the government's legislative agenda, "as opposed to simply paying lip service to it in the context of throne speeches."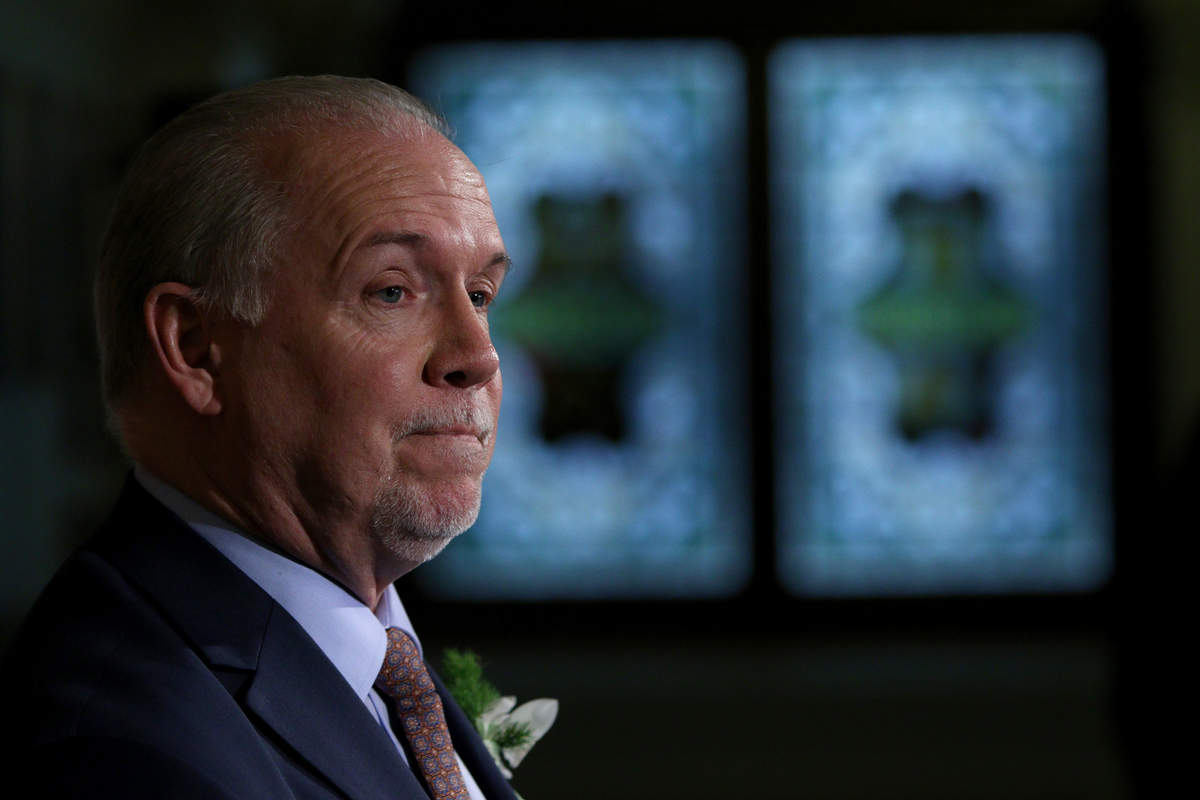 Premier John Horgan told press he would not be provoked into a trade war with Alberta. Photo: Chad Hipolito | The Canadian Press
Fracking, fugitive emissions on the agenda
The throne speech said little about the government's plan to address fugitive emissions in the oil and gas sector, and from slash burning, noting only that "research is underway." A recent investigation by registered professional biologist John Werring found that B.C. is vastly underreporting its "fugitive emissions" — emissions vented or leaked during the natural gas extraction process.
Environment Minister George Heyman told DeSmog Canada that the NDP will work with the Green caucus "on a variety of measures to deal with fugitive emissions." He said the finance ministry is working on taxation measures and that the issue will also be considered by B.C.'s new climate solutions and clean growth advisory council.
Heyman said the government will be announcing a timeframe for revitalizing the environmental assessment process "in the coming weeks."
The throne speech also reiterated that the potential of a diluted bitumen spill in B.C.'s coastal waters "poses a significant risk to our economy and our environment."
Alberta Premier Rachel Notley announced a B.C. wine boycott last week after B.C. said it would set up an independent scientific advisory panel to look at how diluted bitumen can be safely transported and cleaned up, if spilled.
But the throne speech made no mention of an inter-provincial spat over the Kinder Morgan pipeline, in keeping with Horgan's statement that he refuses to be provoked into a trade war with Alberta.
Following the throne speech, Horgan reiterated to the media that the risk of transporting raw or diluted bitumen through B.C.'s inland waters and along the coast is "a risk too great" for British Columbians.
"We will continue our discussions with the federal government any anyone else who wants to talk to us about how we can ensure that British Columbia's environment and economy are not affected by any movement of this product through our territory."
Nor did the speech from the throne mention Liquefied Natural Gas (LNG), an issue over which B.C. Green Party leader Andrew Weaver has threatened to bring down the government.
"We cannot pretend that a market exists when a market doesn't exist," Weaver told the media following the throne speech. "For year after year after year I've been saying it is folly for us to try to chase a falling star."
"They [the NDP] were cautious. I think they did the right thing. And I think that people are sick and tired of being promised unicorns."
On a recent Asian trade mission, Horgan met with Korean, Japanese and Chinese partners in LNG Canada, a Shell-backed project near Kitimat that is in the planning stages.
Weaver pointed out that B.C. will not be able to meet its climate targets if any major LNG project goes ahead, telling Desmog Canada in a previous interview that, "I am not standing by and watching us give away the farm yet again to land an industry we're not competitive in. That's my line in the sand."