Way back in the good ole days of 2010, B.C. released the Clean Energy Act, a plan that required the province to conserve massive amounts of energy.
And, all in all, B.C. has been pretty good at that. But that all changed in 2013 when the B.C. government approved the Site C dam.
According to a new report released this week by the University of British Columbia's Program on Water Governance, since 2013 B.C. has "moderated" energy conservation measures even though those measures would have reduced B.C.'s power demand, at a significantly cheaper cost than building Site C.
These measures include codes and standards for building efficiency, stepped rate structures to reduce energy consumption, and programs like low interests loans and tax breaks designed to encourage the adoption of more energy efficient technologies and practices.
Report co-author Karen Bakker told DeSmog Canada that B.C.'s decision to back away from energy conservation, known as demand side management, in effect forces B.C. Hydro ratepayers to consume more than they would otherwise.
"The decision to scale back on energy conservation right now is essentially designed to get people to consume more and, yeah, pay higher bills," Bakker said.
"That makes sense if you consider the very large debt load that B.C. Hydro is taking on to pay for Site C."
George Heyman, environment critic for the B.C. NDP, said the province needs an aggressive energy conservation program that incentivizes energy savings.
"We need to see change," Heyman said Thursday during an online webinar hosted by the Pembina Institute and the Pacific Institute for Climate Solutions.
"B.C. had a program that could have continued but B.C. Hydro was ordered by the government to scale back," he said.
"We need to save energy, which will in turn save taxpayers money by not approving projects before they're needed as we shift to electric vehicles and an electrification of the grid."
Andrew Weaver, climate scientist and leader of the B.C. Greens, agreed.
"I agree with the importance of demand side management," he said. "It's the lowest hanging fruit."
Site C is planned to generate 1,100 megawatts of capacity and 5,100 gigawatt hours of electricity per year, starting in 2024. The UBC report calculated B.C. Hydro's own energy conservation plan from 2013 would have amounted to the freeing up of 600 megawatts and 3,000 gigawatt hours per year — about half of what Site C will provide.
However B.C. Hydro has incrementally scaled down that conservation program, and, according to its own reporting, plans for zero new conservation efforts by 2021, creating the saddest energy conservation graph known to man: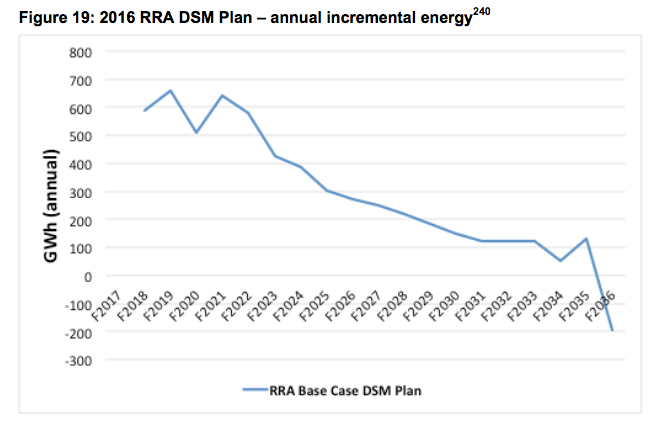 This graph shows how B.C. Hydro estimates demand side management or energy conservation will decline after 2021 without the introduction of new programs and fizzle out completely by 2036. Source: UBC report, Reassessing the Need for Site C, page 84.
"The unfortunate side of this is that energy conservation is a lot cheaper than Site C," Bakker said. "Energy conservation only costs about a third as much as building Site C."
The report found that by scaling back energy conservation programs, B.C. Hydro enjoyed short-term savings to the tune of between $50 to $150 million per year. It is worth noting that B.C. Hydro failed to meet even the reduced energy conservation targets it set for itself.
Yet those savings are lost to the extremely high costs of building a large-scale hydroelectric dam. The report estimates the losses, when you factor in the need to sell Site C's surplus energy, to be between $800 million and $2 billion. Overall, Site C electricity costs about three times as much as reducing demand through energy conservation.
The authors of the report conclude the decision to scrap conservation programs and drive up energy consumption was made "to make [Site C] continue to appear necessary and cost-effective."
B.C. Hydro did not respond to a request for comment.
B.C. Scales Down Energy-Saving Measures to Manufacture Demand for #SiteC: UBC Report https://t.co/js47S84X72 #bcpoli #energyefficiency

— DeSmog Canada (@DeSmogCanada) April 20, 2017
Bakker and her co-authors conclude construction of the Site C dam should be immediately halted.
"We've met all of our energy needs for the past several years through energy conservation and our analysis suggests we could meet our energy needs for the next decade, approximately, through conservation," she said.
"It would cost us a lot less and in the meantime it would allow us to explore other cheaper and less environmentally damaging renewables."
New title
You've read all the way to the bottom of this article. That makes you some serious Narwhal material.
And since you're here, we have a favour to ask. Our independent, ad-free journalism is made possible because the people who value our work also support it (did we mention our stories are free for all to read, not just those who can afford to pay?).
As a non-profit, reader-funded news organization, our goal isn't to sell advertising or to please corporate bigwigs — it's to bring evidence-based news and analysis to the surface for all Canadians. And at a time when most news organizations have been laying off reporters, we've hired eight journalists in less than a year.
Not only are we filling a void in environment coverage, but we're also telling stories differently — by centring Indigenous voices, by building community and by doing it all as a people-powered, non-profit outlet supported by more than 2,200 members. 
The truth is we wouldn't be here without you. Every single one of you who reads and shares our articles is a crucial part of building a new model for Canadian journalism that puts people before profit.
We know that these days the world's problems can feel a *touch* overwhelming. It's easy to feel like what we do doesn't make any difference, but becoming a member of The Narwhal is one small way you truly can make a difference.
We've drafted a plan to make this year our biggest yet, but we need your support to make it all happen.
If you believe news organizations should report to their readers, not advertisers or shareholders, please become a monthly member of The Narwhal today for any amount you can afford.