Opposition to oil and gas exploration in the eastern arctic, around Baffin Island and the Davis Straight, may not be making headlines across the country, but it continues to grow.
Recently the Baffin Island Mayors' Forum voted unanimously to reject plans by a consortium of three multinational oil exploration companies to do seismic testing off their coasts in the Davis Straight. They hope to find evidence of oil deposits to then sell to oil companies looking for new offshore drilling projects.
The vote at the mayors' meeting is the latest in a fight by Inuit communities for control over their territory and waters as interest in oil extraction grows in the area. They are concerned that any seismic testing – and eventual oil drilling – endangers the hunting and trapping many still rely on for survival and which make up an important part of their traditional way of life. They are asking for more studies before any exploration moves forward.
"All the Baffin communities are united in this feeling," Clyde River mayor Jerry Natanine told DeSmog Canada in an interview.
The hamlet of Clyde River, a community of 900 on the north eastern coast of Baffin Island, has been at the forefront of the fight to have the concerns of Inuit communities taken into account before any work moves forward. Both the municipal council and the Hunters and Trappers Organization of Clyde River (HTO) have passed motions, including a joint motion, against the exploration, which Natanine says represents the views of the entire community. "There's been nothing but opposition," he said.
Seismic testing spurs controversy, concern
Seismic testing is conducted by using under-water airguns to bounce soundwaves off the ocean floor in order to determine the position of possible oil and gas deposits. A common method for underwater oil exploration, it's impact on marine mammals, including whales, and fish has been rooted in controversy. The companies wishing to conduct oil exploration in the Davis Straight have reported in their own environmental assessment that there is no cumulative impacts on wildlife and ecosystems from the sonar testing. They admit though that there is what they believe to be very short-term disruptions of marine life travel patterns due to the disturbance caused by the testing.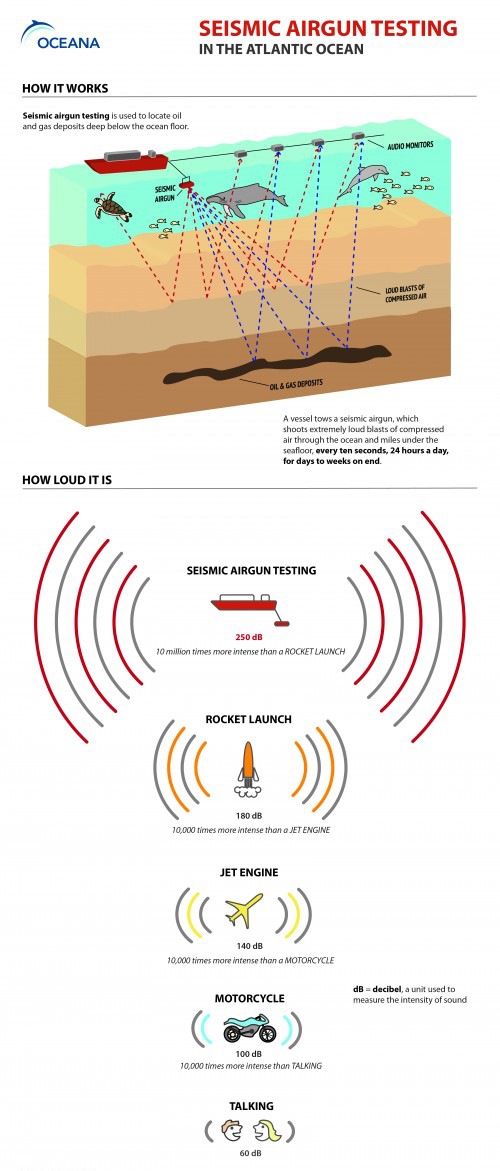 Seismic airgun testing infographic by Oceana.
It's this kind of disturbance, and the questions that still surround it, that are causing the most immediate concerns.
"From what we understand, it's not clear what the impact will be on sea mammals," said Napannine. "Since we're a hunter-trapper society, this could affect how we live."
Recent articles and reports support his concern. A 2012 study in the scientific journal Biological Conservation examined the cases of narwhals becoming entrapped in ice following seismic testing – including a case in Canada where 1,000 narwhal died. It concluded that more study should be done on how seismic testing disrupts marine mammals' travelling paths before more testing be approved. Such a a study has yet to happen.
Similar concerns have been expressed by scientists about seismic testing off Canada's Atlantic Coast. In Norway a study has shown that cod populations dropped 70 per cent following seismic testing, and didn't return for five days. And in Iceland and Scotland, there have been reports of panicked and lost pods of whales appearing in areas off their usual path.
All of this lends greater concern to the residents of Clyde River and other Baffin Island communities that seismic testing could seriously impact their livelihood and subsistence hunting by driving marine life away.
Does NEB review go far enough?
Because the area being explored falls outside of the region controlled by the Nunavut government, it is subject to a federal National Energy Board review. Opposition by community members to the seismic testing was overwhelming, as the public testimonies posted on the NEB site demonstrate.
"To think that there's any support from any communities, that is very wrong," summed up Nigel Qaumariaq, an Inuk from Iqaluit, at the final NEB consultation in Iqaluit. "There has been moments where there's this tug and pull between modern and traditional way but I have not seen any support for this project." Qaumariaq had attended all four community hearings held by the NEB review board.
The consultations ended in October 2013 and NEB officials cannot confirm when the board will issue its decision. While in other cases an NEB decision would then go to the federal government for final approval, because of the scope of this project, the board's decision will be the final word on the drilling, barring an appeal to the federal court.
But Baffin Island residents are concerned about the limited scope of the NEB review, which may allow for the testing to go through without taking into account the larger impacts of oil exploration and extraction in the region.
Of utmost importance is the feeling that there has been inadequate consultation by the exploration consortium with community members, and concern they are not taking Inuit Qaujimajatuqangit – Inuit traditional knowledge – into account. While a letter from the companies says that they see the integration of traditional knowledge and working with Inuit hunters and trappers as crucial, Napannine says that consultation has been extremely limited and that Clyde River residents have refused to participate in sessions or share their knowledge because of their opposition to the project going forward.
The consortium has hired Nexus Coastal Resource Management from Nova Scotia to lead the consultation process. While Nexus was contacted for comment for this piece, they did not respond before deadline. Reports filed with the NEB by Nexus in January 2013 outline the consultation process they have undertaken, listing meetings and the concerns raised by participants.
As they point out in their report on their November/December 2012 community meetings, "There appears to be consistency in the issues of concern and the inquiries made by community participants. A number of them deal with the uncertainty of the decision making process, concern for potential effects that are based on lack of information, lack of research, and lack of engagement by managers at the local level."
Also of concern is that, as in all cases, the NEB will only focus on concerns about the project at hand. While seismic testing is of concern, just as worrisome (if not more so) is the impact of eventual oil drilling.
Napannine says he hasn't seen any evidence that oil companies would be able to deal with an oil disaster in the arctic. "There's no way they can clean up a spill here," he says.
Communities will fight for broader environmental assessment
In response to the limited scope of the NEB, the Qiqiktani Inuit Association (QIA), which administers the land claims process for the Baffin region of Nunavut, requested that the NEB carry out a strategic environmental assessment in order to evaluate the broader impact of oil industry development in the area. Nunavut Tunngavik Incorporated, the Nunavut governing body, has also passed a motion supporting the QIA.
While the federal government has agreed to carry out an SEA, preliminary consultations just began in February and the process will take several years to complete. The NEB, in the meantime, operates separately from the SEA process, meaning oil exploration could begin before any broader assessment results are known. Driving this point home, Nexus has already sent job postings to Clyde River and other communities for work on the ships as mammal spotters starting in August 2014.
With no decision yet, and questions still swirling, Napinnine wonders how they could already be hiring. "It hasn't event gotten the go ahead yet," he said.
For Napannine and others in the region, the lack of consultation simply isn't acceptable. While he stressed that he and others are not opposed to any and all oil development, it needs to come with the appropriate safeguards. If not, the projects can't be allowed to move forward, and he says that his community and others are committed to continue the fight, whether the NEB grants approval or not.
"The people are united in our opposition," he said.
Image Credit: Wikimedia Commons