Barrick Gold's shareholders will be greeted by a familiar sight in Toronto this morning: protesters are once again gathering outside the Annual General Meeting of the world's largest gold mining company to denouce the corporation's human rights and environmental abuses.
Sakura Saunders, of Protest Barrick and one of the demonstration's long-time organizers, told DeSmog that this year's AGM is happening amidst a "perfect storm" of controversies for the company.
"Everyone's angry at Barrick right now. Everyone's mad at [Barrick Chair and founder] Peter Munk because of botched deal after botched deal, fraudulent activity due to their Pascua-Lama mine, and they're also being sued in the British High Court for the killings that have happened with regularity at their North Mara mine," she said in a phone interview.
The perfect storm
Top of the list for Canada's most prolific mining company is a $6 billion class action lawsuit – totalling over a quarter of Barrick's market capitalization – from shareholders alleging fraud over the company's Pascua-Lama mine, located on the border between Argentina and Chile. Pascua-Lama was meant to be the company's flagship operation at the centre of the largest stock offering in Canadian history in 2009. Slated to start production in 2013, the project has instead been shuttered after ballooning costs and the Chilean government's decision to suspend the mine's license for violating environmental regulations.
The lawsuit, which still needs certification as a class action by the courts, alleges Barrick executives knew and hid information about these environmental concerns from shareholders, causing them to eventually lose millions of dollars in investments.
Barrick is denying the allegations, and has said it will "defend itself against any lawsuit vigorously."
Contravening environmental rules in Chile is just part of the accusations that human rights and environment activists have levelled against the company.
In Tanzania, there have been repeated shootings and killings of people in proximity of Barrick's North Mara mine by police who double as security. The company's subsidiary African Barrick Gold is now being sued in British courts by the families of men who have been killed by security agents, on the grounds that they used excessive force. And in Papua New Guinea, communities next to Barrick's Porgera mine are demanding the company pay for their resettlement after run-off and pollution from the site have made their villages unlivable.
With all these serious, documented abuses abroad, Saunders has mixed feelings about the fact that it is shareholders who are able to seek retribution in the courts, but not those directly impacted themselves.
"I just hope that these lies [about Pascua-Lama] expose the pathological culture at Barrick Gold. Which of course have many other consequences outside of shareholder value," she said.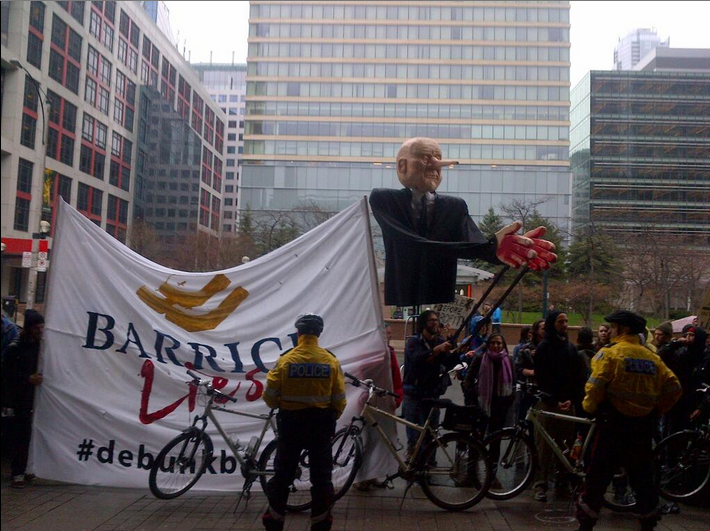 An early Barrick Gold demonstration in Toronto took place on April 24, 2014. Photo by @liezelhill via Twitter.
Shareholder activism
MiningWatch Canada is also working to bring awareness to Barrick Gold's activities. This past March they issued a notice to investors about the company's actions in Tanzania. In it, they document various shootings, killings and rapes that have allegedly been committed by security forces and police in and around the mine. They are urging shareholders to recognize the harm being committed by the company and to pressure executives at the AGM.
"[Shareholders] need to pay at least as much attention to the accusations of ongoing human rights abuses and severe environmental damage at Barrick sites around the world, as to the financial predictions of the company's management based on reserves, pipelines and costs of production, as these severe harms caused by the company result in local-level conflict, opposition and legal action that presents real risks to their investment," said Catherine Coumans of MiningWatch by email.
Driving this point home, Saunders and Protest Barrick organized a pre-AGM event on April 28, to "help investors bankrupt Barrick." The group distributed information detailing how to join the class action lawsuit.
End of an era
Barrick's outspoken and controversial founder and chair Peter Munk will also be retiring this year, signalling what some have called the end of an era.
Munk has been ardent in his defense of the company's work, and in his refusal to take action to remedy the impacts of their mines, said Saunders. At the same time, neither she nor Coumans feels his leaving will mark much of a change at the company. "Maybe the company will finally agree to resettle people," said Saunders. But the problem isn't Munk, she said, "it's that this company continues to operate."
And while he may be out of the building, the 86-year-old's presence will probably continue to be felt, said Coumans. "[Munk's] influence is likely to continue through his hand-picked co-chair, who will now become chair, and possibly through his son who is also on the board of directors," she wrote.
Accountability problem
While the biggest and often most visible violator of rights, Barrick is simply a reflection of problems in the mining industry. "Many of the negative impacts Barrick is causing locally, through human rights abuses and environmental degradation, and nationally through tax evasion and avoidance are quite widespread in the sector," explained Coumans. "Because of Barrick's sheer size and exposure globally, it is possible to expose a wide range of these harms related to one company, but we are seeing the same negative impacts by other Canadian mining companies."
And at the root of this widespread problem is the question of accountability. Canada has the largest mining sector in the world, in part because of weak disclosure laws and no legislation for trying Canadian companies for crimes committed abroad.
In an historic ruling last year, a case against Canadian mining company Hudbay for negligence leading to rapes and murders committed by its security personnel at its Fenix mine in Guatemala was allowed to go ahead by the Ontario Superior Court of Justice. But there are still no laws on the books clearly granting victims of Canadian companies' abuses abroad the right to sue them in Canadian court.
This has led to the Open for Justice campaign, started in 2013 and spearheaded by the Canadian Network on Corporate Accountability, to have Canadian parliament adopt legislation making it clear that Canadian companies can be sued by both Canadians and non-Canadians for offenses committed abroad, and the creation of an Ombudsperson to receive complaints and verify the compliance of Canadian extractive companies with legally-binding corporate accountability standards. It's only by bringing in this new legislation that Canada's mining sector – including Barrick – will be pushed to change their actions, said Saunders.
While waiting for legislation with more teeth, though, the plans are to continue protesting, which has seen success at pressuring Barrick and changing the debate on mining in Canada. Over the past few years, Saunders says she has seen her and fellow organizers' concerns go from fringe and rejected, to being seriously discussed in the mainstream press.
"Each year we've come, Barrick has had to admit to what we are saying," she said. "Each year I feel a lot of validation regarding the accusations against Barrick that have finally been accepted in the mainstream."