In a scenario that sounds like something out of a Dr. Seuss book, bull trout and other fish will travel in trucks past the Site C dam for 100 years as part of BC Hydro's strategy to save the threatened fish species from disappearing from the Peace River.
The public hydro provider, which is in the early stages of building the $8.8 billion dam, declined to discuss its fish-saving plans. However, a review of reports filed by the Crown corporation reveals an elaborate and expensive plan that may not work, according to a U.S. fish biologist with bull trout expertise.
According to BC Hydro reports, British Columbians will pay approximately $25.5 million to build a "trap and haul" facility for Peace River fish and will spend an additional $1.5 million a year to maintain the facility. The plans are contained in information BC Hydro filed with the Canadian Environmental Assessment Agency.
Migratory bull trout, listed as a threatened species in B.C., are the primary focus for the facility's fish ladder and truck transport because Site C will block their way to spawning grounds. Arctic grayling, mountain whitefish, rainbow trout and other large fish seeking to swim past the 60-metre high dam are also expected to use the fish passage.   
Three-quarters of the Peace River's bull trout population, estimated at about 8,000 fish, are present upstream of Site C, according to a BC Hydro technical report.
But there is a potential snag that could thwart the success of mitigation plans, raising the question of whether bull trout could become locally extinct in sections of the Peace River after Site C is constructed.
A bull trout ladder has only been attempted on one other river in North America, the Clark Fork River in Idaho and Montana, where it has met with limited success.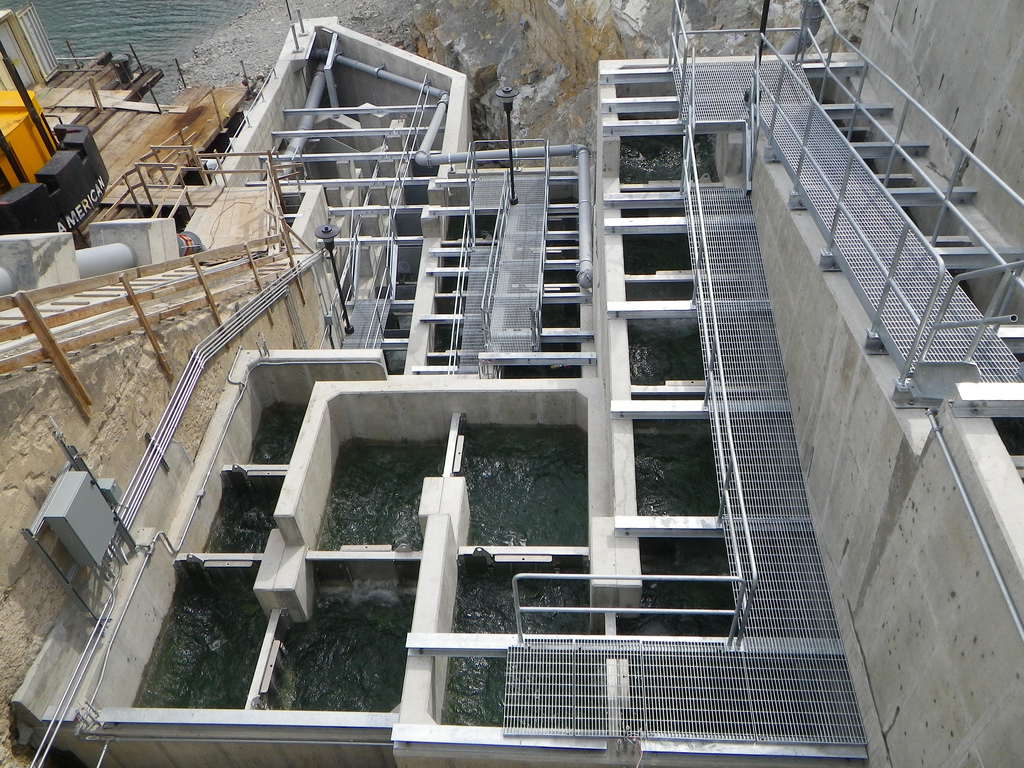 The Thompson Falls Fishway in Montana. Photo: Wade Fredenberg/USFWS via Flickr.
Biologists there have discovered that bull trout, unlike other fish species such as salmon, do not like to enter man-made structures, says Ryan Kriener, a fisheries biologist with Montana's Fish and Wildlife Service.
Out of 25,000 fish that have used the fish ladder at one of the river's three dams since 2011, only twelve were bull trout, Kriener says. "Bull trout seem more reluctant to enter these non-natural traps than some other fish." During 2015, only seven bull trout attempted to ascend the ladder. Two made it to the top and five turned back, says Kriener.
According to BC Hydro documents, the journey for Peace River bull trout will begin when they are lured to a fish ladder entrance at the foot of the Site C dam. The fish will jump up a series of pools in the 10-meter ladder, until they reach a trapping pool. Next to the trapping pool, fish will enter an "anesthetic pool" where they will be anesthetized.
From there they will travel in a "fish lift" to a sorting area, where they will be classified by species and counted, then placed in aerated tanks for transport past the dam in trucks. Fish not deemed suitable for upstream shipping will be fed back into the Peace River downstream from Site C through a tailrace return pipe.
The bull trout, according to the Hydro documents, will be taken by watercraft to the Halfway River, about 30 kilometers upstream from the dam, where they spawn in watershed creeks and rivers. Arctic grayling will be released at the Moberly River just upstream from the dam. Other unidentified fish species will be released directly into the Site C reservoir, which will stretch along 107 kilometres of the Peace River and its tributaries, including 10 kilometers up the Moberly River and 14 kilometers up the Halfway.
The Peace-Halfway bull trout population is distinct because of its large size and the fact that fish migrate up to 280 kilometres downstream, as far as the Clear River in Alberta, after over-wintering in the lower Halfway River and Peace River mainstem.
But there is no guarantee that any bull trout successfully trucked upstream from Site C will survive their downstream journey past the dam. That's in part because the fish will play a life and death game of fish roulette in the dam's turbines. Up to 40 percent of bull trout and other large fish are expected to perish in the turbines, according to a BC Hydro report, while up to 10 percent of smaller fish will die.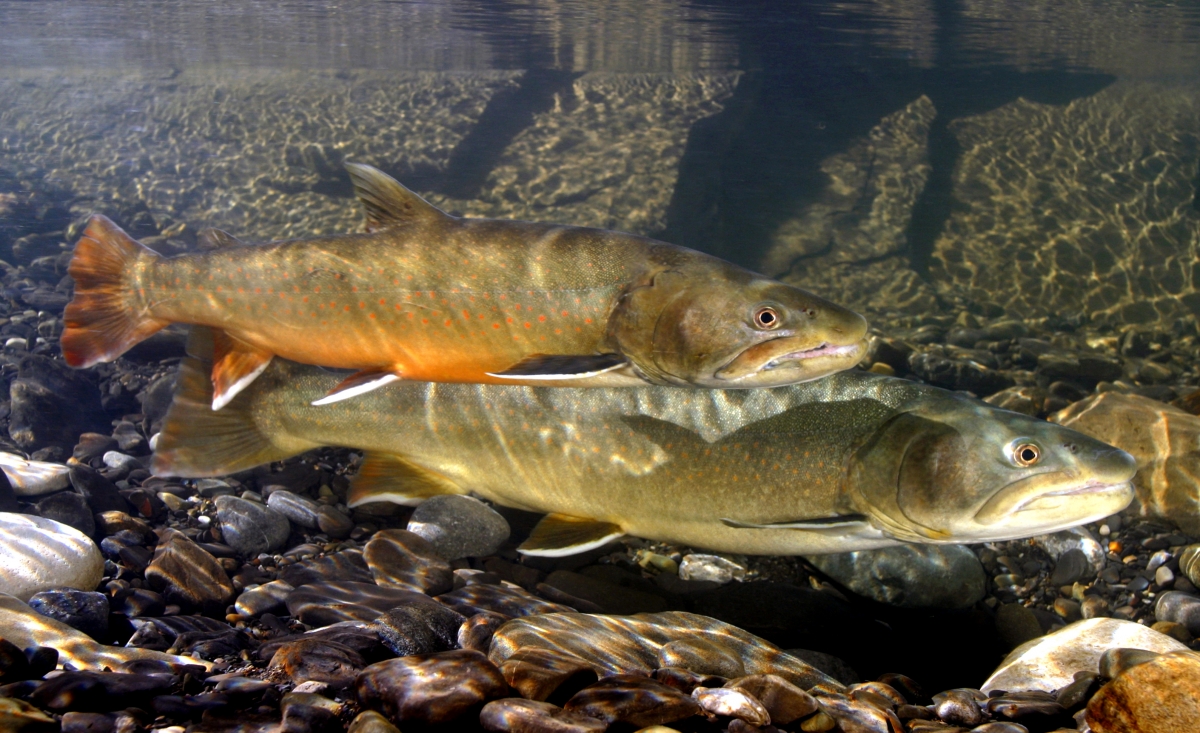 Bull trout are being considered for status as a species of "special concern" under the federal Species at Risk Act. Photo: Department of Fisheries and Oceans.
For smaller fish unable to ascend Site C's fish ladder, BC Hydro proposes a "periodic capture and translocation program" at an unknown cost to B.C. taxpayers and ratepayers. The crown corporation acknowledges there is no precedent for such a program. It says it would study movement patterns of small fish before deciding if a conservation benefit would result from facilitating a genetic exchange between fish upstream and downstream of Site C.
BC Hydro declined to comment on fish mitigation plans for Site C.
In the U.S., where hydro dams are owned and operated by private companies, officials readily provide information to the public about dams and fish mitigation strategies.
Avista Utilities plans to build what it says will be the second bull trout ladder in North America, at the Cabinet Gorge dam on the Clark Fork River. The only existing bull trout ladder is at the Thompson Falls dam, owned by NorthWestern Energy, further upstream on the Clark Fork.
At just over four metres, Avisa's bull trout ladder will be less than one-half the length of the proposed Site C bull trout ladder. After ascending the ladder at the Cabinet Gorge dam through six different entrances, "fish will be collected in a hopper and hoisted to the top of the dam where they will be transferred into a fish truck," explains Tim Swart, Avista's Clark Fork License Manager.
The ladder will replace the dam's current system that sees biologists spend three nights a week electro-fishing bull trout and trucking captives upstream. That system, while labour intensive, has proven far more successful than the Thompson Falls dam fish ladder, according to Kriener. As many as 65 bull trout a year have been stunned and transported upstream.
Swart and Joe DosSantos, Avista's Clark Fork aquatic program manager, said in a telephone interview that the company expects to spend $10 million to $20 million US to build the facility and $300,000 US a year to maintain it, including the cost of genetic and pathogen testing for each bull trout and westslope cutthroat trout.
Like BC Hydro, Avista is obliged by law to develop a mitigation plan for bull trout, an endangered species in the U.S. DosSantos says Avista is hopeful that the trap and haul facility will be able to transport at least 65 bull trout a year and possibly double that number.
Bull trout are one of four at-risk species out of 32 fish species that will be affected by Site C, according to the Joint Review Panel that examined Site C for the federal and provincial governments. Along with bull trout, the goldeye and cigar-shaped pearl dace are listed as threatened species in B.C., while the spottail shiner, a freshwater minnow, is endangered.
BC Hydro claims the transformation of the Peace river's ecosystem to a reservoir will "create a new and productive aquatic ecosystem" that will "support a community of equal or greater productivity than the existing riverine environment."
But the Joint Review Panel disagreed with BC Hydro, concluding that Site C will result in a net loss of fish habitat and "a "profound change in the type and character of the remaining habitat." The panel said changes will begin with construction and continue for the one hundred year lifespan of the project. It describes these changes as  "probable, negative, large, irreversible and permanent so long as the Site C Dam remains."
One of the negative changes Site C will bring to bull trout and other Peace River fish is mercury contamination. Methylmercury, which accumulates at the bottom of the food chain, is formed naturally by certain bacteria as they decompose or feed on carbon in sediment or soil. Site C's flooding of vegetation and soils will produce an abundance of nutrients to feed this type of bacteria. Mercury levels will spike to such an extent that fish from the Site C reservoir will not be safe to eat for two or three decades, according to the Joint Review Panel.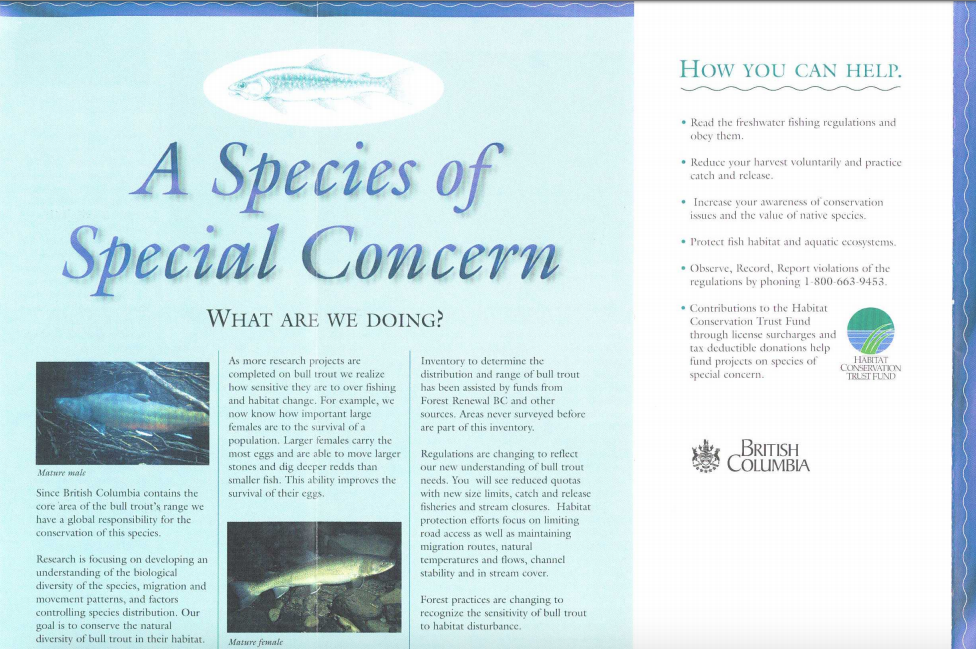 B.C. bull trout bulletin.
Mercury contamination of bull trout and other fish from the WAC Bennett dam and Williston Reservoir remains a concern 50 years after the dam's construction.
A brochure on bull trout co-produced by the B.C. government emphasizes that the province has a "global responsibility for the conservation of this species." It notes that the threatened bull trout are particularly sensitive to habitat alteration. Dam construction, logging, road-building, pipelines, and the removal of streamside vegetation are all cited in the pamphlet as reasons for the bull trout's demise.
The brochure counsels British Columbians to conserve bull trout populations by increasing their awareness of the value of native species and protecting bull trout habitat and aquatic ecosystems and lists a phone number for reporting violations.
Image: Bull trout via the U.S. Fish and Wildlife Service
New title
You've read all the way to the bottom of this article. That makes you some serious Narwhal material.
And since you're here, we have a favour to ask. Our independent, ad-free journalism is made possible because the people who value our work also support it (did we mention our stories are free for all to read, not just those who can afford to pay?).
As a non-profit, reader-funded news organization, our goal isn't to sell advertising or to please corporate bigwigs — it's to bring evidence-based news and analysis to the surface for all Canadians. And at a time when most news organizations have been laying off reporters, we've hired eight journalists over the past year.
Not only are we filling a void in environment coverage, but we're also telling stories differently — by centring Indigenous voices, by building community and by doing it all as a people-powered, non-profit outlet supported by more than 2,500 members. 
The truth is we wouldn't be here without you. Every single one of you who reads and shares our articles is a crucial part of building a new model for Canadian journalism that puts people before profit.
We know that these days the world's problems can feel a *touch* overwhelming. It's easy to feel like what we do doesn't make any difference, but becoming a member of The Narwhal is one small way you truly can make a difference.
We've drafted a plan to make 2021 our biggest year yet, but we need your support to make it all happen.
If you believe news organizations should report to their readers, not advertisers or shareholders, please become a monthly member of The Narwhal today for any amount you can afford.