A new survey of federal researchers and scientists reveals the startling degree to which they are limited in their ability to share their research findings with the public, including in cases of the public good, and for the first time gives a clear view of the degree to which scientists feel political interference determines how their work presented.
The study, called The Big Chill, reveals that 86 percent feel they would be reprimanded if they spoke out to the media in a situation where a decision by their department goes against what their research finds to be in the public interest. A full 90 percent also said they are simply not allowed to freely speak to the media about their work.
In more concrete terms, 37 percent say that, within the last five years, they have been directly stopped from sharing their expertise in response to a question from the media or the public, and nearly one quarter have been forced by government officials to modify conclusions of their research for non-scientific reasons.
The study was commissioned by the Professional Institute for the Public Service of Canada (PIPSC), which represents scientists and researchers across the federal government. While it was already well-known that regulations brought in by the Conservative government had limited the ability of researchers to share their findings, PIPSC President Gary Corbett said even he was surprised by the results.
"I found it very surprising, including the degree of political interference," he said in an interview with DeSmog Canada. As an example, Corbett pointed to the fact that 50 percent of respondents said they were aware of actual cases of political interference in the communication of scientific research.
"The findings should be very concerning to the public," he added.
The survey was sent to 15,398 PIPSC members who are scientists, researchers and engineers in over 40 federal departments and agencies. Of these, 4,069 (26%) responded. The survey, conducted by Environics Research, is considered accurate + or – 1.6%, 19 times out of 20.
This survey is one more voice in a growing chorus calling on the Conservative government to roll back restrictions on government scientists speaking publicly. Since last year, two days of protest have taken place, and concerned scientists have launched Evidence for Democracy (E4D), a non-profit group dedicated to ensuring federal researchers and scientists are able to speak freely about their work.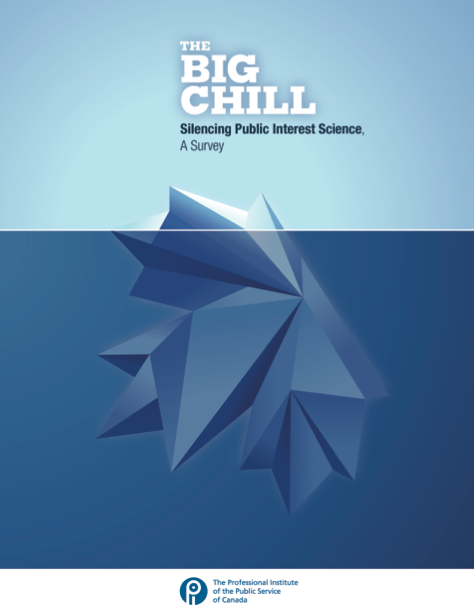 Organizers with E4D say that these findings help to reinforce what observers have noticed over the past several years.
"For the past few years, we've seen different groups raising alarm bells, we've seen a number of specific cases of government scientists being muzzled," E4D co-founder Dr. Katie Gibbs told DeSmog Canada over the phone. "But whenever the government did respond, they would usually say, 'No, there's no muzzling going on.' And people would say, maybe these are just a few isolated incidents."
"What I think is really important about the survey is that it shows that these aren't just a few isolated incidents… It really is across the board that scientists feel that they cannot speak out."
When reached for comment about the latest study, Minister of State for Science and Technology Greg Rickford responded with an email statement that the Conservative government has made "record" investments in Canadian science and that, "We are working to strengthen partnerships to get more ideas from the lab to the market-place and increase our wealth of knowledge. Science can power commerce, create jobs, and improve the quality of life for all Canadians."
The Minister did not specifically acknowledge the survey, nor did his office respond when asked in a follow-up about whether he finds the results of the study concerning. Rickford was recently at the centre of some controversy after a leaked fundraising memo from his riding referred to a group of Canadian scientists as "radical ideologues."*
This lack of meaningful response from the government has been common, said Gibbs. In order to raise public awareness, E4D have launched a website to compile instances of government interference at http://scienceuncensored.ca, to present a more global look at the issue.
Starting in 2010 with Environment Canada adopting a new policy of "speaking with one voice" which would go through the communications department, the timeline on the website documents several cases of what have become high-profile instances of scientists being stopped from speaking with the press. This includes Department of Fisheries and Oceans scientist Kristi Miller not being able to speak publicly about her research on salmon fisheries, even though it had been published in the journal Science in 2011.
Later that year, Environment Canada scientist David Tarasick was not allowed to speak with the media about research he did on ozone layer depletions, which was published in Nature. In 2012, federal scientists attending the Polar Year conference in Montreal saw themselves shadowed by media handlers. Most recently, US scientists working on a joint US-Canada project under the DFO refused to sign on to new, strict confidentiality measures saying it would lead to "muzzling."
The site also contains a form letter that readers can send to all five party leaders, calling for reforms to government policy.
Both Gibbs and Corbett believe that the survey, combined with the recent history of government restrictions, points to a need for an overhaul of communications policy when it comes to scientific research. "Right now, scientists can't do the job they were hired to do," said Corbett.
"What we've been calling for is for the government to implement a new communications policy that makes it explicit that scientists are able to communicate their research to the media," said Gibbs, pointing to recent changes in the UK and the US along those lines. "It's not impossible."
With a federal government that refuses to address the issue publicly, though, any change coming soon seems improbable.
* An earlier version of this post stated a memo referring to Canadian scientists as "radical ideologues" came from Minister Rickford. It was written by the president of the Kenora Electoral District Association in Minister Rickford's riding. 09/09/2014
New title
You've read all the way to the bottom of this article. That makes you some serious Narwhal material.
And since you're here, we have a favour to ask. Our independent, ad-free journalism is made possible because the people who value our work also support it (did we mention our stories are free for all to read, not just those who can afford to pay?).
As a non-profit, reader-funded news organization, our goal isn't to sell advertising or to please corporate bigwigs — it's to bring evidence-based news and analysis to the surface for all Canadians. And at a time when most news organizations have been laying off reporters, we've hired eight journalists over the past year.
Not only are we filling a void in environment coverage, but we're also telling stories differently — by centring Indigenous voices, by building community and by doing it all as a people-powered, non-profit outlet supported by more than 2,500 members. 
The truth is we wouldn't be here without you. Every single one of you who reads and shares our articles is a crucial part of building a new model for Canadian journalism that puts people before profit.
We know that these days the world's problems can feel a *touch* overwhelming. It's easy to feel like what we do doesn't make any difference, but becoming a member of The Narwhal is one small way you truly can make a difference.
We've drafted a plan to make 2021 our biggest year yet, but we need your support to make it all happen.
If you believe news organizations should report to their readers, not advertisers or shareholders, please become a monthly member of The Narwhal today for any amount you can afford.