Two weeks before the premiers met in Ottawa to finalize the pan-Canadian framework on clean growth and climate change, the federal government unveiled plans for a national clean fuel standard. If adopted, the measure could drive down greenhouse gas (GHG) emissions in the transportation sector, Canada's second biggest contributor to climate change.
"One of the root issues around our climate problem is the fuel that we use to heat our homes and move our cars and so I think this is an excellent first step," Dianne Zimmerman, director of Pembina Institute's transportation and urban solutions program, said.
"The other piece of the puzzle is ensuring the infrastructure is in place to support alternative forms of fuel."
In all provinces and territories, transportation ranks among the top emitters. Despite advances in vehicle fuel efficiency, emissions from transportation have barely moved up or down from 171 megatonnes annually or 23 per cent of Canada's overall carbon footprint since 2005.
"The only challenge is political will," Mark Jaccard, a leading energy economist in Canada, told DeSmog Canada when asked if the transportation sector faced any unique challenges in reducing its emissions.
"Around the world…we have electric cars, we have plug-in hybrid electric cars, we have flex-fuel vehicles that can run on 85 per cent ethanol, we can make ethanol with almost zero emissions," Jaccard said. "All the technologies are there."
What Canada is lacking at the moment are strong policies to support the necessary technological transformation to low emission vehicles. The pan-Canadian climate framework contains a section on tackling transportation emissions, but it is light on details.
Canada has committed to a 30 per cent reduction in emissions by 2030 based on 2005 levels.
Provincial Policies Don't Make the Grade: Report
Canada's transportation emissions are mainly from vehicles on the road. Personal vehicles — cars and light trucks — account for half of all emissions in the sector and freight trucks are an additional 32 per cent. Aviation, rail, marine shipping and recreational vehicles make up the balance.
"If we are serious about meeting our climate targets and we are committed to action to do so, decarbonizing our transportation is one effective way and electric vehicles provide an opportunity to do that," Suzanne Goldberg, director of research at Simon Fraser University's Sustainable Transportation Action Research Team (START), told DeSmog Canada.
The International Energy Agency estimates to avoid increasing the average global temperature by more than two degrees — the Paris Agreement target — sales of electric vehicles must exceed 40 per cent of all vehicle sales by 2040.
Goldberg and START analyzed federal and provincial policies that directly or indirectly affect electric vehicles sales in Canada and found no province will hit the agency's proposed target.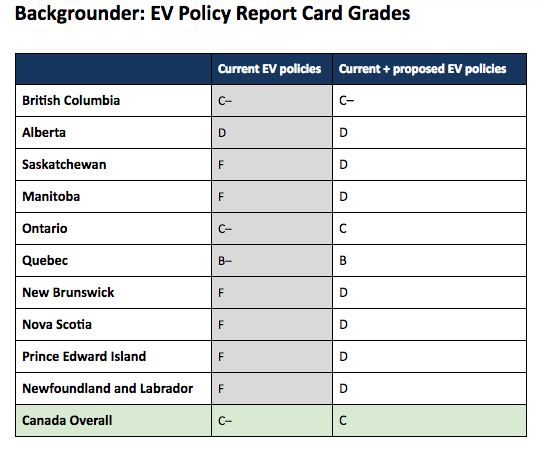 START's Electric Vehicle Policy Report Card highlights provincial policy deficiencies. Image: sustainabletransport.ca

"The policies we have…aren't pushing us to the levels we need to make a big difference in climate change," Goldberg said. "The good news is governments have access to these policy tools and some governments have started to demonstrate leadership like Quebec and Ontario."
Quebec led all provinces with electric cars projected to be 24 per cent of all vehicles sales by 2040. This is largely due to the province adopting a zero emission vehicle mandate last October, which requires at least 15 per cent of vehicles sales in the province to be zero emission vehicles like electric cars by 2025.
British Columbia and Ontario, which have purchasing incentives for electric vehicles, trailed Quebec substantially with 10 per shares for electric car sales by 2040. All other provinces will likely only reach five per cent electric vehicle sales by the target year. Goldberg and her research team published their findings in a report last November .
The report concluded the "most effective policies" to slash emissions in transportation are a strong price on GHG emissions, long-term financial incentives and a zero emissions vehicle mandate.
Jaccard said he prefers a partial-zero-emission vehicle mandate to a zero emission vehicle mandate. Partial-zero-emission vehicles include electric cars, hybrids, and vehicles running on hydrogen fuel cells or biofuels. A mandate supporting these types of vehicles would give consumers and retailers more flexibility.
"What is important is the sale and use of conventional gasoline and diesel declines," Jaccard said. "And that is what these mandates or a carbon price must do."
Close to two million vehicles were sold in Canada last year, but less than one per cent of sales was for electric cars.
Electric Vehicles 'Are Fun'
"New technology needs to be discovered and understood by the general public," Ron Groves, outreach and education manager with Plug'n Drive, told DeSmog Canada. "In order to want [electric vehicles], they have to think it's better product than the gas car."
Plug'n Drive is a Toronto-based organization promoting the economic and environmental benefits of electric cars. Groves and Goldberg agreed that when people have the opportunity to test drive electric cars they are more likely to purchase.
"People really love to drive them. They are fun," Goldberg said.
"We ask them before they get into the car 'what do they think of EVs?' and they say 'yeah, I don't know too much,'" Groves told DeSmog Canada. "And then at the end of the test drive we ask them 'do you think you'd be more inclined to buy an EV?' and the answer is always yes."
Groves said it is up to governments, companies and organizations like his to educate the public and address public concerns about electric vehicles from "range anxiety" to how to they recharge. The range or distance a fully charged electric car can travel has grown to over 300 kilometres, depending on the model. Most electric vehicle owners recharge their cars overnight by plugging in at home.
"If you are going to encourage adoption, the public wants to know where they are going to plug in and if they see that infrastructure being installed it gives them a greater sense of security," Groves said of charging stations.
"Even though the chances are half the time they won't need it."
Canada Can Make Huge Climate Gains by Cleaning Up Transportation Sector: Experts https://t.co/MdKYQTNs5C #cdnpoli

— DeSmog Canada (@DeSmogCanada) December 28, 2016
Freight Truck Emissions Grow 132 Per Cent Since 1990
Freight transportation by truck and rail predominantly runs off of diesel, a fuel that produces more carbon dioxide than gasoline. Heavier loads and longer distances make electrifying freight transportation tricky, but not impossible. Since 1990, emissions from freight trucks have grown a whopping 132 per cent, making freight trucks the transportation sector's fastest growing source of emissions.
"It is more difficult to address emissions from heavy duty freight because of the nature of the fuel that's necessary," said Zimmerman of the Pembina Institute. "The one thing with freight is that it is closely tied to Canada's GDP and so as that increases so to are the demands put on the movement of goods."
"There are less technological opportunities for heavy duty freight and even for rail," Zimmerman told DeSmog Canada.
Jaccard and his research team published a report last September that shows switching to biofuels could significantly displace diesel in freight transportation:
"Most trucks do not require engine modification to run on a high blend of hydrogenation-derived renewable diesel (HDRD), which could become a key biofuel candidate to replace diesel for trucks. HDRD could simply be blended with conventional diesel in increasing quantities over time, without the need for new refuelling infrastructure or new truck engines," the report reads.
Also called green diesel, hydrogenation-derived renewable diesel is fats or vegetable oils that have been through a process called hydrotreating. Some studies suggest green diesel produces 80 per cent less emissions than regular diesel.
The federal government's plans for a clean fuel standard will likely encourage some switching to biofuels. The proposed measure will require transport fuel suppliers in Canada to shrink the carbon footprint of their product, although it is not clear by how much. The federal government estimates the standard will take a 30-megatonne bite out of transportation emissions or the equivalent of removing seven million cars off the road.
Zimmerman said she would also like to see Ottawa develop a national land freight strategy to better coordinate freight between trucks and rail, cut down the amount of kilometers goods travel and minimize empty loads travelling on the road.
"When you look at addressing the largest GHG impacts [in freight], I think the greatest opportunity would be to look at a comprehensive strategy for both trucking and the opportunity for intermodal with rail," Zimmerman said. "Inherently long haul trips and heavy trips are much more fuel efficient if going by rail as opposed to truck."
Aviation the Next Low Emission Frontier?
Transport Canada estimates domestic and international aviation in Canada produced 17 megatonnes of GHG emissions in 2014, a 20 per cent increase since 2005. Emissions from freight trucks reached 54.7 megatonnes and personal vehicles came close to 86 megatonnes in 2014.
If Canada plans on "meeting or exceeding" its 2030 GHG reduction target, aviation emissions will also need to be addressed.
"We have to go after aviation big time," Jaccard said. "The Brazilians have flown jets on biofuels, on biokerosene…we can make that now. Again, we have the technologies, we have the fuels and it is a question of the political will."
Last March, United Airlines announced it would begin using a 30 per cent biofuel, 70 per cent regular jet fuel mix for flights between Los Angeles and San Francisco. Air Canada announced last April it would join Canada's Biojet Supply Chain Initiative (CBSCI), a three-year project to insert 400,000 litres of a biofuel called biojet into the Canadian aviation market.
Image: Prime Minister Justin Trudeau at the GM Innovation Summit. Photo: Prime Minister's Photo Gallery