Like a stand of eager horses chomping at the bit, Canada's young geothermal industry is waiting impatiently at the starting line, ready for the race to begin.

But there's no starting pistol in sight. At least, not yet.

Getting geothermal projects up and running in Canada "has been harder than it needs to be," according to Alison Thompson, founder and president of the Canadian Geothermal Energy Association (CANGea).

Thompson, along with a group of delegates from Canada's geothermal industry, is currently in Reykjavik at the Iceland Geothermal Conference where delegates, experts and scientists from around the world are swapping stories from the geothermal trenches.

Despite having the second largest delegation at the conference after Iceland, Canada has little to show or tell.

"Canada has an incredibly high quality resource and we can't even get out of the starting gate," Thompson told DeSmog Canada.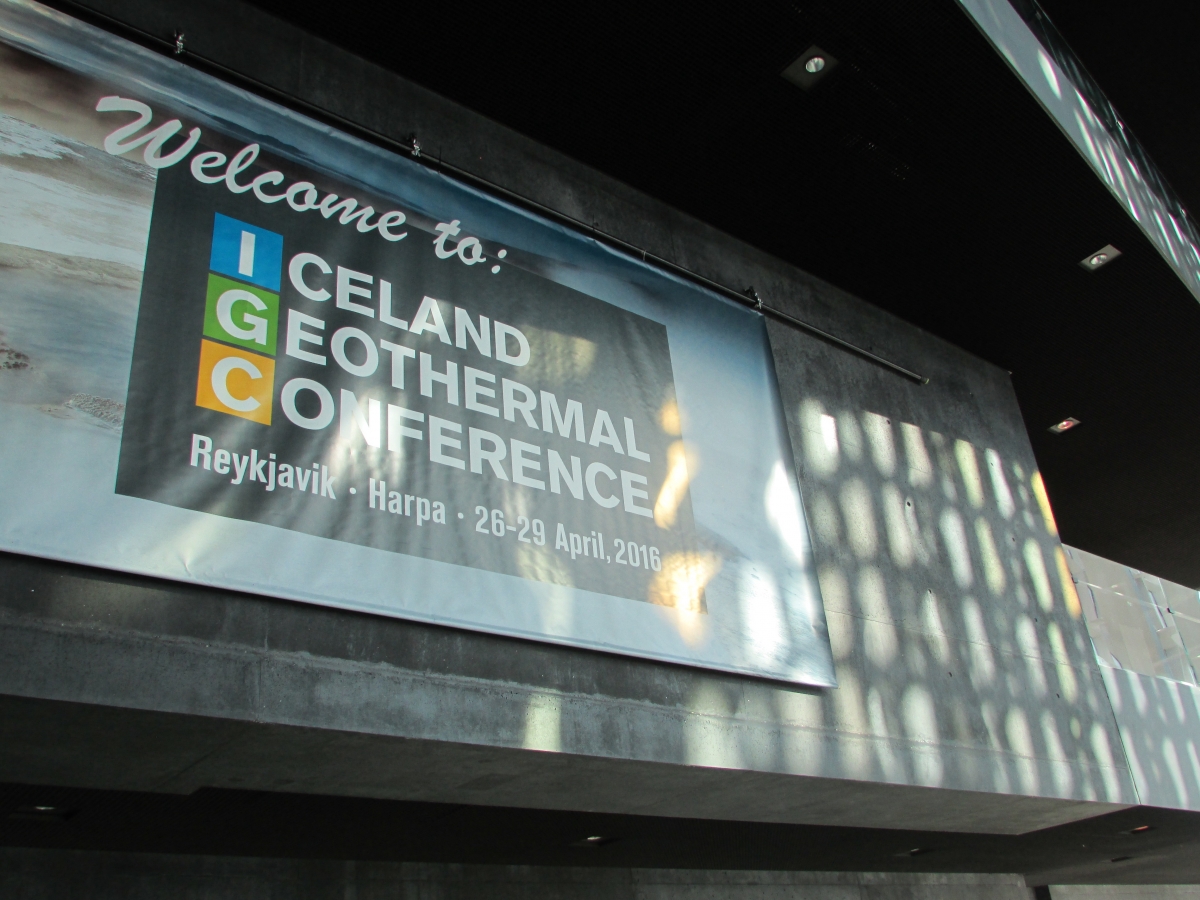 The Iceland Geothermal Conference 2016 in Reykjavik, Iceland hosts delegates from over 50 countries. Iceland is one of the largest producers of geothermal industry in the world. Photo: Carol Linnitt.
Maps released by CanGEA show Canada, especially in the oil and gas rich west, is teeming with geothermal activity, the same natural forces behind British Columbia's beloved hot springs. Conveniently, much of the temperature of the province's varied geography has already been mapped thanks to high levels of natural gas drilling.
"The United States is the number one producer of geothermal energy in the world. Mexico is number four," Thompson said. "I want to see Canada up in the top five."
"We have enormous potential for geothermal energy in Canada," Stephen Grasby, geochemist with Natural Resource Canada's Geological Survey of Canada, said.

The "in place capacity" of geothermal energy in Canada "is well over a million times what Canadians actually use," Grasby told DeSmog Canada.

"There's always a distinction between what's in place and what you can extract from that and that's where economic barriers come in," Grasby said, adding the high capacity is "comforting because it says we only need to produce a tiny fraction of that to supply a significant amount of energy for Canada."

Canada spent a full decade studying the country's vast geothermal resources during 1975 to 1985 but when the energy crisis ended, so did the country's desire for renewable energy security.

But now concerns about climate change have pushed the alternative energy portfolio back onto the table.

In 2007 Grasby, along with a team of scientists and researchers, began updating Canada's old research, finding geothermal potential exists right across the country.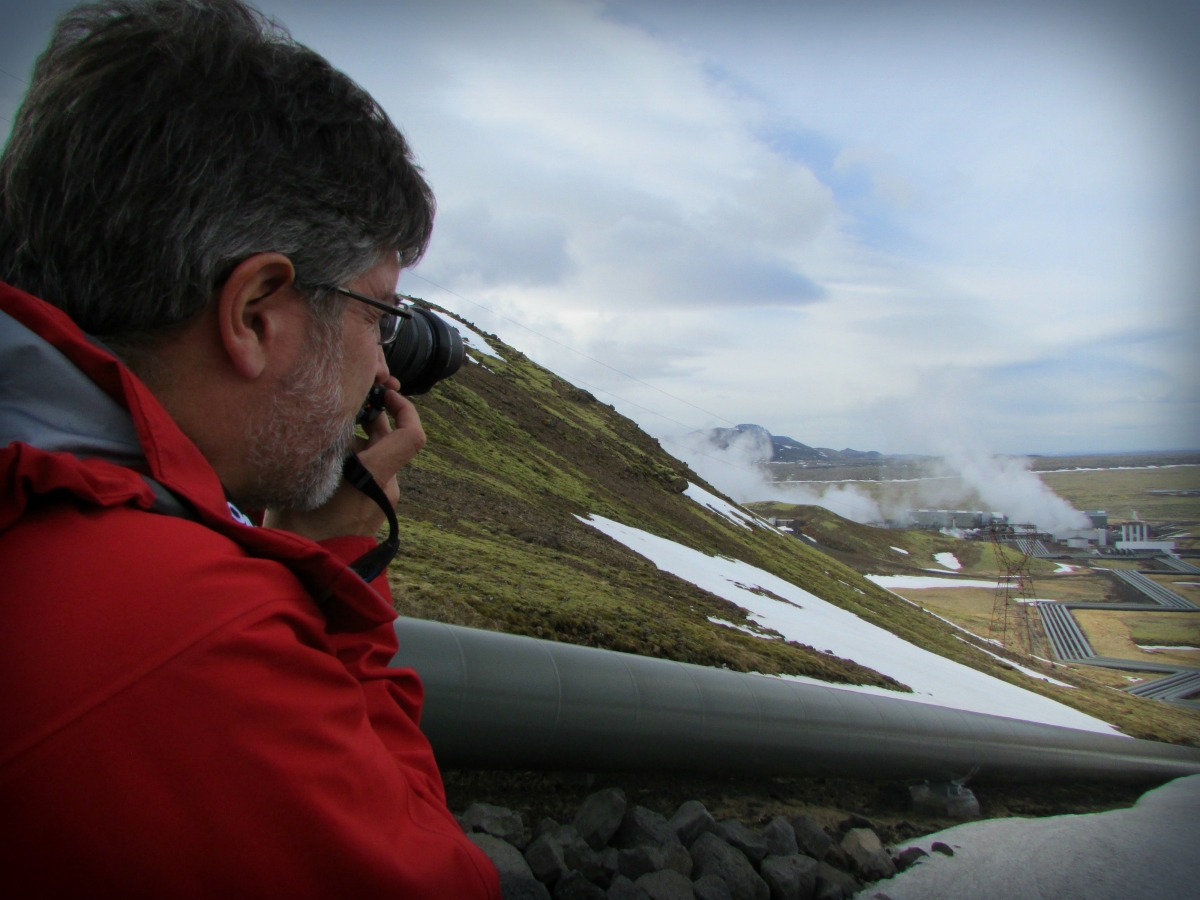 Stephen Grasby photographs Hellisheidi, the world's largest geothermal power station outside of Reykjavik, Iceland. Photo: Carol Linnitt.

How you view the resource "depends on what end use you want to make of it," Grasby said. "You can use it for direct heating, electricity generation or heat exchange systems."

Geothermal plays are greatly varied, Grasby said, meaning how one uses the resource largely depends on what they want to do with the heat.

Grasby, who is also in Iceland for the geothermal conference, said he hopes his work at Natural Resources Canada can help advance the geothermal industry in Canada.

"We're not a regulatory department, our main focus is to provide industry the geological information they need. That's the one area we can help in."

"We find the haystack and leave it to industry to find the needle," Grasby said.

"Now we're looking at what we can do to move things forward."

Ben Lee, owner of Raven Thermal Services, says it's unfortunate that in Canada geothermal "has always been something of an afterthought."

Lee, who has a degree in aerospace engineering and a background in the oil and gas sector, said there are many ways of using geothermal heat effectively.

"I had a bit of an epiphany flying over Regina once in the late winter," he said.

"It was amazing to see everything was white except for this big teardrop shape off the south edge of the city." Prevailing winds from the north were pushing warm air generated in the city south, "creating this teardrop of melt," Lee said.

"It just happened to be the perfect scenario for me to see that marked in the snow."

Lee said thinking about heat — how it's generated and how it's wasted — plays a big role in how he sees his company utilizing geothermal energy.

"How can we capture that heat and use it more efficiently?"

Lee is also attending the Iceland Geothermal Conference in Reykjavik, a northern city entirely heated using geothermal direct heat systems. Hot water, piped 27 kilometres in from Hellisheidi, Iceland's largest geothermal energy plant, is circulated throughout the city for district heating.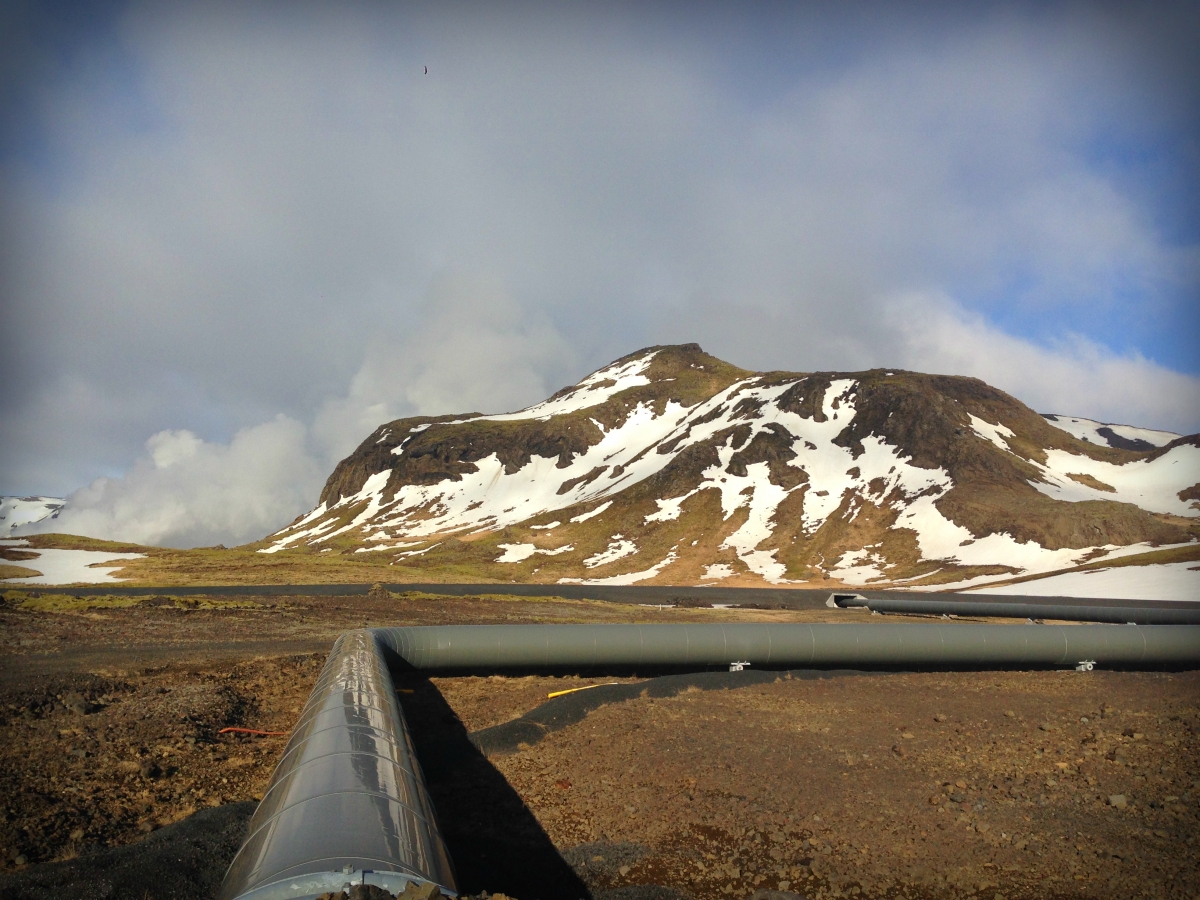 Insulated pipelines carry hot water from the Hellisheidi geothermal power station to Reykjavik for district direct heating, a system that has been in use in the city since the 1930s. Photo: Carol Linnitt.

"A piece that gets missed in Canada is the direct heating side of geothermal," Lee said. And being in Iceland, Lee said he's excited to see geothermal heated greenhouses used to grow much of the country's produce.

"They've got greenhouses growing food in the Arctic — as if that is not applicable to Canada," he said.

"I had a friend go up to the Northwest Territories and pay $16 for a single red pepper. My question is how can we leverage our geothermal resources to address our concerns about food security up north, particularly for First Nations?"

For Lee, the opportunities for geothermal are a vast as the resource: "We can help a lot of people solve different problems with the same solution."

But that solution is caught in a regulatory grey zone that has so far prevented any major projects from getting off the ground.

Despite the resource potential, Canada has zero mega watts of energy production.

"There's a regulatory pathway to owning an oilsands mine in Alberta, or for opening up a coal mine," Thompson said. "But there's no regulatory pathway to operating geothermal."

She added the industry doesn't enjoy any of the tax benefits or incentives given to other sectors.

"At the national tax level we're legally disadvantaged against mining, oil and gas and other renewables."

"We're not looking for a hand out we're looking for a hand up — we want parity with other industries."

Thompson said without favourable tax and policy structures in place, finding investors to back geothermal projects, which are capital intensive in the early stages, has been near impossible.

"Because we can't get the tax incentives, unless you get a geothermal lover, an investor is going to put their money elsewhere."

"We've been in this valley of death," Thompson said, but added she hopes public awareness about geothermal as well as increasing government interest might get things moving in a positive direction.

"We can do this. We just need to want to do it."
Image: Power generation at the blue lagoon, Iceland. Photo: Carol Linnitt.