A grim story of serial depletion of fish stocks, lack of accurate information about fisheries, overfishing and poor management is documented in a new study on the state of Canada's fisheries.
Less than one quarter of Canadian fish stocks are considered healthy and the status of 45 per cent of stocks couldn't be determined due to an absence of basic, current information, says the report commissioned by Oceana Canada and conducted by marine biologists.
"As Canadians we perceive ourselves to be good stewards of the environment, but when it comes to our oceans, we have failed to live up to that ideal," said University of Victoria biologist Julia Baum, lead author of the scientific report.
"We need to get serious about ocean conservation in Canada. Sound management and recovery of our fisheries must become a political priority."
Too Many Boats, Too Few Fish
Since 1970, the biomass of Canadian marine stocks has declined by 55 per cent and, although more money is being made from the seafood industry than ever before (with $6 billion in exports in 2015), the value is concentrated in a few species — such as Atlantic shellfish, which account for 77 per cent of the country's seafood value.
That lack of diversification is not sustainable, says the report, predicting that, with the lack of recovery strategies for failing stocks and inadequate legislation (made worse by the weakening of the Fisheries Act under the former Conservative government) stock collapses are likely unless action is taken quickly.
"Canada has fallen well short of the progress made by most developed nations in fulfilling national and international commitments to sustain marine biodiversity," wrote Jeffrey Hutchings, chair of the Royal Society of Canada Expert Panel on Sustaining Canada's Marine Biodiversity.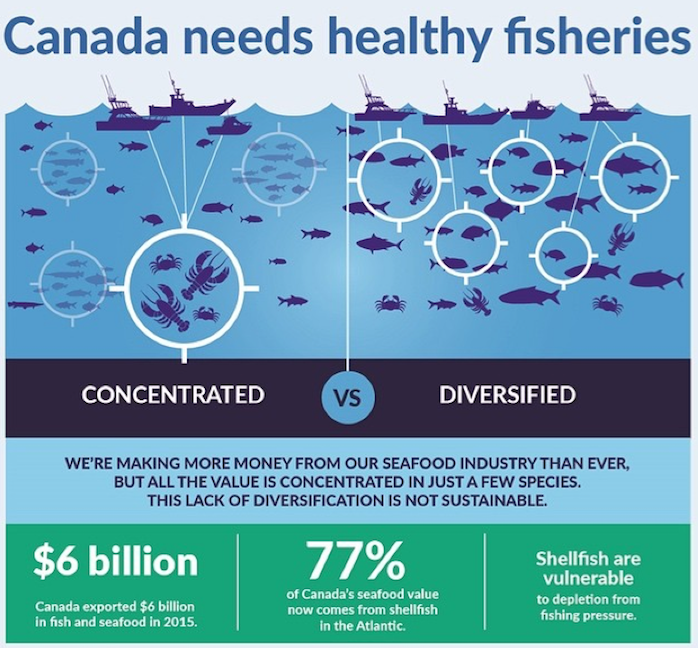 Most of the depletion has happened within the span of a single lifetime beginning with the post-Second World War increase in the number of fishing vessels combined with advances in technological killing power, said Josh Laughren, executive director of Oceana Canada.
"It's a story of too many boats chasing too few fish, of destructive gear and enormous waste, with science too often falling by the wayside. It's not just cod numbers that have plummeted, we've seen a drop in abundance of all kind of species," he wrote in the introduction to the report.
Making matters worse is the difficulty in obtaining accurate data, researchers found.
"Partly because of a lack of transparency and partly because of the failure of government to conduct regular assessments, we don't have a clear picture of the health of Canada's fish populations," says the report.
"This stands in stark contrast to the situation in the United Sates and the European Union where stock data and management plans are centrally compiled, publicly available and reported on annually."
Baum and fellow author Susanna Fuller of Ecology Action Centre looked at 125 stocks, representing the most important commercial harvests and those of greatest conservation concern. They included 28 Atlantic and Arctic species and 18 Pacific species. Salmon were not included as their lives are not spent entirely in the ocean.
Lack of Fisheries Data Hampers Progress
Fuller wrote that fisheries data is often unavailable and there is no central location where Canadians can easily understand the state of fisheries and the reasons behind management decisions.
That lack of transparency was exacerbated by the previous federal government's cuts to Canada's science capacity and the policy of discouraging scientists from speaking about their work, according to the report.
For example, Environment and Climate Change Canada published a report this year that rated 48 per cent of Canada's fish stocks as healthy, but there is no explanation of how those ratings were reached
"This lack of transparency, and therefore public scrutiny, and absence of up-to-date information, creates an environment in which it is all too easy for officials to ignore scientific advice and avoid the tough decisions required to rebuild vulnerable stocks," says the report.
Canada has a good policy framework in place for fisheries management, but the provisions are not being used, says the report, which points out that, to date, no recovery strategies have been developed for marine fish.
The Committee on the Status of Endangered Wildlife in Canada (COSEWIC) has assessed 28 marine species as being endangered, threatened or of special concern, but they have either been denied listing under the Species At Risk Act or have been waiting for up to 14 years for a decision.
If the species were listed under the Species At Risk Act, the government would be legally required to develop a recovery strategy and an action plan.
Also, the Fisheries Act does not require action when overfishing occurs, there is no requirement to come up with rebuilding plans once stocks are depleted and it does not require quotas to be based on scientific advice, says the report.
A glimmer of hope is offered by the federal government's announcement that it will be reviewing the Fisheries Act with a view to restoring lost protections and looking at decisions based on science, fact and social responsibility.
The report recommends that the Act should be updated to make it compatible with UN agreements and guidelines and that all integrated fisheries management plans should be made publicly available and updated annually.
The researchers also want the rationale for DFO management decisions to be made public, a single source of information for each of Canada's fish stocks and a promotion of a department-wide culture of transparency.
Although the report paints a dismal picture of the way Canada has managed its fish populations, there is hope for the future, provided changes are made, it says.
"The good news is the report shows that, with proper management, our oceans can recover and fisheries can be rebuilt, allowing Canadians and the world to benefit from a truly diverse ecosystem," said Jeff Hutchings of Dalhousie University, one of the leading scientists who peer-reviewed the report.
Among the actions needed are enforcement of science-based catch limits, protection of essential fish habitat, incentives for using lower-impact fishing gear and identification of places where bottom trawling cannot occur, the report recommends.
Oceana Canada, an independent charity that works with international groups focused on ocean conservation, is calling on the federal government to be accountable to the Canadian public about the state of the fisheries and to require overfished stocks to be rebuilt.