A push to prioritize economic gains over basic research is endangering science and academic freedom in countries around the world, according to a new report published by a leading researchers union, the French National Trade Union of Scientific Researchers (SNCS-FSU).
The group surveyed higher education and research unions in 12 countries including France, Argentina, Canada, Denmark, Italy, Portugal, Russia, Senegal, Serbia, Spain, the U.K. and the U.S.
The research union found governments internationally are pushing for policies "geared towards innovation in order to spur consumption and competitiveness," according to Patrick Monfort, secretary-general of the SNCS-FSU. "Budget cuts are often blamed for our problems," he said, "but they are only part of the picture."
Monfort told the prestigious journal Nature that scientists in Canada have been particularly hard hit, not only by broad funding cuts, but contentious communications protocols that prevent their freedom of expression.
The new French-language report mentions Environment Canada scientist David Tarasick, who was prevented from speaking about his research on the ozone layer as well as Department of Fisheries and Oceans scientist Kristi Miller, who was prevented from speaking with the media about her research into declining salmon stocks.
The report also notes Natural Resources Canada scientist Scott Dallimore who was not allowed to speak with media about a flood that occurred 13,000 years ago without receiving ministerial approval.
The turn to applied research and science that directly benefits the economy threatens the job security of professional scientists, concludes the new report. The problem is affecting the international scientific community to such an extent the group will call for an international science campaign at their upcoming Higher Education and Research Conference this November.
Canada's so-called "War on Science" has made international headlines, especially after deep funding cuts led to the closure of some of Canada's most important research centres. Thousands of federal scientists from the Department of Fisheries and Oceans as well as Environment Canada have lost their jobs as a result of the cuts.
Since 2006 the Harper government has introduced strict communications procedures that prevent scientists from speaking freely about – and at times even publishing – their research. Federal scientists are required to gain upper-level bureaucratic approval before they speak with journalists about their work, leading the international scientific community to call for the 'unmuzzling' of Canada's scientists.
A report last year from the University of Victoria's Environmental Law Centre catalogued numerous instances of muzzling and led to an investigation by Canada's information commissioner Suzanne Legault. That investigation is on-going.
Another report, released by the Professional Institute for the Public Service of Canada (PIPSC), released in October 2013 found 37 per cent of federal researchers and scientists felt that within the last five years they were directly prevented from sharing their expertise with the public or media.
Nearly 25 per cent said they were forced to by government officials to modify their research for non-scientific reasons.
PIPSC president Gary Corbett told DeSmog Canada he found the level of political interference in federal science "very surprising."
"The findings should be very concerning to the public," he said, adding a full 50 per cent of scientists said they were aware of cases of political interference in the communication of scientific research.
The PIPSC survey came on the heels of a fundraising letter from the president of the Kenora Electoral District Association that referred to a group of Canadian scientists as "radical ideologues."*
The letter was mentioned in the recent SNCS-FSU report, noting the phrase "radical ideologues" is "a term normally reserved for terrorists."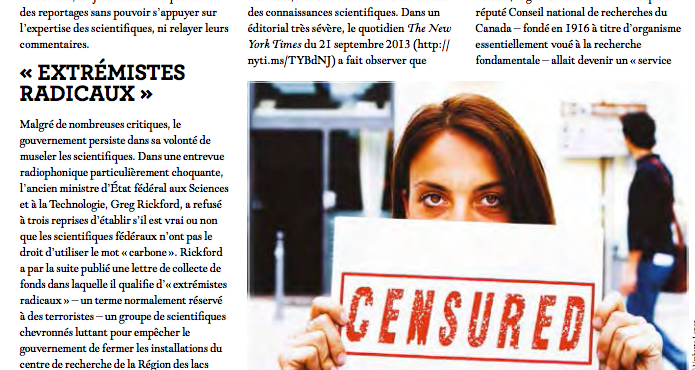 Excerpt from the French National Trade Union of Scientific Researchers report.
The muzzling of scientists in Canada – and its political implications – is well documented in DeSmog Canada contributor Chris Turner's book "The War on Science: Muzzled Scientists and Willful Blindness in Stephen Harper's Canada" and has gained celebrity attention from the likes of actress Evangeline Lilly.
In an interview with DeSmog Canada, Lilly recently said she was "terrified" to hear about the muzzling of Canadian scientists.
"All over Canada right now scientists are having their funding pulled," she said, "especially scientists who are speaking about climate change."
"I rely on the experts in this world, experts like scientists and journalists, to give me the information to help guide me, to help me guide the government and I think that circle is the way democracy is supposed to work," she said.
* An earlier version of this article stated the letter calling Canadian scientists "radical ideologues" was sent by Minister Greg Rickford. It was sent by the president of the Kenora Electoral District Association. 09/09/2014
Image Credit: Stand Up for Science rally in Vancouver. Photo by Zack Embree.
New title
You've read all the way to the bottom of this article. That makes you some serious Narwhal material.
And since you're here, we have a favour to ask. Our independent, ad-free journalism is made possible because the people who value our work also support it (did we mention our stories are free for all to read, not just those who can afford to pay?).
As a non-profit, reader-funded news organization, our goal isn't to sell advertising or to please corporate bigwigs — it's to bring evidence-based news and analysis to the surface for all Canadians. And at a time when most news organizations have been laying off reporters, we've hired eight journalists over the past year.
Not only are we filling a void in environment coverage, but we're also telling stories differently — by centring Indigenous voices, by building community and by doing it all as a people-powered, non-profit outlet supported by more than 2,500 members. 
The truth is we wouldn't be here without you. Every single one of you who reads and shares our articles is a crucial part of building a new model for Canadian journalism that puts people before profit.
We know that these days the world's problems can feel a *touch* overwhelming. It's easy to feel like what we do doesn't make any difference, but becoming a member of The Narwhal is one small way you truly can make a difference.
We've drafted a plan to make 2021 our biggest year yet, but we need your support to make it all happen.
If you believe news organizations should report to their readers, not advertisers or shareholders, please become a monthly member of The Narwhal today for any amount you can afford.