It was supposed to be a national first. Perhaps even a global first.
But the implementation of a bylaw requiring all gas stations in North Vancouver to apply warning stickers on their fuel pumps about the relationship between driving and catastrophic climate change has been co-opted and undermined by an industry supergroup called Smart Fuelling, says Robert Shirkey, founder of the non-profit Our Horizons.
The label designs, released by the municipality on September 20, no longer feature the tobacco-like warnings that feature "disclosures of risk" such as species extinctions and ocean acidification that Our Horizons had been pushing for since early 2013.
Instead, the stickers — explicitly designed by Smart Fuelling, a collaboration between the Canadian Fuels Association (CFA), the Canadian Independent Petroleum Marketers Association (CIPMA) and the Canadian Convenience Stores Association (CCSA) — feature advice about increasing the fuel efficiency of motor vehicles, including checking tire pressure, turning off your engine instead of idling and cutting down on the use of air conditioning. Members of the Canadian Fuels Association include Husky, Imperial Oil, Chevron, Shell and Suncor.
"The [Intergovernmental Panel on Climate Change] didn't look at this problem and conclude 'ah ha, the world is under-inflating its tires,' " Shirkey says. "They concluded we're combusting fossil fuels in a big way. [Smart Fuelling] don't want to draw attention to the latter, obviously. It's a diversion. I think it's beyond being harmless. I think it might further entrench the status-quo. It creates this false sense of comfort."
Other municipalities in Canada, as well as the Union of British Columbia Municipalities, have voted for resolutions that including fuel pump labelling, . Shirkey, who works as a lawyer out of Toronto, notes the objective of Our Horizons has been to "build small, and eventually bring it back to Toronto."
But many municipalities were afraid of the absence of a precedent given potential legal and political consequences.
As a result, the capitulation by North Vancouver is particularly concerning to Shirkey and other advocates given the potential for it to set a precedent.
Stickers No Longer Reference Impacts of Catastrophic Climate Change
In November 2015, North Vancouver voted unanimously to introduce a bylaw mandating warning stickers. At the time, it was reported as a direct result of campaigning by Our Horizons.
CBC News also reported that Mayor Darrell Mussatto stated: "The message is that burning fossil fuels causes climate change and … to add a positive spin, here are some tips when using your automobile on how to make it more fuel efficient."
But sometime between then and September, Smart Fuelling became involved and greenwashed away the first part of that sentiment.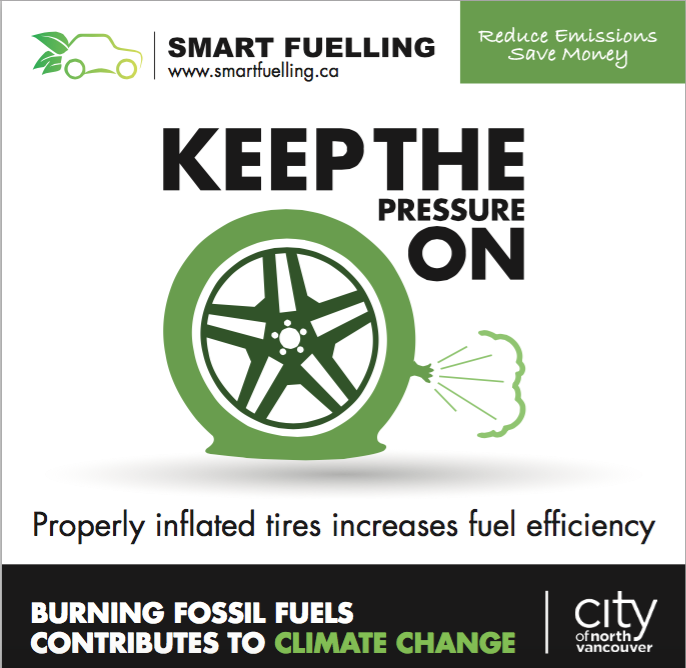 Proposed labelling designed by Smart Fuelling.
Proposed labelling designed by Our Horizon.
The labels now feature the phrase "reducing emissions helps fight climate change," a statement arguably so obvious to be meaningless. There is no longer any reference to the current and future impact of catastrophic climate change. Also featured on the label is the slogan "reduce emissions, save money."
The municipality's press release accurately noted that Emily Kelsall, who first got involved with Our Horizons as a teenager in 2013, was the person who formally pitched the idea to council.
But rather than quoting Kelsall or Shirkey, the press release cited praise from North Vancouver's mayor, the president and CEO of the Canadian Independent Petroleum Marketers Association and a vice-president of Suncor. The city also explicitly thanked its "partners," Smart Fuelling Canada and PetroCanada.
Tricia Anderson, the president and CEO of the Canadian Independent Petroleum Marketers Association, wrote in an e-mail to DeSmog Canada that the Smart Fuelling campaign is a "more positive, engaging approach with consumers" than "negative, guilt focussed communication."
She also noted that it provides consumers with practical responses, and "also appeals to people's interest in saving money on fuel."
There's a fine line between guilt-inducing and raising awareness about human impacts on the planet, says Renee Lertzman — an environmental psychology researcher and professor.
"I want to be sure that we do not fall into the trap of sugarcoating the situation. That really helps no one," Lertzman said. "What we need is messaging that integrates both the real deal — we are harming our planet — with the clear message that in becoming aware we can act."

"The unfortunate tendency is to ricochet between 'doom' and 'positive spin' — neither of which are psychologically coherent at all."
Warning Labels Described by Industry Group As 'Very Negative and Ill-Guided'
According to Shirkey, industry groups have been keeping tabs on Our Horizons for a few years now.
In the summer of 2013, only a few months after the launching of the organization, Shirkey heard from a friend who worked closely with industry that oil and gas people in Calgary had already heard of the organization's efforts.
The reputation of Our Horizons grew following a cross-country speaking tour in the fall of 2013, which is when Kelsall got involved.
"The strategy at first was ignore the thing, don't legitimize it by giving it attention, hope that it goes away," Shirkey says. "But we continued to get traction in municipalities across the country."
When it was acknowledged, it was described as "naive" and a "youth campaign." Another argument was that it would be costly, adding yet another regulation to the pile.
Shirkey says the first sign of Smart Fuelling was last year: in November, Andrew Klukas, president of the Western Convenience Stores Association and presenter to at least one city council on behalf of Smart Fuelling, slammed the Our Horizons campaign for alleged negativity and fear-mongering. Smart Fuelling was later mentioned in an e-mail between Klukas and one of Shirkey's colleagues.
Since then, Smart Fuelling has presented to other municipalities considering the implementation of the Our Horizons sticker proposal, including West Vancouver, Parksville, Port Moody and Tofino.
A letter sent by Smart Fuelling to the mayor of Cranbrook in October 2015 describes the efforts of Our Horizons as "very negative and ill-guided gas pump nozzle warning labels, attempting to 'guilt' your constituents (our customers) into using fewer fossil fuels because of the impact such use has on the environment."
#ClimateChange Stickers Designed for Gas Pumps Get Makeover from Canada's Petroleum Industry https://t.co/OS8P4mJLUS #cdnpoli @james_m_wilt

— DeSmog Canada (@DeSmogCanada) October 5, 2016
Stickers Have Potential to Close Psychological Gap, Incent Reform
Shirkey simply doesn't buy the argument that the campaign wants to guilt people.
Instead, he sees the original stickers as as opportunity to "close the experiential gap between our use of fossil fuels and their impacts," driving reform and catalyzing innovation from auto manufacturers who sense a pent up demand for alternatives.
Eventually, such shifts could lead to governments sensing the "social space" for meaningful climate change legislation.
"Part of the reason I think we've failed to address the challenge in a way we should is because the problem's abstract and not really tangible," he says. "A lot of the impacts are far away. The feedback isn't there. Industry's done a good job of creating some misunderstanding. This is really geared at addressing a lot of that."
Yet it's becoming more and more difficult to get the word out about Our Horizons due to the fear of more co-opting.
Shirkey no longer gives detailed updates to supporters; anyone can subscribe to the organization's listserv or social media profiles, meaning that Smart Fuelling could potentially parachute into municipalities where Our Horizons is encountering success and attempt to undermine efforts. It's unknown how many municipalities are considering introducing Smart Fuelling labels versus Our Horizons labels.
But Shirkey remains hopeful that other municipalities can harness the momentum of the standoff: "It's been co-opted," he concludes. "But I foresee other communities seeing it for what it is and then taking that next step."
Image: Rob Shirkey holds a sample gas pump. Photo via Revolve Solar.
New title
You've read all the way to the bottom of this article. That makes you some serious Narwhal material.
And since you're here, we have a favour to ask. Our independent, ad-free journalism is made possible because the people who value our work also support it (did we mention our stories are free for all to read, not just those who can afford to pay?).
As a non-profit, reader-funded news organization, our goal isn't to sell advertising or to please corporate bigwigs — it's to bring evidence-based news and analysis to the surface for all Canadians. And at a time when most news organizations have been laying off reporters, we've hired eight journalists over the past year.
Not only are we filling a void in environment coverage, but we're also telling stories differently — by centring Indigenous voices, by building community and by doing it all as a people-powered, non-profit outlet supported by more than 2,500 members. 
The truth is we wouldn't be here without you. Every single one of you who reads and shares our articles is a crucial part of building a new model for Canadian journalism that puts people before profit.
We know that these days the world's problems can feel a *touch* overwhelming. It's easy to feel like what we do doesn't make any difference, but becoming a member of The Narwhal is one small way you truly can make a difference.
We've drafted a plan to make 2021 our biggest year yet, but we need your support to make it all happen.
If you believe news organizations should report to their readers, not advertisers or shareholders, please become a monthly member of The Narwhal today for any amount you can afford.