Last Wednesday, business people from all sectors came together at the Creekside Community Center for the CREDible Conversation: Will new oil pipelines benefit BC businesses?
Conversations for Responsible Economic Development (CRED), "is a collaboration of business owners, academics, landowners and everyday residents… created by a team of advisors from a diverse range of sectors." The topic on the table was: What really drives BC's economy?
Liz McDowell, CRED spokesperson and organizational development consultant, started off the event with a focused presentation on the Kinder Morgan Pipeline proposal. The presentation aimed to identify how beneficial the expansion project would actually be to BC businesses. The goal of the presentation was to answer some big questions like what does the project offer? What are the risks? And what are the alternatives?
What exactly does the Kinder Morgan pipeline expansion project offer in terms of economics?
While the BC government has officially refused the Enbridge Northern Gateway Pipeline based on the company's inability to provide adequate environmental confidence, The Kinder Morgan Trans Mountain Pipeline is a bit of a different story.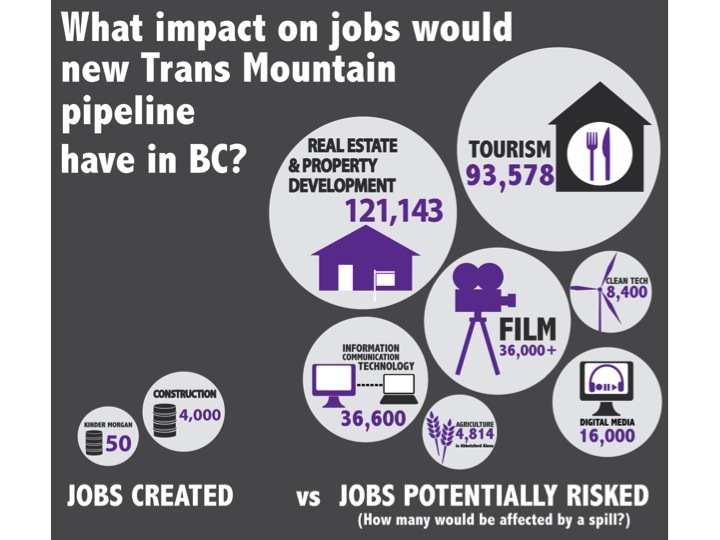 For one thing, the Trans Mountain Pipeline has existed since 1952. Now Kinder Morgan is proposing to build a new pipeline alongside the existing system. According to the CRED's extensive report, Assessing the risks of Kinder Morgan's proposed new Trans Mountain Pipeline, "The $5.4 billion project would increase the capacity of the system to at least 800,000 barrels per day." The product would be primarily for foreign market.
The Kinder Morgan "expansion project will create 50 permanent jobs." There will also be a contribution of about 4,000 temporary construction jobs "created during the construction phase, which is estimated to last for less than two years," according to CRED's report.
Their website boasts that "the project would create $355 million in increased provincial tax revenues and about $600 million in municipal tax revenues." Though that sounds like a lot, the numbers are projected over the six years of construction and thirty years of operations—which breaks down to $26.5 million a year—about 0.007% of corporate revenue taxes.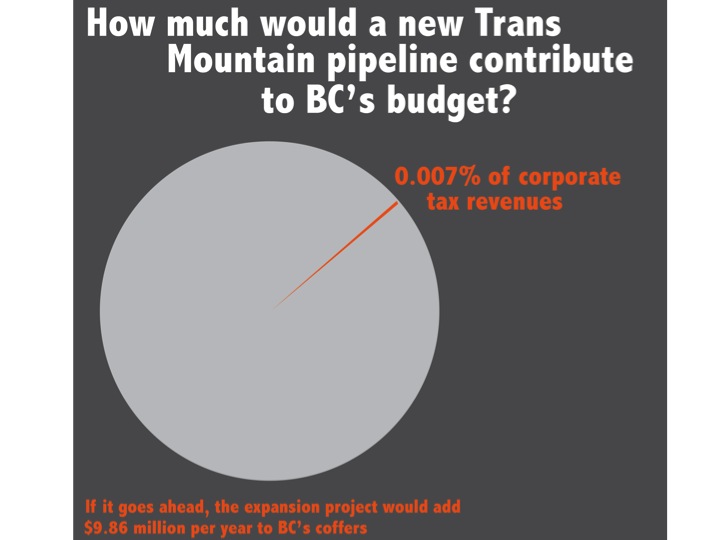 However, the potential of the green energy sector puts these projections into perspective. "In 2011, clean energy supply and storage, clean transportation, clean building, and energy efficiency together was responsible for 123,000 jobs and $15B GDP in 2011," according to McDowell's presentation.
Currently, mining, oil and gas jobs make up one percent of the overall industry profile of BC. Most people are employed in other services like Hospitality, Tourism and Technology. "The tech sector employs 80,000+ people—more than forestry, mining, oil and gas combined."
Environmental concerns aside, the risk of a spill of this magnitude puts existing jobs investments at risk. It's called Beautiful British Columbia for a reason and that beauty is a large part of what drives the economy. Real Estate is a booming industry in the lower mainland, as is tourism, film, farming and agriculture. These sectors stand to suffer greatly in the event of an oil spill.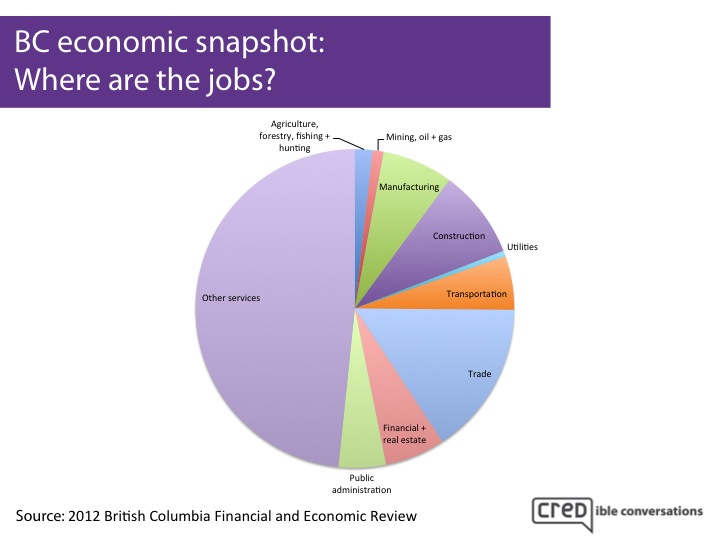 In order to understand the long-term effects of an oil spill on economy, the CRED report takes the events in the Gulf of Mexico as an example. "The Deepwater Horizon spill could have an $8.7 billion impact on the Gulf of Mexico economy, including 22,000 job losses." These are the numbers they've come up with so far. The financial and environmental scope of the damage won't be fully realized for years.
The Trans Mountain Pipeline has seen its share of leaks and spills. Since 1952 there have been 78 spills. Four spills have taken place since Kinder Morgan purchased the project in 2005. Three of those spills, happened in heavily-populated residential areas. The proposal is not set to be filed until early 2014 because they have not been able to assure confidence in their ability to prevent an environmental disaster.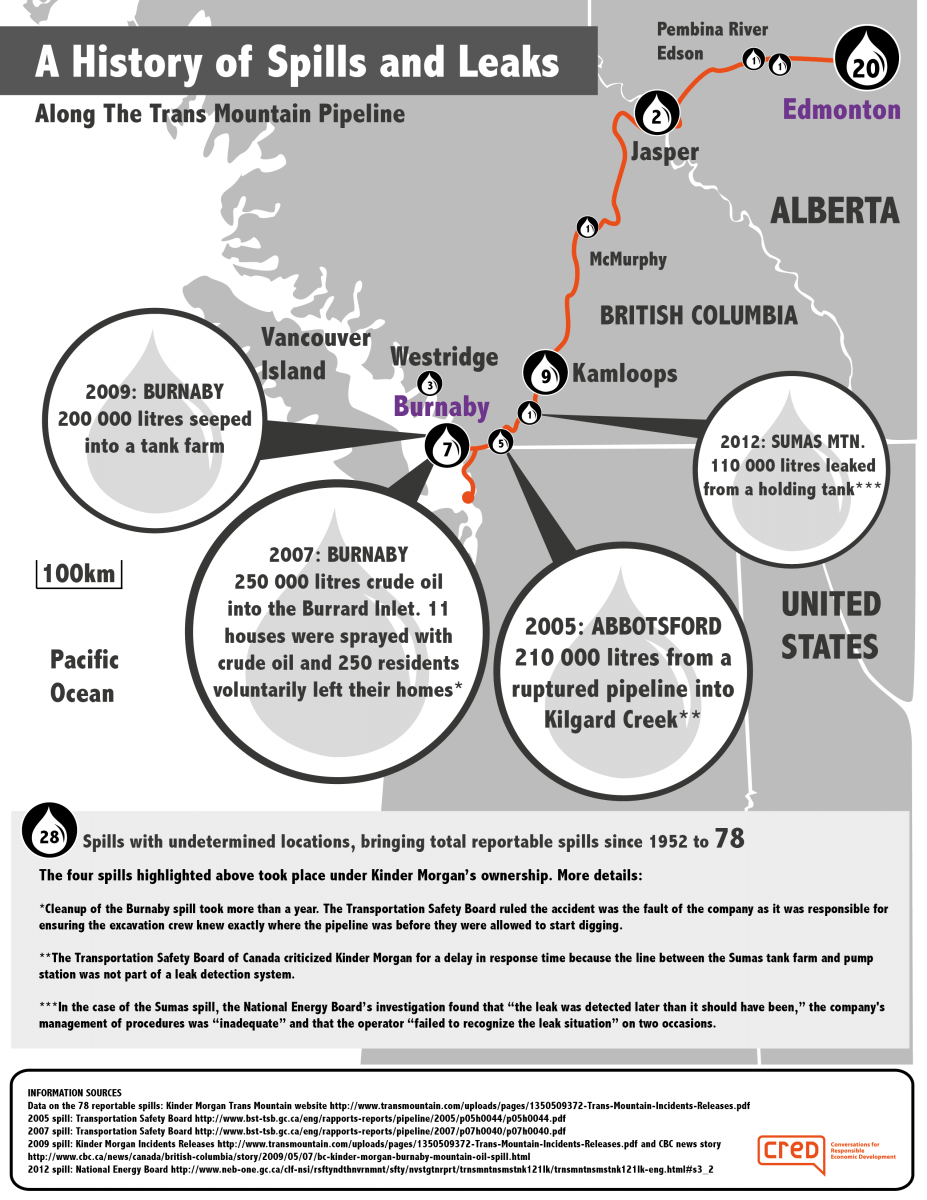 "If we don't want to accept the risks what are the ecological alternatives?"
Sundance Chief Reuben George from the Tsleil-Watuth Nation presented just one example of an economical alternative. Chief Reuben George is part of the TWN Wind Power Company. The Tsleil-Watuth Nation company "offers Aboriginal communities throughout North America an opportunity to generate clean energy through wind power." TWN offers small and community sized wind turbine products that can meet a variety of energy needs.
But, as McDowell points out in her presentation: "The sector is still new and vulnerable to risk – barriers include trouble finding skilled workers and investment capital."
The Chief points out that the amount of money the government uses to finance and subsidize unconventional oil and gas would do a lot of good for emerging green energy companies like this. Investment in this industry could go towards training and furthering scientific research.

After lunch, Michael Tippett, a media professional, entrepreneur and now Director of New Products at Hootsuite, gave the keynote speech. His message was clear. Gone are the days where we build our national identity on the export of natural resources, the time has come to reassert ourselves and our Canadian image.
He used the well-known Canadian icon, the beaver, as an example of how Canada is characterized. The beaver didn't become our national animal because of its hard-working humble nature, which is how we have come to view ourselves as Canadians. The beaver was the product Canada known for—beaver pelts. They were in high demand and thusly, the Hudson Bay Company was born.
Tippett suggests that a change in branding is called for. In order to change people's perceptions of Canada, we need to move beyond the idea that we are known for our natural resources. "We need to move beyond the Beaver," Tippett said.
images and infographics used with permission from TWN and CRED.