B.C. and Alaska signed a pact Wednesday designed to give Alaskans more say on Canadian mine approvals in transboundary watersheds through a high-level joint working group.
The agreement follows an unprecedented outcry this summer from Alaskan fishing groups, U.S. politicians, aboriginal and environmental groups, worried about the effect on salmon bearing rivers of a surge of mine development in B.C.'s northwest corner.
Concerns about B.C. oversight and mining rules escalated after the Mount Polley tailings pond collapse in August that sent 24-million cubic metres of mine waste, water and silt rushing into nearby lakes and rivers. A subsequent investigation concluded the spill was largely due to an inadequately designed tailings pond.
The disaster underlined Alaskan fears that a similar incident or leaching of toxic chemicals in mines close to the border could wipe out salmon runs in rivers such as the Stikine, Unuk and Taku. Outrage intensified after the B.C. government gave the go-ahead last fall to the Red Chris mine, owned by Imperial Metals, the company that also owns Mount Polley.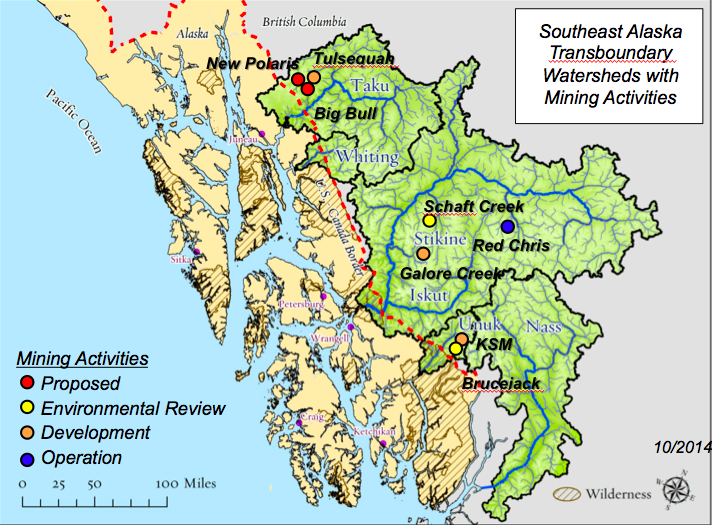 There are currently 10 advanced mining projects planned for near the B.C.-Alaska border. Image: Salmon Beyond Borders.
The memorandum of understanding, signed by Premier Christy Clark and Alaska Governor Bill Walker "provides for greater involvement and collaboration on proposed mine development in either jurisdiction," says a provincial news release.
The bilateral working group will develop a joint water quality monitoring program and create opportunities for government representatives and scientists to be involved in environmental assessments and permitting on both sides of the border.
The group, which will be overseen by Alaska Lt.-Gov. Byron Mallott and B.C. Energy Minister Bill Bennett, will also come up with a program to allow groups such as Alaskan Tribes and B.C. First Nations to provide input on transboundary developments.
"This MOU provides for more collaboration and cooperation to ensure the conservation and enhancement of our shared environment," said Premier Clark.
Bennett, who has made two visits to Alaska over the last year, told Canadian Press that the agreement signifies a willingness to work together and "be better neighbours in the future."
However, the agreement has infuriated members of Salmon Beyond Borders, a coalition of sport and commercial fishermen, community leaders, business owner and Tribal and First Nations representatives who say the pact is worthless because it is non-binding.
"(It) offers no visible means of holding Canada or the mining companies accountable for mitigating our losses should accidents like the one at Mount Polley occur in the region," said Dale Kelley, Alaska Trollers Association executive director.
Salmon Beyond Borders and many other Alaskans have been pushing for concerns about upstream mining to be referred through the Boundary Waters Treaty to the International Joint Commission.
"We are very disappointed that the Governor is apparently ignoring the near consensus here in Southeast Alaska in support of federal involvement and the IJC," said Chris Zimmer of Rivers Without Borders.
The U.S. State Department would have to refer the matter to the IJC, but, so far, there has been little federal interest on either side of the border.
Alaskan groups are also disappointed that the agreement was signed with B.C. despite being asked during the last week for input on a draft statement on transboundary mining cooperation.
"It's hard not to feel blindsided by this news," said Salmon Beyond Borders director Heather Hardcastle.
Like our stories? Sign up for the DeSmog Canada newsletter.
Image: Brucejack mine via Pretium Resources
New title
You've read all the way to the bottom of this article. That makes you some serious Narwhal material.
And since you're here, we have a favour to ask. Our independent, ad-free journalism is made possible because the people who value our work also support it (did we mention our stories are free for all to read, not just those who can afford to pay?).
As a non-profit, reader-funded news organization, our goal isn't to sell advertising or to please corporate bigwigs — it's to bring evidence-based news and analysis to the surface for all Canadians. And at a time when most news organizations have been laying off reporters, we've hired eight journalists over the past year.
Not only are we filling a void in environment coverage, but we're also telling stories differently — by centring Indigenous voices, by building community and by doing it all as a people-powered, non-profit outlet supported by more than 2,900 members. 
The truth is we wouldn't be here without you. Every single one of you who reads and shares our articles is a crucial part of building a new model for Canadian journalism that puts people before profit.
We know that these days the world's problems can feel a *touch* overwhelming. It's easy to feel like what we do doesn't make any difference, but becoming a member of The Narwhal is one small way you truly can make a difference.
We've drafted a plan to make 2021 our biggest year yet, but we need your support to make it all happen.
If you believe news organizations should report to their readers, not advertisers or shareholders, please become a monthly member of The Narwhal today for any amount you can afford.