The Trudeau government's rushed approval of the Petronas-led Pacific Northwest LNG project Tuesday — during sunset at a gated Coast Guard station near the Vancouver airport — struck some opposition MPs, and the Vancouver press corp, as oddly rushed.
Now comes word, in a bombshell Reuters news report Friday morning, that Petronas may be looking to sell the Pacific Northwest LNG project, according to "three people familiar with the matter." The B.C. government tried to throw water on the speculation Friday afternoon, saying it sought assurances from Petronas and that the proponent doesn't have plans to sell the LNG project.
However, the revelations have led some to speculate the Trudeau government knew about Petronas' plans to sell and raced out west in a hurried attempt to save the project from collapse. Others have questioned if the provincial and federal governments knowingly approved a project destined for failure, and if so, why?
"It's incredibly cynical if Trudeau's government had advance knowledge this wasn't going ahead," Nathan Cullen, NDP MP for Skeena-Bulkley Valley, told DeSmog Canada.
Hasty LNG Approval Signaled Trouble
The timing of the announcement was peculiar since Trudeau's ministers were in a cabinet meeting earlier that morning in Ottawa. One of them, Fisheries Minister Romeo LeBlanc, was scheduled to meet in Ottawa with five B.C. hereditary chiefs opposed to the LNG project.
But that meeting was abruptly cancelled, and ministers Catherine McKenna, Jim Carr and LeBlanc jetted across the country to the airport-area press briefing, where they announced their approval of the controversial LNG project.
Cullen said the timing of the Trudeau government's announcement was highly suspicious.
"I've been trying to understand why they announced the way they did," he said. "It was disorganized, it was panicked and they had already flown out hereditary chiefs to Ottawa. This was a huge announcement, a big deal for Trudeau. Why the panic?"
"I think because Petronas was about to say, 'we're thinking of selling.' They wanted to milk one last good news story out of it before reality hit and people realized Christy Clark's [LNG] fantasy was nothing more than an attempt to get reelected."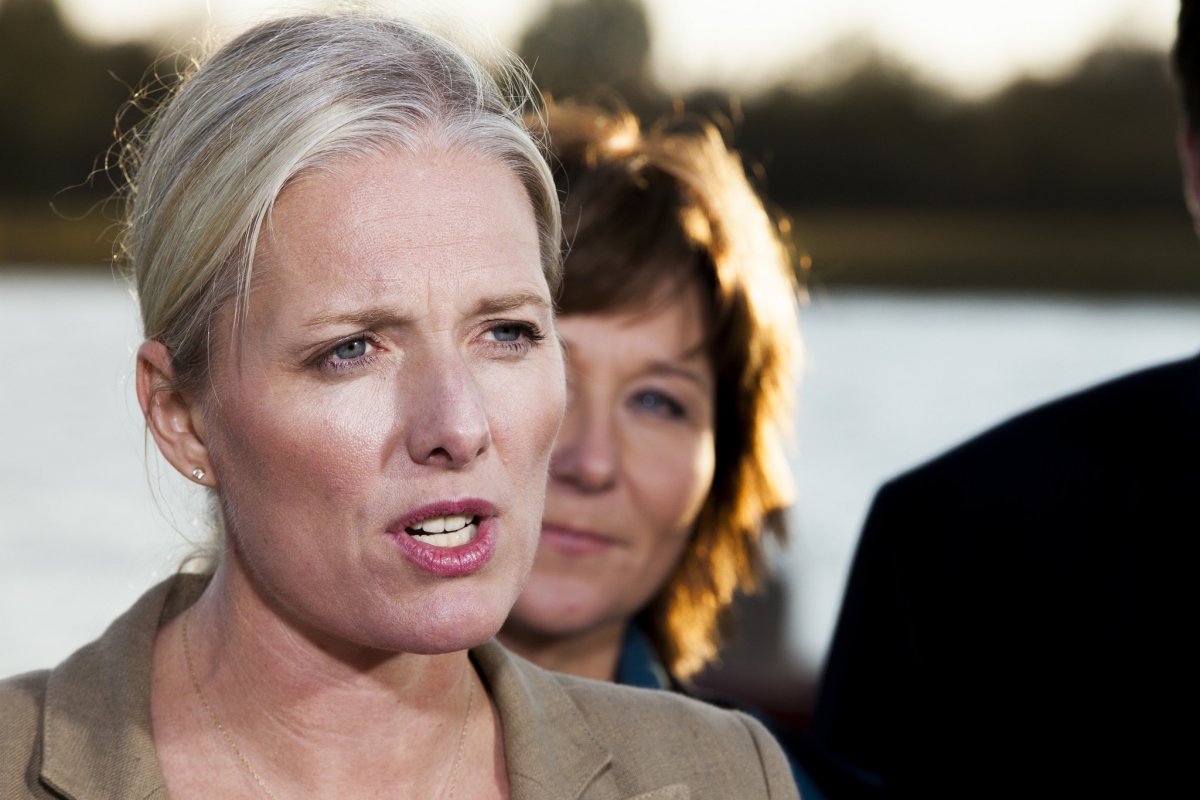 Canada's climate change minister Catherine McKenna stands beside B.C. Premier Christy Clark during the Trudeau government's announcement approving the Petronas-led Pacific Northwest LNG plant on Tuesday evening near the Vancouver airport. Photo: Mychaylo Prystupa.
When asked to confirm the news of Petronas' intentions, Caitlin Workman, McKenna's media officer, provided this statement via e-mail: "As far as I have seen there are only speculation and unnamed sources out there on that matter. The project was approved by the government based on a lengthy and thorough process that took about three years from beginning to end." A media inquiry to Petronas, via its Pacific Northwest LNG office, was not responded to Friday afternoon.
Shannon McPhail, executive director of the Skeena Watershed Conservation Coalition, told DeSmog Canada the news reveals a dizzying level of political posturing on behalf of both the province and the federal government.
"Clearly they knew this was going to happen. What other reason was there for their hasty press conference in Vancouver?" McPhail told DeSmog Canada. "They didn't plan that. They had meetings scheduled with hereditary chiefs in Ottawa. That was a last-minute, hasty decision."
While McPhail said she was frustrated by the federal government's decision to approve the project earlier this week, the news of Petronas' potential exit from the B.C. LNG market puts it all into perspective.
As for B.C. Premier Christy Clark, McPhail sees it cutting two ways.
"Did the feds play her?" McPhail mused. "At the press conference Christy Clark couldn't get that smile off her face — she looked like the cat that had caught the canary."
"Then I started thinking — she didn't know. They used her has a pawn to get what they wanted: a carbon tax across Canada."
Did Christy Clark 'Get Played' or is She a Player?
Earlier this week Clark reversed a long-standing election promise that her government would not increase the provincial carbon tax. This was the result of an explicit political condition placed on federal approval of the Pacific Northwest LNG project.
Clark sure as heck wanted this Pacific Northwest LNG approved. She set ambitious LNG targets for herself, promising to have three LNG facilities up and running by 2020 and committing much of her cabinet to LNG project approvals.
So far, none of the other already approved LNG projects — Squamish's small-scale Woodfibre LNG plant, and the two giant Kitimat LNG projects by Shell and Chevron — have moved ahead with final investment decisions.
But that doesn't mean Clark wasn't willing to leverage the federal approval of the Pacific Northwest LNG project for some political advantage.
It's entirely possible Clark's cheshire grin at Tuesday's rushed press conference was due to the fact that she could say "we did everything we could," McPhail said.
"Maybe the cat that ate the canary face was just for show to demonstrate to media, 'hey look I was right all along, we're the jobs people and look how hard we worked.' "
But the approval of the Pacific Northwest project may just be setting the stage for the main B.C. event: the federal approval of the Kinder Morgan Trans Mountain pipeline.
That's what it comes down to for Grand Chief Stewart Phillip, president of the Union of B.C. Indian Chiefs.
"We suspect that in part the tradeoff between the federal government and the Clark government here in B.C. is that the premier agreed to sign on to the federal carbon tax proposal," Phillip told DeSmog Canada.
"Furthermore we believe in exchange the federal government has agreed to complete the hat trick of betrayal of the promises and commitments made to the First Nations people during the course of the last federal election will be the approval of the Kinder Morgan Trans Mountain pipeline expansion proposal."
The Vancouver Sun's Editorial Board has yet another take on the connection between the LNG approval and the pending pipeline decision, stating that Trudeau's LNG approval will win "applause from resource sector" while giving the Prime Minister the credibility to impose the moratorium on oil tankers on the northern coast, thereby killing Enbridge's Northern Gateway pipeline and "winning the admiration of the environmental movement."
"Having earned his green spurs, he can [then] approve the Kinder Morgan Trans Mountain" pipeline….having deftly played both sides of the street."
The federal government is expected to make a final decision on the Trans Mountain pipeline by December.
For Project Opponents, Approval Still Represents Betrayal
Phillip is among many of the project's opponents that consider the federal government's approval of the project — even if a political charade — a deep betrayal.
"Let me begin by saying that to see the deception inherent in the approval of the Pacific Northwest LNG project proposal flies in the face of any notion of genuine reconciliation between the government of Canada or the province of B.C. and First Nations."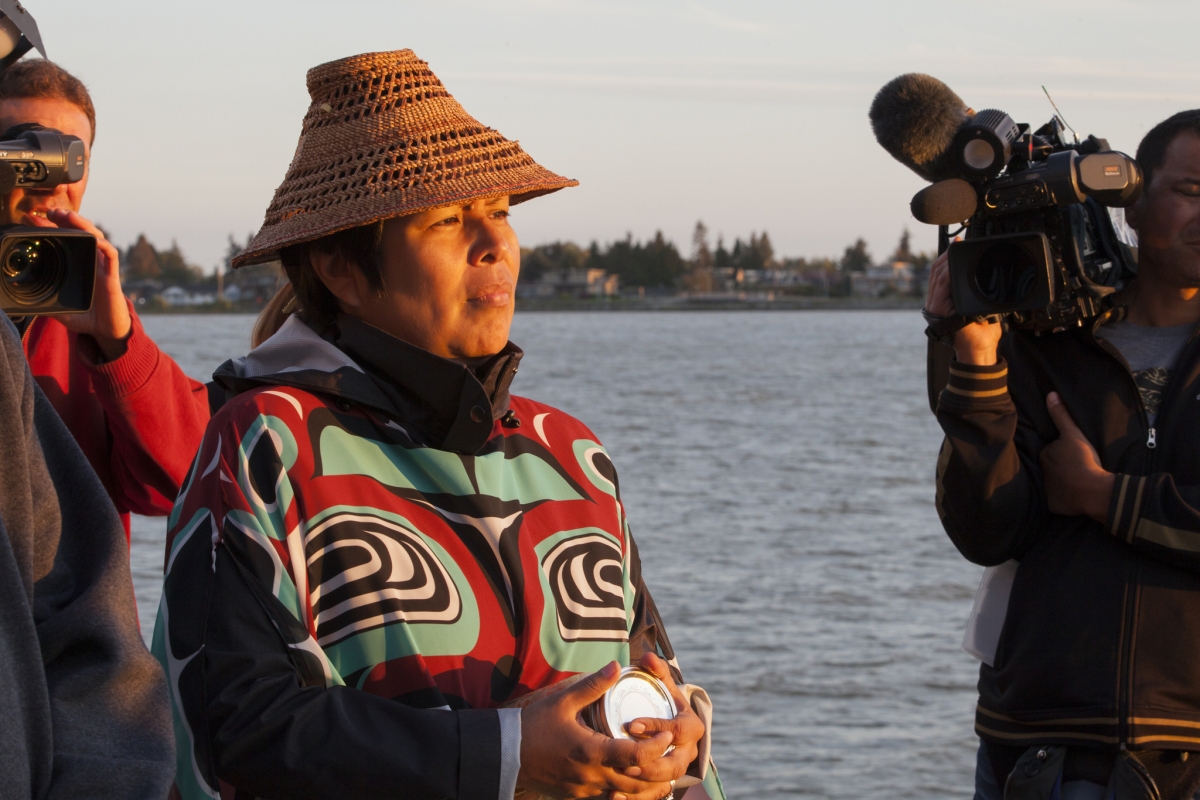 Lax Kw'alaams woman Christine Smith-Martin crashed the Trudeau government's Tuesday night Petronas LNG decision announcement in protest while holding a jar of salmon. Photo: Mychaylo Prystupa.
"Clearly there has been a great deal of backroom dealing going on."
Cullen, who spent Friday in Haida Gwaii for the royal visit, said many people in Northern B.C. are furious.
"Trudeau wasn't invited here, the Premier wasn't invited here for a reason. People are feeling very betrayed right now," he said, adding Prince William and Catherine, the Duchess of Cambridge, were canoed by members of the Haida nation wearing "no LNG" t-shirts.
"Haida elders expressed their real sadness and anger," he said.
David Moscrop, a political scientist and PhD candidate at the University of British Columbia, said that kind of betrayal comes with high political costs.
"You don't get to shake the betrayal because the approval didn't work out — the betrayal sticks to you," he told DeSmog Canada.
Moscrop, who studies democratic governance, said if the Pacific Northwest deal goes south it will be a lose-lose for the federal government.
"On the right and left they're going to be accused of having sold out," he said. "This doesn't benefit anyone participating in this process."
'

Cui Bono?'

Moscrop said ultimately, it may have been both the provincial and federal governments who got played.

"I like to ask the old question: 'cui bono?'" he said, referring to the ancient question, meaning simply, who benefits?

"People think industry and government are friendly, but only to the extent that they can get something out of one another."

"If industry thinks it can gain significant advantage by sticking it to the government, they will."

Throughout the project review process Petronas, a company with a poor human rights record, leveraged poor market conditions as a way to gain an ever-sweetening deal for the project from the provincial government. Petronas successfully negotiated for enormous income tax breaks and weakening of carbon tax rules that could cost B.C. taxpayers millions of dollars.

"I don't blame them — either get out or leverage this moment to get every nickel and dime out while the getting is good," Moscrop said, adding if Petronas was eyeing a sale of its Pacific Northwest LNG project it will be easier now with a conditional approval under their belt.

McPhail said the idea Petronas is threatening to pull out of the project for leverage might be what worries her most of all.

"My biggest fear is this is a negotiation tactic from Petronas," she said.

"This is smart business accounting, smart corporate accounting. That's what these guys are doing. If they're threatening now, people are going to say 'give them whatever they want, please don't go.' "

Image: Premier Christy Clark and the ministers gather in Richmond for the approval of the Pacific Northwest LNG terminal. Photo: Province of B.C. via Flickr
New title
You've read all the way to the bottom of this article. That makes you some serious Narwhal material.
And since you're here, we have a favour to ask. Our independent, ad-free journalism is made possible because the people who value our work also support it (did we mention our stories are free for all to read, not just those who can afford to pay?).
As a non-profit, reader-funded news organization, our goal isn't to sell advertising or to please corporate bigwigs — it's to bring evidence-based news and analysis to the surface for all Canadians. And at a time when most news organizations have been laying off reporters, we've hired eight journalists over the past year.
Not only are we filling a void in environment coverage, but we're also telling stories differently — by centring Indigenous voices, by building community and by doing it all as a people-powered, non-profit outlet supported by more than 2,500 members. 
The truth is we wouldn't be here without you. Every single one of you who reads and shares our articles is a crucial part of building a new model for Canadian journalism that puts people before profit.
We know that these days the world's problems can feel a *touch* overwhelming. It's easy to feel like what we do doesn't make any difference, but becoming a member of The Narwhal is one small way you truly can make a difference.
We've drafted a plan to make 2021 our biggest year yet, but we need your support to make it all happen.
If you believe news organizations should report to their readers, not advertisers or shareholders, please become a monthly member of The Narwhal today for any amount you can afford.