It's July 9 and as of the moment this article was published, there are well over 100 wildfires burning across British Columbia. There have been nearly 1000 in the province this fiscal year. Air quality across the south coast is comparable to that in Beijing and the smoke over Vancouver Island and the Lower Mainland is so shockingly dense that NASA satellites are photographing it for posterity.
In a fire season that's barely begun, the message is already set: 2015 is the summer that B.C. burned. And climate change has a lot to do with it.
"A Period of Extreme and Exceptional Drought"
"Climate change during the 21st century is expected to result in more frequent fires in many boreal forests, with severe environmental and economic consequences. Fire-prone conditions are predicted to increase across Canada. This could potentially result in a doubling of the amount of area burned by the end of this century, compared with amounts burned in recent decades." – Natural Resources Canada
The conditions which make for a dangerous fire season are threefold: extreme drought, low humidity and high winds. Right now, British Columbia has all of that and more.
So far in 2015 British Columbia has seen record low snowpacks combined with a much drier-than-average spring rainfall season. For the first time in years, undergrowth in the coastal mountains — which holds onto rainfall moisture and impedes fire growth — is tinder dry.
According to Matthew Hurteau, assistant professor of ecosystem science and management at Pennsylvania State University, long-lasting heatwaves like the one currently gripping British Columbia are potential firestarters because they "suck the moisture out of forests, making them more susceptible to ignitions from lightning" or human carelessness. And with relative humidity lower than ever, the risk of starting fires in unexpected ways (like via exhaust from an ATV) becomes exponentially greater.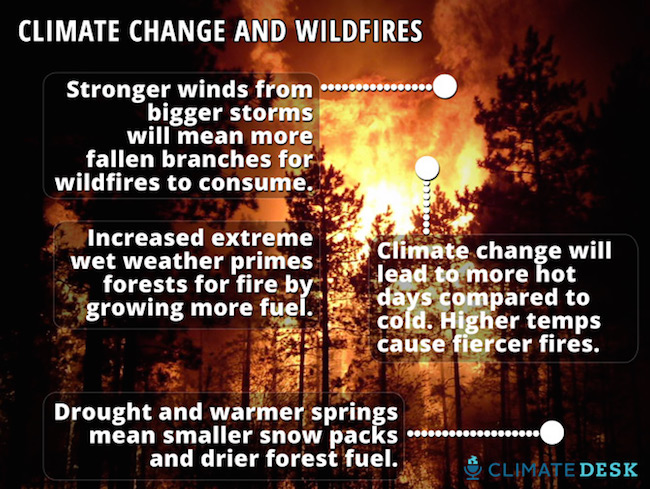 The B.C. Wildfire Service has been aware of the impact climate change will have on the province since at least 2010. Documents released to DeSmog Canada note that climate change research shows both the frequency and severity of B.C. wildfires will increase greatly over the next few decades. From the report:
"Climate change research indicates that the incidence and severity of wildfires will greatly increase over the next several decades. The evidence for this is exemplified by the increasing frequency of "record," such as 2003 and 2009 in B.C. Temperatures in B.C. are expected to increase by 2-3 C in the south and by 4-5 C in the north.
Summers throughout the province may warm by an average of 2-3 C, and the southern and coastal regions are projected to become drier in the summer. Provincial records show that the wildfire season has been increasing in length by one to two days per year since at least 1980. At the current rate, by the middle of this century, some areas of the province may experience forest fires year-round. Science also suggests that the frequency of lightning-caused fires will increase."
In addition to the Ministry of Forests' own research on increasing temperatures, other studies connect the dots between a warming world and forest fires. A 2012 peer-reviewed study in Geophysical Research Letters connects how a warming Arctic impacts global air and water currents to drive extreme weather events and this excellent video from The Climate Desk (produced during 2013's devastating wildfire season in the United States) explains other climate connections to forest fires:
Budgets, Bombers and Tax Breaks
Between 1996 and 2006, an average wildfire season in B.C. saw 2,000 fires, burned 66,783 hectares and cost $96 million. Since then, every single fire season (except 2007 & 2011) has exceeded these costs. The 2009 season cost nearly $400M to fight, and the 2003 season was the most catastrophic in British Columbia's recorded history — with nearly 2,500 fires burning more than 265,000 hectares at a cost of $375M. Coupled with additional suppression activities, the cost rose to $500M, with indirect economic costs estimated at $80 million in the central Okanagan area alone.
So far this year, 937 fires have burned in B.C. If it continues its current rate of growth of approximately 30 fire starts a day, the 2015 fire season will outpace both 2009 and 2003 in 53 days.
And yet, the provincial government only budgeted $63M for firefighting in 2015.
Speaking to CTV this past weekend, a representative from the Ministry of Forests revealed that $55M of the $63M budgeted for 2015 had already been spent — with nearly $4M spent on fighting fires one one day along last week (Thursday, July 2).
Speaking to the media five days later, Forestry Minister Steve Thomson noted that all B.C. forest fire crews are currently in the field fighting fires and that 70 firefighters from Ontario have been hired to assist with efforts in this province.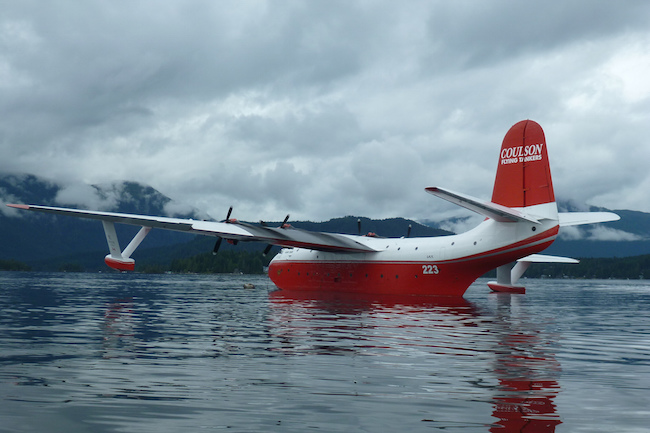 Then there's the Martin Mars water bombers.
A familiar and comforting sight for B.C. residents during fire season, the bombers have sat idle at their airfield near Sproat Lake in Port Alberni without a provincial government contract since 2013. Instead, the Liberal government opted to contract four 'Fire Boss' skimmer planes from Conair for aerial firefighting support.
While there are significant limitations to the kind of support the Martin Mars bombers can provide (for example, their large size means they can only skim water from 133 lakes across B.C., compared to the 1,400 accessible to the Fire Boss planes), there may be other factors behind the contract decision.
As the Alberni Valley Times reported in 2014, Conair has donated $92,750 to the B.C. Liberal Party since 2006. In contrast, Coulson Flying Tankers — owners of the Martin Mars water bombers — only donated $8,450 in that same time period.
In 2013, Jeff Berry, the former head of the B.C. Forestry Service's air tanker program for the previous 17 years, joined Conair as manager of business development. The company was awarded the bomber contract the same year, over a competing bid from Coulson Flying Tankers.
On Monday, the B.C. government announced it had reactivated its contract with Coulson Flying Tankers for use of the Martin Mars water bombers. They will begin operation this week.
In the meantime, Premier Christy Clark is on vacation — a fact only revealed by her office after #whereischristyclark trended on Twitter.
She is expected to be back in the province on July 13th when a special summer session of the legislature is convened. On the agenda: Approval of the agreement in principal between Malaysian-owned PacificNorthWest LNG and British Columbia.
If approved, the $36 Billion dollar project will see construction of an LNG terminal on Lelu Island near Prince Rupert on B.C.'s northwest coast. According to its environmental impact statement, this project alone will release 5.28 M tonnes of carbon emissions every year, equivalent to 8.5 per cent of B.C.'s current carbon emissions. If approved, the project will also receive a newly-announced 25 year grace period without tax increases.
It remains unclear where the provincial government will find the budget to cover the millions of dollars more this fire season is likely to cost.
Image credit: B.C. Wildfire Services