Prime Minister Stephen Harper declared it will enhance Canada's "energy security." The premiers of Alberta and New Brunswick call it a "nation builder." Even the Toronto Star agrees: "this project appears to be in the national interest."
Those are just some of the reactions to what sounds like the rebuilding of Canada's transcontinental railway but was in fact the announcement of a proposed oil pipeline from Alberta to Canada's east coast. Last week TransCanada Pipelines Ltd. announced it will seek regulatory approval for its Energy East pipeline project, expected to ship 1.1 million barrels per day (bpd) of oil and tar sands bitumen from Hardisty, Alberta to Saint John, New Brunswick, crossing through six provinces on its way.
"Energy East and other tar sands pipeline projects will build a nation dependent on exporting tar sands oil overseas," says Ben Powless, a tar sands community outreach coordinator for Ecology Ottawa.
"A true nation building project would decrease or eliminate Canada's dependence on fossil fuels," Powless told DeSmog.
Energy security for Canadians or securing exports for oil companies?
The Energy East project involves converting 3,000 kilometres of TransCanada's 'Mainline' natural gas pipeline and constructing another 1,400 kilometres of pipeline mostly from the Quebec-Ontario border to Saint John. Three new oil terminals will be built in Saskatchewan, Quebec City and Saint John to accommodate the pipeline.
The terminals in Quebec City and Saint John will be outfitted with ocean-going tanker loading facilities raising concerns Energy East may turn the St. Lawrence River into a "highway for oil exports."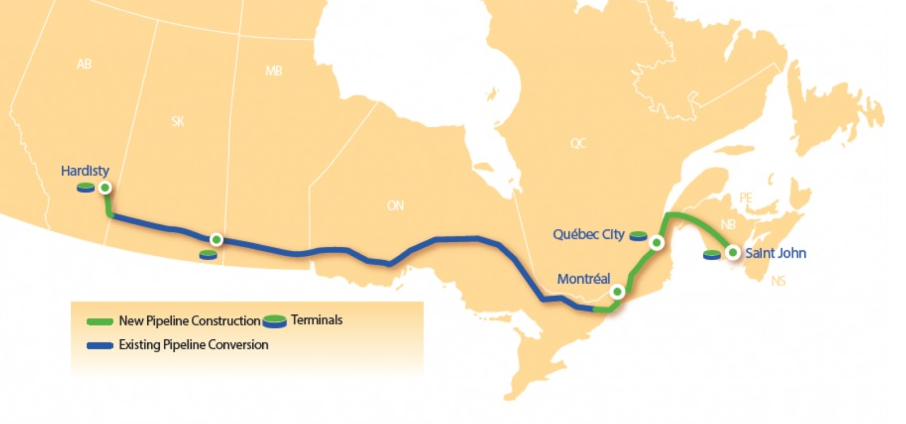 "Energy East's oil and bitumen will go to the highest bidder whether it is refineries in eastern Canada or markets in the US, Asia or Europe," says Andrea Harden-Donhaue, an energy campaigner with the Council of Canadians.
A substantial portion of Energy East's 1.1 million bpd shipments will have to be exported outside of Canada. Eastern Canadian refineries – refineries TransCanada claims it will supply – collectively refine 700,000 bpd. One of these refineries is Irving Oil's refinery in Saint John, the largest refinery in Canada (300,000 bpd). According to a press release from Irving Oil earlier this year "the refinery exports over 80 per cent of its production to the US" as refined products such as gasoline.
"There is no guarantee oil refined in eastern Canada will be for domestic consumption," Harden-Donahue told DeSmog.
Eastern Canada cannot refine large quantities of bitumen
TransCanada has not yet said how much bitumen from the Alberta tar sands Energy East will transport. This is another factor in determining how much of Energy East's shipments will be exported since Eastern Canadian refineries are not outfitted to refine large quantities of the heavy unconventional crude oil.
With bitumen production surging and conventional oil sources drying up in Canada it is safe to assume this pipeline will eventually carry more bitumen than conventional oil if the project is approved. Unless eastern Canadian refineries are willing to invest an estimated $2-billion to upgrade their facilities to refine bitumen, the bulk of Energy East's bitumen is likely to be exported.
Shipping bitumen through an old gas pipeline
Shipping bitumen through the TransCanada Mainline, a 55-year old natural gas pipeline, is another cause for concern especially for Canadians living along the pipeline's route. According to a report by the National Petroleum Council for the U.S. Department of Energy in 2011:
"Pipelines operating outside of their design parameters such as those carrying commodities for which they were not initially designed, or high flow pipelines, are at the greatest risk of integrity issues in the future due to the nature of their operation."
The Kalamazoo spill in Michigan in 2010 and the Mayflower spill in Arkansas earlier this year involved old pipelines designed to transport light crude oil that ruptured while shipping bitumen. Changing the contents of what North America's aging pipelines move may very well be a recipe of disaster.
Opposition to Energy East has already emerged
The same day TransCanada announced Energy East, one of Canada's largest civil society organizations – the Council of Canadians – launched a nation-wide campaign against Energy East, a pipeline the Council of Canadians believes is unsafe, and unlikely to provide energy security or create "decent jobs."
Later that same day the Assembly of First Nations' Chiefs in New Brunswick announced, although not opposed to Energy East, they "will avail themselves of any means necessary, legal or otherwise" if the pipeline threatens their treaty rights or the environment.
Opposition to Energy East had already sprung up before TransCanada's announcement last week in places such as Ottawa and North Bay, Ontario. Some unorthodox opponents of the pipeline are three gas distributors who claim Energy East will mean less natural gas for the Central and Eastern Canada markets. Gas customers may be forced to pay higher rates if gas distributors have to find new sources.
It may prove to be a fool's errand to attempt to build in the new pipeline in Quebec that Energy East requires to reach the Atlantic coast. Quebec stopped its own fracking industry dead in its tracks because of public outcry. Constructing a pipeline along the St. Lawrence River to facilitate further expansion of the tar sands industry may be a tough sell for environmentally-conscious Quebecers.
Energy East: The Tar Sands Resistance Building Pipeline
"People on Canada's West Coast have rejected the Northern Gateway pipeline; Americans are rejecting pipelines going south. Why would we in Eastern Canada accept the risks that no one else will?" Gretchen Fitzgerald, director of the Sierra Club Atlantic Chapter, said in a press release on the day of TransCanada's announcement.
If the campaign against Northern Gateway in BC and the more recent campaign against Enbridge's proposed Line 9 pipeline in Ontario and Quebec are indicators, Canadians tend to become more actively opposed to the development of the tar sands when the industry proposes to operate tar sands pipelines in their provinces. Energy East may face the greatest Canadian opposition to any pipeline to date. No other pipeline under consideration for oil and bitumen shipments involves so many provinces as Energy East does.
"Energy East may build and unite Canadian opposition to the expansion of the tar sands from coast-to-coast," Powless told DeSmog.
TransCanada intends on applying for approval of the Energy East project in 2014. The company hopes to see the pipeline up and running by 2017.
Images Credit: Vicki Watkins Flickr and TransCanada
New title
You've read all the way to the bottom of this article. That makes you some serious Narwhal material.
And since you're here, we have a favour to ask. Our independent, ad-free journalism is made possible because the people who value our work also support it (did we mention our stories are free for all to read, not just those who can afford to pay?).
As a non-profit, reader-funded news organization, our goal isn't to sell advertising or to please corporate bigwigs — it's to bring evidence-based news and analysis to the surface for all Canadians. And at a time when most news organizations have been laying off reporters, we've hired eight journalists over the past year.
Not only are we filling a void in environment coverage, but we're also telling stories differently — by centring Indigenous voices, by building community and by doing it all as a people-powered, non-profit outlet supported by more than 2,500 members. 
The truth is we wouldn't be here without you. Every single one of you who reads and shares our articles is a crucial part of building a new model for Canadian journalism that puts people before profit.
We know that these days the world's problems can feel a *touch* overwhelming. It's easy to feel like what we do doesn't make any difference, but becoming a member of The Narwhal is one small way you truly can make a difference.
We've drafted a plan to make 2021 our biggest year yet, but we need your support to make it all happen.
If you believe news organizations should report to their readers, not advertisers or shareholders, please become a monthly member of The Narwhal today for any amount you can afford.