Months after most countries revealed national climate targets in the lead up to the December 2015 UN climate summit, Canada has finally announced its contribution to global emissions reductions — and its commitment is getting a failing grade from the climate community.
The NewClimate Institute rated Canada's target as "inadequate."
"In rating Canada 'inadequate,' our lowest rating, we note that other governments will have to take a lot more action to make up for the hole left by Canada's lack of ambition — if warming is to be held to 2˚C," said Niklas Höhne of the institute.
Canada is promising to reduce its greenhouse gas emissions by 30 per cent from 2005 levels by 2030.
According to Climate Action International, Canada is unlikely to meet that target, even though it is much weaker than commitments made by other industrial nations.
Beyond that, Canada is relying on some fancy 'climate credit' footwork to avoid limiting emissions from its fastest growing source of carbon pollution: the Alberta oilsands.
Climate Action International said Canada is planning on using forestry credits "to avoid reducing emissions from other sources such as fossil fuels." Because Canada is home to 10 per cent of the world's forests that could translate into credits for an estimated 63 megatonnes of carbon dioxide equivalent, or about as much carbon emissions as the entire country of Sweden produced in 2011.
If you exclude forestry credits from Canada's climate profile, emissions are actually projected to surpass 2005 levels — by one per cent in 2020 and by eight per cent in 2030.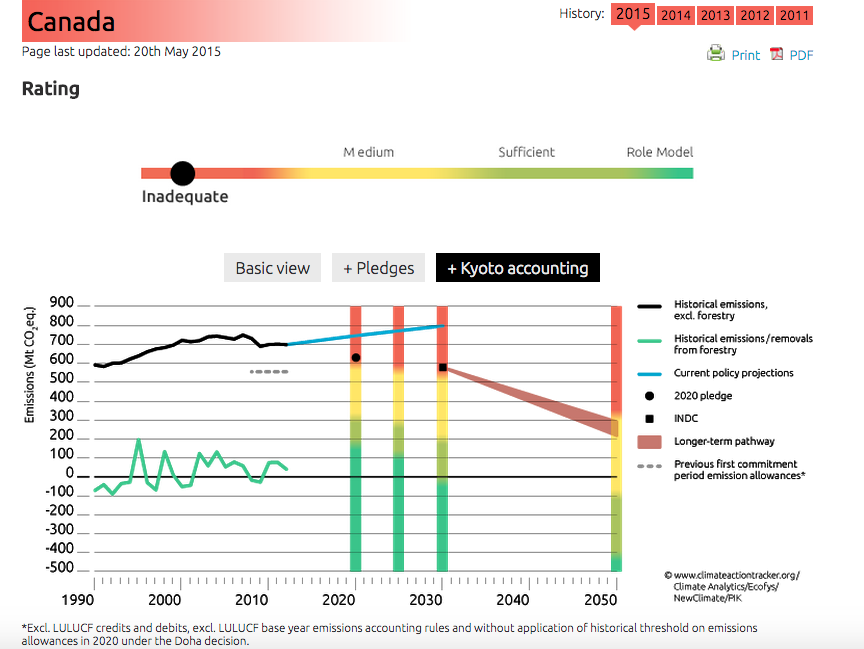 Image from Climate Action International's Canada climate profile. Click image for more detail.
Emissions from the oilsands, Canada's fastest growing source of greenhouse gas emissions have increased 79 per cent since 2005. They currently account for nine per cent of Canada's total emissions and that portion is expected to jump to 14 per cent by 2020.
Louise Jeffery from the Potsdam Institute for Climate Impact Research said Canada is relying heavily on its forests while skirting its responsibility to curtail emissions from the oilsands.
"The accounting options Canada proposes using are fraught with difficulties," he said, "not least because Canada is no longer a party to the Kyoto Protocol, so it can use much looser rules."
Canada used its withdrawal from the Kyoto Protocol in 2012 to weaken its climate targets.
Climate Action International argues Canada's accounting approach is "fraught with difficulties, including substantial potential for double counting [and] asymmetric accounting" because it doesn't adhere to the same standards as other polluters still signed on to the Kyoto Protocol.
Bill Hare from Climate Analytics said although Canada has announced its climate target, the country is avoiding introducing meaningful climate legislation.
"It's clear Canada is not serious about climate action," he said. "Without any new policies in place, its emissions are expected to balloon through to 2030, with the tar sands taking up a significant proportion."
Others have pointed out that Canada, on top of not doing its fair share, is also missing out on the opportunity to transition to cleaner sources of energy.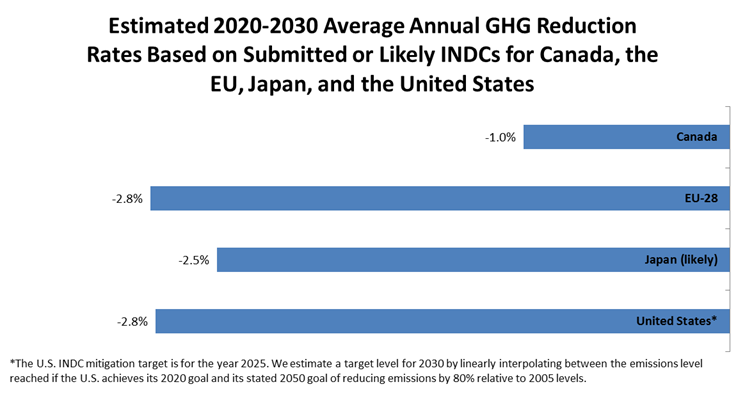 Comparison of emissions reductions from the World Resources Institute.
With this inadequate target, Canada will not tap into its large potential to reduce fossil fuel consumption," said Kornelis Blok, of Ecofys. "Canada risks becoming a laggard in clean innovation, such as energy efficiency."
A report released by Clean Energy Canada in late 2014 showed the alternative and low-carbon energy sector is making significant gains in the Canadian economy and jobs market, but isn't getting the support from the federal government it needs.
"Every major industrial sector in Canada — from the aerospace industry to the oilsands —has gotten off the ground with support from the federal government. But in the clean-energy sector, the federal government is really missing in action," Merran Smith, director of Clean Energy Canada, said.
Image Credit: Environment Minister Leona Aglukkaq via Metro News