The federal government is currently reviewing Arctic drilling laws at the request of the petroleum industry, according to information released through Access to Information legislation.
The memos show a review of the Canada Petroleum Resources Act is underway after Imperial Oil, ExxonMobil, BP and Chevron "requested the [Act] be amended to increase the maximum term of exploration licences to 16 years."
Licences are currently granted for nine years but the memo, prepared by ministerial staff for Aboriginal Affairs and Northern Development Minister Bernard Valcourt, notes companies want longer licences because "industry's interest today is in much deeper water and in areas not previously explored."
A second memo states industry identified preferred changes to existing law: "Industry stakeholders have identified changes to the regime, which merit consideration, the implementation of which would require either legislative amendment or changes in federal policy."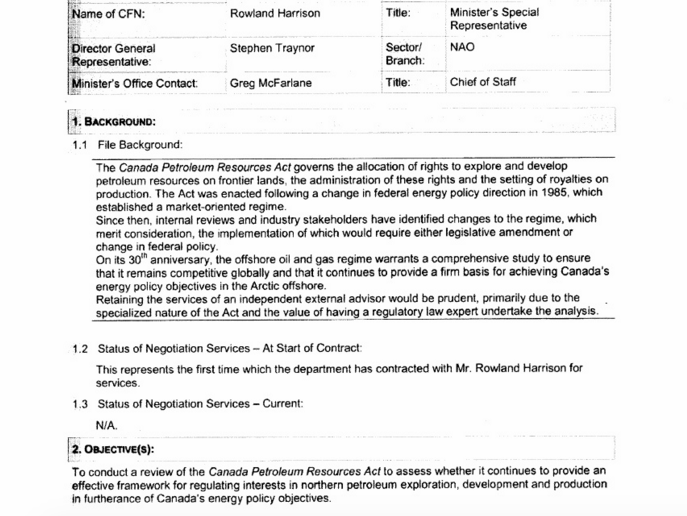 Screenshot of internal memo prepared for Minister Valcourt.
Minister Valcourt Ignored Advice, Broke Rules: Documents
The documents, released to Reuters, also show the government refused to take the advice of bureaucrats who recommended the government use an open-bid process to hire a consultant to review the legislation.
Instead Minister Valcourt appointed former National Energy Board member Rowland Harrison even though in an internal memo staff warned hiring Harrison "through a non-competitive process is questionable" and could be seen as "inappropriate."
The memos recommend Valcourt initiate an external expert review to "lend credibility to the findings."
Against these warnings Valcourt hired Harrison to perform the review even though the sole-source contract would violate federal rules for contracts worth more than $25,000, the documents show.
"The documents show very clearly that the review is being conducted at the behest of the oil industry, in response to their request that the law be changed so they can keep their Beaufort licences for seven extra years." Alex Speers-Roesch, Arctic campaigner with Greenpeace Canada, told DeSmog Canada.
"Reading the documents, it's hard not to conclude that Minister Valcourt has already decided to give the oil industry what they want, and that the review is happening largely to give those changes a veneer of legitimacy."
Minister Valcourt is campaigning for re-election in the Madawaska-Restigouche riding in New Brunswick.
Arctic Drilling Expensive, Problematic
Last month Shell announced it was abandoning its Arctic drilling plans, citing high costs and difficult conditions.
Shell made the announcement after a test well failed to produce oil and gas at commercial rates. Backing out could cost the company as much as $4.1 billion in charges, according to the Globe and Mail.
Similar difficulties may be on the horizon for Imperial Oil and BP, both of which announced plans to delay drilling activity in the Beaufort Sea, north of Tuktoyaktuk, this summer, blaming short timelines.
Imperial and BP planned to begin drilling in the region by summer 2020, the same year their exploration licences expired.
According to Lee Willis, Imperial Oil's exploration operations manager, the companies suspended regulatory work for the project, saying "under the current licence term, there is insufficient time to conduct the necessary technical work and complete the regulatory process."
Imperial Oil and BP purchased exploratory licences from Aboriginal Affairs and Northern Development Canada for $1.8 billion.
According to Speers-Roesch, companies like Imperial have "seriously underestimated the challenges of offshore Arctic drilling."
"Now they want the government to bail them out of their own mess by changing laws and weakening safety rules. "
Speers-Roesch pointed out that Imperial and Chevron have already requested the federal government waive oil spill safety rules required for drilling in harsh Arctic conditions.
"Now they're asking the government to change the leasing rules because Arctic drilling is harder than they realized, the project is taking longer than they thought, and they don't want to pay for new drilling licences," Speers-Roesch said.
Valcourt Rushing Review?
The internal documents also show Valcourt wanted a review of the drilling laws completed by October 1, 2015.
Yet in an e-mail to Greenpeace, provided to DeSmog Canada, Harrison disclosed he will not meet that deadline.
"The terms of my appointment require an interim report by December 18 on the specific issue of the length of exploration licences in the Beaufort Sea and a final report by March 15, 2016," Harrison wrote.
"Once the election is over, I will provide further guidance as to scope and process."
Speers-Roesch said the internal documents may show some "disagreement" about when the review would be completed.
"This raises serious concerns that Minister Valcourt is improperly rushing an important government review process in order to satisfy timelines dictated to him by the oil industry," he said.
"Generally Valcourt seems to be rushing this review. Another reason he may have ignored the open-bid process for the review contract is that he wanted to get the review launched before the election, so the next government would be stuck with it."
Aboriginal Affairs and Northern Development Canada did not provide comment by time of publication.
Valcourt Arctic memo by mikedesouza
Valcourt Arctic memo2 by mikedesouza
Image: Coast Guard News