The route chosen by BC Hydro for a Site C dam highway relocation will "desecrate" a First Nations burial ground and destroy a culturally significant site used by the Dunne-za people for millennia, says West Moberly First Nations Chief Roland Willson.
"This is a very serious matter," Willson wrote in a letter to B.C. Transportation Minister Todd Stone, co-signed by Prophet River First Nation Chief Lynette Tsakoza.

"Digging up graves is not acceptable in our custom."
Willson told DeSmog that the graves are in an area of the Peace River valley known locally as Bear Flats/Cache Creek, which BC Hydro plans to clear cut this winter for the first phase of a $530 million project to move 30 kilometres of a provincial highway out of the Site C dam flood zone.
Called as tluuge by the Dunne-za, or Beaver people, an ethno-linguistic grouping within the Treaty 8 Tribal Association, the area slated for the first part of the highway realignment contains known B.C. archaeological sites, a natural spring, a sweat lodge, and a campground used by First Nations for elder and youth gatherings.
"The Dunne-Za people have been using Bear Flats for thousands of years and we're still using it today," Willson said in an interview.
"The desecration of burial sites is a very serious matter. There's absolutely no reason for them to disrupt those graves. They can move the highway over."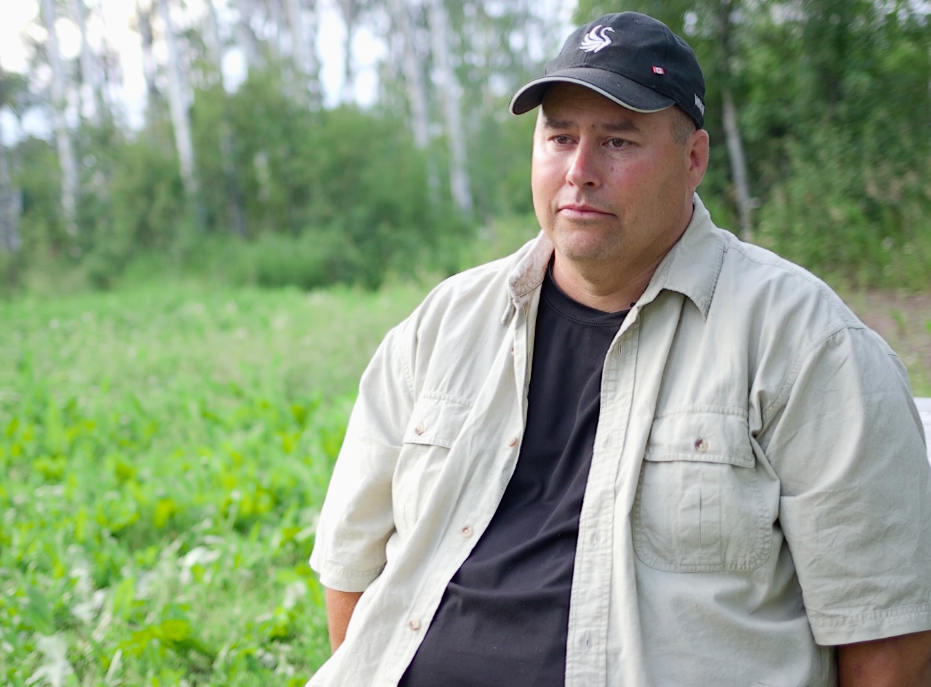 Chief Roland Willson from the film River Interrupted. Credit: Hawkins Film.
According to BC Hydro itself, the Bear Flats/Cache Creek area is classified as an "archeological site complex," an area noted for its high density of archeological sites.
Eighteen archeological sites at the Bear Flats/Cache complex will be affected by the $8.8 billion Site C project, including four Class 1 sites and 10 Class 11 sites.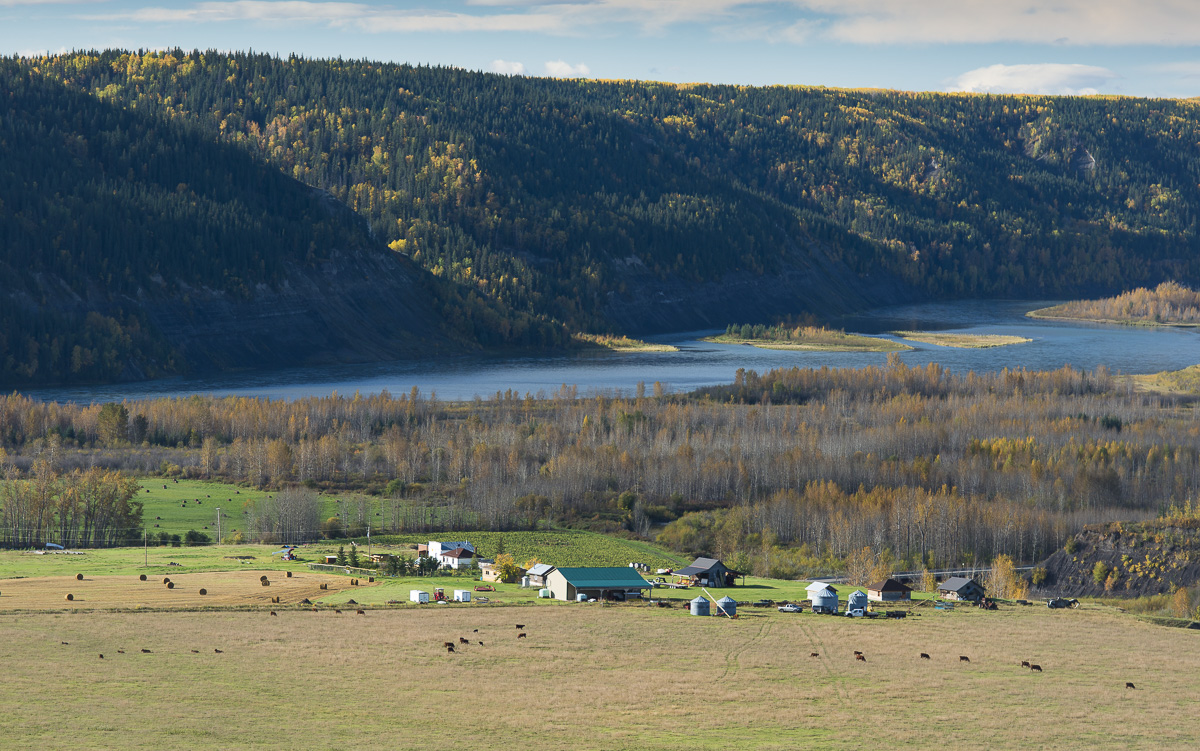 The Bear Flats/Cache Creek area, where highway construction is imminent. Credit: Garth Lenz.
In July 2015, BC Hydro received an eight-year permit from the B.C. Ministry of Forests, Lands and Natural Resource Operations (FLNRO) to "alter" 163 archeological sites for Site C, including for the construction of permanent roads, clearing, surface stripping, excavations and inundation from the reservoir. The permit says all work must cease if human remains are found and the Archaeology Branch must be contacted for further direction.
In a statement e-mailed to DeSmog, BC Hydro said it has undertaken "extensive archeological fieldwork including extensive subsurface shovel testing" and has not found "any specific burial locations that would be directly affected by the Highway 29 alignment" at Bear Flats/Cache Creek.
"We take the potential disturbance of burial sites with the utmost seriousness," BC Hydro said in the statement.
The Crown corporation said it has extended repeated invitations to local First Nations to share specific information about potential burial sites they believe are in the Site C project area and has funded traditional land use studies for First Nations that have "not resulted in such information being shared with BC Hydro."
A BC Hydro Heritage Resource Assessment report notes that four Treaty 8 First Nations believe there are burial sites in the vicinity of Bear Flats.
First Nations Chiefs Say #SiteC Highway Route Will Desecrate Graves, @BCHydro Disagrees https://t.co/CMnIEl1mhm #bcpoli #cdnpoli

— DeSmog Canada (@DeSmogCanada) November 25, 2016
Testimony given by four Treaty 8 First Nations to the Joint Review Panel that examined Site C for the federal and provincial governments recounted how the Bear Flats area was traditionally used as a gathering spot because it had good habitation sites, proximity to ceremonial and sacred areas, good hunting and fishing opportunities, a nearby freshwater spring and multiple trails and transportation routes.
"Many of the trails which criss-crossed the Peace River valley came into or close to this gathering place, and were often used as horse pack trails by families on their seasonal rounds," the testimony read.
"Historically we were hunter gatherers and there were certain places like Bear Flats where we'd come together," Willson said.
Willson said he met with Minister of Aboriginal Relations John Rustad in July and again in October, in an effort to find a solution. He said he also met with FLNRO Minister Steve Thomson in October, and followed up with letters to the two ministers asking for an alternate route for the 8.5-kilometre Bear Flats portion of the highway realignment, in addition to writing to Stone and BC Hydro in early November with the same request.
"We still haven't heard anything back."
Willson said a second route shortlisted by BC Hydro would avoid adverse effects to First Nations' "ancestral belongings and burial" and protect the homes of local farmers such as Ken and Arlene Boon, who live on a hill just above some of the archeological fieldwork sites. The Boons, along with seven other landowners at Bear Flats/Cache Creek, were informed in March that they must sign over their land to BC Hydro by the end of this year or face expropriation for the highway re-alignment.
"They don't have to kick the Boons out just before Christmas," said Willson. "There's no reason for it.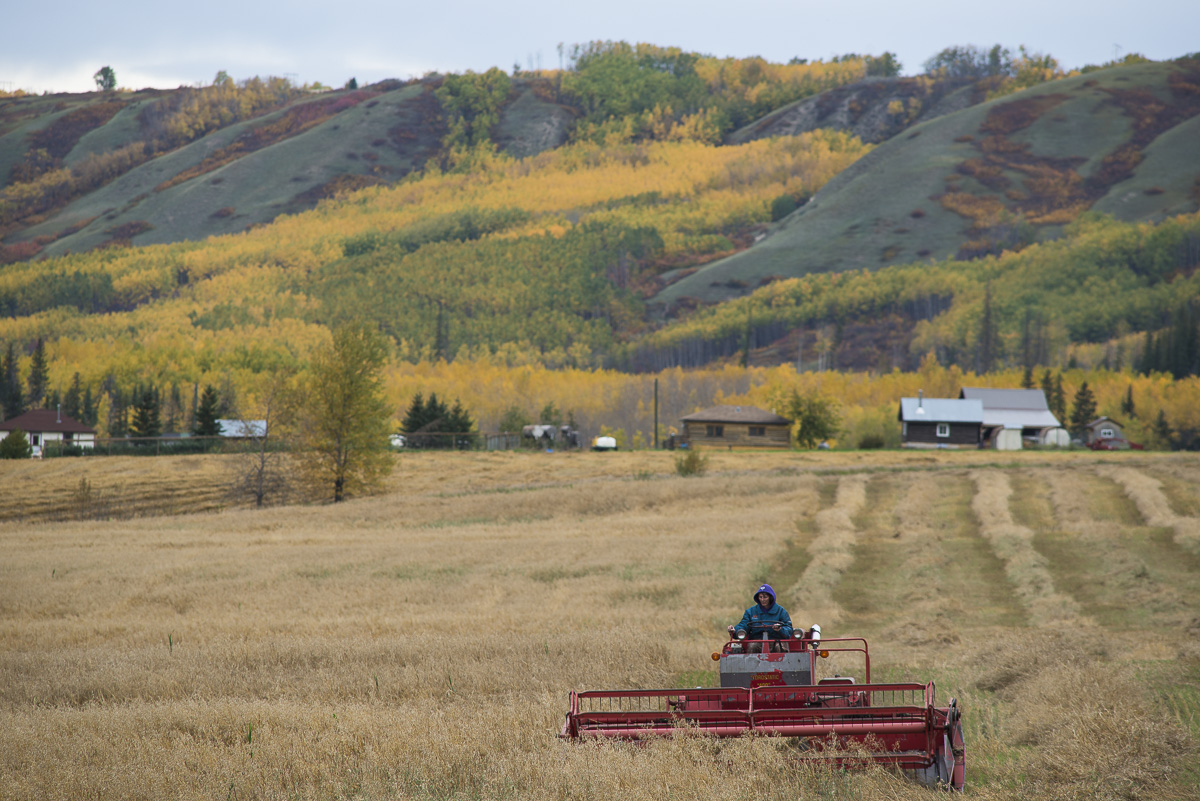 Arlene Boon out for what could be her last harvest on the Bear Flats farm that's been in her family for three generations. Photo: Garth Lenz.
In October, the West Moberly and Prophet River First Nations launched the Yellow Stakes campaign on the Boon's farmland to raise money for their ongoing court cases against Site C. For each $100 donated to the First Nations legal challenges, a yellow stake is driven into the ground beside the Boon's farmhouse, along the centre line for the Highway 29 relocation.
More than 300 stakes, similar to the ones BC Hydro contractors placed throughout the Bear Flats area to demarcate the highway's new centre line, have been hammered into the earth, including a stake personally planted by Perry Bellegarde, the national chief of Canada's Assembly of First Nations.
In their letter to Stone, the two First Nations chiefs said an alternate route would address "many of the substantive issues and concerns" regarding that portion of the highway relocation. "Our alternative routes also eliminate the need to remove the local farmers from their homes and, as such, have an added benefit for the general population," they wrote.
"We have made considerable efforts to identify and communicate how the proposed realignment of Highway 29 will cause significant adverse effects to our treaty rights," the chiefs said in their letter to Rustad. "We have also put a considerable amount of effort into finding solutions…The province, however, has refused to engage our nations on such matters for over three months."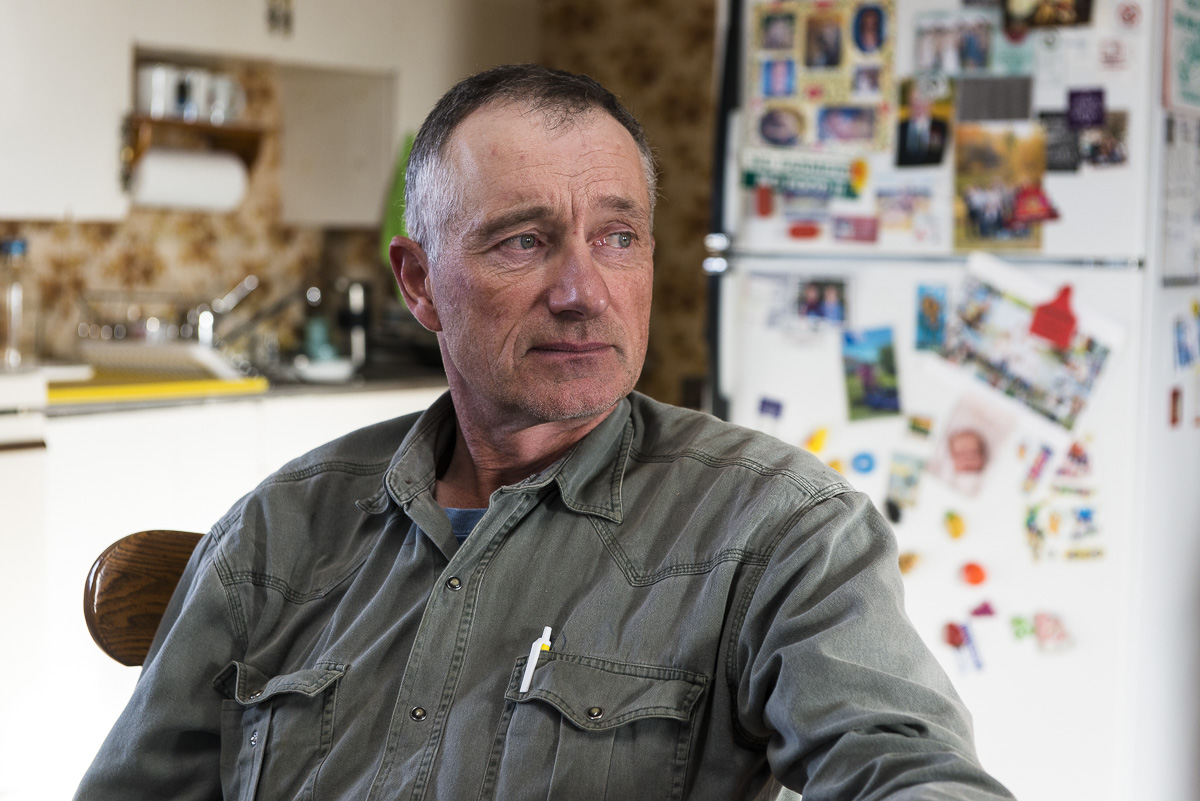 Ken Boon, who has been told he's going to have to sign an agreement with BC Hydro by Christmas, so a highway can be built through his farm. Credit: Garth Lenz.
In response to questions about the highway re-alignment, BC Hydro spokesperson Dave Conway e-mailed a link to a BC Hydro information sheet that outlines why the route along the banks of the future Site C reservoir was selected for the Bear Flat highway relocation instead of the inland option requested by First Nations and Peace Valley landowners. According to BC Hydro, the route along the reservoir's banks will increase the length of passing opportunities for drivers and has less of an impact on agricultural land and better geotechnical conditions.
The reservoir for the Site C dam, currently in the early stages of construction, will flood more than 100 kilometres of the Peace River and its tributaries, including Cache Creek, a wide-bottomed valley where prickly pear cacti grow and arrowheads and fossils, including part of a woolly mammoth tusk, have been found.
Earlier this year, the Peace Valley Landowners Association asked BC Hydro for a copy of the "Multiple Accounts Evaluation" that demonstrates how the highway relocation route was chosen. Association president Ken Boon said instead of receiving a copy of the evaluation the 70 landowners who will be affected by Site C were given only "a few vague reasons to justify the route."
New Democratic Party transportation critic Claire Trevena also said has not received any answers to questions she sent to Stone in an August letter regarding the highway route selection at Bear Flats/Cache Creek.
Among other questions, Trevena asked if the ministry had the right to review the route options in light of costs and social impacts, if there were financial risks to the Crown that could arise from the choice of routes, when the ministry would become responsible for the new highway route and if the minister knew the full costs of both route options.
"We're somewhat stymied because we're not in the Legislature so I can't ask questions directly of the minister," Trevena said in an interview, referring to Premier Christy Clark's cancellation of the fall session of the B.C. legislature.
"It's extraordinarily difficult when we're talking about something this serious and we not have recourse to the minister. Democracy can't work and people's best interests can't be served when the government is effectively in hiding."
DeSmog contacted the Ministry of Aboriginal Relations and Reconciliation, which said comment should come from the Ministry of Forests, Lands and Natural Resource Operations (FLNRO). The Ministry of Transportation did not respond to questions, including one asking if the cost of the highway realignment has changed from the $530 million previously reported by BC Hydro. And FLNRO, for its part, said the government's statement on the issue would come from BC Hydro.
Main image: BC Hydro archaeologists on the Boon family farm. Credit: Garth Lenz.