The report is dated July 17, 1973, and stamped by the Department of the Environment.
Scientists had undertaken a study of fish in the Skeena estuary due to proposals to build a super port in the Prince Rupert area.
The federal government wanted to know: "What destructive consequences could be imparted on the fisheries resource by superport construction?"
So the scientists set out to find out which areas of the Skeena estuary — home to Canada's second largest wild salmon run  — are most important for fish.
They found Flora Bank, one of the largest eelgrass beds in B.C., is "of high biological significance as a fish (especially juvenile salmon) rearing habitat," and advised that "construction of a superport at the Kitson Island — Flora Bank site would destroy much of this critical salmon habitat."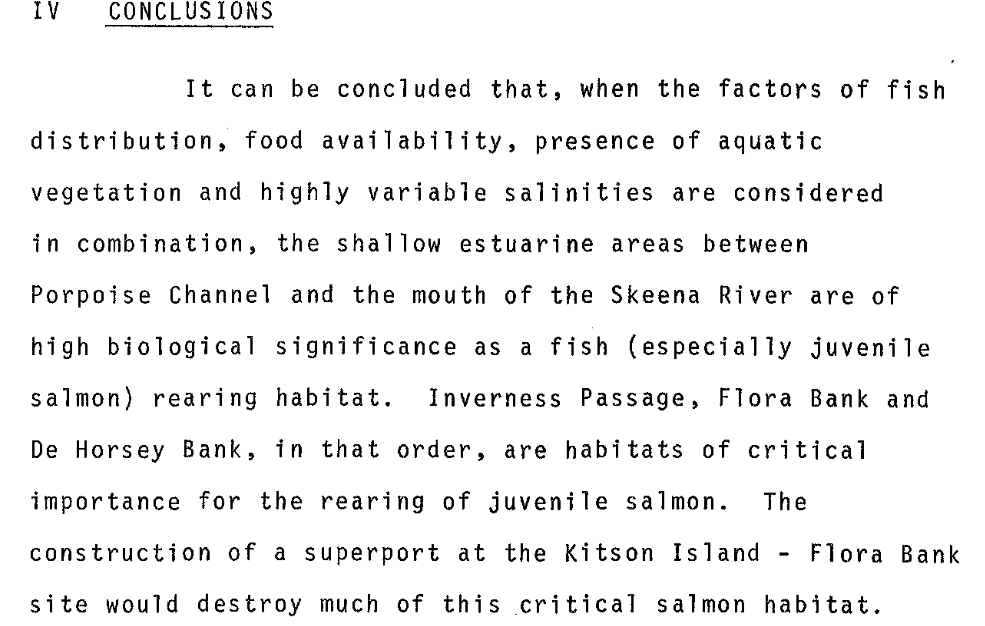 Forty years passed, with the federal government knowing Flora Bank was no place for industrial development.
And then, this Tuesday, Prime Minister Justin Trudeau approved the building of a massive liquefied natural gas export port in that very spot — a spot that scientists say would disrupt a complex system that effectively holds Flora Bank in place.
What changed?
"I think the politics must have changed," said Jonathan Moore, Liber Ero chair of Coastal Science and Management at Simon Fraser University. "All I can say is that as a scientist, the results haven't changed. In fact, the data has gotten stronger."
"Out of all the places that you could imagine in the area, it is the worst possible place in terms of risks to fish."
You wouldn't know that from reading the report commissioned by Pacific Northwest LNG and filed to the Canadian Environmental Assessment Agency (CEAA) on May 5, 2015. In that report, engineering firm Stantec argued there will be little to no environmental impact from building an LNG terminal on Lelu Island, next to Flora Bank.
That submission included no field data on fish, yet concluded that "salmon do not use Flora Bank eelgrass habitat for nursery habitat or other life dependent processes."
Stantec was sent back to the drawing board three times to provide credible science.
The government and the proponent have never even acknowledged that the project is in important salmon habitat.
"It's like pretending open heart surgery is like a haircut," Moore said.
'Bought Science' Undermines Environmental Assessment
This kind of "bought science" represents a major conflict of interest and yet forms the foundation of the environmental assessment, Moore told DeSmog Canada.
"Ideally you'd have more of a third-party body that's producing the science that underpins the decision-making," he said.
Moore and his associates from Simon Fraser University and the Skeena Fisheries Commission submitted their own research during CEAA's "comment period."
About 300 million juvenile salmon rear in the Skeena estuary every year at the critical moment when they graduate from fresh to salt water. The Skeena salmon run is worth more than $110 million annually.
The abundance of salmon is part of the reason Lax Kw'alaams First Nation members overwhelmingly rejected a $1-billion cash offer over 40 years from Petronas, declining to give aboriginal consent to the project.
Unlike the Stantec research, Moore's is peer-reviewed and has been published in scientific journals Science and PLOS.
"The proposal highlights a troubling blind spot in Canada's environmental decision-making," the article in Science reads.
"We have shown that the proposed development area supports particularly high abundances of juvenile salmon from more than 40 populations that are harvested in at least 10 First Nations territories throughout the Skeena watershed and beyond."
For Moore, whose collaborators have sampled more than 200,000 fish during more than 100 days on the water, the science is clear.
"The data hits you on the head when you're out there seeing it," he said.
"Based on our most recent in-depth study where we compared 25 different habitats across the Skeena estuary … we found the Flora Bank area had 25 times more salmon than other locations."
When the federal government announced its decision on Tuesday, Moore was disappointed — but more than anything, he was frustrated by the feds' rhetoric about "evidence-based decision-making."
This decision was based on science, traditional knowledge of Indigenous peoples and other relevant scientific evidence. pic.twitter.com/RlAcrkyplj

— Catherine McKenna (@cathmckenna) September 28, 2016
"You read these statements that say this was based on science and no, it really wasn't," Moore said. "You used some science that was paid for, but you ignored an even larger body of science that was independent. You also ignored four decades of practice and knowledge from your own fisheries programs."
"I understand that decisions aren't about just the environment. I understand that the economy has to factor into that. But let's not pretend. If there are great risks to the environment, let's have full accounting and honest accounting of those risks."