The fossil fuel industry lobbied the B.C. government more than 22,000 times between April 2010 and October 2016, according to a report released Wednesday by the Canadian Centre for Policy Alternatives as part of the Corporate Mapping Project.
The report also found that 48 fossil fuel companies and associated industry groups have donated $5.2 million to B.C. political parties between 2008 and 2015 — 92 per cent of which has gone to the BC Liberals.
The analysis found seven of the top 10 political donors from the fossil fuel industry are also B.C.'s most active lobbyists.
The Corporate Mapping Project is a six-year research and public engagement initiative jointly led by the University of Victoria, the Canadian Centre for Policy Alternatives and the Alberta-based Parkland Institute.
Researchers have painstakingly analyzed lobbying and political donation records to demonstrate the extensive political influence of the fossil fuel industry in B.C.
"I was definitely surprised at the sheer volume of lobbying contacts that we found," Nick Graham, lead author of the report and PhD candidate at the University of Victoria, told DeSmog Canada.
Spectra Energy, Enbridge, FortisBC, Encana, Chevron Canada, CAPP and Teck Resources conducted the majority of registered lobbying contacts, more than 19,500 in total since the lobbyist registry was first initiated in 2010 — an average of 14 lobbying contacts in B.C. per day.
"We were expecting to see some overlap between political donations and lobbying," Graham said. "Part of what donations help achieve is access to government so we certainly expected to see some of that."
The top 10 fossil fuel industry donors were responsible for $3.8 million in contributions to the BC Liberals and $270,000 to the BC NDP.
The Corporate Mapping Project report, co-authored by Shannon Daub of the Canadian Centre for Policy Alternatives and Bill Carroll, professor of sociology at the University of Victoria, is the first systematic analysis of fossil fuel lobbying in B.C.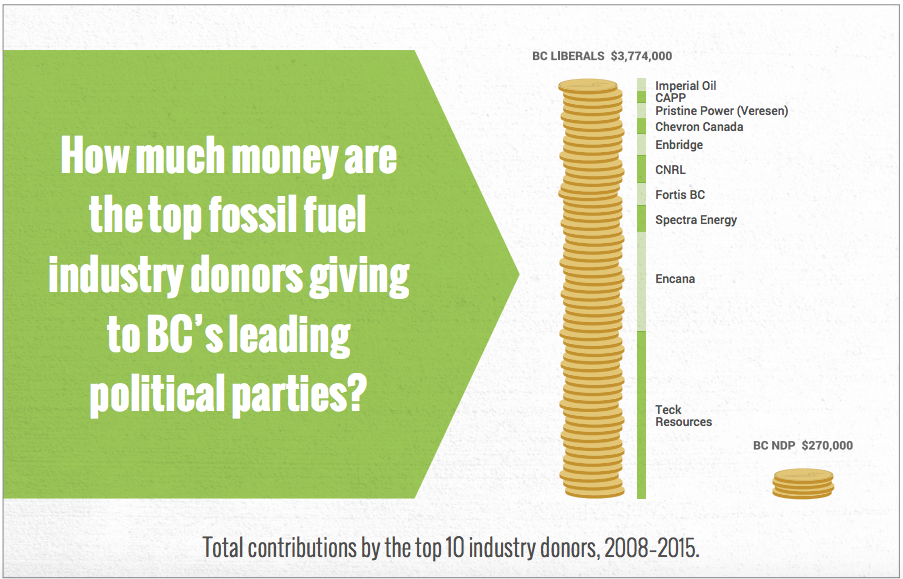 Top 10 fossil fuel industry donors in B.C. Source: CCPA, Corporate Mapping Project.
Clear Connection Between Lobbying, Donations and Policy Outcomes
"There is a fairly clear connection between lobbying, donations and policy outcomes that is quite troubling," Daub told DeSmog Canada.
"It can be difficult to draw a line between a political donation or a meeting and policy because so little information is released to the public about what is going on behind closed doors," Daub said.
But, she added, a more broad analysis like this can help connect the dots.
"We did note the Canadian Association of Petroleum Producers, for example, in a one year period between October 2015 and August 2016, reported 201 lobbying contacts with the provincial government specifically in relation to the climate leadership plan."
"And of course that plan turned out to not be much of a plan at all," Daub added.
The analysis found 28 per cent of lobbying by the top fossil fuel lobbyists was with cabinet ministers.
Several cabinet ministers were the frequent target of lobbying contacts, the most popular being Minister of Natural Gas Development Rich Coleman, who was listed in 733 contacts with the top 10 fossil fuel firms.
The other most contacted senior ministers are Premier Christy Clark (618 contacts), Minister of Energy and Mines Bill Bennett (437), Environment Minister Mary Polak (354) and Finance Minister Mike de Jong (330).
"It really does speak to the development of these close relationships," Graham said. "You do see particular firms heavily targeting individuals. There is this really tight, if not cozy, ongoing relationship that develops and the perspective of the two become quite closely aligned."
Companies such as Encana, with significant operations in B.C.'s natural gas plays focused heavily on lobbying Natural Gas Development Minister Coleman, the analysis found.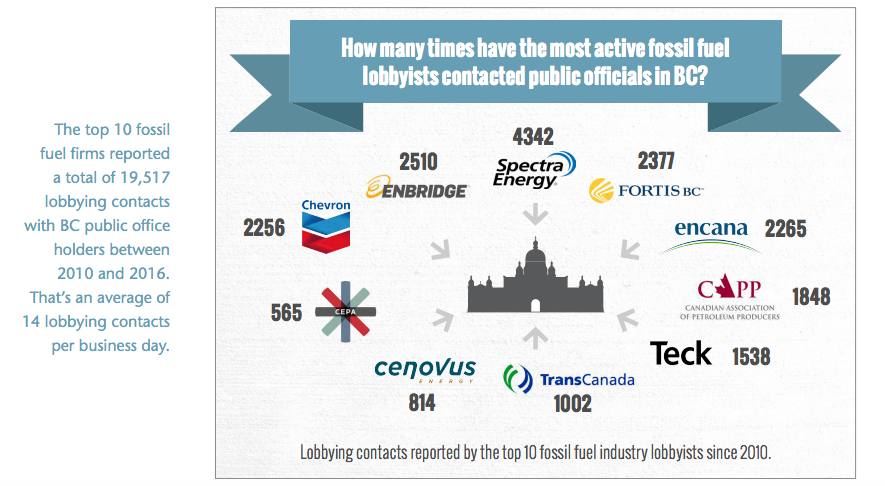 Source: CCPA, Corporate Mapping Project
Corporate Influence Far Outweighs Environmental Voices
Graham added the analysis was shaped in part by the B.C. government's push for increased extractive industry projects in the province for nearly the last decade.
"The paper began from the perspective of seeing this really incredible push around expanding fossil fuel development in the province especially around natural gas and the really aggressive promotion of the LNG industry in particular by the government."
"Part of our question was, 'how can we explain this? What explains this?' " Graham said.
"What we found are there are multiple explanations that point to the structural power of industry and the provincial government's reliance on resource rent. But also major corporate influence: the ability of corporations to have these stores of capital to pressure government on an ongoing basis."
The analysis found a total of 1,300 lobby contacts between the government and environmental or non-governmental organizations during the same timeframe.
Daub said there is clearly not level access to provincial decision-makers in B.C.
"What shows really clearly from these numbers is that we have one industry with a very disproportionate level of access to government and government policy," she said.
B.C.'s Ongoing Transparency Problem
B.C. has some of the weakest political donation rules in the country, which allow unlimited donations from individuals, foreigners, corporations and unions.
"Clearly it's just time to ban big money in politics all together. One of the recommendations in our report is to put a stop to corporate and union donations and a cap on individual contributions."
Federally, political parties cannot accept donations from corporations or unions and provinces like Quebec place a $100 limit on personal donations.
"It's supposed to be one person, one vote," Daub said. "Instead in B.C. it's more like one dollar, one vote."
A level democratic playing field is important for the public to have confidence in the political system but also to feel they can meaningfully participate in the process, Daub said.
Beyond problems with special interest dollars flooding the political process, B.C. also has poor transparency requirements when it comes to lobbying.
Lobbyists must register to lobby in B.C. and provide a list of intended meetings. However, there is no official record kept that distinguishes between intended and actual meetings.
Any meetings requested by public officials are not registered.
In addition, lobby records do not give the public detailed information about the content of meetings.
"Teck is one of the biggest lobbyists in the province among industry groups and they have a particular focus on MLAs," Daub said. "But what they report they've lobbied on is things like 'mining,' or 'employment and training' or 'aboriginal affairs.' "
"That doesn't tell us anything about what they're actually talking to these public officials about."
Daub said better records should be kept of lobbying interactions that gives the public a decent account of when and how frequently these meetings are taking place and what public policy matters are at stake.
"A more transparent system would make it much easier for the public to find out what is going on in these closed door meetings."
New title
You've read all the way to the bottom of this article. That makes you some serious Narwhal material.
And since you're here, we have a favour to ask. Our independent, ad-free journalism is made possible because the people who value our work also support it (did we mention our stories are free for all to read, not just those who can afford to pay?).
As a non-profit, reader-funded news organization, our goal isn't to sell advertising or to please corporate bigwigs — it's to bring evidence-based news and analysis to the surface for all Canadians. And at a time when most news organizations have been laying off reporters, we've hired eight journalists over the past year.
Not only are we filling a void in environment coverage, but we're also telling stories differently — by centring Indigenous voices, by building community and by doing it all as a people-powered, non-profit outlet supported by more than 2,900 members. 
The truth is we wouldn't be here without you. Every single one of you who reads and shares our articles is a crucial part of building a new model for Canadian journalism that puts people before profit.
We know that these days the world's problems can feel a *touch* overwhelming. It's easy to feel like what we do doesn't make any difference, but becoming a member of The Narwhal is one small way you truly can make a difference.
We've drafted a plan to make 2021 our biggest year yet, but we need your support to make it all happen.
If you believe news organizations should report to their readers, not advertisers or shareholders, please become a monthly member of The Narwhal today for any amount you can afford.