A report, published on July 11th of this year, reveals that the Piscine Reovirus (PRV) is decimating British Columbia salmon populations. This report, published in Virology Journal, was co-authored by researchers from the Atlantic Veterinary College at the University of Prince Edward Island, Centro de Investigaciones Biologicas in Chile and, and the Raincoast Research Society in British Columbia. The research shows that B.C. fish tested positive in both farmed and wild salmon sources.
Yet, despite the report's findings, officials for the Canadian government's Department of Fisheries and Oceans (DFO) claim that the virus is no cause for alarm. As with any of the three deadly European viruses found on the coasts of B.C., the DFO doesn't consider the appearance of a virus as a threat. They will only take action in the event of a major disease outbreak.
Twyla Roscovich sought to find out why in her Documentary, Salmon Confidential. In it, she asked Dr. Gary Marty, B.C. Health Vet, what his conclusions were about PRV contamination, in relation to the drastic decline in fish populations in the Fraser River and Rivers Inlet Sockeye. Dr. Marty said that he doesn't know what the problem is, so the virus shouldn't be blamed.
"When it was first reported in 2010, I was very concerned. So, we went and tested 625 fish and found it in just about every fish. We found it in healthy fish… So, I decided that I couldn't provide any interpretation for what this meant and I decided it was probably not a major concern. " – Dr. Gary Marty.
Farmed fish is a multi-million dollar industry in B.C. and salmon is what the province is known for worldwide. Scientists are concerned that the DFO and the Canadian Food Inspection Agency (CFIA)—the governing bodies in charge of protecting the fish—are also responsible for the state of the industry. That "is a major conflict of interest," said Dr. Larry Dill, professor of Biological Sciences at Simon Fraser University.
It is likely that the virus was imported to B.C. out of Norway, by way of the fish farming industry. Samples taken from the European virus and the B.C. virus show enough similarities to assume that they are from the same strain. Ninety-eight percent of the Pacific salmon fish farms in B.C. are Norwegian-owned.
The farms are crowded along the coast of the Discovery passage—the narrowest salmon route in the world and the DFO approved location of eleven fish farms. The only wild fish populations that are experiencing a decline in numbers are those that travel through the Discovery passage to spawn. Wild salmon that take a more westerly route and do not pass through the farms are showing no signs of disease.
Biologist Alexandra Morton, along with many other scientists in Canada, Chile and Norway are convinced that the PRV virus is a very serious problem. PRV was first identified in Atlantic salmon farms in Norway in 1999. It is considered lethal to fish as it has proven to lead to the disease HSMI – heart and skeletal muscle inflammation.
According to the most recent press release by the Department of Wild Salmon, "HSMI can cause lesions in the heart and muscles and can make the heart soft, impeding the fish's ability to swim and uptake oxygen."
The 2012 Annual General Report by the Norwegian company, Marine Harvest—the leading salmon aquaculture company in British Columbia—cites HSMI as the second largest cause of fish mortality.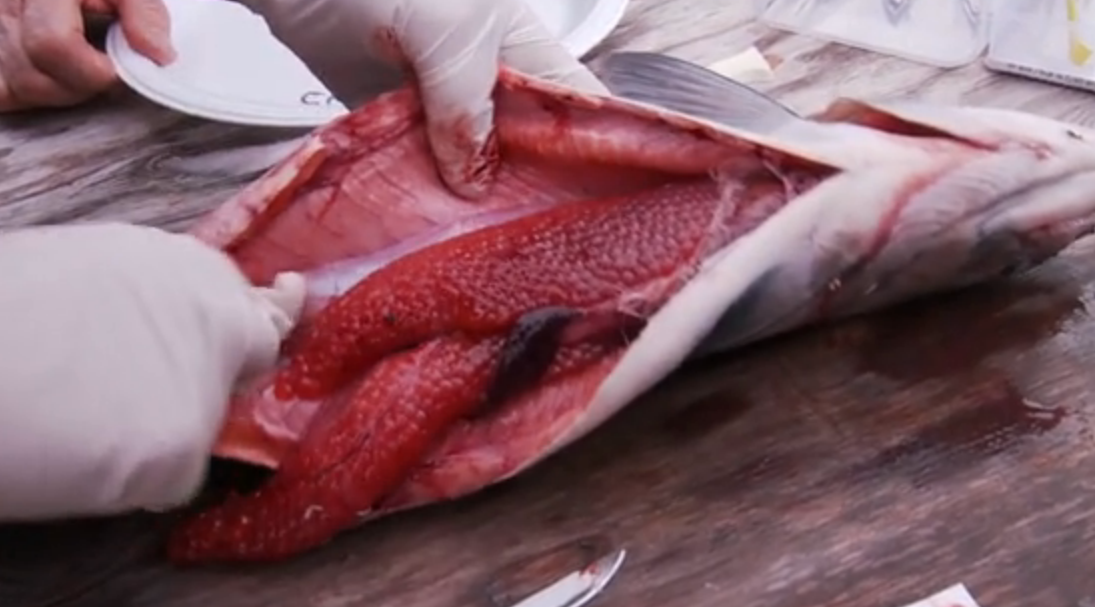 The inflammation of the heart and muscles makes tissues blood-logged and weak, which means that the fish are unlikely to have the athletic ability to swim against the strong current to spawning grounds. This decreased ability to swim upstream may be linked to the thousands of mysterious pre-spawn fish mortalities in recent years.
There are many papers written by Norwegian experts on the relationship between PRV and HSMI. One such paper by Gustavo Palacios et al. recommends that "measures must be taken to control PRV not only because it threatens domestic salmon production but also due to the potential for transmission to wild salmon populations."
It has been very difficult for scientists to do proper research on farmed fish in Canada. Fish farm records are considered confidential which means they are not available to scientists or the public. The farmed fish samples used in the Department of Wild Salmon's research had to be taken, primarily, from supermarkets.
Morton claims that her research is being slowed by her "lack of ability to go to the farms and test." Out of necessity, Morton has been forced to conduct her research on supermarket fish, which have proven to be a viable source of the virus.
What Morton's team has found in Canadian supermarkets is appalling. A healthy salmon ought to be fat with dark orange flesh. The supermarket fish were skinny, grey-gilled, with deformities and visible lesions.
"A skinny fish is a sick fish," Morton said and Dr. Marty agrees. "Sick fish," he said, "don't eat, and fish that don't eat won't grow. It is expected that fish that make it to market are healthy. They are also inspected by CFIA."
Morton and Dr. Kibenge from the lab for fish viruses at the Atlantic Veterinary College at the University of Prince Edward Island "have found PRV in nearly 97% of the farmed salmon tested in B.C. supermarkets." Since these findings the Canadian Food Inspection Agency has attacked the credibility of Dr. Kibenge's research, suggesting his international certification be revoked.
The province projects that the presence of the virus won't be a threat according to the Department of Wild Salmon, "there is no evidence to support the province's theory."
In Morton's opinion, the main concern is that "the viability of wild salmon has been put at risk in favour of the viability of farmed salmon."
*images and video courtesy of the Department of Wild Salmon.
New title
You've read all the way to the bottom of this article. That makes you some serious Narwhal material.
And since you're here, we have a favour to ask. Our independent, ad-free journalism is made possible because the people who value our work also support it (did we mention our stories are free for all to read, not just those who can afford to pay?).
As a non-profit, reader-funded news organization, our goal isn't to sell advertising or to please corporate bigwigs — it's to bring evidence-based news and analysis to the surface for all Canadians. And at a time when most news organizations have been laying off reporters, we've hired eight journalists over the past year.
Not only are we filling a void in environment coverage, but we're also telling stories differently — by centring Indigenous voices, by building community and by doing it all as a people-powered, non-profit outlet supported by more than 2,500 members. 
The truth is we wouldn't be here without you. Every single one of you who reads and shares our articles is a crucial part of building a new model for Canadian journalism that puts people before profit.
We know that these days the world's problems can feel a *touch* overwhelming. It's easy to feel like what we do doesn't make any difference, but becoming a member of The Narwhal is one small way you truly can make a difference.
We've drafted a plan to make 2021 our biggest year yet, but we need your support to make it all happen.
If you believe news organizations should report to their readers, not advertisers or shareholders, please become a monthly member of The Narwhal today for any amount you can afford.