There are 18 political leaders notable for their contribution to the Canadian environment and worth voting for in the upcoming federal election, according to GreenPAC, a non-partisan political action committee.
The group called upon the opinion of an expert panel in identifying the candidates who come from across the political spectrum.
"We need a force that is politically relevant in our electoral system that sends a strong message to parties that environment matters — that it matters politically. And right now we don't have that," Aaron Freeman, GreenPAC founder and president, told DeSmog Canada.
"The way to do that is by embedding leadership in all political parties," he said.
Freeman said translating Canada's broad support for environmental issues into support for key candidates in an important way to make environment a political priority in Ottawa.
"We're in the business of recruiting, nominating, electing and supporting environmental leadership," Freeman said. "So we are building a conversation, we're building a community of people in different parts of the country who want to do that, who want to build leadership at the local and national level."
GreenPAC asked candidates from across Canada to apply for endorsement by highlighting their environmental achievements. These candidates were in turn reviewed by an expert panel and evaluated based on their likelihood to win in their riding and environmental track record.
In all, GreenPAC identified 18 top candidates from across all major federal parties that received the green champion endorsement.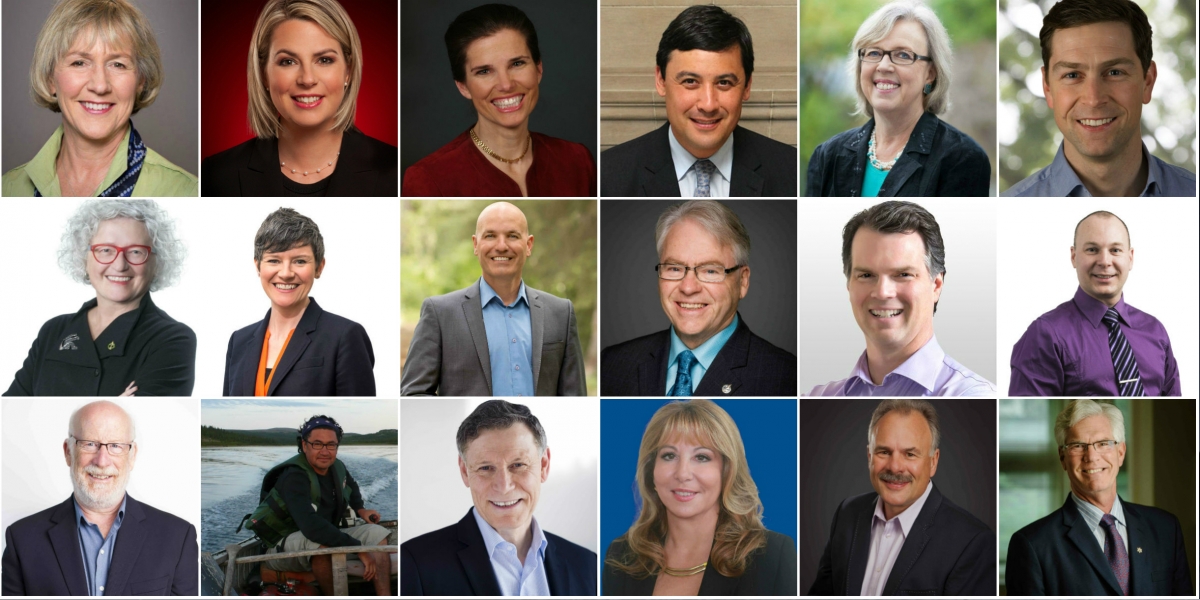 Click image to read more about each of the 18 environmental leaders.
These include former Surrey mayor Diane Watts who is running for the Conservative Party of Canada in the South Surrey-White Rock riding in British Columbia, environmental lawyer William Amos who is running in the Pontiac, Ouebec riding for the Liberal Party of Canada and federal Green Party leader Elizabeth May, incumbent for B.C.'s Saanich-Gulf Island riding.
A candidate matching tool is available to help connect individuals with candidates that share similar environmental values.
Freeman, who has been involved with environmental policy issues in Canada for 25 years, said he's seen a "consistent decline of the political relevance of environmental issues" even though there is broad support for the environment across Canada.
"So environment chronically punches below its weight in politics. Something needs to turn that around."
"We're all making difficult choices in who to vote for in this next election," Freeman said.
"What GreenPAC is about is moving beyond having to choose between the lesser of two evils at the ballot box and actually focusing on an agenda that will change the face of leadership and turn Canada around on its environmental performance."