Despite the federal Conservative government's seven-year attack on carbon pricing as a "job-killing carbon tax," Canada is actually making progress provincially on pricing carbon pollution.
Without any direction from the federal government, Alberta, British Columbia, Quebec and recently Ontario have all introduced systems that require polluters to pay for the greenhouse gas (GHG) emissions they produce (as we've pointed out elsewhere in this series, those systems have had varying success).
But without an overarching carbon pricing system there is only so much the provinces can accomplish. [view:in_this_series=block_1]
"There's nothing stopping the federal government from attempting to help provinces and territories strengthen and expand their existing GHG programs," Katie Sullivan, North America policy and climate finance director at the International Emissions Trading Association, said.
"Ottawa could provide model rules, methodologies, guidance, tools and centralized infrastructure and architecture for a variety of program elements," she said. "The federal government could play a valuable 'enabling' role."
Dave Sawyer, a leading economist with EnviroEconomics, told DeSmog Canada a national system doesn't have to be overly complicated.
"[A] national system could be just an amalgam of provincial policies that align on key administrative features and prices," he said, adding, "long-term, we need to transition to a national system to keep costs down as we seek more [emissions] reductions."
Every ship needs a captain.
Is A National Carbon Pricing System In The Cards?
As DeSmog Canada reported last April, the majority of Canadians want a national carbon pricing system. The latest Angus Reid poll shows 75 per cent of Canadians want a national cap and trade system, while 56 per cent support the idea of a national carbon tax.
So where do the major federal parties stand?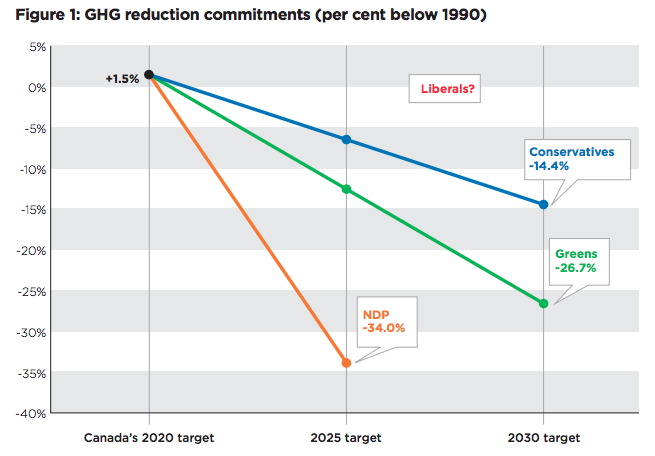 GHG reductions targets according to federal party platform from Environmental Defence's climate scorecard.
Environmental Defence recently released a helpful climate scorecard that compares the four major political parties in Canada on their climate policies.
While the federal NDP and Greens both support their own versions of a national carbon pricing system — via cap and trade and fee and dividend, respectively — the Conservatives and Liberals have expressed no similar support.
Prime Minister Stephen Harper has been openly critical of carbon pricing in the past, although he did have a few positive words for Alberta's carbon levy last year.
Liberal leader Justin Trudeau told Calgary's Petroleum Club last February he does not support a "one-size-fits-all solution from Ottawa" when it comes to pricing carbon. He said the choice should be left up to the provinces.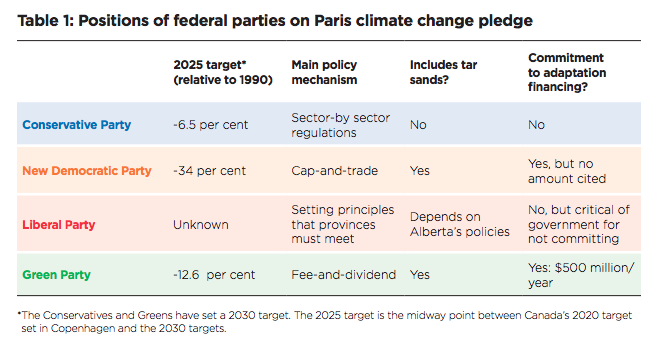 An overview of Canada's federal parties from Environmental Defence's climate scorecard.
Bridging the Provincial-Federal Divide
Philip Gass, senior researcher at the International Institute for Sustainable Development (IISD), said a province-by-province approach makes sense but that federal support could help encourage provinces hesitant to commit.
"Each province should be allowed to adopt its own approach," Gass said. "Provinces should adopt whatever carbon pricing system they think will deliver the most reductions, they can administer and most importantly, a system that is politically acceptable."
"For provinces that are not going that way we do need some federal direction."
"There are many of examples in Canada of issues that crossover both federal and provincial jurisdictions like pricing GHG emissions," Nathalie Chalifour, law professor and co-director of the Centre for Environmental Law and Global Sustainability at the University of Ottawa, told DeSmog Canada.
Take the federal Species At Risk Act as an example, she said. While the provinces have jurisdiction over species at risk within their borders, the federal government is responsible for federal lands or species that fall under federal jurisdiction like fisheries.
"Given this shared power, there is a provision in the Act allowing the federal government to intervene and manage endangered species under provincial jurisdiction if the provinces are not getting the job done," Chalifour told DeSmog Canada.
(It's worth nothing that in the thirteen years of the Species At Risk Act the federal government has never exercised this provision.)
The federal government could set a minimum price on GHG emissions. This approach has been described as a "key policy leveler" for carbon pricing in Canada. It could help resolve certain disparities, like the fact that B.C.'s carbon price is currently twice as high as that of Alberta's or Quebec's.
But a minimum price isn't necessary, just like a national minimum wage isn't necessary for the federal government to enforce the Canadian Labour Code across the provinces.
According to Sullivan from the International Emissions Trading Association the federal government has an important role in ensuring the monitoring and reporting of emissions is "consistent and aligned from coast-to-coast."
Even basic things like "establishing a centralized registry to record and track emissions data and transactions," is a central role the federal government can play, Sullivan said.
Setting basic rules on who pays, how to track emissions and what kinds of offsets are acceptable would go a long way to bringing the existing provincial systems in line with one another.
It would also provide a foundation for other provinces to build their own systems on.
"It's not that a common model…and guidance across the provinces can't be done without Ottawa's support, but it would be a heck of a lot more efficient and less-costly to governments and business if Ottawa could step-in to provide this support and common infrastructure at the federal level," Sullivan told DeSmog Canada.
Federal Leadership Needed
Policy analysts across the board agree carbon pricing on its own cannot solve Canada's soaring GHG emissions problem. Yet it's still a step in the right direction and likely won't be done without strong leadership.
"It takes leadership, courage and vision to stand up and deliver a carbon pricing policy," Merran Smith, executive director of Clean Energy Canada, said.
Clean Energy Canada, an energy think tank, recently took an in-depth look at the implementation of B.C.'s carbon tax and Quebec's cap and trade program. They found the climate leadership of the premiers at the time — Gordon Campbell in B.C. and Jean Charest in Quebec — was "one of the key requirements to getting a carbon price in place," Smith told DeSmog Canada.
"Those leaders also told us that putting in place a price on carbon was the (or one of the) thing they were most proud in their careers — which will hopefully encourage others to step forward," she said.
The federal government also has an important role to play in implementing long-overdue oil and gas sector regulations, phasing out the use of coal and demanding greater efficiency in the transport sector — all of which nicely align with carbon pricing.
Beyond that, as a recent report from Clean Energy Canada demonstrated, Canada could do much, much more to support the clean energy sector.
Matt Horne, associate B.C. director at the Pembina Institute, said the federal government could simply begin by changing the conversation around carbon pricing.
"The first and easiest step the federal government could take is offer a more constructive voice on the issue, instead of regularly talking about a 'job killing carbon tax.'"
"Talk about B.C.'s successful experiment or Quebec's experiment — any of that will help facilitate a conversation in the country that is way more productive and way more constructive than what they have done to date which has been to attack and demonize carbon pricing approaches," he said.
Image Credit: Clean Energy Canada