This piece originally appeared on the West Coast Environmental Law Alert Blog.
Revelations about the amount of corporate money coming to the B.C. Liberals — not to mention RCMP investigations — have many people asking: what are these companies getting in return?
It's a good question. After all, corporations are not supposed to spend their shareholders' money without a reasonable expectation of a return. The different political parties are increasingly aware that voters have these questions.*
At a general level, it does seem that B.C. Liberal donors have done well in terms of government contracts.
And there have been specific calls to set aside the approval of the Woodfibre LNG project in Squamish (based on donations from Woodfibre that seem to have been illegally funneled through individuals), to re-examine logging in endangered caribou habitat by B.C. Liberal donor, Canfor, and calls on the B.C. Liberals to return funds received from Kinder Morgan and its allies (given the controversial decision to approve its pipeline and tankers project).
Corporate Donations and the Culture of (Environmental) Law Enforcement
But corporate benefits received in return for donations do not have to be about a particular government approval or a contract. Companies can also believe that their donations will result not in a particular decision, but in a more favourable regulatory culture — one that doesn't ask hard questions or impose harsh consequences.
Over the years we have devoted many of our Environmental Law Alerts to looking at a major drop in the Province's enforcement of environmental laws, with convictions under environmental statutes at a fraction of what they were prior to 2003.**
We have applauded the government for rolling out some new enforcement tools, but we remain very concerned that polluters in B.C. believe there are few consequences for failing to comply with our province's environmental laws.
Arguably, one major beneficiary of that lax environmental enforcement is the number one B.C. Liberal donor: Teck Resources Ltd. Since 2008 the company has donated more than $1.5 million to the B.C. Liberals (and $60,000 to the B.C. NDP), thanks to B.C.'s loose laws on corporate donations.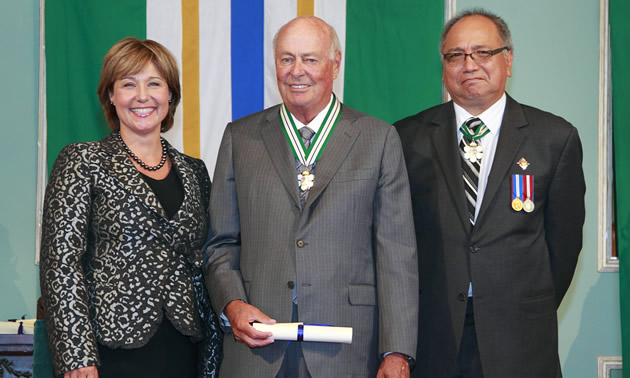 Premier Christy Clark and Lt. Gov. Steve Point award Norm Keevil (centre), chair of Teck Resources, with the Order of B.C. Since 2010 Keevil has personally donated $65,585 to the B.C. Liberals. Photo: Government of B.C.
Teck Resources Compliance Issues
At first blush, it may seem surprising to suggest that Teck Resources is benefiting from a decline in environmental enforcement. After all, in early February 2016, Teck Metals Ltd. pled guilty to a number of charges related to polluting fish bearing waters, and was fined $3 million for Fisheries Act offences and a further $400,000 for Environmental Management Act offences.
However, this is just the tip of the company's environmental non-compliance iceberg.
Recently the B.C. Ministry of Environment released data on its 2015 efforts to monitor compliance under the Environmental Management Act (B.C.'s main law dealing with pollution). Two Teck-affiliated companies feature prominently.
Teck Coal Ltd. was inspected 58 times, and was found to be acting illegally in 46 of those inspections (i.e. 79 per cent of the time). Unfortunately, the data released does not tell us much about what type of non-compliance was occurring (although most of the inspections were considered "medium" or "high" priority, and we know from the Auditor General report discussed below that Teck's non-compliance is a major concern for Ministry of Environment staff). Since we only have the data for 2015, we cannot say much about trends over time.
Of the identified non-compliance, the Ministry of Environment staff responded with an "advisory" (essentially a note to file) 67 per cent of the time, and provided a more detailed written warning 22 per cent of the time.
The remaining 11 per cent (5 incidents) were referred for further action, but at time of writing the government's environmental violations database gives no information about what happened as a result. We know that between 2006 and the beginning of 2016 Teck Coal Ltd. has had just four tickets for $575 each issued against it (totaling just $2300).
Teck Metals Ltd. was inspected 12 times, and was out of compliance with its permits on seven, or 58 of those inspections. Five inspections resulted in advisories, and two in written warnings. In the past (and since 2006), Teck Metals has had previous convictions under the Fisheries Act and Environmental Management Act (2013) and avoided a third conviction (under the Environmental Management Act) in 2011 by participating in a restorative justice process through which it agreed to pay $325,000. It also had a single ticket issued against it in 2006 for $575.
Not all Teck companies had such a poor track record in the inspections. Teck Highland Valley Copper Corporation was inspected four times in 2015 and was in compliance at all four inspections. Teck's Galore Creek Partnership also had four inspections, all of them clean.
Teck Resources is a huge operation, of course, so it's not surprising that it has far more inspections than any other company in the government's 2015 data. But Teck Coal's non-compliance rates are well above average (on average the Ministry inspections found 60 per cent non-compliance). Indeed, it appears that the number of inspections carried out of Teck Coal reflects Ministry concern about this fact.
Auditor General Concerns
In 2016 B.C.'s Auditor General issued a damning report on enforcement of environmental requirements related to mines by the Ministries of Environment and of Energy and Mines. She wrote about the enforcement culture of the Ministries (which assumes voluntary compliance by mining companies) and the underfunding of compliance efforts:
We understand that [the Ministry of Energy and Mines'] collaborative strategy is viable in some circumstances, but it assumes that the majority of mining companies are willing to comply voluntarily. As we found for most of the mines we reviewed for this report, this is not the case. For the inspections reports we reviewed, there were incidences of non-compliance in most cases.
Based on her figures and our own research, we estimated that from 1990-1994, almost 10 per cent of pollution permits issued under what was then the Waste Management Act had some kind of compliance and enforcement action each year. From 2010-2014 that figure, for permits under the Environmental Management Act, was just above 2 per cent.
Auditor General Bellringer*** also provides an example of the clout that Teck Resources seems to have with the current B.C. government. The report used Teck Coal Ltd.'s permit to expand its Line Creek Mine in the Elk Valley as a case study.
After Ministry of Environment staff noted that the expansion would exacerbate a serious selenium contamination issue in the region, and refused to authorize the permit, Cabinet stepped in:
Subsequently, a decision was made by government to approve the permit under section 137 of EMA. This clause, which allows Cabinet to approve a permit where it is in the public interest to do so, had never been used before…

We also found that the Line Creek Expansion Permit has a site performance objective for selenium that allows five times the amount set in B.C.'s water quality guidelines for aquatic fish.

We concluded that government, in granting the permit, did not publicly disclose the implications these permit levels will have in this area where the expansion will extend the life of this mine for an additional 18 years and produce an additional 3.5 million tonnes of coal annually.

As well, we expected MoE's permits to reflect the polluter-pays principle. We found, however, that under the Line Creek Expansion Permit, the mine company is charged only about $5,000 a year for emitting selenium pollution. This is not reflective of the known environmental impact of selenium. [emphasis added]
What Teck Resources Gets
Clearly, Teck Resources does not get a "get out of jail free" card (metaphorically speaking, since environmental offenders almost never actually go to jail). Teck Metals has been convicted and has paid fines. Teck Coal has been subjected to a high level of scrutiny by Ministry of Environment inspectors (but no major penalties as yet).
However, the evidence suggests that non-compliance with environmental regulations is business as usual for Teck Resources, and that is troubling. And on one occasion the government used an unprecedented power to override its own staff and allow the company to expand its operations dramatically, despite an ongoing pollution problem.
It's important not to suggest that this is corruption. Donations in this case were given to the B.C. Liberal Party, not to individual politicians, and not in return for any particular decision. I believe that B.C.'s elected politicians, of whatever party and including the B.C. Liberals, want to do what they think is the right thing and do not believe themselves to be influenced by the fact that their party received a generous donation from Teck Resources.
However, the careers and campaigns of B.C. Liberal politicians have benefited from the powerful companies that the government is responsible for regulating. They have personal relationships with officials from those companies, formed through personal access at expensive fundraisers.
It is a fundamental legal principle of fairness that a government decision-maker should be unbiased, having no interest in the decision before him or her. Indeed, this requirement is so fundamental to the law, that a decision-maker must avoid even a credible appearance of bias. The fact that a large resource company with a poor environmental compliance record has made significant donations (i.e. more than $1.5 million since 2008) to the political party currently forming the government invites questions.
The courts have not generally applied the principle of bias to elected officials, instead accepting political donations as a legal part of the electoral system. In the U.S., where some judges are elected, a judge who has received campaign contributions may need to step down (or "recuse" his- or herself) from hearing a case involving that donor. However, that is because of the nature of judges — that they are supposed to apply the law without favour — and politicians have not been held to the same standard.
But I don't think there's any doubt that these types of large corporate donations do give rise to an appearance that some corporate interests have more influence over cabinet Ministers and the resulting government regulatory culture than individual voters. That's a big problem — raising fundamental questions about our basic democratic institutions and our notion of equality before the law.  Are decisions about our lands, air and water, about the sustainability of our communities, being made in the interests of the public, or of large corporate donors?
In the end, the fact that many of us are asking these questions — and that there are no ready answers — is probably a good enough reason to get rid of corporate donations.
*  The B.C. Greens are ahead of the curve on this one, having pledged to go without corporate or union donations. The B.C. NDP has pledged to ban corporate and union donations if elected. And the B.C. Liberals are playing catch-up, with a panel appointed to investigate possible legal changes, but no specific promises.
**  The Ministry of Environment disputes our figures for convictions (but not tickets, so far as we understand), but has not provided alternative figures. 
***  As an aside — isn't that a great name for an Auditor-General?  Very Dickensian (but more subtle than "Whistleblower").
Image: Christy Clark during a tour of the Copper Mountain Mine. Photo: Province of B.C. via Flickr
New title
You've read all the way to the bottom of this article. That makes you some serious Narwhal material.
And since you're here, we have a favour to ask. Our independent, ad-free journalism is made possible because the people who value our work also support it (did we mention our stories are free for all to read, not just those who can afford to pay?).
As a non-profit, reader-funded news organization, our goal isn't to sell advertising or to please corporate bigwigs — it's to bring evidence-based news and analysis to the surface for all Canadians. And at a time when most news organizations have been laying off reporters, we've hired eight journalists in less than a year.
Not only are we filling a void in environment coverage, but we're also telling stories differently — by centring Indigenous voices, by building community and by doing it all as a people-powered, non-profit outlet supported by more than 2,200 members. 
The truth is we wouldn't be here without you. Every single one of you who reads and shares our articles is a crucial part of building a new model for Canadian journalism that puts people before profit.
We know that these days the world's problems can feel a *touch* overwhelming. It's easy to feel like what we do doesn't make any difference, but becoming a member of The Narwhal is one small way you truly can make a difference.
We've drafted a plan to make this year our biggest yet, but we need your support to make it all happen.
If you believe news organizations should report to their readers, not advertisers or shareholders, please become a monthly member of The Narwhal today for any amount you can afford.