Clay and Katy Peck are just the type of young farming family that B.C. Agriculture Minister Norm Letnick says his government wants to support to ensure "a reliable food source for years to come."
The Pecks own a 65-hectare farm in the Agricultural Land Reserve overlooking the Peace River, and are preparing for organic certification of a fruit and vegetable business to serve the northern area around Fort St. John.
The couple's farm is high enough above the Peace River that it is not included in BC Hydro's tally of 6,469 hectares of farmland — an area larger than all the farmland in Richmond — that will be destroyed by the Site C dam and its vast reservoir.
But the Pecks, along with other Peace Valley farmers, stand to lose significant amounts of farmland and crops to Site C in previously uncounted ways. The likely impact of Site C on agricultural land has been routinely underreported and will be far more dire than widely expected, according to scientists and information found in BC Hydro reports.
Work on the $8.8 billion dam project began in August and continues around the clock despite three on-going court cases by First Nations, missing federal government permits, and BC Hydro's continuing failure to demonstrate the need for Site C electricity.
In addition to the agricultural land BC Hydro counts as permanently lost to Site C, another 5,900 hectares of farmland falls within what BC Hydro calls a "stability impact zone" and is at risk of destruction. BC Hydro insists a further 1,125 hectares of farmland — an area about the size of four Stanley Parks — will be lost only on a "temporary" basis during the next 10 years, but farmers and a soil scientist question whether topsoil on the land can ever be replaced.
Clay and Katy Peck stand on their property, overlooking family farmland that will be flooded by the Site C Dam. Photo: Sarah Cox.
The list of agricultural land lost temporarily to Site C includes 203 hectares of agricultural land in a Flood Impact Zone that may experience "crop losses when flooding occurs," according to BC Hydro. Collapsing Peace River banks will create a landslide-generated wave that will sweep over an additional 174 hectares of prime farmland. Since water will not remain on the fields forever, BC Hydro does not include these areas in its tally of permanently lost farmland, even though flooding and waves can cause soil erosion and leave behind debris.
"In my view this is a permanent loss," says Vancouver soil scientist Eveline Wolterson. "It's like a tsunami. Essentially what it does is it eats away at topsoil. It will all get washed into the reservoir. They'll never be able to restore those soils."
Also not counted as permanently lost farmland are 506 hectares of agricultural land at the dam site itself. B.C. says the loss will be "temporary" but recent photographs of the construction site taken by Victoria photographer Garth Lenz reveal a compacted and industrialized landscape that Peace Valley farmer Ken Boon says may no longer support some agricultural operations when the dam is completed by 2025.
"They're doing some pretty heavy disturbance in that area," says Boon, who would lose prime farmland and his family home to Site C and the $530 million relocation of Highway 29 away from the flood zone. "There are areas where they are removing topsoil to excavate gravel."
An additional 109 hectares of farmland will be lost on a "temporary" basis for the relocation of 30 kilometres of Highway 29, according to BC Hydro.
A further 38 kilometre stretch of land with "agricultural activities," including private farmland and land with active grazing leases and licenses, will also be lost in the short-term when a new transmission line is constructed to connect Site C with the existing Peace Canyon dam substation. Another 37 hectares of farmland will be out of commission for construction access, but BC Hydro dismisses such losses as well, saying they too will only be "temporary."
Even more worrisome for the Pecks and other Peace Valley farmers and ranchers, however, is the "stability impact zone," which is distinct from the much smaller erosion zone.
The stability impact line represents the unknown impact of the Site C reservoir on the Peace River's unstable clay banks as they crumble and collapse into the water over a period of years or decades. This occurs on a routine basis along the Williston Reservoir that lies behind the 50-year-old W.A.C. Bennett dam near Hudson's Hope.
An abandoned cabin sits perched on the edge of a cliff created by sloughing in the Williston Reservoir in 2008. Photo provided to DeSmog Canada by West Moberly First Nation Chief Roland Wilson.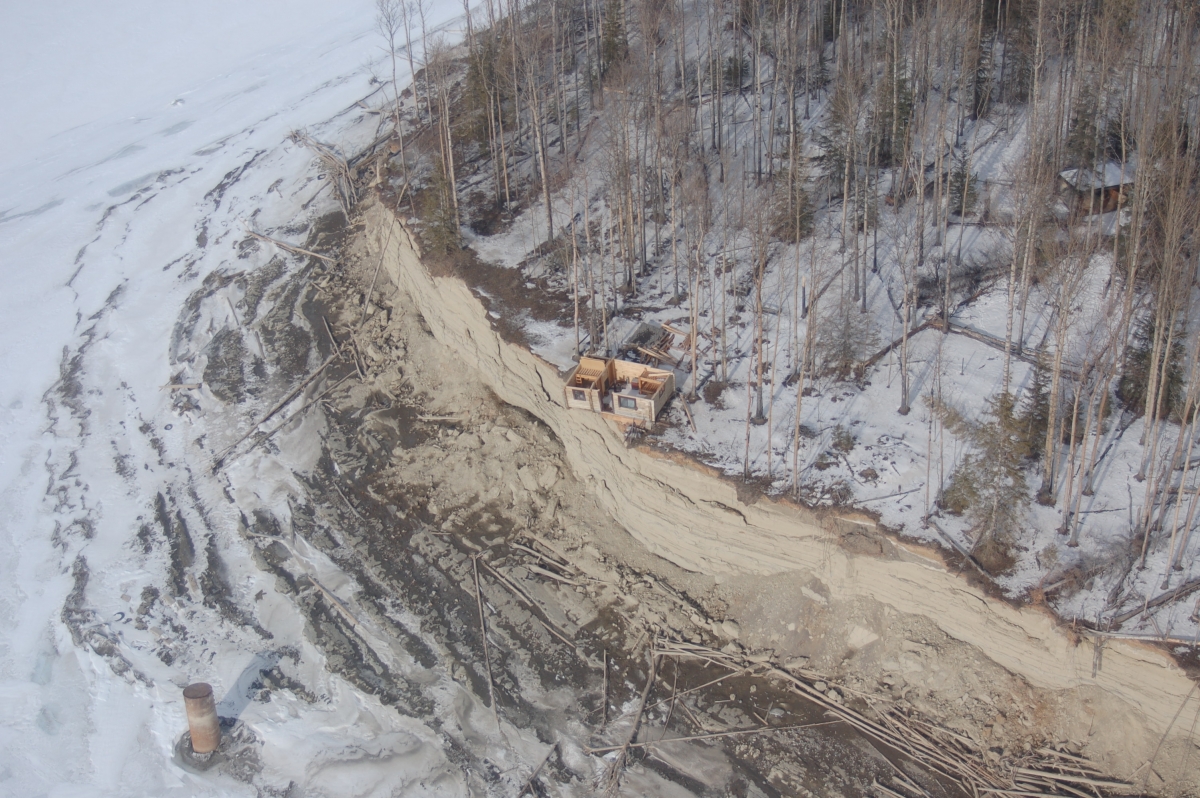 That same cabin seen again in 2009. Photo provided to DeSmog Canada by West Moberly First Nation Chief Roland Wilson.
A sign near the Williston Reservoir warns of unstable banks. Photo provided to DeSmog Canada by West Moberly First Nation Chief Roland Wilson.
"In a rough estimate from BC Hydro's inadequate maps I would say that anywhere from 10 to 25 per cent of our land is in that zone," says Clay Peck, an environmental scientist who works for the oil and gas industry in addition to farming. "Our land may or may not slide into the reservoir."
Wolterson says BC Hydro should have included agricultural land within the stability impact zone in its calculation of permanently lost farmland, especially given serious and persistent erosion in the nearby Williston Reservoir. "In my view the stability impact line will be reached. To not include that as agricultural land that will be affected is absurd."
Clay and Katy Peck. Photo: Sarah Cox.
BC Hydro says agricultural land in the flood, wave, and stability impact zones was not included in its count of permanently destroyed farmland because the risk of ruin is "lower." But that's cold comfort to Clay and Katy Peck and their uncle and aunt, Ross and Deborah Peck, who own 130 hectares of land adjacent to the younger Pecks, where they grow wheat and canola.
Ross and Deborah Peck live an hour's drive upstream, in a custom-built log home high on the banks of the Peace River. According to maps BC Hydro gave to 34 Peace Valley farming families affected by Site C, Ross and Deborah Peck's guest cabin falls within the erosion impact line and will topple into the reservoir. Their nearby house is just on the other side of the line, prompting the couple to question if it will be safe to stay in their home.
According to BC Hydro, Ross and Deborah Peck's cabin on the left will fall into the reservoir while their home, pictured right, will not. Photo: Sarah Cox.
Ross Peck points to the "impact stability line." His home can be seen in the background. Photo: Sarah Cox.
The certain destruction of Ross and Deborah Peck's best farmland and the potential loss of more, combined with a new BC Hydro Statutory Right of Way over remaining sections of their farmland, leaves Ross Peck wondering if he will be able to continue farming at all, even on land that is not slated to be destroyed or potentially affected by Site C.
"We question if there would be anything left on our property that is suitable for grain crops," says Peck, a third generation Peace Valley farmer and rancher. "Is it really worth it if we've only got 10 or 20 acres left?"
Even Peace Valley farmers whose land is not included in the permanent, temporary or potential loss of farmland stand to lose crops and income to Site C.
The reservoir is so large it will cause groundwater levels to rise within a two-kilometer radius around its perimeter, which will stretch along 107-kilometres of the Peace River and its tributaries, a distance nearly the equivalent of driving from Victoria to Nanaimo. Rising groundwater could result in decreased crop yields and restrictions on the range of viable crops that can be grown, according to BC Hydro.
BC Hydro also points to potential crop loss and damage from displaced wildlife. As the reservoir fills, deer and elk will lose prime riverside habitat and the islands on which they calf, and will move uphill onto farmland in search of food.
Additionally, farmers will suffer the impacts of climate change induced by the sheer size of the Site C reservoir, which will create its own mini global warming experiment when it boosts the annual average temperature by up to one degree Celsius within a one-kilometer radius.
The warmer average temperature, along with increased moisture and wind from the reservoir, will alter local weather patterns, according to a Site C technical report. Warmer winter temperatures will not affect farming, but Ken Boon, the Pecks and other Peace Valley farmers are concerned that cooler temperatures predicted for the summers will stymie crop growth. At Bear Flat, where Ken Boon and his wife Arlene farm, average summer temperatures are expected to dip by 3.3 degrees due to the reservoir. 
An increase in humidity caused by the reservoir will also generate more fog and moisture in the late summer and fall, just when remaining Peace Valley farmers are drying crops for market. To put this into perspective, an increase of 13 hours of normal and heavy fog is expected each year at the Fort St. John airport, about 15 kilometres from the dam site, once the reservoir fills.
"If there's fog the crops could spoil and it might be a total loss," says Clay Peck, an environmental scientist who works for the oil and gas industry in addition to farming. "If you have mould in a hay crop it can cause respiratory illnesses in animals."
Despite the shadow of Site C, the Pecks hope to delve into Community Supported Agriculture (CSA) and experiment with permaculture and a food forest. "There is basically nothing we put in the ground [here] that we couldn't grow," says Katy Peck, who has an MBA in green business. "We grew corn, melons, field tomatoes…I planted everything from hazelnuts to goji berries."
The Pecks also plan to invest in alternative energy by installing solar panels and examining geothermal and wind potential on their property. "With the dam going in it's pretty important to us to use as much alternative energy as possible," says Katy Peck.
"We don't think we need Site C."
Image: Don Hoffman