The new B.C. NDP government has officially taken its first major step in attempting to stop the Kinder Morgan Trans Mountain pipeline.
On Thursday morning, it announced it will seek intervener status in upcoming legal challenges to the federal approval of the pipeline.
The announcement helps to fulfill what was pledged in the now-famous NDP-Green "confidence and supply agreement" to "immediately employ every tool available to the new government to stop the expansion of the Kinder Morgan pipeline."
Perhaps the most significant part of the announcement was who the B.C. government hired as external legal counsel for the process: Thomas Berger, one of the most renowned lawyers in Canadian history, especially in the realm of Indigenous and environmental rights.
Here's a quick explainer about who Berger is, and what message this hiring sends.
Okay, who is Thomas Berger?
An absolute legend.
No, seriously. In the early 1970s, he served as legal counsel for the Nisga'a Tribal Council of northwestern British Columbia in a Supreme Court of Canada case about ancestral land rights. The Nisga'a lost the so-called Calder Case in 1973, but it served as a pivotal moment in recognition of Indigenous title in Canada.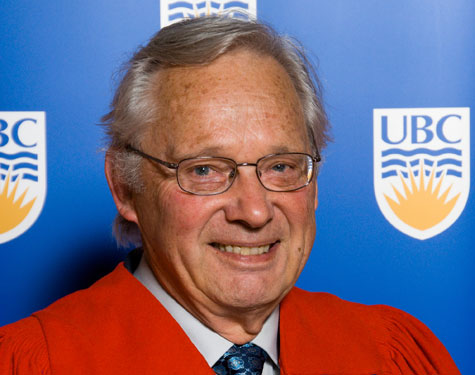 Then, in the mid-1970s, Judge Berger led the Mackenzie Valley Pipeline Inquiry, resulting in a two-volume report that recommended against the construction of a huge gas pipeline that would weave through the Northwest Territories and northern Yukon. It was another massive moment in Canadian history on the environment and Indigenous law fronts.
In the following decades, Berger played a key role in legal investigations into sexual abuse allegations at the Jericho Hill School for the Deaf in British Columbia, and conflicts over requirements under the Nunavut Land Claims Agreement.
Chris Tollefson, founding executive director of the Pacific Centre for Environmental Law and Litigation (CELL), said in an interview with DeSmog Canada that "obviously, he's a good choice and very well respected." Similarly, Eugene Kung of West Coast Environmental Law dubbed it a "wise and prudent decision."
This is lawyer speak for "Thomas Berger is an absolute legend."
So how old is this guy?!
Berger is 84 years old! And he's still playing a very active role in the Canadian legal scene.
In March — a single day before his latest birthday — Berger represented three Yukon First Nations and two environmental organizations in the Supreme Court of Canada in their battle to protect the Peel watershed.
While many would have likely retired and taken up a full-time golf career by his age, Berger is still going strong.
Indigenous Law Legend Thomas Berger To Lead B.C. Into Trans Mountain Pipeline Battle https://t.co/w2hrhgu34v #bcpoli #kindermorgan pic.twitter.com/NwB3iMBPF2

— DeSmog Canada (@DeSmogCanada) August 11, 2017
What's his role going to be in all this?
Frankly, it's still yet to be determined.
The government has signalled it's looking to apply for intervener status in the federal legal appeal over the Kinder Morgan pipeline. Tollefson said the first task for Berger will be advising the government on whether to seek the right to intervene in the pending court cases that are before the federal court of appeals.
"My reading of the announcement today is that the government hasn't decided whether it would be advisable to intervene or not," he said. "That's why they've hired Mr. Berger. It may be too late to intervene. And the government may decide there's no real benefit to being an intervener in those cases in that interveners do not enjoy the same rights as the parties [such as the plaintiff, defendant or petitioner]. There may be better ways to invest time and resources."
Kung agreed, noting that it's "certainly later in the process" for the government to be applying for intervener status. But he said that given the Alberta NDP government was granted intervener status in May, it's reasonable to assume that the new B.C. government would have a shot.
Berger will also likely have a role in evaluating the province's conduct on the entire Trans Mountain file, including reviewing the previous government's consultation record with Indigenous communities and ascertaining a response to the ongoing Squamish Nation challenge to the provincial decision to grant an environmental assessment certificate for the project.
What does this mean for pipeline construction?
TransMountain has said it will start construction this September.
But on Thursday Environment Minister George Heyman said only three of eight environmental management plans required by the province have been accepted. The other five management plans haven't been accepted due to inadequate consultation with First Nations, according to Heyman.
"Until that has been completed, Kinder Morgan, with the exception of some private land and some clearing of right-of-way, cannot put shovels in the ground," Heyman told a press conference in Vancouver.
In late July, the province's attorney general told the radio station CHNL that the government will proceed on the matter "within the laws of British Columbia and Canada, because if we don't, we'll be sued."
In other words, the government's chief legal expert doesn't see it as a viable option to attempt to delay or kill the regulatory process by slowing things down.
However, Tollefson emphasizes that this doesn't mean the government will "swiftly issue all of these permits and approvals."
"I think what he is signalling is that those permits and approvals will be considered by independent decisionmakers and applying the relevant statutory requirements," he said. "And the chips will fall where they may."
Kung echoed that, suggesting the attorney general won't artificially deny permits without any merit, but ensure that whatever decisions they make are "meritorious and therefore more resilient to potential legal challenges."
That's where Berger comes in. The B.C. government has already indicated it will do everything it can to legally impede the pipeline's construction. Based on what we know today, he will ensure that the government's case is airtight and respectful of Indigenous consent and environmental concerns.
So what's next?
Stay tuned.
"In terms of moving forward, I would expect additional engagement and consultation with the goal of seeking consent from First Nations," Kung said. "In those spaces, I'm sure what will be discussed is the deficiencies of the review process: namely the National Energy Board's process, on which the federal and provincial decisions were both based. That's a pretty shaky foundation to build your house of cards on.
"I think that's starting to fall apart now," he added.
As Tollefson put it, this is effectively the first announcement by the new government on the issue. We should expect more on future steps, processes and alternatives in the weeks to come.
The provincial government carries many responsibilities for protecting things within its jurisdiction, including drinking water and public health. But Kung argued that also includes upholding a constitutional and moral obligation to First Nations.
There probably isn't a better person in the entire country to attempt to uphold that than Thomas Berger. The new B.C. government has sent a clear signal: it's taking the matter of the Trans Mountain pipeline very seriously.