One of British Columbia's most effective climate regulations is at risk.
Even though fuel providers make more profit off drivers in B.C. than anywhere else in Canada, industry is requesting the province review low-carbon fuel standards, which require vehicle fuels to become cleaner.
As energy experts recently wrote in an op-ed for the Vancouver Sun, B.C.'s policy has been effective at cutting greenhouse gas (GHG) emissions from vehicles without people even noticing a change in their lifestyle.
Most British Columbians don't even realize their fuel is becoming cleaner. By all accounts, the clean fuel rules have been a quiet success story.
And yet, those rules have come under threat.
Fuel providers in B.C. are asking the provincial government to review its 'renewable and low-carbon fuel regulations.'
According to John Axsen, professor of sustainable energy at Simon Fraser University, some fuel providers "want the B.C. government to weaken [the policy]."
But fully one-quarter of B.C.'s recent success at reducing climate pollution is due to ramping up the use of low-carbon fuels.
In fact, each year low carbon fuels have kept roughly 900 kilotonnes of carbon emissions from entering the atmosphere. This has reduced the province's GHG impact by the equivalent of 190,499 passenger vehicles or all passenger vehicles in the city of Vancouver.
Yet, certain fuel providers claim the rules are uneconomic and are requesting the provincial government review the low-carbon policy.
B.C. pays more for fuel than anywhere else in Canada
Critics have been quick to point out the oil and gas industry is especially profitable in British Columbia: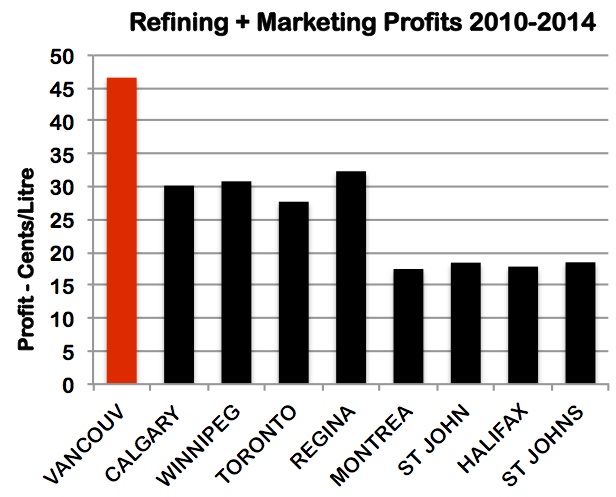 As the chart above demonstrates, the petroleum industry makes more profit from Vancouver drivers than drivers in any other city in Canada — almost double the national average.
B.C. consumers would have saved $905 million since 2010 if oil companies in B.C. had made the Canadian average profit (for both refining and selling gasoline and diesel) according to data gathered from Statistics Canada.
Despite gaining nearly a billion dollars since 2010 in "extra" profit in B.C., industry is still lobbying against B.C.'s clean fuel rules.
According to Matt Horne, B.C. associate regional director with the Pembina Institute, a clean energy consulting and advocacy group, the province held a workshop with industry representatives around one year ago to discuss the fuel regulations.
"There were lots of concerns expressed that companies weren't able to comply with the policy," he said.
"To the extent I've looked at it, the concern as I understand it is that it's not economic to comply with the policy."
Horne says representatives with the province and with low-carbon fuel providers have argued the policy is in fact economic and works well as it's intended: as a long-term strategy.
"This policy gives B.C. the ability to plan going forward. It's a long-term policy, it has a ten-year time stamp and it has a lot of flexibility," Horne said.
"There are lots of ways to comply with the policy as long as companies get their carbon down."
He added B.C. has committed to the Pacific Coast Action Plan on Climate and Energy.
"The province made a pretty clear commitment to Washington, Oregon and California that it's going to stay committed to its low-carbon commitment and I think it will stick to that."
"I think Washington, Oregon and California are expecting the same," he said.
Industry pushback
According to B.C.'s Ministry of Energy and Mines spokesperson David Haslam, "petroleum suppliers have expressed concerns regarding their ability to comply with existing standards given options currently available."
Haslam told DeSmog Canada the review is intended to "identify how to best enable and support compliance."
"This past spring, the province conducted a thorough consultation process to review the ability of fuel suppliers to comply with existing standards," Haslam said, "given the options currently available for generating low-carbon fuel credits."
He said the province will release a report and recommendations based on consultation "shortly."
Industry can't afford clean fuels?
The oil and gas industry in B.C. is suggesting it cannot afford low-carbon fuel rules or that such rules are unrealistic, following a pattern of pushback already seen in both Oregon and California.
In fact both the American Petroleum Institute (API) and the American Fuel and Petrochemical Manufacturers (AFPM) launched legal challenges against the U.S. Renewable Fuel Standard in 2012, calling renewables "phantom fuels."
The API even sued the U.S. Environmental Protection Agency over a minimum renewable fuel requirement in the U.S. transportation fuel supply.
Canadian oil industry groups have also pushed back against mandatory low-carbon and renewable fuel requirements. In 2011, the Canadian Petroleum Products Institute (CPPI) criticized the federal government's biodiesel requirements as 'unfeasible.'
The Canadian Fuels Association maintains "new fuel standards and specifications should be based on sound science and credible cost-benefit analyses," indicating a strong concern with profitability for industry. When it comes to renewable fuels such as biodiesel, they state "wishful thinking will not get us there."
It's worth noting a full 75 per cent of the emissions avoided in B.C. due to the fuel standards resulted from the use of biofuels.
Member companies of the Canadian Fuels Association, which include Husky Energy, Imperial Oil, Shell and Chevron, overlap with both the API and AFPM, which are active in fighting low carbon and renewable fuel standards in the U.S.
Oil industry controls access to markets
Only five companies control 85 per cent of crude refining capacity in Canada. Those companies include Suncor, Imperial Oil, Irving and Shell.
University of Alberta economist Andrew Leach summarizes the ways to deal with this "oil-igopoly:"
"If you want to decrease refinery margins, the only guaranteed ways to do it are by increasing the elasticity of gasoline demand through more public transit, denser communities, more flexible work environments, or by deploying alternative energy sources for means of transportation."
This last point, "deploying alternative energy sources for … transportation," is exactly the purpose of the clean fuel rules that are now under threat.
This summer, the B.C. government announced the province met its 2012 climate targets, reducing greenhouse gas pollution even as the economy grew — challenging claims that putting a price on carbon weakens the economy.
Overwhelming public support for clean fuels, climate action in B.C.
Luckily in B.C., good economic management and public opinion agree.
Fully 88 per cent of British Columbians support the clean fuel rule and in a succession of recent polls, a strong majority of British Columbians think hitting the province's GHG targets is a priority and we should transition off fossil fuels to clean sources of energy.
As for the provincial government itself, not only has B.C. brought in a number of regulations to reduce the province's contribution to climate change since 2007, it also remains committed to the western states to align carbon pricing efforts and deepen actions to address climate change, including low-carbon fuel standards.
The oil and gas industry has successfully requested the province review the low-carbon fuel standards and elected officials are scheduled to consider the review and recommendations this fall.
Industry is often successful at forcing quiet 'technical' changes to important regulations that weaken strong policy.
If B.C. wants to stand behind its climate commitments, it will also have to stand behind its clean fuel regulations.
New title
You've read all the way to the bottom of this article. That makes you some serious Narwhal material.
And since you're here, we have a favour to ask. Our independent, ad-free journalism is made possible because the people who value our work also support it (did we mention our stories are free for all to read, not just those who can afford to pay?).
As a non-profit, reader-funded news organization, our goal isn't to sell advertising or to please corporate bigwigs — it's to bring evidence-based news and analysis to the surface for all Canadians. And at a time when most news organizations have been laying off reporters, we've hired eight journalists in less than a year.
Not only are we filling a void in environment coverage, but we're also telling stories differently — by centring Indigenous voices, by building community and by doing it all as a people-powered, non-profit outlet supported by more than 2,200 members. 
The truth is we wouldn't be here without you. Every single one of you who reads and shares our articles is a crucial part of building a new model for Canadian journalism that puts people before profit.
We know that these days the world's problems can feel a *touch* overwhelming. It's easy to feel like what we do doesn't make any difference, but becoming a member of The Narwhal is one small way you truly can make a difference.
We've drafted a plan to make this year our biggest yet, but we need your support to make it all happen.
If you believe news organizations should report to their readers, not advertisers or shareholders, please become a monthly member of The Narwhal today for any amount you can afford.