First Nations are challenging BC Hydro's claim of a "substantial increased cost" to the $10.7 billion Site C dam because of a voluntary pause to the destruction of areas of great significance to Treaty 8 members.
"I find it outrageous that they would make this claim without any evidence whatsoever," said Tim Thielmann, a lawyer for two Treaty 8 First Nations that have filed notices of civil action alleging that the Site C dam infringes on their treaty rights.
Thielmann also called BC Hydro's statement that it "reserves the right to seek recovery" of the increased cost from First Nations "completely unacceptable."  
"It's an act of intimidation," he said of the statement, made in a February l6 letter to the West Moberly First Nations and Prophet River First Nation.
"We saw BC Hydro making good on its promise to sue occupiers of the Rocky Mountain Fort with significant civil suits. You have to imagine from the First Nations perspective how these kind of threats would be perceived. You have BC Hydro and an $11 billion dollar project saying that they're going to recover these substantial costs against the First Nations directly."
BC Hydro recently informed West Moberly First Nation and Prophet River First Nation that it will pause clear-cut logging and road-building in three of 12 Site C project areas that the nations have identified as "critical" to maintaining cultural practices guaranteed to them in a treaty signed in 1899.
The three areas fall within a 75-kilometre corridor for a transmission line that would connect Site C's power to the grid.
The corridor cuts through a rare old-growth white spruce and trembling aspen forest and an ancient wetland called a tufa seep, a rare ecosystem that cannot be recreated.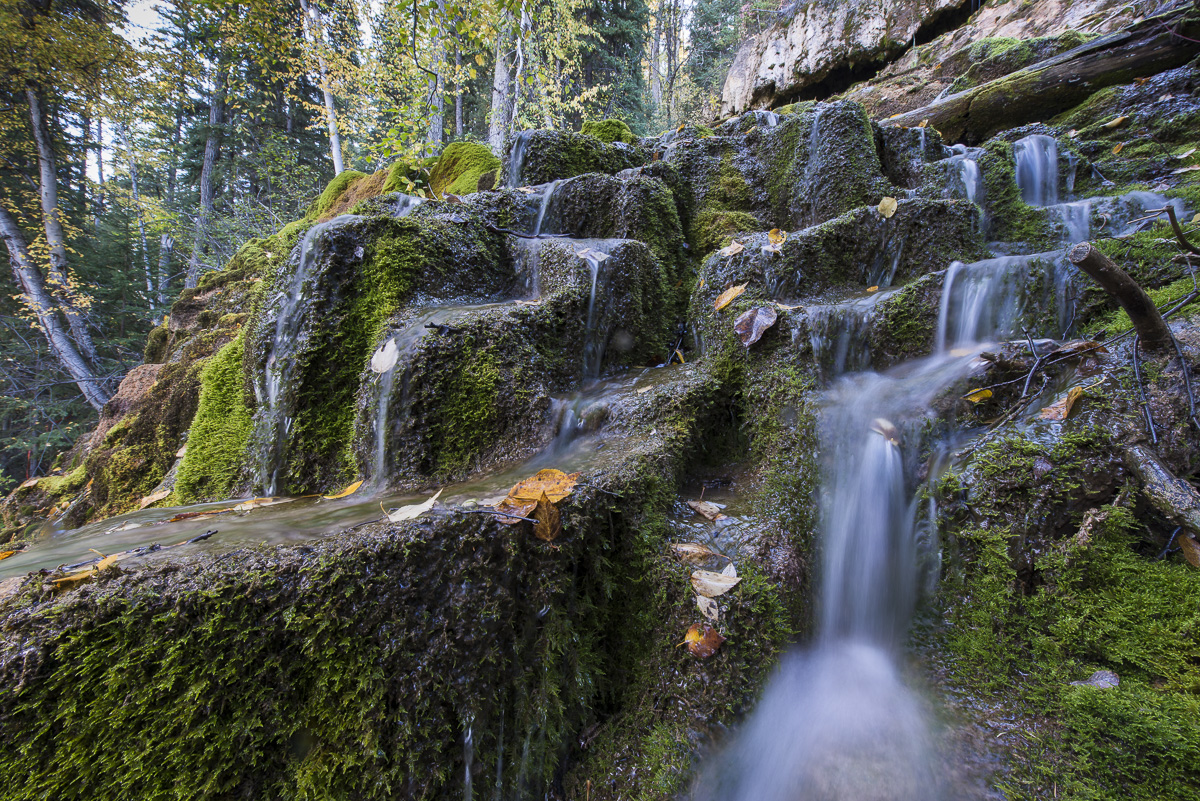 Cascading waterpools in the rare and ancient tufa seep located in the Peace Moberly Tract. Photo: Garth Lenz | DeSmog Canada
Once set aside to become part of a provincial protected area, and known for its rich wildlife values and habitat for rare plants and birds vulnerable to extinction, the area that includes the transmission line corridor is locally called the Peace Moberly Tract.
The corridor slices through two wetlands in the Peace Moberly Tract — Sucker Lake and Trappers Lake — that are of critical cultural importance to First Nations, who have hunted moose and trapped in the area for millennia.
"The area is relatively undisturbed," West Moberly First Nations Chief Roland Willson said in an interview. "It's the best moose habitat in all of British Columbia."
"You have to imagine from the First Nations perspective how these kind of threats would be perceived. You have BC Hydro and an $11 billion dollar project saying that they're going to recover these substantial costs against the First Nations directly." https://t.co/hzZGZ4pFw7

— DeSmog Canada (@DeSmogCanada) March 1, 2018
First Nations call work stoppage a "real success"
Willson called BC Hydro's voluntary agreement to hold off destroying the two wetlands and the section of the Peace Moberly Tract that connects them "pretty significant."
"They haven't ever done a work stoppage like this before for First Nations," he said.
"That's the first real success that we've had. This is core to our whole fight for saving the [Peace River] valley."
BC Hydro agreed to halt logging and road-building along some of the transmission line corridor after the two nations filed an application for an injunction to stop work on the Site C dam project until their treaty rights case can be heard, which Thielmann said likely won't happen for at least 18 months.
In the February 16 letter to the nations, BC Hydro said it will spare the three critical areas until October 1 or until a court ruling on the injunction application, whichever comes first.  
Logging prohibited after March 31
But BC Hydro is legally obliged to halt logging and clearing for Site C after March 31, the date set in law to protect songbird nests.
Canada is a signatory to the international Migratory Birds Convention Act, which aims to protect songbirds by prohibiting the destruction of active nests.
B.C.'s Wildlife Act also protests nesting migratory birds, along with their eggs and flightless young, from injury, displacement or destruction. Nesting trees and bushes can only be logged after young birds fledge.
The area that will be clear-cut and bull-dozed for the Site C transmission line includes habitat suitable for bird species vulnerable to extinction, including Le Conte's Sparrow, Nelson's Sparrow, several species of warbler, and the elusive Yellow Rail, according to BC Hydro's environmental impact statement for Site C.
The impact statement describes the transmission line as a "leading source of habitat fragmentation."
The corridor will affect 24 "occurrences" of rare plants that are listed in B.C. as being vulnerable to extinction, according to the impact statement. These include the white adder's-mouth orchid and small-flowered lousewort.
In all, more than 740 hectares of boreal forest — an area almost the size of two Stanley Parks — will be clear-cut for the transmission corridor, which will stretch across more than 1,200 hectares.
"For them to go in there and start cutting the old growth forest when there's a possibility of it [Site C] being shut down, that would be irreparable harm," said Willson.
"Old-growth can't be replaced. Once you've cut it it's gone forever. For them to acknowledge what they're doing and voluntarily shut down, I think there is something in our documents that scares them. We've got a pretty strong claim that Site C is an unnecessary infringement on treaty rights."
Economist says pause in logging could save money
An affidavit filed by energy economist Robert McCullough, in support of the First Nations' application for an injunction, states that delaying work that is not on Site C's critical path — the schedule established to meet the project's planned in-service date — may actually result in a net savings.
"The mathematics of this is straightforward," McCullough said in his affidavit. "The cost of the project increases with inflation, but the financing costs are greater than inflation."
As such, delaying tasks that are not on Site C's critical path will lower the project's net cost, pointed out McCullough, whose testimony before a U.S. Senate Committee helped spark the criminal investigation into Enron for price-fixing.
"If the in-service date of the project is not changed, the cost of delay for non-critical path tasks should be small and in some cases provide a savings."
The B.C. energy ministry confirmed in an email to DeSmog Canada that delaying the destruction of the three areas of critical cultural importance to First Nations will "not impact the overall Site C project schedule."
Asked to elaborate on BC Hydro's claim of  "substantial increased costs" to the project, the ministry said only that any bump in in costs related to the halt in logging and road-building work will be "covered by the project's contingency fund."
The ministry could not immediately provide an explanation about why a brief pause in destroying the three First Nations areas will incur a "substantial increased cost" while a last-minute major design change to Site C's spillways and generating station — one that will require an amendment to Site C's environmental assessment certificate — will not increase project costs at all, according to BC Hydro.
What happens next?
Thielmann described the voluntary work stoppage as a "major concession six months in advance of us even showing up in court to argue the injunction."
"They wouldn't do that if they didn't have to. It shows that they've got a real threat they are needing to address."
The application for an injunction will be heard in late July in B.C. Supreme Court.
"This isn't a typical injunction," explained Thielmann.
"We've got 4,300 pages of evidence that we've filed. It's basically going to be a mini trial."