On March 3rd, former Natural Resources Minister Joe Oliver unveiled a new transparency initiative that will require Canadian mining companies to report significant payments made to governments both abroad and in Canada. Under the new law, medium and large publicly traded companies will post the details of payments above the $100,000 threshold on their company websites, listed on a project-by-project basis.
Oliver described the initiative as a "comprehensive and meaningful approach" designed to "enhance transparency and accountability in the mining and oil and gas industries."
The new legislation comes as the most recent installment in a long list of policy changes implemented by the Conservative government in an attempt to improve the international standing of the Canadian extractive industries.
Last month saw the opening of the Vancouver headquarters of the Canadian International Institute for Extractive Industries and Development (CIIEID), a joint project between the University of British Columbia, Simon Fraser University and École Polytechnique de Montréal that received nearly $24.6 million in funding from the Department of Foreign Affairs, Trade and Development. According to the CIIEID website, the institute's mission is "to improve governance of extractive sectors in developing countries."
The timing of both Oliver's announcement and the opening of the CIIEID reflects not only the growing importance of the mining and oil and gas sector to the Canadian economy, but also the increasing level of social and environmental conflict associated with the activities of the Canadian extractive industries both at home and abroad.
Complaints against Canadian mining companies over environmental and human rights abuses and have been piling up in recent years. An unpublished mining industry report obtained by the Toronto Star in 2010 concluded that "Canadian companies are far and away the worst offenders in environmental, human rights and other abuses around the world."
The report listed 171 high profile incidents over the last decade, with Canadian companies involved in 34 percent of those incidents. Canadian companies were involved in four times as many incidents related to community conflicts, environmental infractions, human rights abuses and unethical behavior as the nearest runner-up countries, Australia and the UK.
This abysmal track record has prompted demands for better government oversight for Canadian companies operating overseas, with even the extractive industry itself calling for a clearer regulatory framework. In January this year, the Resource Revenue Transparency Working Group— composed of representatives from the extractive industries, along with non-profit organizations and transparency groups— released a report calling for stronger regulation of the mining industry.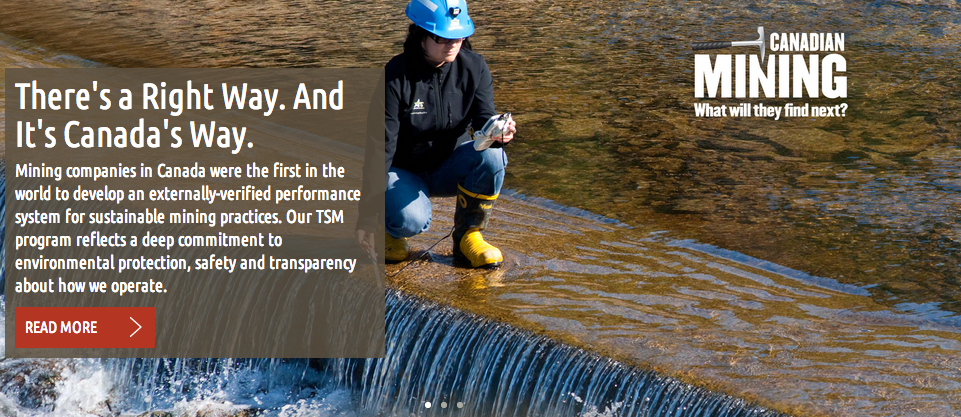 Screen shot from The Mining Association of Canada website.
"A lack of clarity around who benefits from resource extraction breeds mistrust between communities, governments and companies, generating unstable business environments, threatening the security of supply, and even, in extreme cases, contributing to violent conflict," the report states. The rules announced by Oliver are broadly aligned with the conclusions of the report.
The new transparency framework has met with mixed reactions. Organizations such as Oxfam, Publish What You Pay and Engineers Without Borders Canada have cautiously praised the new law. While they note that it leaves room for improvement, they describe Oliver's announcement as a significant step towards shoring up an international transparency regime for the mining sector.
But the announcement has also faced serious criticism. David Eaves, a Vancouver-based public policy entrepreneur and advisor, pointed to the lack of a centralized system for collecting and displaying the payment disclosure data as a major shortcoming.
According to the rules spelled out by Oliver, the payment data posted on mining company websites will not be collected and put into a centralized database by the federal government. While Oliver describes the decision to reject a single database as a move to increase efficiency and cut down on bureaucratic excess, Eaves has called the move "secrecy by obscurity."
The decentralized approach favoured by Oliver stands in contrast to the Extractive Industries Transparency Initiative (EITI), an international framework for payment transparency currently implemented by 26 countries. Although Canada contributed $12.6 million to the creation of the EITI, it has declined to join the agreement. Notably, the EITI approach consolidates the payment data reported by extractive industry companies in an easy-to-read database format.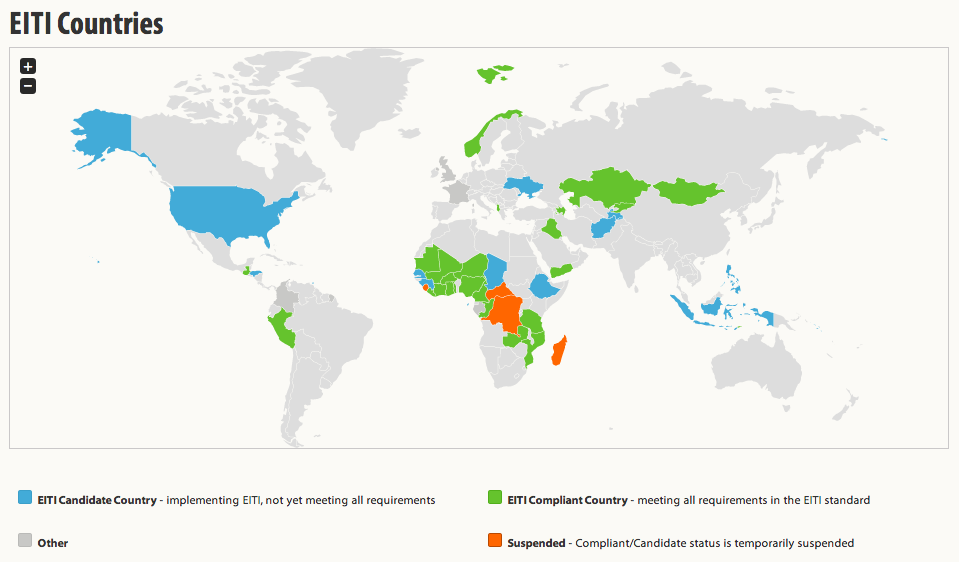 "So unlike EITI, which offers a centralized repository where records can quickly be downloaded and compared, Canada's "compliance" will involve each company maintaining its own records "somewhere" and will require anyone interested in actually figuring out what is going on to track down each one individually," wrote Eaves in an editorial for the Toronto Star.
Oliver's announcement comes after similar legislation proposed by Liberal MP John McKay failed to pass. McKay has made two separate attempts to tighten up regulation in the mining sector. Bill C-300, a private member's bill that was narrowly defeated by a vote of 140-134 in 2010, would have required the Minister of Foreign Affairs and the Minister of International Trade to investigate all complaints made against Canadian extractive industry companies operating in developing countries.
Bill C-374, McKay's second proposed piece of mining legislation, would have created a transparency framework with much stricter regulations than Oliver's plan. Also known as the "The Sunshine Bill," C-374 outlined a framework that would require companies to report all payments (not only those over $100,000) made to foreign governments and to display that information in a centralized database, in accordance with the international data standards employed by the EITI. The bill also called for an independent financial auditing system and hefty fines for non-compliance.
McKay sees little promise in Oliver's new transparency framework, describing its unveiling as "an announcement essentially without substance." While Oliver called for the rules to be implemented by April 2015, McKay sees 2017 or 2018 as a more likely timeline given the Conservative track record.