Hundreds, perhaps thousands of people from across Canada and the US will walk into the heart of tar sands country to be part of a spiritual gathering called the Tar Sands Healing Walk on July 5th-6th.
They will come face-to-face with the environmental destruction caused by the tar sands industry. Open pit mines, tailings ponds, industrial facilities and more dominate the landscape of the walk near Fort McMurray, Alberta.
The fourteen-kilometre Healing Walk is neither a rally or a protest. Organizers describe the event as a spiritual gathering focused on healing the land, air, water and all living things harmed by the relentless expansion of the tar sands industry.
"Protests, rallies, marches are all good and necessary, but we felt like people needed something more spiritual. Something to create or strengthen a connection to the land," says Jesse Cardinal, co-organizer of the Healing Walk.
As the international movement to stop the tar sands has grown, the Healing Walk has also grown since its birth four years ago. In its inaugural year the Healing Walk was a one-day event with one hundred participants. Hundreds and very possibly thousands will come to this year's two-day event that includes workshops, ceremonies, internationally-renowned guest speakers and the walk.
Organizers anticipate the 4th Tar Sands Healing Walk to be the largest event yet.
"First-time participants of the Healing Walk need to prepare themselves for an emotional journey," Cardinal told DeSmog Canada.
This year's Healing Walk is attracting big name speakers such as 350.org founder Bill McKibben, author Naomi Klein, and co-founder of Idle No More Sylvia McAdam.
Invitations have been extended to Alberta premier Allison Redford and federal Natural Resources Minister Joe Oliver to attend. Thus far neither have accepted the invitation.
"We want people to have an understanding of the scale and size of the tar sands industry, but we also want people to leave with a sense of hope for renewal," says Cardinal.
Cardinal is also the coordinator of the Keepers of the Athabasca, an alliance of First Nations, Inuit, Metis, environmental groups and other concerned citizens advocating effective stewardship of the Athabasca River and Athabasca Lake Watershed. The Keepers of the Athabasca have been the main organizer of the Healing Walk from the beginning.
The Healing Walk will begin with a pipe ceremony at Crane Lake, north of Fort McMurray. First Nations elders and ceremony people will lead participants on the 14-kilometre journey through existing tar sands operations, and tailings ponds. The Athabasca River is less than ten kilometres from these industrial sites that spew toxins into its waters. Prayers for the land will be made along the way.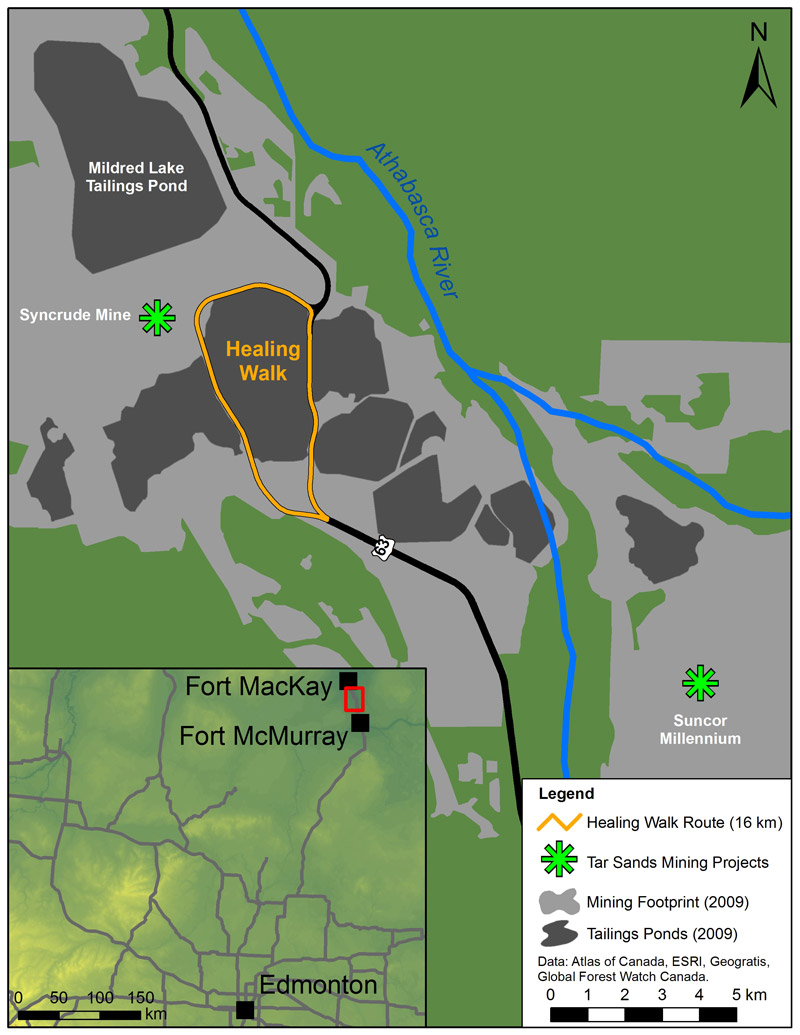 First Nations tar sands campaigner Clayton Thomas Muller in a recent article recalled being struck by scenes of vast deserts of wet and dry tailings ponds and industrial facilities that could have been straight out of a science fiction novel on his first Healing Walk.
A campsite is available for participants planning on staying over night and some catering will be provided by the organizers. Meet and greets as well as workshops on pipelines, First Nations cultures and tar sands impacts will take place the day before the Healing Walk. A feast and closing ceremony will conclude the event.
The Significance of the Fourth Healing Walk
Four is a significant number in many indigenous cultures. There are four seasons. Four directions. Four parts to life (mental, spiritual, emotional and physical).
"The fourth Healing Walk is significant because it indicates the ending of one cycle and the beginning of another," explains Cardinal, who is Metis and a member of the Kikino Metis Settlement in northeastern Alberta.
Coincidentally, four organized cross-country treks will arrive in Fort McMurray to participate in the Healing Walk. Two groups are travelling from the US. A third group is coming from British Columbia.
The fourth and longest trek will be made by Dion Tootoosis who left traditional Mi'kmaq lands in Nova Scotia on June 12th and will bicycle over 5000 kilometres to reach Fort McMurray in time for the Healing Walk.
Tootoosis, from the Poundmaker Cree Nation of Saskatchewan, says he wants his journey to inspire conversations about natural resource extraction in Canada, particularly the tar sands, and stimulate discussions about solutions.
"I believe that the answer to the Alberta tar sands, and other locations across Canada where natural resources are being exploited, lies within the people of this country. Only a people know what is best for their community," says Tootoosis in a statement.
Image Credit: Kris Krug via flickr
New title
You've read all the way to the bottom of this article. That makes you some serious Narwhal material.
And since you're here, we have a favour to ask. Our independent, ad-free journalism is made possible because the people who value our work also support it (did we mention our stories are free for all to read, not just those who can afford to pay?).
As a non-profit, reader-funded news organization, our goal isn't to sell advertising or to please corporate bigwigs — it's to bring evidence-based news and analysis to the surface for all Canadians. And at a time when most news organizations have been laying off reporters, we've hired eight journalists over the past year.
Not only are we filling a void in environment coverage, but we're also telling stories differently — by centring Indigenous voices, by building community and by doing it all as a people-powered, non-profit outlet supported by more than 2,500 members. 
The truth is we wouldn't be here without you. Every single one of you who reads and shares our articles is a crucial part of building a new model for Canadian journalism that puts people before profit.
We know that these days the world's problems can feel a *touch* overwhelming. It's easy to feel like what we do doesn't make any difference, but becoming a member of The Narwhal is one small way you truly can make a difference.
We've drafted a plan to make 2021 our biggest year yet, but we need your support to make it all happen.
If you believe news organizations should report to their readers, not advertisers or shareholders, please become a monthly member of The Narwhal today for any amount you can afford.